Women's Hockey Ready for Next Step
by The Cowl Editor on October 3, 2019
---
Friar Sports
---
Team Looks to Build off of Last Year's Success
by Eileen Flynn '20
As fall begins and schoolwork starts to pick up, everyone is excited for the upcoming hockey season. Recently, the Hockey East Preseason Poll predicted that the Providence College Women's Hockey Team will finish fourth in the Hockey East standings. They were placed behind rivals Northeastern University, Boston University, and Boston College. 
This year the Hockey East will be as competitive as always. Teams like University of New Hampshire, University of Connecticut, and Merrimack College will be looking to move up ahead of the Friars every chance they get.
Maureen Murphy '21 is looking forward to the season ahead of her and her teammates. "I think our team needs to prepare for each game with the mentality that anyone can compete with anyone in our league. Each team has substantial talent, but hard work often means more than inherent skill and is something within our control." 
Two important aspects she wants her team to focus on this year are "positivity and persistence." 
There is a confidence coming from Murphy that is sure to help inspire her team throughout the season.
PC completed last year with a 24-11-2 record, and a 16-9-2 standing in the Hockey East. The team tied their record of 24 wins in a season; this year there is hope to add a new record for the books.
The Friars are welcoming a lot of new talent on their roster for the upcoming season. There are seven freshmen on the squad, creating a younger dynamic than the girls are used to from previous years. "While there is definitely a learning curve with such a young team, everyone is excited about the potential impact we could have in Hockey East," says Murphy.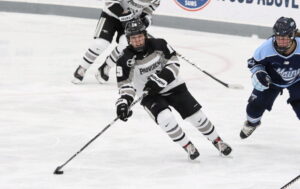 Murphy is coming off of an impressive previous season with the Lady Friars, and her leadership is going to be an important addition for the team. Last year Murphy played in all 37 games; she scored 22 goals and added 21 assists for a total of 43 points. These statistics listed her first on the team in points, goals, assists, shots, and plus-minus. Some would even call Murphy a "clutch-player," scoring eight game-winning goals in just one season, the second-best in the nation. 
She was named Hockey East Player of the Month and National Player of the Month in November of 2018 and was selected as Hockey East Top Performer four different times. The Friars named her the Offensive Player of the Year, but even after all of these accomplishments, Murphy places the spotlight on her teammates.
"While being named offensive player of the year is a great honor, the success I had as an individual is also the success of my teammates." 
Murphy added, "There are so many factors that go into a season beyond how many goals you score or how many assists you make. Multiple individuals impact every play and often don't get the recognition they deserve, my teammates included. So I certainly can't take all the credit!"
On Sept. 28, the Friars gave their fans a preview of what is to come. In an exhibition matchup against University of New Brunswick, PC finished on top with a 1-0 victory. 
The game went back and forth, staying scoreless until the final minutes of the third period. With 1:53 remaining, Murphy found Lauren DeBlois '23 stationed on top of the right circle, and, with a quick shot, DeBlois put her team on the board. 
Sandra Abstreiter '22 was in net for the Friars for the first half of the game, tallying two saves in the first 20 minutes. Clare Minnerath '20 finished up the game for PC and sealed the shutout win.
This hard-fought battle is exactly what PC needed to propel them into their season. Their first official game will be played on Friday, October 4 at Schneider Arena. The Friars will be facing Quinnipiac University, a team looking for revenge after losing to PC in Providence last year just 2-1. 
A little bit further into the season, the team will face Northeastern. After falling to the Huskies in a close Hockey East playoff game and watching them go on to win the league, the Friars look forward to facing their rivals at the end of October.