Addressing Mental Health: An Interview with Cheryl Granai
by The Cowl Editor
---
Campus
---

by Alexandra Huzyk '20
News Staff
Cheryl Granai, an outreach coordinator at Providence College, spoke about her experiences with helping students who have had mental health issues in the past, and gave advice for the PC community on the best way to handle these situations.
AH: What training do students, or staff, have to recognize mental health scenarios?
CG: We have a couple of ways for students to recognize if someone is in emotional distress. The first is Kognito. It is an online simulation. All of the freshmen, student leaders, and employees are required to take it, but I wish all of our students were required to take it each year. It goes through all of the basic, concerning signs of what would indicate a student experiencing some kind of emotional distress. And then it goes through the right way to have a conversation with that student, because it has to be non-judgmental, validating, and done in a way that does not shut down the student. The third piece of the training is once you have identified that you have a student in crisis, what are your resources on campus and where do you go from there?
The second training we do is called Step-Up Bystander. We do that for all the incoming freshmen, athletes, and Rec sports teams. Step-Up is like Kognito, but the focus is on if you see a student in distress, that you are not necessarily connected to, or if you are in a situation where something seems to be awry but it is unclear. And so this takes you through the process of identifying if this is an issue, bringing others in to validate, and intervening in ways that you still feel safe but you are helping the student. The program is designed so you can talk about any scenario, such as sexual abuse, hazing, relationship problems, mental health issues, substance abuse.
AH: What resources do we have for students on this campus?
CG: We have the Personal Counseling Center, which is wonderful. However, the reality of the situation is that nearly 60 percent of students never step foot in the Center. So the question is, how do you get this information to them? With the PC Lifelines Grant, we've been able to do a number of things. One of the things the Grant asks us to do is to identify the students at risk… The College has a Care Team, a group of staff and administrators from all areas, that routinely meets and follows students that have been labeled as 'at risk.' And that can be a number of things: a student who has not been showing up for class, is returning from a leave of absence, etc.
We also have implemented some mental health programming to convey information to students about mental health awareness, but we also need to talk about mental illness. And how do you do that in a way that is not threatening for a student? So what we have done is looked for speakers with 'lived experience,' and that means we want to bring speakers in that students can identify with. These are speakers that have had mental illness, who have lived through it, who have come out the other end, that have developed a mental health regime with positive coping skills… and it is really a story of personal resilience. We have had three speakers like that, and we are bringing another in for Mental Health Awareness Month on Oct. 22.
The other thing we do is we provide resources for students who left campus for mental health reasons. So, a leave of absence in general is disruptive, but, you add that component of mental illness and then it becomes scary. So we developed protocol to follow these students the whole time they are on a leave. It takes the form of email, text, or sometimes in person meetings.
Oftentimes students do not respond, but research shows that just simply reaching out with a concerned message improves the mental health of the student. And then what we do when they come back, which can be just as disruptive, we meet in person once or twice a month to build resilience skills and to develop a new narrative of who they are.
We also developed a resilience case model, that is built on resilience coaching. Students can self-refer, and come to three to five sessions and work on these skills. The last piece is just happening now, and stems from a 2001 grad from PC who struggled with anxiety and depression. He felt like there were not any resources for him on campus. So he goes off to graduate school and founds a company, and comes back to PC last year offering grant money to help students deal with anxiety and depression. So we started this academic resilience fellowship, and asked faculty from around the campus if they would participate. And what we are asking is for them to incorporate resilience building skills into coursework.
AH: How would you differentiate being sad versus being depressed?
CG: There is sadness, and occasional depression, that happens in everybody's life. But if this sadness persists, if you start to isolate yourself, if you stop caring for yourself, if your sleep changes, if you are abusing substances more than you normally do, if you are starting to have thoughts of suicide or 'I don't want to do this anymore,' then that is depression. That is the difference between having a blue day and having something happen to me that is consistent and changing the way I behave and think.
AH: For students on the fence, deciding whether or not to go to the Counseling Center, what would you say to them?
CG: I do not think counseling would do any harm even if there was absolutely nothing wrong with you. There is no harm in that, and just have a conversation. And many times, a student will go to a counselor and go once a semester—maybe three times. It doesn't have to be an ongoing, weekly occurrence. It can be a one-stop shopping, like I need to know if what I'm thinking and feeling is normal and to give me some tools to deal with whatever is coming up, whether that be anxiety, stress…
AH: For freshmen, or any class, who have a roommate who needs help but doesn't want to get any; what suggestions do you have?
CG: If you're concerned with a student and they are not willing to get help for themselves, and you have tried having these conversations with them, I think that the best thing to do is go to a trusted adult. Go to them and say: 'Look, this is what I am seeing, this is how the student is responding, what do you think I should do?' The RA's are a way to go as well, but I do think that it helps to get that sort of validation from someone who is older and that they can trust. Either way is not bad, but you don't want to hold onto this yourself and just hope for the best.
Then there is a situation where a student you're dealing with reveals to you that they have had thoughts of either suicide or harming themselves or they do not want to be here anymore. In that situation, we advise students to stay with the person and get help from the outside however they can—text or call for help. Because when you hear those things, you don't want to leave the student alone. Some people call an RA, Public Safety, Personal Counseling… If you are hearing something that is specifically about a plan, and it is 3 a.m., you want to text or call Public Safety. Explain to them what is happening and that you do not want to leave the student alone. These are really scary conversations, for everybody. But these types of crises are short lived and they pass. The best thing to do, if you are worried about any kind of suicidal plan or follow through, is to not leave the student.
Athletes Visit PC to Teach Students That We're All A Little "Crazy"
by The Cowl Editor
---
Professional Sports
---
Former NHL Player Dowd, Boxer Kelley, and Runner Brown Share Their Stories
by Gavin Woods '22

Providence College hosted a former NHL player and Stanley Cup winner, a former track and swimming star, and a four-time national championship winning middleweight boxer at the #SameHere Sit-Down event on Feb. 4. One common thread between these three incredible athletes is their participation in the We're All a Little "Crazy" Foundation with the Global Mental Health Association. 
The founder of this program is Eric Kussin, a former sports manager, who has previously worked with the Florida Panthers, the New Jersey Devils, and the Phoenix Suns. The primary focus of the We're All A Little "Crazy" program is to expand public awareness about mental health, especially with respect to athletes. While the program is by no means limited to exploring mental health in athletes, it works specifically to breakdown the stigma around problems with mental health amongst athletes. 
One of the main messages of the event is encouraging vulnerability. We're All A Little "Crazy" emphasizes this message with the help of professional athletes. Each of the three guest speakers shared their stories and their own respective lessons from their life experiences. 
The first guest speaker following Kussin's introduction was Eric Kelly, once the top pound-for-pound boxer in the United States. Kelly's stardom began at an incredibly early age. By 16-years-old, Kelly had already won his first Junior Olympic Boxing Championship. He then received a full scholarship to the University of Northern Michigan, to train at their U.S. Olympic Training Center. It was then that Kelly received the news that his father, who had been his primary caretaker for as long as he could remember, was diagnosed with a terminal illness. This was devastating to Kelly; due to his grueling workout and travel schedule, he could not be there by his father's side.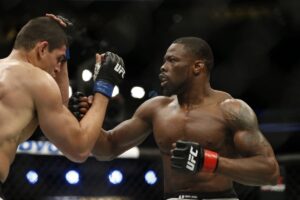 Athletes have historically been private about the states of their mental health. Many athletes, especially those involved in contact sports, feel as though they are not allowed to show weakness. This was the case for Kelly. His father's illness, mixed with his unrelenting workload, brought up many feelings. However, Kelly's coaches and training staff did not encourage him to work on these issues that he was dealing with. Instead, they encouraged him to keep fighting. As a result, Kelly was forced to repress these emotions, which affected his mental health tremendously. Kelly soon found himself channeling these emotions into negative activities. He then lost his scholarship to the University of Northern Michigan, following his arrest for assault charges. 
Looking back, Kelly deeply regrets not dealing with or even acknowledging his feelings. This is precisely what We're All A Little "Crazy" is trying to remedy. It is their hope that by traveling the country and sharing so many professional athletes' experiences, young athletes and people alike will feel more comfortable discussing the topic. 
A similar lesson was learned when the second guest speaker, former New Jersey Devils star Jim Dowd, spoke briefly about his own experience. Stemming from his rather difficult childhood, including struggling with his parents' divorce as well as being molested by his cousin, Dowd also had to repress his feelings. Throughout his entire professional career, Dowd was intent on never revealing to anybody what happened to him or expressing how it made him feel. However, repressing these feelings only came back to haunt Dowd, when last August he began experiencing thoughts of suicide. Now retired, Dowd finally saw a specialist and began communicating his feelings to his family and friends. Above all, Dowd stressed the importance of forgiveness.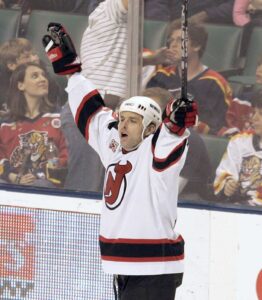 The topic of anxiety was covered in Asheton Brown's story. Before she became a successful track star and swimmer, Brown struggled with anxiety. The source of the problem dates back to her childhood, when Brown suffered physical abuse from her father, as well as being raped in her teenage years. These atrocities significantly impacted Brown, causing her to fear practically any human contact. She recalls that she would not give or receive hugs to anybody, family or otherwise. Her crippling anxiety constantly made Brown wonder, "What can I do to get off this hamster wheel?" Brown eventually saw improvement with her anxiety, as she became more confident in herself and in her relationships with others.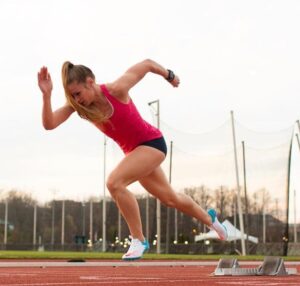 Much of the discussion involved the rhetoric used when speaking about mental health. Kussin called attention to the commonly used statistic by the media, "one in five people experience issues with their mental health." Not only is this incorrect, as nearly all humans experience changes in their mental health, but it also encourages marginalization. For example, saying only one in five people experience issues with their mental health alienates the one in five who are experiencing it. Also, it creates a false sense of comfort for those who are not experiencing it yet. 
The event ended with a Q&A session with Kussin and the athletes. Many insightful questions were shared from prior We're All A Little "Crazy" events, including, "What is the best way a peer can help?" Kussin responded by saying, "The first step is the acknowledgment that what they're going through is real. Because there's so many of us who go through things, like depression and anxiety, but nobody can physically see it, a lot of people don't understand. Acknowledging, 'Hey, I know you're going through something right now, but I've got your back and I believe in you,' that's one way you can be there for your friend."
PC Community Dedicates Month of October to Mental Health Awareness: A Perspective on Black Mental Health and PC's Newest Initiative
by The Cowl Editor
---
Campus
---
by Catherine Brewer '20
When it comes to mental health, Phillip J. Roundtree thinks that you can have Jesus and a therapist. 
At the event "Black Mental Health Matters," Roundtree discussed the complexities of mental health with a focus on access to healthcare for people of color, but also across racial and ethnic lines.
The event, which is part of Providence College's larger Mental Health Awareness Month, was held at 6:30 p.m. on Wednesday, October 24. It was hosted by Active Minds, BMSA, PC Life-Lines Grant, Office of Institutional Diversity, and The Center at Moore Hall.
Roundtree is a master's level clinician and performance enhancement specialist who specializes in behavioral health and child welfare. He is also the founder of Quadefy LLC, an organization that is dedicated to promoting mental, physical, emotional, and spiritual wellness. 
Standing in front of a crowd in Moore Hall, Roundtree donned a T-shirt bearing the words "Black Healing Matters!" 
Despite the gleaming smile that stretches across his face, Roundtree lives with anxiety and depression, and was suicidal for 15 years. 
His goal was to create a safe, reflective space to discuss mental health, especially the disparities in access to resources for minority groups. He actively advocates for the marginalized and underrepresented. 
Roundtree's goal was to engage the audience in a discussion around mental health that could potentially eradicate the stigma surrounding it. He also wanted to help students recognize that there are benefits in seeking counseling or therapy. 
"When we think about mental health in America, we don't think about black people," Roundtree explained. 
He began by providing the audience with a personal backstory, detailing how he came to be a speaker on mental health. 
Growing up, Roundtree observed what he described as "black boy rage:" young men expressing their emotions by means of what society perceives as "acting out," which is the result of a combination of trauma, a lack of access to counseling and therapy, and suppression of pent up anger, confusion, and sadness. 
Trauma is unique to every individual; in Roundtree's case, he experienced the death of his brother while he was in high school, as well as his mother's nervous breakdown one morning. "I was still expected to go to school that day, I was still expected to perform," Roundtree stated. 
Roundtree has also experienced the trauma of racial discrimination in America. 
When police commit acts of racial bias and brutality, the black community is left to deal with the trauma and fear that these bring. 
News outlets and social media also perpetuate a destructive narrative of people of color, which is harmful on an individual and collective level. 
Roundtree described the racial bias that he has encountered with police, which has caused him to feel anxiety and fear towards law enforcement. It is a constant reminder of pain. 
Nevertheless, there is still pressure within the black community to push through trauma, as slaves, those living in the Jim Crow era, and Civil Rights movement activists have done before them. 
"We have to push on, our ancestors pushed on…but this can be detrimental," Roundtree explained.
This narrative fits into one of the barriers to treatment that Roundtree discussed: the perception of mental health. 
He explained that while many people have internalized the idea that receiving treatment for mental health makes one "crazy," that everyone can and should have access to a therapist. 
He provided information about resources on campus and in Providence, including the Personal Counseling Center in lower Bedford Hall. 
Roundtree also noted that a lack of familiarity with the process of getting treatment is a hindrance. If people do not know the resources that are available, or have never talked to a counselor, the steps to receiving care can be daunting. 
These barriers affect individuals across racial and ethnic lines. For the black community in particular, Afro-centric cultural values, spiritual beliefs, and historical medical mistrust, as evidenced by the Tuskegee syphilis experiment, are added to the list.
Roundtree urged the audience to shift the narrative on mental health by referring to mental illness as "living with mental wellness issues." 
He feels that this term sheds a more positive light on receiving care, and also acknowledges that someone can be a son, daughter, student, or athlete while still working on personal happiness and quality of life. 
He encouraged the PC community to learn healthy coping strategies, including exercising for fun, controlled breathing, journaling, limiting cell phone use, and engaging with nature. 
For white students who want to be allies to the black community, Roundtree acknowledged that it is important for allies to speak up for marginalized groups, even in all-white settings. 
"I plant a seed. For some people, it might of clicked right there," Roundtree explained, "For others, in ten years from now, they might not remember my name, but they will remember that they learned something about mental health." 
While he concedes that talking about mental health and allyship can make people uncomfortable, embracing this feeling is how individuals can create real change in their communities.
On the evening before the Black Mental Health Matters event, Roundtree also spoke to the student athletes of the College. 
While Mental Health Awareness Month only lasts for the duration of October, there is a greater movement on campus to raise consciousness about the importance of mental health coined, "You're Never Alone in Friartown." 
John Rock, the senior associate athletic director for sports medicine, is one of the founders of this campaign, which began in the fall of 2017. 
After attending the first Big East Mental Health Summit at Georgetown University in June of 2017, Rock and other PC staff members wanted to bring the awareness that they had gained to their own community to create positive change. 
"The mission is to create more awareness around mental health issues with our student-athletes," said Rock. "[Our] primary hope is to increase awareness and destigmatize mental health issues."
Spreading the slogan "It is okay to not be okay," Rock wants student athletes to feel comfortable talking with others about their mental health or any struggles that they are facing. 
This October, he spoke with the PC faculty and staff to encourage them to be additional resources for students. The college community has picked up on the slogan, and now the movement has spread to encompass the mental health of all students, faculty, and staff.
"The mental health stigma is predominant among student-athletes and I want that to change," Rock explained, adding that he is motivated to continue the campaign out of his care for the health and welfare of PC student-athletes. 
He looks forward to the next event, "We Are All A Little Crazy," which will take place in February 2019. 
Rock also is continuing to work with the Personal Counseling Center with the hopes of adding a clinical sports psychologist to the staff for roughly three days per week. 
As the month comes to a close, more changes are still to come for the PC community, and sustained mental health awareness comes without an expiration date.