Netflix's Cheer Returns for Season Two
by John Downey '23
A&E Co-Editor
---
Arts & Entertainment
---
Netflix's
Cheer
Returns for Season Two
The Hit Series' Hopeful Message
Talia Rueda '23
The new season of Netflix's Cheer was released on Wednesday, Jan. 12 and quickly reached the top of the streaming platform's "most watched in the US today" list. It offers a new view of the world of cheerleading as well as inspiring insights on the top two cheer teams in the United States: Navarro College and Trinity Valley Community College. Due to their athletes' intriguing lifestyles and determination, these teams are notorious in the world of cheer.
One notable difference between season one and season two of Cheer is the latter's attention to Trinity Valley, who are the rivals of Navarro College and were not as represented in season one. The teams' near-equal screen time emphasizes the similar ways in which they prepare to take on the competition in Daytona Beach, FL. This approach not only adds a new significance to the ways in which both squads devise techniques intended to help them take the top spot in the world of college cheerleading, but also sheds light on commonalities between the cheerleaders on the different teams, such as their similar lifestyles and struggles.
Many of the cheerleaders on both teams come from broken households and have faced everything from financial issues to the incarceration of family members. Although such conditions are certainly tragic in any circumstances, they pose a significant challenge to competitive cheerleaders: cheerleading is an expensive sport that often requires athletes to join multiple teams at once, participate in competitions, and travel extensively. Many of the Navarro College and Trinity Valley Community College cheerleaders struggle to pay for these necessities in the sport.
Cheer explores these challenges, but also how athletes are able to overcome them. One cheerleader who undergoes such a journey is Maddy Brum, who joins the Navarro squad in season two. Throughout the season, several of Brum's team members and coaches reiterate her talent, admiring how she can tumble, fly, and dance, a combination of skills that not everyone on her team possesses. Brum's upbringing consisted of moving from house to house while her dad was incarcerated and dealing with worsening financial issues. 
These struggles, however, did not stop her from cheering: her home gym knew that she struggled with a difficult home life and could not afford to pay for a cheerleading career on her own, but her coaches, recognizing that her talent was undeniable, provided her with a safe and accessible experience.
Stories such as Brum's are what make Cheer so important; they not only illustrate the ways in which cheerleaders use the sport as an outlet, but also how cheerleading gives them a sense of importance, community, and purpose. Indeed, the experiences of many of the cheerleaders featured in both seasons one and two of Cheer demonstrate that cheerleading has offered them the family dynamic that they were never given. Monica Aldama, who coaches the Navarro team strives to create a positive community for her team. Throughout the series, several of her cheerleaders reiterate that Aldama is like the mother they never had: not only does she give them the foundations and coaching necessary for them to have a future in cheerleading, but also those necessary for them to have stable lives.
In season one of the show, a cheer professional comments that "the cheer world is very insular," meaning that famous cheer teams and cheerleaders are only known by other cheer teams rather than by the public at large. Cheer offers America a closer look at this world and, in exploring how the sport has given many athletes who face hardships stable and successful futures, which they might not otherwise have, offers an inspirational story of hope.
Film Review: 14 Peaks
by The Cowl Editor
---
Arts & Entertainment
---
Film Review:
14 Peaks
The Possibility of the Impossible
Grace O'Connor '22
The Netflix documentary 14 Peaks explores courageous mountaineer Nirmal Purja's journey as he climbs the 14 highest peaks in the world in the span of seven months. The previous record for the amount of time taken to climb all of these mountains was seven years, so Purja and his team's accomplishment is quite astounding. The Nepalese climber named this adventure "Project Possible." 
According to The Los Angeles Times, Nirmal was "a former Nepali Gurkha soldier and member of the U.K. Special Forces. He's a charming, exuberant leader out not only to achieve an incredible physical — at times even metaphysical — feat but also to help bring Nepal and his nation's uber-climbers into the international spotlight." 
Purja's background clearly gave him the necessary skills to prepare for "Project Possible." Indeed, the many factors that a mountaineer must take into account are daunting, especially those concerning the "Death Zone." As Salon explains, this "is the elevation above 8,000 meters, where cold, wind, and avalanches can kill, and oxygen is scarce." 
Purja's journey certainly had many setbacks, including his life-threatening struggle with High Altitude Cerebral Edema. Purja described this experience to Yahoo News, saying,  "I needed to get down the mountain quickly…It was a matter of life and death." 
Nirmal attributed his success in overcoming this frightening obstacle to his ambition, which is one of the qualities that stands out the most about him to his family. His wife, for instance, describes him as "very driven" in multiple interviews. 
While Purja's achievement is incredible, he remains humble. He described the project to Yahoo Canada as a "story that needs to be told to the rest of the world," expressing that "It's not about me, but [rather about] somebody else who believed in the vision to change the world for a better perspective, better reason." Purja's desire to share his experience and motivate others to achieve whatever they put their minds to is inspirational. Indeed, although Purja's journey certainly was tough, his resilience awes the rest of the world.
Maid Shines a Light on Domestic Violence
by The Cowl Editor
---
Arts & Entertainment
---
Maid Shines a Light on Domestic Violence
The Netflix Drama's Authenticity and Hopeful Message
Talia Rueda '23
Maid was released on Netflix on Oct. 1 and has since claimed its place on Netflix's "Top 10 in the US" list.
While the show offers a multitude of heartwarming moments between protagonist Alex and her 3-year-old daughter, Maddy, this mother-daughter relationship also proves to be life-saving. At one point, 23-year-old Alex is shown escaping her abusive boyfriend, Sean, in the middle of the night, hours after she finished picking glass out of her daughter's hair from his usual drunken outrage.
Maddy being put in danger is the final straw for Alex. She leaves the comfort of her home and the little money she has in order to protect her daughter. However, while Alex knows she has to take action to protect Maddy, she is not initially aware of what Sean had been doing to her. It is not until she is homeless with nowhere to go and reaches out for housing assistance that she recognizes that she qualifies to live in a domestic violence shelter.
"I would hate to take a spot from someone that has been actually abused," she says as she is offered the shelter's phone number. It is clear that Alex is not aware of what emotional abuse is; she believes abuse can only be physical, and that the people she would not want to take a spot from people who have bruises all over their body.
This lack of education regarding emotional abuse comes up several times within the show. For instance, the court denies that there is evidence that Alex's boyfriend abused her because she has an unmarked body. Also, Alex's dad sees Sean verbally force her to sit down and eat dinner when she is not hungry, but when Alex asks her dad to testify for proof of abuse, he insists that this instance was just "a young couple going through a rough patch." The show clearly works to inform its audience of what emotional abuse is, while simultaneously examining the ways in which the concept of abuse can be misconstrued.
Other scenes detail the less-obvious tactics emotional abusers use. Sean controls Alex in a subtle and isolating way. He wants Alex to be under his roof. He gives her car away and refuses to change his work schedule, making it impossible for her to get a job and gain monetary independence. Alex falls subject to Sean in all of these ways, working tirelessly for the comfortability and normality of being with the father of her daughter in their own home, making it an incredibly accurate portrayal of emotional abuse.
In one of the first episodes of the series, the owner of the domestic violence shelter informs Alex that women may return to their abuser up to seven times. Maid does an astounding job of showcasing this somber fact when Alex returns home to Sean out of desperation, but also with the hope that he will change. Alex's desire for him to change is ultimately less powerful than her goal of making a better life for her daughter, one without glass thrown across the kitchen or drunk outbursts. 
Alex's story ends more happily than many domestic abuse cases do, but there is nonetheless a commonality between her story and those of real women regarding the relationship between mothers and their children. These women do not often escape abuse for themselves, but for their sons and daughters. In the hardest moments of both Alex and Maddy's lives, their mother-daughter relationship proves to save both of their spirits, and seemingly, their lives.
The Life of a Suburban Serial Killer
by The Cowl Editor
---
Arts & Entertainment
---
The Life of a Suburban Serial Killer
You Season Three Offers Entertainment and Horror
Claudia Fennell '24
When the first season of the popular television show You began streaming on Netflix in 2018, over 40 million people watched its ten episodes in suspense. The plot followed protagonist Joe Goldberg, a bookstore manager in New York City, falling in love with one of his customers, Guinevere Beck, and beginning to stalk her. Viewers watched in discomfort as he stood outside her window at night, broke into her apartment, and committed horrible crimes against those closest to her that he perceived as standing in his way. 
Yet, somehow, the audience was still rooting for him in an odd way. While he was a serial-killing stalker, he was kind to Beck when she needed it and was a father-like figure to the young boy that lived in the apartment next door to him. Chaos ensued as the season progressed, and while all the odds were against Joe, he somehow managed to evade arrest for his crimes and move to Los Angeles, a city he believes to be the antithesis of who he is, in hopes that no one will be able to find him. 
A year later, in December 2019, season two began streaming on Netflix. It was watched by 54 million households and somehow involved even more twists and turns than the previous season. Joe presumes a false identity, introducing himself as Will Bettelheim to everyone he meets, and gets a job at an upscale book and grocery hybrid store called Anavrin. Joe begins to fall into his old patterns again and falls for one of his coworkers at his new job, a chef named Love Quinn. He even goes as far as to set up a telescope in his apartment so that he can watch Love in her home all day. The two eventually begin dating and Love starts to fall for him. Like in season one, he feels an overwhelming need to protect some of the people around him. He also begins stalking his teenage neighbor, who is involved with a suspicious older man, and ends up saving her from him. Despite all the negative things that Joe does, he somehow finds ways to redeem himself to the audience. 
As the season progresses, viewers start to learn that Love and Joe have more in common than previously thought. Love has a dark side, just like Joe, and she ends up silencing a woman who was going to spill Joe's secrets. When Joe realizes what she has done, he turns on Love and tries to harm her, but she exclaims that she is pregnant and Joe realizes that he cannot hurt her. The two move into a wealthy suburban area, get married, and all seems well until, in the final moments of the season, it is revealed that Joe is watching women in the neighborhood before he and Love even finish unpacking their moving truck. 
Season three of You was released on Oct. 15 and has once again gripped viewers around the world. It opens with Joe and Love as new parents successfully assimilating themselves into suburban society as normal people. Love opens her own bakery and Joe gets a job at the local library. As usual, however, Joe continues to stalk other women. He also grows increasingly angry with Love when she makes the same dangerous choices when people wrong her as he does. While not all of the characters, new and old, make it out alive of season three, the producers and writers will definitely be able to create another thrilling season to captivate their audience. Netflix has confirmed that there will be another season coming soon, although its release date is still pending. Viewers can anticipate yet another installment filled with even more drama in a new location far removed from Los Angeles, CA and New York, NY alike. For those who have not seen You yet, it is a must-watch, especially during the spooky season.
Netflix's New Documentary, Operation Varsity Blues
by Sara Conway
---
Film and Television
---
Exposing the Perverted College Admissions Scandal
by Dave Argento '21 A&E Staff
Providence students are not likely to hold fond memories surrounding the standardized testing and application process that haunts most high school juniors in the United States. Beyond the pressures of future career prospects and connections being influenced by colleges attended, parental expectations have managed to warp the priorities of a young adult's educational flourishing into a toxic rat race for bragging rights. Netflix's new documentary, Operation Varsity Blues: The College Admissions Scandal, dives into how independent college counselor Rick Singer capitalized on the college admissions industry through his illegal scheme exposed in 2019.
Singer's system brought in approximately $25 million from wealthy parents; he would bribe coaches and administrators so that their children would have surefire ways of being admitted into the most prestigious colleges in the country. Singer often used the phrase "side door" when selling the metaphor for his services to celebrities like Lori Loughlin and Felicity Huffman to show how he would subvert the known, legal paths to student acceptance. With top ranked colleges becoming increasingly difficult to get into through the "front door" of the standard application process and the exorbitant price tag on the "backdoor" of donating tens of millions of dollars to schools to buy acceptance, wealthy parents disregarded moral judgements to use Singer's side door option.
Singer used many techniques to pull off his heinous operation. His primary method involved bribing notable members of coaching staffs and athletic departments at top schools to commit players to their teams that often had never even played the sport. Admission via sports teams of lesser notoriety subverted the usual criteria for acceptance if coaches gave approval, allowing Singer to get students through this channel for years. His other method of having students fake learning disabilities so that their private proctor could take their standardized tests to near perfection made genius applicants out of ordinary students in the eyes of those judging applications. Following the scandal, there have been investigations and crack downs on both the student athlete recruiting processes and the standardized testing protocols.
Lauren Kranc of Esquire writes, "In total, 50 people—33 wealthy and influential parents, two SAT and ACT administrators, one exam proctor, nine college athletics coaches, and one college administrator—were charged in Operation Varsity Blues." The documentary combines acted -out portrayals of the major players within the scandal with real life interviews from some of those who worked to bring Singer and his clients down in the FBI's operation. To this day, Singer has yet to be sentenced or to spend any time in prison, as his assistance with exposing many of his clients to authorities earned him some leniency with the law.
The college search and acceptance process has always had inequality based on income, but Operation Varsity Blues shows how many of the nation's wealthiest went beyond the law in disregarding morality to favor what could be debated as either parental egotism or doing the best for their children. Netflix's documentaries have continued to bring greater transparency to specific topics that might have the mainstream reach to force greater reform within the U.S college admissions process. Operation Varsity Blues may just be the tip of the iceberg
Sexist Comment Wracks Ginny and Georgia
by Sara Conway
---
Film and Television
---
Taylor Swift Calls out Popular Netflix Show
by Nikki Idelson '22 A&E Staff
For anyone who has been on Netflix recently, the new television show Ginny and Georgia has been all the rage. It was released on Netflix on Feb. 24, and fans have been dying for a second season ever since.
The show centers around the relationship between a mother named Georgia and her daughter Ginny. According to Marie Claire magazine, the show goes beyond depicting the relationship between Ginny and Georgia, as they "cycle between love interests, varying degrees of deception, new friendships, a mayoral election, and criminal activity." Marie Claire also described the show as "half thriller, half coming of age story, with little sprinkles of comedy in between serious moments. It's a grab bag, and there's truly something for everyone in this addicting new show." This is why the show has become so popular, as it truly does have something for everyone.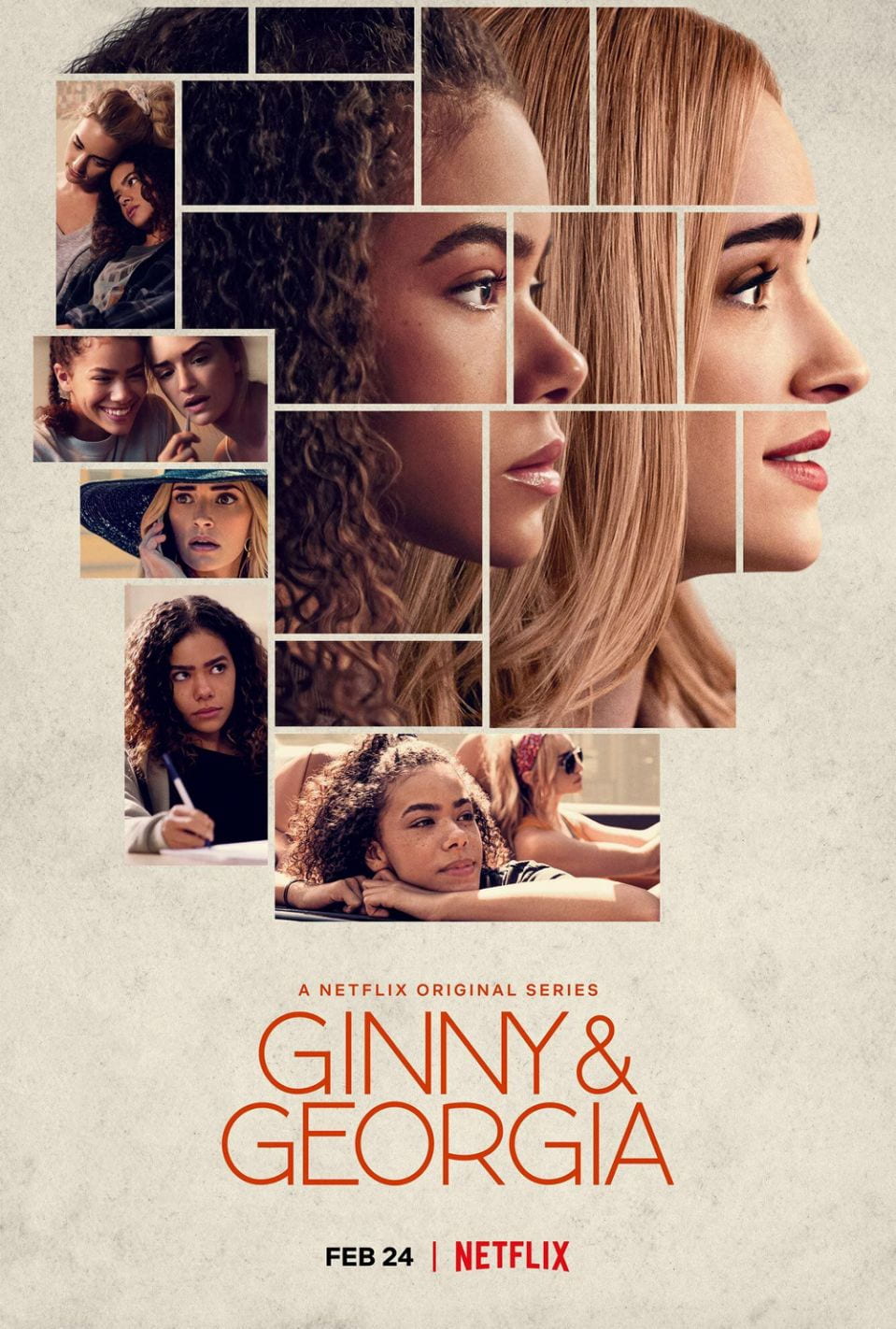 However, Ginny and Georgia has also received its fair share of criticism, which stems from the fact that in the final episode of the first season, Ginny makes a sexist comment to her mother. The joke revolves around pop icon, Taylor Swift. Ginny and Georgia are arguing about Ginny's romantic relationships, and Ginny snaps at her mother, saying, "What do you care? You go through men faster than Taylor Swift." In response to the joke, Swift replied on Twitter, saying, "Hey Ginny & Georgia, 2010 called and it wants its lazy, deeply sexist joke back."
From the early 2000s to now, Swift has been constantly ridiculed for the very public nature of her romantic relationships, many of which have served as inspiration for music after their respective relationships ended. This unfair scrutiny over the years is a result of the deeply rooted sexism in the music industry that has existed for centuries and continues to prevail today. She has been made to feel wrong for her dating history while men, such as John Mayer, who have also had a very public dating record and have written music about it, have been praised.This unique form of sexism has continued to prevail within society, despite all of the progress that has been made in achieving equality for women. This also shows how important it is for all individuals, especially women, to point out micro-aggressive instances when they see them.
Many have come back at Swift, saying that she has taken the joke to an extreme. However, this "joke" is an example of how sexism is still deeply rooted within society. PopSugar commented on the situation, saying, "the 'take a joke' mentality simply minimizes the irrevocable damage the sexist attitude is causing." From the joke itself to those who deny the severity of it, it is clear that we as a society have much more to do in fighting against the underlying sexism that exists today. It is disappointing to say that neither Netflix nor any of the cast members of Ginny and Georgia have said anything regarding the situation. Fans are hopeful that season two will be more conscious of any jokes that are made.