One Hundred Years of PC History
by The Cowl Editor on September 19, 2019
---
Campus
---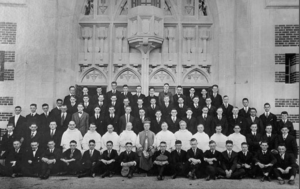 by Hannah Langley '21
News Co-Editor
On the afternoon of September 18, 2019, the Providence College community came together to celebrate 100 years since the College's official opening. The event, held on Slavin Lawn, was open to all members of the PC community. 
Free food and desserts were available to all, and tables were set up throughout the lawn so that people could come together and spend time with friends and faculty.
Back in 1917, the College was founded by a small group  of Dominican friars and the bishop of Rhode Island. After only receiving a land grant of 18 acres and $10,000 from Bishop Harkins, the Catholic community in Rhode Island came together to raise over $150,000 to build Harkins Hall. It took one year for Harkins Hall to be built, and by September 18, 1919, the College was able to open its doors and begin teaching.
The College began with only 71 male students and nine Dominican friars. Harkins Hall was the only building on campus, as PC began as an all-male commuter school. 
The first residence hall, Aquinas Hall, was not built until 1939 under the leadership of Bishop Harkins and Father John J. Dillon, O.P, who was one of the first few presidents of PC. 
Other Dominicans included Father Meagher, and subsequent presidents, such as Father Robert J. Slavin, O.P., and Father John F. Cunningham, O.P.
Although 100 years have passed since PC opened its doors and much has changed, including the addition of nearly 100 acres of land, the admittance of women, and the opportunity to pursue over 50 different majors, the main message of the school — to provide a Catholic education in the arts and sciences —has not changed.