PC Dining Adjusts to "New Norm"
by The Cowl Editor on October 1, 2020
---
Campus
---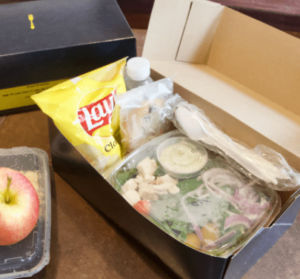 by Hannah Langley '21
News Co-Editor
Since Providence College made the executive decision to temporarily go completely remote following a spike in COVID-19 cases, students off-campus have not been able to leave their residences, and on-campus students have been limited in their ability to travel off-campus. For those students in quarantine, isolation, or subject to stay-at-home orders, having access to food and groceries has been difficult.
To assist students during this time, PC Dining and Sodexo have made necessary changes to ensure every PC student has access to meals, both on and off campus. On Sept. 18, the College delivered three meals to all off-campus students. Following this delivery, however, off-campus students were given the option of continuing to receive meals or to instead receive $30 in PC Cash per day.
These deliveries demonstrated a great deal of collaboration and commitment on the part of College staff, as even Physical Plant was seen delivering meals that first Friday afternoon. John LaBreche, general manager of PC Dining, said that he considers the deliveries a success. "The main objective of the meal deliveries is to ensure that the College students are getting three meals a day." He also noted that PC has been working closely with the dietician on staff to make sure those with allergies or restrictions are accounted for and provided appropriate meals.
Besides delivering to students directly off-campus, the College has also been delivering three meals per day to those students in isolation or quarantine staying in the Providence Marriott Downtown. "The delivery of the meals to the various locations has been a joint effort between dining services, the College's transportation department, and the facilities department," said LaBreche.
While students off campus are receiving meals or PC Cash as compensation at the moment, dining services have remained in operation with some slight modifications. For almost two weeks now, Raymond Dining Hall has transitioned entirely to take-out options. Sodexo employees are working to make sure everything is in to-go containers to avoid lines for on-campus students.
Alumni and Eaton Street Café have switched to strictly mobile ordering and pick up from take-out windows, as well. All of these changes, LaBreche said, were done at the College's request "to avoid lines and for speed of service."
As the order for remote classes and stay-at-home remains in place until at least Oct. 3, LaBreche says, "We will continue to evaluate what we are providing for the students at all of the dining locations and make necessary changes to provide as many options as possible while staying within the guidelines and mandates that we are held to."
La Breche thanks all the on-campus students for their reaction to the changes, saying, "Overall, the students coming to eat at Raymond Hall and the retail locations have been very patient and understanding with all the changes. . .They have expressed their thanks to the dining service staff for the efforts they make to provide them meals." LaBreche has said that he has just been taking the change one day at a time, just as the rest of the College has been doing for the past several weeks.