A Not-So-Pink Tide Floods South America: Ideological Divide Grows Amidst Presidential Elections
by The Cowl Editor on April 22, 2021
---
National and Global News
---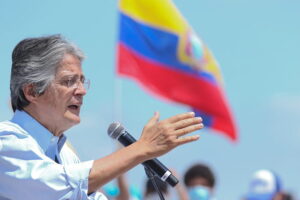 by Addison Wakelin '22
Assistant News Editor
South America experienced a tense and tumultuous political trend in elections this past April. Two high-profile elections in Ecuador and Peru have been a reflection of the increasing political and ideological tensions that have been exacerbated by both the COVID-19 pandemic and economic stagnation.
On April 11, Guillermo Lasso, a conservative former banker who advocated for cutting taxes and implementing austerity measures to decrease the fiscal deficit, won the Ecuadorian presidential election with nearly 99%of the votes counted. His opponent, leftist Andrés Arauz, ran on a largely progressive platform, emphasizing the implementation of social spending and social welfare policies that would benefit Ecuadorians.  
The results of Ecuador's election come as a major blow to the leftist movement within the country. Ecuador has not elected a president from a conservative platform in the last 15 years. Former Ecuadorian President Rafael Correa personally picked Arauz to run on a platform reminiscent of his own administration's policies.
Lasso's win represents Ecuador's shifting political dynamic from a key "pink-tide" country to a gradual shift to the right. Pink Tide was a political and economic movement in the late 1990s and early 2000s that captured the growing anti-capitalist and left-wing sentiments of several South American countries, including Ecuador, Bolivia, and Argentina.
Peruvians went to the polls this past weekend to vote in the first of two runoff elections. After former president Martín Vizcarra was removed from office last November, Peru has continued to face the effects of the COVID-19 pandemic, economic stagnation, and political instability. With a 70.21% turnout rate in the first round, the results of the election have put Pedro Castillo and Keiko Fujimori in the lead, with Fujimori narrowly polling ahead.
The Fujimori family is not new to Peruvian politics. Keiko Fujimori previously ran for president in 2011 and 2016, and is currently running again in 2021. In 2018, she was arrested on charges of money laundering during her 2011 campaign and was later released on bail in May 2020. Her father, Alberto Fujimori, was first elected president in 1990 and fled the country in 2000 due to numerous allegations of corruption and human rights abuses.
The two candidates leading the presidential race are left-leaning Castillo, a member of the Free Peru National Political Party, and right-leaning Fujimori, founder of the Popular Force party and daughter of former Peruvian president Alberto Fujimori.
This year's Peruvian elections have been a reflection on the increasing ideological tensions of Peru's political and social institutions. Peru has been hit especially hard by the COVID-19 pandemic, as staunch  inequities within both their healthcare and economic systems have been exposed by their high COVID-19 death rate.    
In Ecuador, Arauz conceded the race shortly after the results on April 11 and called to congratulate Lasso on his victory. In Peru, Castillo and Fujimori will face off in a second round of elections on June 6.