"Let Me Be Brave in the Attempt" : PC Special Olympics Set to Host Unified Basketball Tournament
by The Cowl Editor on October 31, 2019
---
Campus
---

by Peter Mazzella '22
News Staff
The Providence College Special Olympics group hosts events to transform lives through competitions such as swim meets, basketball tournaments, and even an end of the year dance. Using the excitement of competition, Special Olympics can change lives.
Special Olympics is the largest organization worldwide for people with intellectual disabilities. They host over five million athletes from 193 different countries. The organization also requires many volunteers.
Recently, the PC Special Olympics club held an informational meeting with the intention of getting new volunteers to help at Special Olympics events that will be coming up in the next few months. 
On Nov. 23, PC Special Olympics will be hosting their Unified Basketball Tournament, which brings many opportunities for those interested to get involved.
Some roles that students can take on are electronic and written scorekeepers, who are responsible for keeping score and cheering on players; announcers, who bring enthusiasm and play-by-play commentary of the game; as well as those distributing awards during the ceremony.
These positions are not the only ones that PC Special Olympics offers; volunteers can help as court monitors, who watch over the courts and players' actions as well as fans in the stands, to encourage good sportsmanship and having fun. With a plethora of options and different ways to get involved, everyone can help to make a difference in someone's life.
Special Olympics Coordinator Catherine Flugel '20 spoke about the meeting, saying, "It was a great turnout, there were many people who showed enthusiasm towards helping out during the upcoming events which is exactly what we were looking for!" 
Coordinating and planning events for PC  Special Olympics is no small feat. Flugel works tirelessly to ensure every aspect is in order, which is why the task of gathering a large group of willing volunteers is essential.
With a successful meeting behind them, the next task is to arrange volunteer roles. Flugel is not alone, however. There is a group of individuals who assist in the coordination and role assignment of volunteers to ease the process. 
Sarah Kerrigan '20 is Flugel's "right hand." She is the Awards Coordinator, and the two work to bring the joy and energy that each one of these events delivers for all that are involved. 
Kerrigan gave her take on the importance of preparation for each of the events, stating, "Being prepared is the most necessary part of each of our events. If everyone is not on the same page, then it is hard to get things accomplished, which is why we take the time to make sure each of our volunteers knows their task and where to find us during the event."
PC Special Olympics has over 70 active members who range from event coordinators to volunteers. There is no shortage of staff when these events come around. 
The number of people involved in these events shows how much students at PC care about volunteering.This strong community atmosphere that the club emphasizes is something that will be carried on for generations to come and will continue to serve and benefit the Special Olympics community.
Reaching New Peaks at Mount Major: PC Outdoor Adventure Club Goes on Second Annual Hike
by The Cowl Editor on October 24, 2019
---
Campus
---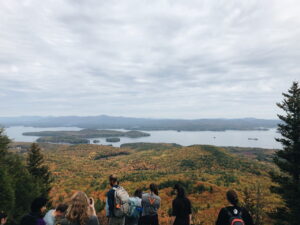 by Peter Mazzella '23
News Staff
This past weekend, a group of around 30 students ventured out of their comfort zones on a hiking trip to New Hampshire. The Outdoor Adventure Club traveled over two and a half hours to get to their destination Mount Major. 
Standing over 1,785 feet tall, Mount Major is home to many scenic overlooks, including one of Lake Winnipesaukee. This weekend's trip was the club's second annual fall hike. They will continue to plan more in the coming months.
The club made the most of their time by leaving at 7 a.m., hiking for three hours, then returning back to campus at 4 p.m. 
With a combination of perfect weather and great views, the trip could not have gone any better. The Outdoor Adventure Club does their best to plan around weather conditions, and give members the best scenery when the leaves are turning different colors.
With increased participation from previous years, there were certainly more responsibilities for people on the executive board. 
Club leaders made a point of enacting a buddy system that held people accountable for the safety and location of others to make sure everyone was with the group.
Outdoor Adventure Club  Vice President Lindsey Cartier '21 spoke on the different types of people that join the club on their fall hike, saying, "I would say members are a mix of experienced hikers and beginners. Most people seem to go on the trip for a nice escape off campus to enjoy the beautiful fall in New England. Those with more experience definitely help pave paths for beginners when we reach more challenging parts of the trail."
The incentive to go on a day trip to ease the mind and have some fun is one of the main reasons for the increase in participation, and is what made the fall hike even more of a success than last year.
Not limiting the experience to just experienced hikers eliminates barriers that would otherwise deter aspiring members. This mixture of experienced and inexperienced hikers is an effective way to develop new relationships as people can help others as they fall behind. 
With a focus on meeting new people, the Outdoor Adventure Club is a great fit for people looking for something different and exciting to do on a weekend.
With continuously growing numbers, the club brings an array of personalities from different walks of life. The easygoing culture also helps students to form bonds with each other. 
Cartier says, "My favorite part of the trip was getting to meet some of the underclassmen who just joined the club this year! It is always exciting to be able to plan trips that will hopefully become a part of their annual PC memories." 
The experience of meeting new people all while indulging in incredible views is something that is hard to turn down, and is one of the reasons why students stepped out of their comfort zones and went on this trip.
Taking a day to get away from the busy life of a college student can be extremely beneficial, due to the fact that hiking is one of the healthiest things one can do for the mind and body, and brings a sense of freedom once the peak is reached. The Outdoor Adventure Club is open to new members, which is why day trips on a weekend are so fun and bring with it new relationships.
AQ Blues: Residents Connecting Over Shared Wi-Fi Issues
by The Cowl Editor on October 3, 2019
---
Campus
---
by Peter Mazzella '23
News Staff
While sophomores have been making connections in Aquinas Hall, their devices have been losing connection. This has caused frustration among residents who wish to use their devices in the comfort of their own room. 
Aquinas residents have been very adamant about their poor connection to the internet, complaining that streaming services buffer sporadically, making it frustrating to watch or stream anything.
Aquinas resident Owen Delaney '22 spoke about the issue, stating, "I had to leave my dorm because I couldn't load my homework. It becomes a problem when it interferes with my schoolwork, and you can't get anything done because you lose connection so often." 
Matthew Williams '22 is also irritated by the lack of service in his room. He explains that these problems are limiting not only his academics, but also his ability to enjoy his downtime. Williams explains, "It seems that everywhere else we go the Wi-Fi and service are fine. Living in an outdated building, the least that should be expected is a decent Wi-Fi connection to do homework." 
Many students acknowledge there is a problem with the Wi-Fi but do not know who to contact or what to do about it. 
After learning about the complaints and issues, HelpDesk information technology manager Jim Rizzo let the technical engineers know that there was a problem in the hall. 
He sent over two Senior Network Engineers, Terry Baron and Fritz Excellent. They went through the hall testing connection in different areas to help resolve the issue. 
While it was mentioned that over the last four years they have spent $1.5 million rewiring each dorm and establishing a stronger connection, there are rooms that do not experience the same level of strength. Students who are experiencing issues with their connection should contact the HelpDesk as soon as possible.
The problem was resolved by putting hotspots, or access points, in the rooms that receive a dull connection. This not only improves the strength of the Wi-Fi connection in individual rooms, but the hall in general.
The process of setting up an access point or hotspot in the room was seamless. After moving a few desks around and plugging in a wire, the connection was established, and, within minutes, there was a visible difference.
Rizzo commented that most of the time, complaints are never taken into consideration, which is why the information technology (I.T.) department often does not  know about these problems. "Unless we receive calls," he said, "we do not know that there are issues in specific buildings, as we can see there are tens of thousands of devices connecting to our wireless networks without issue."
The biggest problem is that students may not know the right resources to reach out to if there is an issue with their wireless connection. Rizzo emcourages students to call the HelpDesk, located in the basement of the library at (401) 865-4357 or email them at helpdesk@providence.edu.