Former Friar Lands Local Coaching Job
by The Cowl Editor on October 24, 2019
---
Friar Sports
---
Rubin Garces '97 Named as Local Head Basketball Coach
By Liam Tormey '22
Sports Staff
Ruben Garces '97, originally from Colón, Panama, is 46 years old. He is the newly-named head basketball coach at St. Raphael Academy, a high school in Pawtucket, RI not too far from where he spent his college days playing for the Providence College Men's Basketball Team. The Cowl staff had the chance to sit down with the former star and discuss his journey back to the Ocean State.
After spending two years at Navarro College in Texas, Garces transferred to PC in 1995 to play basketball. He said he was recruited by 29 different schools, and visited the likes of the University of Texas at Austin, the University of Connecticut, the University of Alabama, and West Virginia University. But there was something about PC that was different.
"All of those schools had class sizes with large amounts of students in each class," Garces said. "At Providence, it was better for me to be in smaller size classrooms where I felt the teachers would be better able to help me."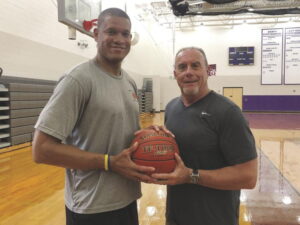 He mentioned that coming from Panama, he was a very religious Catholic and it added to his desire to come to a Catholic institution. He also mentioned the high student-athlete graduation rate at PC as a contributing factor in his decison.
Garces talked about his favorite memories at PC. For a student-athlete who went to the Elite Eight in the 1997 NCAA Division I Basketball Tournament for the Friars and beat Duke University in the second round, his favorite memories were  surprisingly not about basketball.  
Garces elaborated, "My favorite part for sure was the size of the school. It did not matter where you were from, everyone knew each other, and you felt a sense of family."
He wanted nothing more than to just be like everyone else and said, "I went to all of the parties and to events on campus so I could be a student. It was important for me that everyone viewed me as someone who was not just an athlete, because I was a student as well."
During his time at PC, Garces felt that he learned a lot, saying, "It taught me how to be diverse because it was very different from being in school in Texas." His career as a basketball player was spent playing in multiple different countries, but Garces said PC "helped me to adapt to any situation, how to go to my friends, how not to be culturally shocked, how to be cool and go with the flow, and especially how to have a conversation with everyone."
He then talked about his time playing professionally. When asked about his favorite memory, after playing in the NBA, in Europe, and in Latin America, it was tough for him to decide. Garces played for NBA teams Phoenix Suns and the Golden State Warriors and said being around the likes of Penny Hardaway and Jason Kidd was amazing.
However, Garces made it clear that spending nine years in Spain during his career was one of the highlights of his journey.
"Being in Spain and already speaking the language made it easier for me to adapt. There was a sense of family amongst the team. We went to barbeques together, we went to family parties, out to dinner with teammates, and it felt like Providence College all over again."
Before talking about his time after basketball, Garces did not think his playing career would end as soon as it did. "It was very tough. I didn't want to stop, and I think I could have played three to five more years," Garces said. "But I knew my family needed me. My son was 12 playing basketball and my daughter was 10 playing the highest level of youth soccer. I wanted to make up time for me being away and help them reach their goals every day."
For about a year after playing overseas Garces took a few years to himself and eventually became a financial planner for a financial company for a short period of time. After this stint in finance, Garces was a head strength and conditioning coach at a gym and now has moved to St. Raphael, where he is now a youth advisor and will begin his first year as head basketball coach this upcoming season.
Garces knows being a former basketball player is going to help him a lot with his players.
"I know how it feels to be a player. Sometimes you have good days, sometimes you have bad days. I think I know how to push them and to motivate them to be the best they can be. You know all the insides of being a player. I have been fortunate enough throughout my career to be around some great coaches and it will help me. For me it is more about mentoring, not everyone is going to play professionally, so mentoring kids to make the next step to make sure they can make the step is what I am excited for," said Garces.
Garces is passionate about his new role, saying, "A lot of guys who just played middle school basketball think they can coach and know everything to the game. They think they can coach now. It was one of the things that motivated me to get into coaching."
However, Garces emphasized his real purpose in coaching: "I want to make sure I can get my players ready not just for basketball, but for life."
Garces begins his first year as head basketball coach at St. Raphael this winter.