Shooting in New Zealand Shocks the World: PC Clubs and Students Stand with Muslim Community
by The Cowl Editor on March 21, 2019
---
National and Global News
---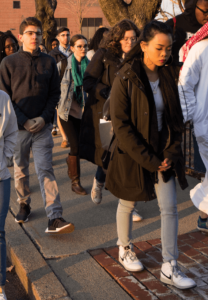 Kellie Johnson '22
News Staff
On Friday, March 15, 2019, the world became witness to a devastating tragedy in Christchurch, New Zealand when two shooters killed a mass of 49 citizens at two separate mosques.
A 28 year-old man named Brenton Tarrant, along with four other suspects, have been charged for this mass murder. The police force in New Zealand worked diligently to diffuse explosive devices that had been placed on cars outside of the mosque.
After live-streaming this attack, Tarrant uploaded a detailed manifesto full of right-wing extremism and hatred toward many Muslim groups. 
The Australian identified himself as a white supremacist. His manifesto was 74 pages long, talking about anti-immigration and his reasoning for his brutality. This man, while acting alone, is also a symptom of a much bigger problem: white supremacy. 
Tarrant had been traveling throughout the Balkans before his attack last Friday as he hoped to study the historical conflicts between Christians and Muslim Ottomans in the area. 
Although not a resident of New Zealand, Tarrant had stated that he went there with the sole purpose of training to harm Muslims due to their mass immigration to New Zealand. 
Officials in New Zealand have spoken out that these citizens had made New Zealand their home, and they will continue to support the individuals who had immigrated there because New Zealand is their home and they should feel safe.
This tragedy is specifically noteworthy because of how uncommon such violent acts are in New Zealand. Unlike the United States, where annual gun deaths have been raising to alarmingly-high numbers, New Zealand has previously reported a low annual death-by-shooting rate. This shooting, however, has killed or injured more than the total number of annual deaths New Zealand typically reports. 
Because New Zealand is known to many as a peaceful and accepting country, the fact that so many people were killed in such an act of violence shocked people around the world. 
Various countries stand with New Zealand during this time. World leaders have expressed their condolences, including Queen Elizabeth of England, who sent her thoughts and prayers to New Zealand, saying, "Prince Philip and I send our condolences to the families and friends of those who have lost their lives" during this "tragic time." 
The Providence College community is also standing with New Zealand by holding several events. An honorary walk was held this past Wednesday, March 20, by the Board of Multicultural Student Affairs (BMSA) and the Middle Eastern Student Association (MESA) in remembrance of those killed in the shootings. A Mass was also held in St. Dominic's Chapel in remembrance of all those killed or injured in the shoooting.