Tennis Looks to Start Spring Season Strong
by The Cowl Editor on February 27, 2020
---
Friar Sports
---
Young Team Ready For Spring
by Leo Hainline '22
Sports Staff
The Providence College Women's Tennis Team recently got itsseason underway as the squad looks to improve from the previous year and aims to establish itself as a competitive program in the Big East.
Returning veterans Aidan Epstein '20 and Natalie Pitocco '20 will need to bring their experience to help lead an underclassmen-heavy roster. In his fourth season as head coach, Jakob Klaeson recruited four freshmen to Friartown to join Mimi Dailey '22, Haley Gurski '22 and the two seniors. The squad looks to usher in a new era for the program. 
The roster is full of competitors and Coach Klaeson anticipates both their youth and depth as two big potential strengths. 
"One of our strengths is that we're very similar from top to bottom," he said. "We have two seniors, no juniors, two sophomores, and four freshmen. One of our strengths could be that everything is so new and exciting, but that could also work against us that we don't have the prior experience as much as other teams, but I see the depth of our team as our strength."
Dailey agrees with Coach Klaeson that there are many reasons  to be optimistic about to the rest of the season. 
"I think our team from last year has already improved from the previous season a significant amount," she stated. "We have four hardworking and determined freshmen and four returning players. I believe this year the eight players are driven and ready to compete to our best abilities." 
She spoke very highly of the newcomers to the team, saying, "All four of our freshmen are amazing. Each freshman has brought new and different talent to the team. I believe they are all worthy of looking for out there on the courts this season."
PC women's tennis is coming off a 5-18 season and currently are 1-3 in the 2020 season, having lost a tight match to Fairfield University this past weekend. Providence and Fairfield have been evenly matched but this time the Friars lost 4-3 in singles, with many of the matches going all three sets. 
In doubles, the Friars went 1-2, with the two losses coming in hard-fought matches. PC came back from 2-5 down only to fall 6-7 (women's collegiate tennis only plays one set in doubles). Brenna Magliochetti '23 was the only Friar to grab wins in both singles and doubles, winning her singles matches 6-3, 6-0, and linking up with fellow Katie Mulvey '23 to grab the sole doubles win 6-2.
The Friars take the court next in Orlando, FL over spring break for matchups against Millsap College and Big East opponents Georgetown University and Creighton University. Coach Klaeson noted that he is looking forward to Big East play. 
"The Big East matches are always highlights of the season," he stated. "We have a couple of exciting ones. For my tenure, we're heading to Marquette University for the first time. We head to Marquette and play Butler University at Marquette so that will be an exciting trip."
Coach Klaeson also mentioned that their match against Sacred Heart University is one to watch out for. 
"Coming back from spring break, we have Sacred Heart at home again. We lost to them last season 3-4, so that's an exciting match. I think we're very evenly squared up and we're very excited to kind of, like, reclaim that because we have beat them in the past and going a bit back and forth, they've always been close matches."
The Friars plan on demonstrating their ability on the court this season with a youthful squad that screams potential. As the season progresses, PC will look to show that they are ready to compete against some elite competition.
Tennis, Softball Kick Off Spring Seasons
by The Cowl Editor on February 15, 2018
---
Friar Sports
---
PC's Spring Teams look to Get off to a Hot Start
by Eileen Flynn '20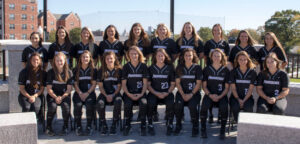 Sports Staff
Softball:
The Providence College Women's Softball Team traveled to the University of Central Florida's "Friends of Jaclyn" Tournament on Feb. 9 to 11. Facing four tough opponents, the Friars went 0-4 the first two days of the tournament. However, Brittney Veler '18, stirred up some momentum her team needed to get the season going. With her impressive RBIs and variation of hits, the team was inspired on their last day of the tournament, just in time for the match-up against the University of North Carolina.
The game started off quiet, two innings passed and both teams still had a zero under their names on the scoreboard. Emma Lee '19 began the third inning with a leadoff single. After a few more pitches, Lee made her way over to third, stealing two bases. Vanessa Portillo '19 brought her teammate home with an RBI single.
The Tarheels did not take long to respond to the one run deficit. In the bottom of the third, UNC tied the game at 1-1. In the top of the 5th inning, Mackensie Compton '20 and Veler worked together to set up Portillo yet again. Portillo responded with a clutch sacrifice fly, sending the winning run across home plate. Miranda Trinidad '21, pitched a complete game and held the Tarheels at just one run. PC finished the tournament on an upset, handing ranked UNC their only loss of the weekend.
Veler tallied a .400 batting average over the course of five games. The senior had six hits, a double, a triple, and four RBIs. The Big East named Veler to the weekly honor roll after noticing her impressive performance. Although this was not her first time being recognized, Veler said she was excited to start off her final season as a Friar with this accomplishment.
After a busy weekend away, Veler looked ahead to the upcoming season. "We have a team of veterans; we only lost two players, so we have a lot of experience." Veler mentioned the previous years' heartbreaks where her team was just short of qualifying for the Big East Tournament. However, Veler is confident that this year her team can "break through" past outcomes and have a better ending.
When asked about what games she was most excited for on this season's schedule, Veler was quick to name St. John's University. "That team has rocked us every year I've played them; they have a powerful program with a head coach that was once a stud pitcher at Providence." Veler hopes to beat this team at least once before she has to hang up her cleats. Other match-ups the outfielder is looking forward to include games against DePaul University and Villanova University. Although she loves beating a team on the competition's turf, she tells me there is nothing better than the comfort of a Ray breakfast and the walk to Glay Field for a big game.
Veler only has a few more walks to her home field before she graduates in the spring. Veler has been playing softball since age six, and she is both sad and excited about her transition into the "real world." She said that "it is much more than saying good bye to the sport, there were so many ups and downs, so many places it brought me, and so many emotions that are all wrapped together." She has a few different paths in mind for after graduation. Whether it be a career within the organization of Major League Baseball or in the field of health policy and management, Veler is excited to find out.
As for the rest of the season, she is not losing focus. Veler tells me the key to success for her team is to "stick to the PC way." She has faith in her coaches to keep pushing her team forward and to keep reminding them that no matter what field they are on, "they own it."
Tennis:
The Providence College Women's Tennis Team is patiently waiting for the snow to stop and for the wind to die down so they can start practicing for their 2018 spring season. This past fall, the Friars defeated teams from Johnson & Wales University and the College of the Holy Cross. The team lost two close matches, 4-3, against Fairfield University and Assumption College. When they partcipated in the Quinnipiac Invitational, the Friars displayed promising talent on the second day. In a complete transition from the first day of tournament, three PC players played their way to the semifinals in their respective brackets.
Due to the Friars' younger roster, this inconsistency in performance can be expected. However, with the fall season under their belts, the team has matured together and have high expectations for their spring season. There are a total of six underclassmen on the team, three freshmen and three sophomores. Katie Marvin '18 and Risa Takenaka '19 will lead their younger teammates with their experience and talent.
Takenaka explained how she led her teammates by example during the fall season. "I think I was able to set an example for the team on how to be a competitor on the court when playing tough players," she said. Since the spring season is filled with tough competitors, the team will need to prepare. Head Coach Jakob Kleason will return for his third year at Providence College.
Saturday, February 3 marked the season opener for the team against Saint Peter's University where the team  got the season off to a hot start with 7-0 sweep.
The next day the Friars faced off against a tough Siena College team in Albany, New York. The Friars fought hard but ultimately lost 5-2 though many of the matches were tight until the end. Takenaka was the only player to pick up a win in the single matches for PC.
  Other opponents the team will face this season include Butler University, Dayton University, College of Charleston, Harvard University, Villanova University, St. John's University, and Brown University. Takenaka is already looking forward to the matchup against Harvard. She said, "They have a really strong lineup, and it's always a fun time playing as the underdog."
The Big East Tournament will proceed during the last week in April in Cayce, South Carolina. The Friars are looking to redeem their 4-0 loss to Villanova in the previous 2017 Big East Tournament. The Lady Friars are ready to start their spring season, despite the winter weather.
Lacrosse Gears Up for Spring Season
by The Cowl Editor on January 25, 2018
---
Friar Sports
---
by Eileen Flynn '20
Sports Staff
The Providence College Men's Lacrosse Team has been waiting for a chance to play another game since the gut-wrenching Big East Championship game last May. The Friars upset Big East rival Villanova University in the semi-final game, winning their first ever Big East Tournament win and advancing on to the championship game. The team played their hearts out against defending champion, Marquette University. They fell to the Golden Eagles by just one goal on their home turf, concluding their 2017 season with a record of 14-7.
   The Friars have had the past eight months to work hard in their off-season, using this heartbreak to motivate them for a 2018 season with better results. Head Coach Chris Gabrielli added Conner Byrne '18, and Brendan Kearns '19 will join returning leaders, James Barclay '18, Tate Boyce '19, and Austin Goltz '17 as captains.
   The returning captains will lead by example, and continue their successful careers as Friars. Barclay helps protect Boyce as he holds up the defensive end; he has caused 35 turnovers and has started all 47 games of the past three years at PC. Boyce returns after a decorated 2017 season. He received the USILA/Nike Third-Team All-America honors and Inside Lacrosse Honorable Mention All-American accolades. The Friars appreciate his steadiness in net, as Boyce reported an 8.05 goals against average and a 0.569 save percentage. He was ranked sixth in the NCAA against all other Division I goalkeepers. Goltz returns as a graduate student and his veteran status will help lead the younger Friars. He played in 15 games last season and finished with 18 points.
  Big East All-star Byrne, will be a positive addition to the team as a new captain. In midfield, he has started in 39 games and scored nine goals and four assists in the 2017 season. As a senior, Kearns will want to make his last season the best for himself and his team. As an attackman he has posted 32 goals and 13 assists in his two years at PC.
The regular season opens up on Saturday, February 3 at Boston University. The Friars will then return home and pick-up their momentum with a three game home stretch, hosting the College of the Holy Cross, Bryant University, and St. Joseph's University.
   The team will travel to the University of  Connecticut to Sacred Heart University's territory on March 3 before yet another three-game homestead against University of Massachusets at  Lowell, Harvard University and Hofstra University. At the first Big East matchup is on March 31, the Friars will face-off against St. John's University.
   The Friars will have to wait until April 14 for their highly anticipated rematch against Marquette University. The Friars are expected to come back looking better than ever, and have another historic year for the program.