The Show Will Go On—It's Just a Matter of When
by John Downey '23 on February 10, 2022
A&E Co-Editor
---
Arts & Entertainment
---
The Show Will Go On—It's Just a Matter of When
2022 Grammys Postponed Due to COVID-19 Concerns
Olivia Riportella '25
The 64th Grammy Awards have officially been postponed due to concerns about recent COVID-19 surges. Music's Biggest Night was originally set to take place on Jan. 31, 2022, in Downtown Los Angeles at the Crypto.com Arena, formerly known as the Staples Center. However, the significant increase in COVID-19 cases over the past month led health and safety experts, state officials, and the artistic community to make the difficult decision to postpone the show. This does not come as a surprise, as many shows with in-person elements have been canceled or postponed nationally in recent weeks. 
However, the Academy has updated the terms of the show as of Jan. 18, with a new, exciting location: the 64th Grammy Awards will now take place in the MGM Grand Garden Arena in Las Vegas on Sunday, April 3.
The 2021 Grammys were also forced to postpone and ended up being a drastically scaled-down virtual show, with minimal live performances and most Grammy Week events canceled. Regardless of the fact that the 2022 Grammys have been forced to make similar adjustments, the Recording Academy and its joint partner CBS have stated that they still "look forward to celebrating Music's Biggest Night," and are hoping for a full show with a live audience on this defining night for the music industry. 
Indeed, due to current COVID-19 trends, many Grammy Week Events canceled last year have been canceled this year as well. The annual Pre-Gala event hosted by Clive Davis and the Recording Academy, for instance, will not take place. However, some other Grammy week activities, such as the Person of the Year Gala set to honor Joni Mitchell, will go on. The Gala will take place in Las Vegas. 
The 64th Grammy Awards will be hosted by Trevor Noah of the Emmy Award-winning broadcast program The Daily Show. This will mark Noah's second consecutive year as the master of ceremonies after receiving high praise for his performance hosting of the 63rd annual show. Jesse Collins, Ben Winston, and Raj Kapoor will serve as executive producers, with Kapoor taking over for Winston as this year's showrunner. 
The Recording Academy has already released its star-studded list of nominees in all 86 categories. Leading the pack with 11 nominations in total is ​​Jon Batiste, the soulful artist who serves as the bandleader on "The Late Show with Stephen Colbert." Justin Bieber (eight), Doja Cat (eight), H.E.R (eight), Olivia Rodrigo (seven), and Billie Eilish (seven) all trail closely behind with multiple nominations to their names. Notably, Rodrigo has secured herself a spot in all four of the Grammys' top categories: Record of the Year, Album of the Year, Song of the Year, and Best New Artist.
Despite the ongoing difficulties that the Grammy Awards are facing, the ceremony still promises to make for a fantastic show. Indeed, the Recording Academy and CBS are working hard to deliver an unforgettable night for the artistic community and those streaming the event from the comfort of their homes.
Women Win Big at the 63rd Grammy Awards
by Sara Conway on March 18, 2021
---
Music
---
Taylor Swift and Beyoncé Lauded With Awards and Records
by Grace Whitman '22 A&E Staff
When Harry Styles opened the 63rd Grammy Awards performing a slow rendition of "Watermelon Sugar" in a tight leather suit, we all knew that the night was going to be one to remember.
Although the COVID-19 pandemic took away many of the things that we love this year, music was there to unite the world. After a long year without live musical performances by our favorite artists, this year's Grammy Awards was full of versatile performances by artists including Dua Lipa, HAIM, and Post Malone. Additionally, Silk Sonic, composed of Bruno Mars and Anderson .Paak, made their debut television performance with their song "Leave the Door Open."
One of the most unforgettable moments of the night was DaBaby's remixed version of his hit "Rockstar." A major switch from their original version, DaBaby and Roddy Ricch offered a dramatic rendition of their viral hit, complete with violins and backup singers in choir robes. Other memorable performances included Dua Lipa's medley of "Levitating" and "Don't Start Now" and BTS's virtual performance of "Dynamite."
The Grammys' telecast has always been known for their performances rather than the award announcements, but this year some history was made. Four women won the most prestigious awards of the night, including Taylor Swift, who became the first female artist to win Album of the Year three times—Swift's albums Fearless and 1989 won in 2010 and 2016, respectively. Her album folklore was written entirely in quarantine and helped heal fans of the heartbreak we all felt during 2020.
The other three major awards—Best New Artist, Song of the Year, and Record of the Year—went to Megan Thee Stallion, H.E.R., and Billie Eilish, respectively.
Beyoncé also made history by becoming the most decorated woman in Grammy history with 28 awards. She earned four more gramophones, including the Grammy for Best R&B Performance for "Black Parade." In her acceptance speech, Beyoncé said, "As an artist, I believe it's my job, and all of our jobs, to reflect time, and it's been such a difficult time." As she always does, Queen Bey and several other artists used their platform and the Grammys' stage to speak out about racial inequality. 
In a powerful performance directly referencing police brutality against Black people, Lil Baby performed his song "The Bigger Picture." His musical performance was backed by scenes depicting the realities of life for so many Black people in this country.
Also highlighting racial inequality, Mickey Guyton performed an absolutely heart-wrenching yet inspirational rendition of her song "Black Like Me." The chorus features the lyrics: "If you think we live in the land of the free / You should try to be, oh, black like me." Spreading this important message to viewers all across the country, Guyton asks listeners to see the United States through her eyes.
As one of the first major award shows taking place in person without Zoom cameras projected onto television screens, music's biggest night of the year brought a memorable show to viewers, which was exactly what we needed. There is a light at the end of the COVID-19 tunnel, and the 63rd Grammy Awards brought us a little closer to it.
Let's Rant: The Low Strategies of the Grammys
by Sara Conway on March 18, 2021
---
Music
---
Manipulating BTS and Their Fan Base Helped Drive Views
by Sara Conway '21 A&E Co-Editor
Let's talk about the Grammys. Specifically, about BTS and the Grammys. The septet was nominated for Best Pop Duo/Group Performance, their first nomination as a group, which came with priceless reactions from the members. It is no surprise that the members of BTS have had their eyes on the Grammys for some time; with each year, the seven crept a little closer to the stage and a nomination. Rapper Suga (Min Yoon-gi) is well-known for voicing these dreams, as he did during an interview with Jimmy Fallon in 2018. A year later, the group presented H.E.R. with the Best R&B Album award, while their album Love Yourself: Tear was nominated for Best Recording Package. In 2020, they performed "Old Town Road" with Lil Nas X—another step forward. At this year's Grammys, BTS were both nominated for a Grammy (which they did not win) and performed their own music on the award show's renowned stage.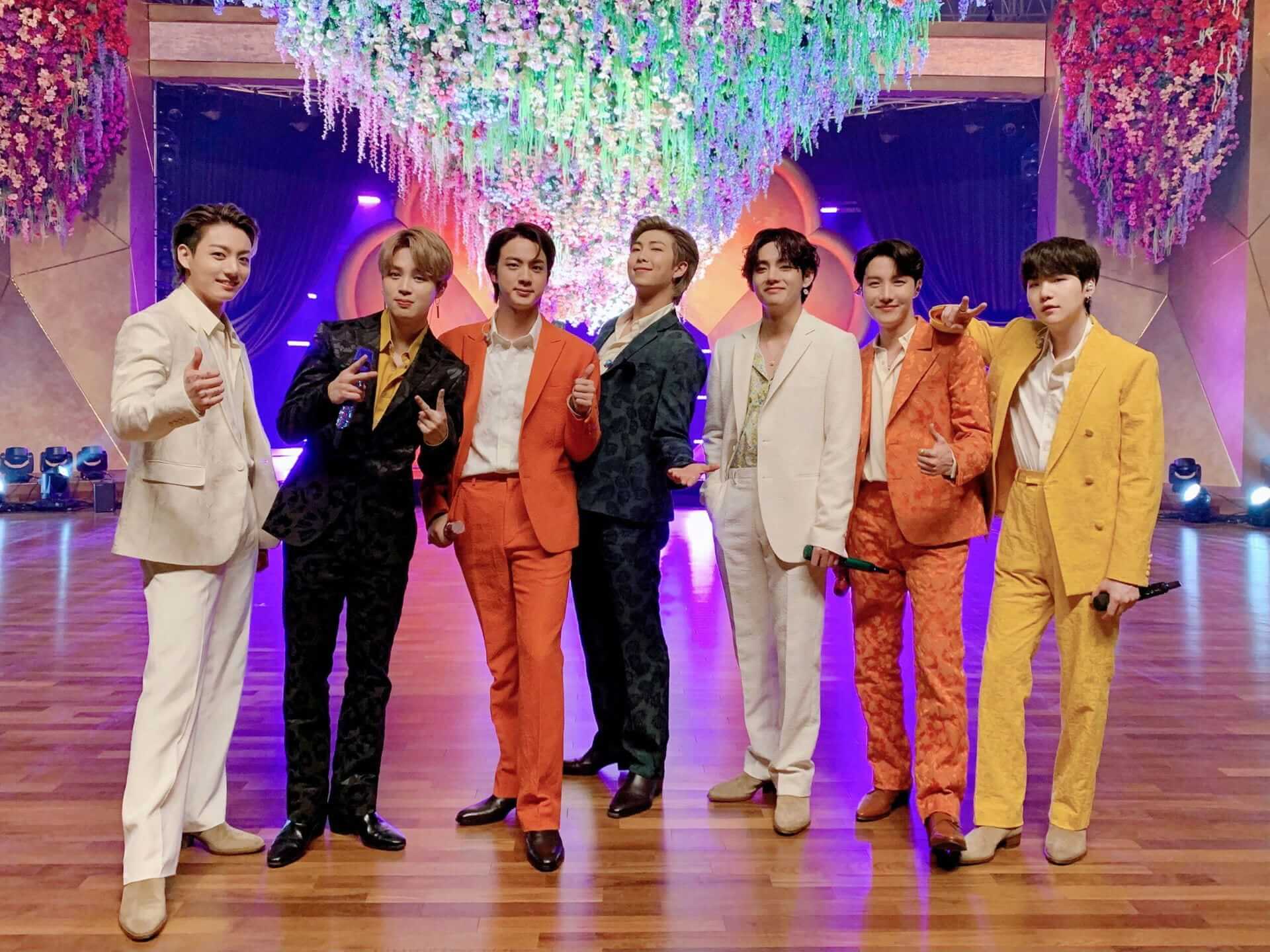 "Dynamite," their only song sung completely in English, received the honor of a Grammy nomination. I will be the first person to tell you that "Dynamite" is a far cry from showcasing BTS's strengths and skills as artists. They are talented musicians, and their hard work cannot be doubted. Have you listened to the final verse of "Outro: Tear," where J-hope tears through his lyrics, the backing orchestra rapidly hurtling towards the emotional breaking point of the track? Have you ventured to take a peek at the complex storyline of their The Most Beautiful Moment in Life and Love Yourself eras? Have you seen the verses their rappers have written, like RM's lines from "Spring Day": "Holding your hand, I go to the other side of the world / I wish to end this winter / How much longings must fall like snow / before that spring day arrives." And for goodness sake, their debut song "No More Dream" is about the intensity of the South Korean educational system and challenges listeners to dream. In the face of what BTS has created in their seven—almost eight years together—"Dynamite" barely scratches the surface. No, strike that. "Dynamite" stays at the surface, or more notably, stays at the surface geared towards the standards of western pop (mostly its radio).
I am not frustrated because BTS did not win the Grammy. It is that the Grammys used the group's clout—a.k.a. their massive fan base named ARMY—to promote the award show, pushing BTS's performance forward to capture more attention. In the end, however, the Grammys relegated the announcement of Best Pop Duo/Group Performance (among other higher profile categories) to the pre-show livestream on YouTube, an odd choice considering this category is usually presented at the ceremony. What the Grammys said with this decision is that BTS is not worth more than what their popularity and their fans can bring in views. And, boy, did the views come. 12.6 million views on the livestream, to be exact. Oh, and BTS's first Grammy performance was dead last, closing the show.
There are promises of the Grammys becoming more "diverse" and more "inclusive," but time and time again,  stunts like this are pulled. "Work harder, and you will be rewarded," they say. "Work harder and prove to us that you are worthy of our attention, and then we will talk." Yet this "award" that is just out of reach and given by a predominantly white (and American) standard is just an illusion.
So, Grammys. I'm seriously "sick of all your trash."