Bursting the PC Bubble: World Reacts to Recent Burnings in the Amazon Rainforest
by The Cowl Editor on August 29, 2019
---
National and Global News
---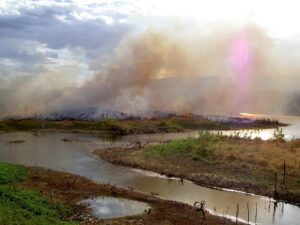 Thomas Edwards '20
News Staff
For nearly a month, the Amazon rainforest, the largest rainforest in the world, has had several thousand wildfires burning through it. 
Wildfires are generally common in the Amazon during the dry season, which usually runs from August through mid-November. However, according to the data from Brazil's National Space Research Institute (INPE), there has been an 84 percent increase in fires across the country from the same period last year. 
What is causing this unusually high number of fires in the Amazon? Currently, there are roughly 9,500 fires burning in the Amazon rainforest. The Amazon produces larger amounts of moisture and humidity than other forests, making it more resistant to wildfires, according to the National Oceanic and Atmospheric Administration. 
The first believed culprit is deforestation, according to Greenpeace. In a release on Aug. 22, Greenpeace stated that forest fires and climate change operate in a vicious cycle. "In addition to increasing emissions, deforestation contributes directly to a change in rainfall patterns in the affected region, extending the length of the dry season, further affecting forests, biodiversity, agriculture and human health," Greenpeace stated in their release.
With deforestation fires increasing, so too do greenhouse gas emissions, increasing the overall temperature of the Earth. As the temperature increases, extreme weather events, such as major droughts, occur more often.
The second believed culprit is farmers taking advantage of the dry season to clear land for livestock and more farmland. 
The farming industry and international trade are the primary drivers of deforestation in the Amazon, with more than 75 percent of it coming from cattle ranching and soy bean production — two of Brazil's main exports.
Most of the fires currently burning across the Amazon are man-made for the purposes of clearing land for agriculture. The forest, however, is not the only thing at risk from these fires. The native wild life and native communities are in the direct path to be enveloped and consumed by these fires.
Experts and activists blame Brazilian President Jair Bolsonaro for the fires and their destruction, citing Bolsonaro's environmental and indigenous people's policies. Since taking office, his administration has rolled back environmental protections and cut staff from both environmental and indigenous rights agencies. 
Bolsonaro recently fired the head of the INPE, due to a report released that showed higher rates of deforestation under Bolsonaro's administration. 
His administration had also  cut $23 million from Brazil's environmental enforcement agency as well as dismantled policies that protect the Amazon, instead working in favor of advancing economic priorities, such as agribusiness, mining, and fossil fuels.
According to the Articulation of the Indigenous People of Brazil, violence towards indigenous communities and their lands have been on the rise under Bolsonaro's presidency. 
Some indigenous rights groups say that Bolsonaro's anti-environmental stances are contributing to the land disputes and violence faced by their communities. Some believe that Bolsonaro's rhetoric about wiping out indigenous communities has emboldened people to use violence to remove Native communities from their land in order to take posession and sell it.
Experts believe that international political pressure may be the only way to stop the current devastation. French President Emmanuel Macron called for the state of the Amazon to be at the top of the agenda ahead of the G7 summit. 
Early on Tuesday, August 27, Macron was joined by others in the G7 to pledge $22 million in aid to Brazil to assist in combating the fires. Bolsonaro rejected the aid, claiming Macron had ulterior motives, stating in a tweet that Macron "disguises his intentions behind the idea of an 'alliance' of the G7 countries to 'save' the Amazon, as if we were a colony or a no-man's land."
The Brazilian government, on top of refusing the aid, also threw in an insult towards Macron with a reference to the Notre Dame Cathedral fire in Paris this April. 
"Thanks, but perhaps these resources are more relevant to reforesting Europe," stated Bolsonaro's chief of staff, Onyx Lornezoni, to the Globo broadcast network. "Macron cannot even avoid a predictable fire in a church that is part of the world's heritage, and he wants to give us lessons for our country?"
The message of the Brazilian government to the rest of the world, in essence, is to mind their own business.
Bursting the PC Bubble: Tourist Released After Kidnapping in Uganda
by The Cowl Editor on April 11, 2019
---
National and Global News
---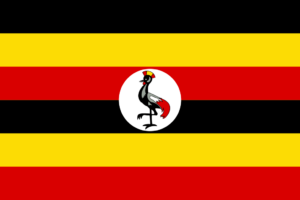 by Thomas Edwards '20
News Staff
Last Tuesday, April 2, in Uganda's Queen Elizabeth National Park bordering the Congo, American tourist Kimberly Sue Endicott, Canadian tourists Martin and Barbel Jurrius, and their Congolese safari guide Jean-Paul Mirenge Remezo were held at gunpoint by four armed men, according to Ugandan police. "The unknown gunmen put the tourists on gunpoint, and grabbed two out of the four tourists, before disappearing with them," read the official police statement.
Martin and Barbel Jurrius were able to escape and get into contact with a camp manager. Using Endicott's cell phone, the kidnappers were able to contact local authorities and demand a $500,000 ransom payment. The police believe the ransom to be the reason behind the kidnapping.
According to Pam Lopez, a friend of Endicott, she had been planning this trip to Uganda for a while. Uganda Wildlife Authority spokesperson Bahir Hangi, stated, "This is a one-off incident, it's an isolated incident. It is not something that happens regularly. It is not something that we are known for." Because of this, Endicott, the other tourists, and the guide, had no reason to believe they were in any danger while out on the expedition.
When word of Endicott's situation reached back home, her family was worried that nothing would be done, as Secretary of State Mike Pompeo expressed that the U.S. has a long tradition of not paying ransoms. "Please remember that any payment to a terrorist or a terrorist regime gives money so that they can seize more of our people," said Pompeo in his statement. However, Endicott's family, especially her cousin Rich Endicott, implored the government to save her life.
After Rich Endicott's request to the U.S. government, the Federal Bureau of Investigation joined in the search for Endicott along with Ugandan police and military personnel. On Sunday, April 7, Endicott and Remezo were found with their captors. Upon their discovery the ransom for their release was paid; however, there is some confusion around who exactly paid the ransom and how much of it had been paid. It has since been discovered that the entirety of the ransom was paid, and Endicott and Remezo were freed in a negotiated handover.
After the release of Endicott and Remezo, President Trump has requested that Uganda find the captors to ensure the country is safe. "Bring them to justice openly and quickly!" said the President in a tweet on Monday, April 8, adding that it is the only way "people will feel safe in going there." The Uganda Police issued a statement on Monday, April 8, reassuring visitors of the safety of Uganda and expressing that they are searching for the criminals.
Jayme Closs Found Three Months After Kidnapping
by The Cowl Editor on January 17, 2019
---
National and Global News
---
by Thomas Edwards '20
News Co-Editor
Jayme Closs, a 13-year-old from Barron, Wisconsin, was reported missing on October 15, 2018, the night that both of her parents were found dead in her home. 
On the night of Oct. 15, Jake Patterson, 21, pulled up outside of the Closs home. When James Closs, Jayme's father, went to see who had parked outside their house, Patterson shot and killed him. Jayme then hid in the bathtub with her mother, Denise Closs.
Patterson entered the house and found them, forced Denise to place black tape over her daughter's mouth, then shot and killed Denise. Patterson proceeded to drag Jayme to his car, where she was placed in the trunk with her wrists and ankles bound.
Patterson claims that, while driving away from the Closs residence, he pulled over for a sheriff's deputy that was responding to the 911 call placed by Denise Closs before she was killed. 
After three months of searching, Jayme was found by a woman walking her dog on Jan. 10. Jayme had successfully escaped Patterson's home, a cabin about 65 miles north of her home in Wisconsin. 
Shortly after her discovery, deputies confronted Patterson at his cabin. Patterson simply stated, "I did it."
Jayme was reunited with her aunt and godmother Jennifer Smith on Friday, January 11. On Monday, January 14, the filing of the criminal complaint against Patterson released by the Barron County District Attorney stated, "The defendant states, when he saw (Jayme) he knew that was the girl he was going to take." 
Patterson reportedly saw Jayme on a school bus that he had to stop behind one day on his way to work. 
Patterson told investigators that he had attempted twice before Oct. 15 to kidnap Jayme Closs. 
A week before the kidnapping, Patterson said he drove to the home but was startled by a large number of cars in the driveway. A couple of days later he attempted again but was driven off by the lights of the house being on and people being outside. Jayme told investigators that on Oct. 15, she woke up to see why her dog was barking when she saw a vehicle coming up the driveway, following shortly was the death of her parents and her kidnapping. 
Patterson told investigators that he did not know Jayme's name until weeks later when he saw it on the news.
Kate and Gerry McCann, the parents of the 3-year-old Madeleine McCann who went missing in 2007 while in Portugal, have found hope in their daughter's return upon hearing of Jayme Closs' escape from her kidnapper. 
In a post, which included a picture of Jayme smiling, the McCanns wrote, "Jayme is an example of why we never lose hope and never stop searching." 
Madeleine's fate still remains a mystery today, but her parents refuse to give up hope of finding her alive.
To find out more about Madeleine McCann, you can visit the Facebook page created by her parents, Official Find Madeleine Campaign.
Class of 2019 Celebrates Senior Ring Weekend: A Look Inside the Making of SRW
by The Cowl Editor on November 15, 2018
---
Campus
---
by Thomas Edwards '20
News Co-Editor
Senior Ring Weekend, like many large events on campus, is not organized and planned overnight. 
The process behind SRW is a two-year journey that 11 students embark on, preparing everything from the weekend events to the design of the rings. 
To help this process run smoothly, these 11 students are divided into the different committees that make up the SRW Core. There are the Co-Chairs, responsible for orchestrating all other committees and the events, Ring Design and Premiere, Special Events Night, Formal Night, the SRW Mass, and Marketing. Each committee is responsible for their respective events.
The members of the SRW core are Devon Guanci '19 and Caroline Cook '19 as the Co-Chairs; Madeline Daly '19 and John Stablein '19 on the Formal Night Committee; Julia Roselli '19 and  Catherine Keable '19 on the Special Events Night Committee; Teddy Kiritsy '19 and Emily Borrello '19 on the Ring Design and Premiere Committee; Jacqueline Michels '19 and Allison Schmidt '19 on the Mass Committee; and Michael Fahy '19 on the Marketing Committee.
While each member had their own committee and event to worry about, they met every Friday morning to update each other, brainstorm, and ultimately make unanimous decisions. 
"The decisions were brainstormed and decided as a group, but we were divided by events for a reason," said Julia Roselli '19, one of the two members of the Special Events Night Committee. "Myself and co-chair Catherine Keable were the ones who ultimately made any decisions for Friday and were the ones in contact with the DJ, caterer, designer, and all other outside parties."
One of the greatest obstacles that came into play for the SRW Core was the size of their budget, a common problem for events. 
"When deciding where formal night was going to be, we had to also accommodate Friday night in Peterson.  Having formal night at a venue like Gillette, we would not have been able to decorate and have the DJ in Peterson that we did," said  Roselli.
While price and budgeting were problems for the Core, an easy solution was compromising with each other to make sure no event suffered and everyone got what they needed.
Other than the three events of the weekend –Special Events Night which occurred Friday, November 9, Formal Night which took place on Saturday, November 10, and Mass which happened Sunday, November 11 – the main part of SRW is the Providence College Class of 2019 rings themselves. 
Much like the events of the weekend, a lot goes into the design, purchase, and distribution of the class rings. Teddy Kiritsy '19 and Emily Borrello '19 were the members of the Ring Design and Premiere Committee, and their jobs were solely focused on these aspects.
"We worked hand in hand with a local artist to design every detail of our class ring, down to the number of bushes in the rotary in fact!" said Kiritsy in regards to the design aspect of the rings. Each ring has a secret symbol of some kind that connects the ring to the class, one of which being 19 bushes to represent the class of 2019. 
"We worked closely with Balfour designing our collection of rings and which ones we were going to sell to our class. In total I believe we sold nine different types of rings; where some classes have only given out a handful of rings to purchase, like four or five."
After months of looking through designs, the Ring Design and Premiere committee planned a large event to release the ring design to their class. "We ordered dozens of cupcakes, cake, apple cider flutes, raffles, and it was a smashing success!" said Kiritsy. 
The final responsibility of the committee was to write the class ring story to tie the class to the ring further. "It shows the importance of SRW and class rings to the senior class," said Kiritsy.
Bursting the PC Bubble: Government Officials Sent Mysterious Pipe Bombs
by The Cowl Editor on November 1, 2018
---
National and Global News
---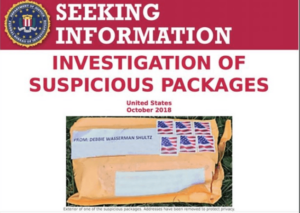 by Thomas Edwards '20
Former President Barack Obama, former Secretary of State Hillary Clinton, Representative Maxine Waters, and former CIA Director and MSNBC contributor John Brennan are all among the list of names who were targets of pipe bombs last Wednesday and Thursday, October 24 and 25. 
The pipe bombs were sent in the mail to prominent members of the Democratic party and news media. There was also a bomb bomb that was sent directly to CNN headquarters.
Cesar Sayoc was arrested on Friday, October 26 for a suspected connection to the bombs. It is believed that he created and delivered the bombs to critics of President Donald Trump. 
Sayoc's van, where the bombs were believed to be created, was covered with pro-Trump memorabilia and memes attacking liberals.
Sayoc made his first appearance in court on Monday, October 29 in the Federal District Court for the Southern District of Florida, facing charges for five federal crimes connected to his alleged mailings of 14 pipe bombs. These crimes include: interstate transportation of an explosive, illegal mailing of explosives, threats against former presidents and other persons, threatening interstate communications, and assaulting current and formal federal officers.
The appearance was just an initial hearing to bring forth the charges being filed against Sayoc. 
The defense lawyers asked Magistrate Edwin Torres, who presided over the hearing, if they could meet with Sayoc in a room with a table, instead of through a glass window as they had previously; Judge Torres agreed.
The defense stated they could not go forward with any other proceedings, and the hearing concluded with Judge Torres ordering both the defense and the prosecution back to court on Friday, November 2.
Outside of the courthouse, when asked whether Sayoc should reveal how many bombs he put into the mail system, one of Sayoc's attorneys Daniel Aaronson, stated that his client "is innocent until proven guilty," and that "he remains innocent."
"Nobody has been able — in a court of law — to say that those were bombs that he sent. Therefore, there is no reason why he should speak or possibly have any information to impart," continued Aaronson. 
Aaronson added on CNN's "Erin Burnett OutFront" that Sayoc will plead not guilty at this stage.
In response to the bombs sent out, President Trump tweeted on Oct. 29 that, "There is great anger in our Country caused in part by inaccurate, and even fraudulent, reporting of the news. The Fake News Media, the true Enemy of the People, must stop the open & obvious hostility & report the news accurately & fairly. That will do much to put out the flame…" 
From this tweet, it appears as though Trump is blaming the media for the bombs, despite CNN and MSNBC correspondents being among some of the intended targets.
Bursting the PC Bubble: Hurricane Michael Has Devastates Florida Panhandle
by The Cowl Editor on October 18, 2018
---
National and Global News
---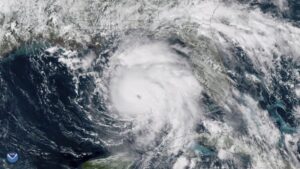 by Thomas Edwards '20
News Co-Editor
Last Wednesday, category 4 Hurricane Michael made landfall on the Florida panhandle, tearing through parts of the state, destroying almost everything in its path, including the city of Mexico Beach. Michael struck Florida with winds of up to 155 miles per hour, and went up through Georgia before making its way through the Carolinas and Virginia; it is expected to head out to sea from there. The Florida panhandle and southern Georgia received the brunt of the damage.
A week after, the death toll has risen to 29, including 19 in Florida, with hundreds still missing. Over 140,000 residents of Florida are still without power while relief efforts continue. To aid the efforts, 4,000 Florida National Guard troops are on the ground helping to clear debris and assist the Federal Emergency Management Agency in their efforts.
According to FEMA, there are 16,000 federal employees, including over 8,000 military personnel, taking part in the response efforts. There are 12 teams in Florida helping those affected register for disaster assistance, while throughout Florida and Georgia there are 42 distribution points to give out food and water.
Federal Communications Commission (FCC) chairman Ajit Pai and Florida Governor Rick Scott are requesting that wireless carriers waive monthly bills for customers who were affected. Since the storm struck last week up to 300,000 households have had their internet and cell knocked out, including the 14,000 plus who are without power. On Tuesday, October 16, Pai released a statement criticizing wireless companies for being too slow in restoring service in affected areas. 
Relief efforts, along with search and rescue efforts for those still missing, are expected to continue for many weeks to come.
If you or someone you know has been affected by Hurricane Michael and has access to internet, encourage them to visit www.fema.gov/hurricane-michael for information on how to help and ways to make the recovery process as painless as possible.
California Repeals its Net Neutrality Laws
by The Cowl Editor on October 4, 2018
---
National and Global News
---
Net neutrality protects people from internet fraud.
by Thomas Edwards '20
News Co-Editor
Back in June of this year, the Federal Communicatons Commission (FCC) officially repealed net neutrality laws. 
Net neutrality is the principle that internet service providers should treat all data on the Internet equally and not discriminate or charge differently by user, content, website, platform, application, type of attached equipment, or method of communication. The repeal allows for internet providers to begin charging different rates for dissimilar websites or services.
This past weekend, the state of California passed a law overturning the FCC's decision and reinstated net neutrality within California. 
Moments after the bill was passed, the Department of Justice (DOJ) under Jeff Sessions filed a lawsuit against the state of California, claiming it was over-stepping its legal bounds.
Attorney General of California, Xavier Becerra, is quoted on Twitter saying, "While the #Trump Administration continues to ignore millions of Americans who voiced strong support for #netneutrality rules, #California will not allow a handful of power brokers to dictate sources for information or the speed at which websites load."
The website arstechnica.com states, "The DOJ's motion for a preliminary injunction claims that implementing the law would cause 'irreparable harm' to the United States." The DOJ claims it is not realistic for Internet Service Providers (ISP) to comply with different net neutrality standards in different states, claiming that the California law would effectively govern the entire nation.
In the case against the FCC to overturn the repeal of net neutrality, Andrew Schwartzman, the attorney representing the Benton Foundation, a non-profit organization dedicated to ensuring the protection of the public in media and telecommunication, has  said, "The legal argument for preemption is fatally flawed: the FCC claims that is has no authority to regulate broadband Internet service. Courts have consistently held that when the federal government lacks authority to regulate, it cannot preempt states from regulating."
The lawsuit of the DOJ against the State of California is currently pending at the U.S. Court of Appeals for the District of Columbia Circuit.
Slavin 108 Brings In Updates For New Year
by The Cowl Editor on September 20, 2018
---
Campus
---
By Thomas Edwards '20
The Center for Career Education & Professional Development is implementing new programs and resources this year. One of the major programs being brought in is Handshake, which is replacing eFriars as the Center's main job and internship resource.
"Handshake is different because the first priority of the organization is the student," said Laura Pellecchia, associate director of internships at the Career Center. "It works on artificial intelligence, so as students go in they'll have profiles to apply to jobs for their favorite companies and it'll make more suggestions of what other companies, jobs, and events that students should be looking at. It's pretty interactive and really intuitive, and the more students put into it the more they're going to get out of it," added Pellecchia.
Handshake is connected to over 100 other schools, so companies that post to the program at one school can be easily found by others. "We have way more opportunities than we ever had with eFriars," said Pellecchia.
Another development this year is FriarLink, which has been around since last year but is being updated further this year. FriarLink functions like LinkedIn for Providence College students and alumni. 
"When PC students log in and alumni log in they answer a set of questions, and then once you're in the system the system actually makes recommendations of matches like what alumni can help you with how you answered those questions," stated Pellecchia. 
Once matched with alumni, students can then use FriarLink to set up a teleconference so they do not have to give out personal information if they would prefer not to.
A program that will be implemented in the spring is V-Mock, which allows students to upload their résumés, which are graded with red, yellow, and green; green being excellent. With a résumé that gets a red or a yellow, the program will provide suggestions on how to improve the résumé. 
"We're going to suggest that students come in to the office at that point, red or yellow, and if you're green you're good to go, you can apply for jobs. It's going to take the lift off of students to necessarily have to come in, especially if they're in the green. If they've been here three, four, five times and they run it through and they get green then they don't have to come in," said Pellecchia on the program.
The other main program being added this semester is the Friar Four Career Core for professional skills development. This is split into two sections: the first being a Microsoft Office Excel certification and the second being a series of workshops. 
The  first   series that is being run is "Professionalism & Work Ethic." "Through these series students can work through them to get badges and put these on their resumes," said Pellecchia.
The Microsoft Office Excel certification is going on currently, with more certifications to come. The "Professionalism & Work Ethic's" series has upcoming workshops Sept. 20, Sept. 27, Oct. 4, Oct. 11, Oct. 18, and Oct. 25 all in room 202 of the Science Complex from 1 – 2:15 p.m.
Anthony Ray Hinton and Death Row
by The Cowl Editor on September 13, 2018
---
Campus
---
By Thomas Edwards '20
News
In the summer of 1985 in Birmingham, Alabama, Anthony Ray Hinton was arrested, tried, and convicted of the murders of two restaurant workers earlier that year; two crimes he was innocent of. Despite providing a solid alibi, Anthony Ray Hinton was still sentenced to death by the state of Alabama. 
After 28 years of living in a cell that was five by seven feet, Hinton was finally released. While his case made its way through the appeals courts, Hinton was finally granted a retrial by the Supreme Court and was fully acquitted on April 1, 2015.  The Jefferson County district attorney's office moved to drop the case after their forensics experts were unable to match crime scene bullets to Hinton's mother's gun, the supposed murder weapon.
This past Friday, Hinton spent the day at Providence College sharing his story with our community. The day began at 9:30 a.m. in Dr. Patrick Breen's History 100 class, in which students had read Hinton's book The Sun Does Shine prior to his arrival. During the class, students began by welcoming Hinton and then asking questions about his time on death row. 
When asked about the process of going back to write his story down Hinton said, "After spending 30 years, it makes you relive the hell you went through. The hardest thing, believe it or not, I had to do. I would go maybe 30 minutes and then break down and cry like a baby." Hinton continued later saying, "I'm free but I'm not free. Every time I wrote something it'd trigger something and send me back."
At around 3 p.m., hundreds of students and faculty made their way into '64 Hall to hear Hinton speak and retell his story. Acting President Father Kenneth Sicard, O.P., began the forum by welcoming all that were present and welcoming Hinton to PC. Dr. Breen followed this by giving a quick summary of who Hinton was and then proceeded to show a clip from the ABC News coverage of Hinton's story and release. As Hinton got up the audience rose to their feet and greeted him with a standing ovation. 
Hinton began by recounting the day he was arrested. It was a hot day in Alabama and Hinton's mother had asked him to go out and mow the lawn. After some resistance on Hinton's part, he reluctantly went out to mow the lawn. "I was in the middle of cutting the grass when I looked up to see two white men standing at the foot of the lawn. They identified themselves as detectives and that they were here to arrest me." When Hinton asked the detectives why they were arresting him, they did not give a reason, but rather put him in handcuffs and brought him to the police station.
He recalled how he had to ask the detectives time and time again why they were arresting him before they finally answered. They told him he was being arrested for first degree murder, first degree robbery, and first degree kidnapping. When Hinton claimed his innocence of these crimes, one of the detectives plainly said, "I don't care whether you did it or not."
Even after confirming his alibi, Hinton was brought to trial, found guilty, and was sentenced to death. He said he remembered the amount of hate he had for the men that did this to him, that all he thought about was how he wanted to kill them for what they had done. However, after the first few years being fueled by hate, Hinton found that he could not do one of his most favorite things anymore; he was unable to laugh. When this occurred, he recalled how he stared in the mirror and did not like what he saw, and that he needed to rediscover his humanity.
The audience was left with a message from Hinton about not only the hardships he went through, but how he managed to work through them and still keep laughing. "Humanity," said Hinton, "all of us have humanity inside us. It takes humanity to make someone feel good when they are having a bad day. Show humanity, simple things such as saying 'good morning, hello, how are you,' will show and spread humanity." 
Before Hinton received another standing ovation for his talk, he closed by saying, "If you drown, it doesn't matter the color the hand that's trying to save you. Humanity is something we all need desperately from each other once in a while."
Hurricane Lane Makes Landfall on the Island of Hawai'i
by Thomas Edwards '20 on September 5, 2018
News Co-Editor
---
National and Global News
---
Hawaii was hit by Hurricane Lane this past weekend, breaking records, including the preliminary rainfall which totaled 51.53 inches, reported in Mountain View, Hawaii. This places Hurricane Lane third for highest preliminary rainfall, according to the Washington Post's report. 
The Island of Hawai'i experienced the most rainfall of all the islands, totaling more than four feet of rain. This caused washed out roads, damaged homes, and dozens left in need of rescue. 
Torrential rain over the course of five days flooded entire neighborhoods. The Wailuku River has been taking flood water to the Pacific Ocean; however, rain is expected to continue over the next few days, so crews are working around the clock to make sure debris does not pile up.
While most of the rain that hit the Island of Hawaii caused flooding, the rest of the rain went on to create a steamy spectacle. Since May 3, 2018, lava has been spreading across the island from the summit of Kilauea, and, while a majority of the lava flow has stopped, most of the lava is still hot enough to boil water. The combination of this hot material and the torrential downpours from Hurricane Lane created a steam white-out, according to the Hawaiian Volcano Observatory. 
Hawaii lucked out, however when Hurricane Lane became a Tropical Storm just before grazing the state, doing less damage than expected.