If the Big East Could Add One Team, Who Should It Be?
by The Cowl Editor on February 14, 2019
---
PCI
---
The University of Connecticut
By Scott Jarosz '21
Sports Staff
As of late, there have been talks regarding the Big East conference adding a new team. The league was founded with basketball as its main asset, but eventually became a league  with  football  powerhouses  such as the University of Pittsburgh and Syracuse University.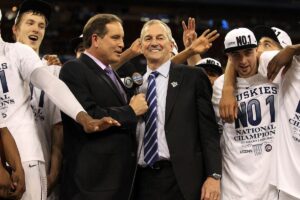 In 2012, the non-football members of the Big East branched away from the football schools to form the new Big East.
The Big East conference currently features 10 members, seven of which were part of the original Big East. Butler University, Xavier University, and Creighton University were added to the conference as it shifted from focusing on football to basketball.
One team that was part of the original basketball-focused Big East was the University of Connecticut who, since its departure from the Big East, has joined the American Athletic Conference (AAC). While in the AAC, UConn has struggled and has been unable to prove that it belongs in the conference. UConn's football team failed to win a conference game in the 2018 season and finished with a record of 1-11, its sole win against Football Championship Subdivision (FCS) opponent University of Rhode Island.
The team failed to attract fans and according to the Hartford Courant, UConn's athletic department earned around $40 million in revenue to go along with over $80 million in expenses. Many signs are pointing to the UConn football program dropping down from the more-competitive Football Bowl Subdivision (FBS) to the FCS, where it would likely find more success.
In addition to struggling in the AAC, UConn sticks out among the other members of its conference. It is the only member of the conference in New England, with its closest counterpart being Temple University, located in Philadelphia, Pennsylvania. Most other members of the conference are located in Florida, Texas, and other southern states. With this in mind, as well as UConn being an original member of the Big East, if the Big East decides to add an expansion team, it should be UConn.
UConn was at its best when it was a member of the Big East. Arguably, one of UConn's most iconic moments from this time was the men's basketball team's incredible 2011 run in the Big East Tournament when it won five games in a row, including the championship. The team went on to win the NCAA National Championship against Butler University. UConn returning to the Big East would also allow the renewal of the rivalry between Providence College and UConn.
If the Big East decides to add an additional member to the conference, it should be UConn.