Friars Get Nominated for Multiple Awards
by The Cowl Editor on February 14, 2019
---
Friar Sports
---
Hockey Players Amongst Nominees for the Walter Brown and Hobey Baker Awards
By Sam Scanlon '19
Sports Staff
The Providence College Men's Ice Hockey program has had some extremely talented players in its ranks. At this point, it is no surprise that four different Friars have been nominated for some of college hockey's most prestigious awards.
Jacob Bryson '20, Scott Conway '19, and Josh Wilkins '20 have been nominated for the Hobey Baker Award, which is awarded to the best player in Division I hockey. Wilkins and Hayden Hawkey '19 have been named semifinalists for the Walter Brown Award. This award celebrates the best American-born college hockey player who plays in New England.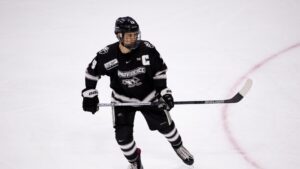 Bryson is an obvious nomination for the Hobey Baker Award thus far. As a sophomore, he was given All-American honors, and has now developed into one of the top players in the country. The Buffalo Sabres' prospect hails from London, Ontario and ranks sixth on the team in points with 20 (4 goals, 16 assists). Bryson's speed and skill are just one part of his game, as the defenseman boasts a +15 +/- rating, meaning offenses have difficulty putting the puck in the back of the net when he is on the ice.
Conway has had a successful second half of the season so far, posting eight of his 12 goals since winter break. Conway holds the team lead in goals with 12, and in power play goals with five. Conway is no stranger to goal scoring, as he has 37 career goals throughout his three-year tenure with the Friars. Conway earned MVP honors in the Ledyard Classic Tournament to kick off the second half of the season, as he tallied three goals in two games. Conway's clutch goal-scoring ability has been a major part of the Friars' success, and has earned him a Hobey Baker Award nomination.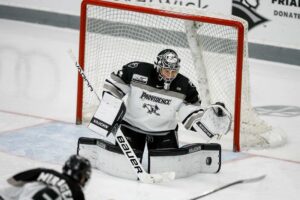 Wilkins' impressive junior stint has earned him both Hobey Baker and Walter Brown Award nominations. The Raleigh, North Carolina native leads the team in both assists (19) and points (28). Already with 90 career points, Wilkins is constantly finding ways to get on the scoresheet as he tallied 31 points in each of his two previous seasons. He also held a 13-game point streak throughout this season, posting seven goals and 12 assists during that span. Wilkins is a dynamic player with the puck. His playmaking ability and vision allow linemates Jack Dugan '22 and Kasper Björkqvist '20 plenty of opportunities to get shots on net and score goals. Also, Wilkins' quick release and accurate shot enables him to make goalies miss and get on the board himself. Wilkins has proven to be an essential part of the Friars offense throughout his career in Friartown.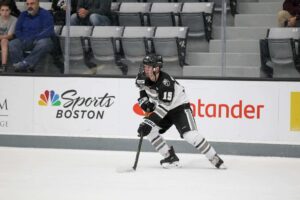 Hawkey joins Wilkins as a semifinalist for the Walter Brown Award. They join 18 other nominees from 12 other schools in the New England area. Hawkey continues to be the backbone for the Friars. The senior has blanked six teams so far this season, which earned him the all-time school record for career shutouts last weekend in Maine with 14. He needs just one more win to hold the all-time school record for wins as well. This season, Hawkey holds a 1.90 Goals Against Average (GAA), as well as a .917 Save Percentage. His six shutouts put him second in the country and his GAA is good enough for ninth. He joins four other goalies in the semifinalist pool.
These four Friars have been pivotal this season and have each made immense contributions to the team. Voting for the Hobey Baker nominees will continue through March 10 and the top 10 nominees will be announced on March 20. The hat trick finalists will be named on April 4, with the ceremony crowning the winner on April 12 as a part of the Frozen Four festivities in Buffalo, New York. Finalists for the Walter Brown Award, college hockey's oldest nationally recognized honor, will be announced in March.