Tag:
Abigail Czerniecki '19
Make Magic Happen: Be Less "Careful" in Your Schoolwork
by The Cowl Editor on September 27, 2018
---
Editor's Column
---
by Abigail Czerniecki '19
Associate Editor-in-Chief
In my art class earlier this week, my ceramics professor told me to "be careful, but don't be too careful to the point that you lose the magic in your work." He then proceeded to tell me that I should spit on my work after I think I have made something of worth because that is when the "magic" happens, but we can ignore the spitting part for now.
For the remainder of class, my mind could not let go of his comments. I grappled with his words "careful" and "magic." I left class with no explanation.
That night as I prepared for the lesson I would give to my students, I began to understand what my professor meant by being "too careful"—that I could lose the magic. In fact, I understood it more clearly when I applied it to my schoolwork.
Providence College students are very driven, goal-oriented, committed, and careful when it comes to academics.
The papers we produce follow strict guidelines that we do not stray from and the group projects we present have criteria that must be completed to receive a certain grade. However, there are not certain sentences that we must implement in the papers or certain ways to present the group project.
I can admit that I am often too careful in my schoolwork—afraid to step away from the generic five-paragraph essay and rubric guidelines, but "magic" is not created when we are too careful in our schoolwork or artwork. Magic happens only when we trust ourselves to take a different approach.
PC students, myself included, must learn to look at their academics from a new, untouched lens and explore our intellectual abilities.
Be unique in your papers and spirited during your presentations because "magic" happens no other way.
"Life Begins at the End of Your Comfort Zone": Reach for New Horizons at PC
by The Cowl Editor on September 13, 2018
---
Editor's Column
---
by Abigail Czerniecki '19
Associate Editor-in-Chief
Transitioning into freshman year, or any new year of school, can be challenging. We have spent all summer in our comfort zones surrounded by familiarities, but college is a time to embrace your curiosities and challenge yourself. Whether you are a freshman or a senior at Providence College, the school provides a foundation for you to grow on, but you must act on it.
I am very blessed to be a part of the Friar Family, but even more blessed to be a part of The Cowl and the PC Women's Swimming and Diving Team.
Freshman year, I was too timid and embarrassed to explore new things that my friends were not interested in, and I lost the opportunity to discover my passions. Once I cast off my fears and got involved on campus I uncovered my passion for journalism and leadership.
PC students—I encourage you to step out of your comfort zone and meet life with passion.
In order to experience what you dreamed college would be, you must reach for the new horizons.
Try out new clubs or take a class that sounds interesting, because that is how you grow to reach your full potential.
Freshmen, sophomores, and juniors: it is never too late to get involved in campus activities.
There is no straight path to your future destinations, so I encourage you to make it as curvy and as unconventional as possible. Seniors: you will always be a part of the Friar Family, even when you graduate, but I advise you to embrace what is in front of you and to aim above your expectations. 
Mark Twain once said, "Four years from now when you graduate, you will be more sorry about the things you didn't do than the things you did."
Finding my own path at PC was challenging, but as I enter my senior year I know I have taken advantage of the opportunities that are on PC's campus. I am beyond grateful for all the Friar Families I have been a part of here and it would not have been possible if I never stepped outside my own comfort zone.
Let's Rant: EDM Makes the Best Spring Concert: Galantis Invades Friartown with Energy and Dance
by Kerry Torpey on April 26, 2018
---
Arts & Entertainment
---
by Abigail Czerniecki '19
A&E Co-Editor
As Providence College students come down from their spring concert hype, students are now reflecting and comparing Galantis' performance to that of previous sprong concert performers.
Over the course of the last five years spring concert, Board of Programmers (BOP), has welcomed performers such as Krewella, Panic! at the Disco, The Chainsmokers, Rae Sremmurd, and most recently Galantis. Aside from Panic at the Disco and Rae Sremmurd, Krewella, The Chainsmokers, and Galantis all have something in common—their genre of music. These three groups all fall under the genre of electronic dance music, more commonly known as EDM. Magnetic Magazine describes EDM as a style that is focused as being danceable and energetic on the audience anticipates the artist's musical "drop."
Over the past 20 years, EDM artists and duos have become some of the most popular musicians in the world, producing several 2018 top hits such as "The Middle" by Zedd, the current number one song on Billboard's Top 50 Electronic Songs, "Friends" by Marshmello and Anne-Marie, and "Without You" by Avicii. Not only are all of these artists dominating the EDM charts, EDM is dominating charts for U.S. top hits and global top hits.
As audiences veer away from pop and hip-hop music, the genre of EDM has even changed the way the music is performed by incorporating high quality audio and visuals. Artists like Galantis, The Chainsmokers, and Krewella have been successful in the EDM genre because they are accessible to the masses, maintaining strong followers where as hip-hop or pop is not.
EDM groups appeal to larger audiences because of their rhythmic core and their ability to produce beats and "drops." The songs' danceability compels the audience to get up and move their bodies, despite their abstract nature.  
When attending concerts, groups like Panic! at the Disco and Rae Sremmurd are only enjoyable when a concertgoer knows the lyrics. EDM groups attract a larger group because it is mostly musical beats rather than full lyrics. Emma Buckley '19, who attended the concert last Friday, explained, "You don't necessarily need to know Galantis' music to enjoy their concert." Buckley also mentioned that she did not have as much fun at last year's Rae Sremmurd concert because she did not know most of the duo's songs. Jerod Magazine '19 made similar comments, saying, "EDM offers that 'feel good' feeling. You don't need to know the words to the songs to have a good time." 
Galantis was well received by PC students, and BOP Entertainment Committee Chair Ryan McSweeney '18 understood that the campus needed a break from rap artists such as Lil' Uzi Vert and Rae Sremmurd. McSweeney explained that the BOP entertainment committee "really wanted to pick an artist from a genre that everyone could enjoy. Galantis has such fun music with easy to remember lyrics and it's impossible not to dance to. We wanted as many PC students to come and just have a fun positive time together as possible." McSweeney himself is describing just what EDM music is—good feeling music that makes people want to dance and have fun. This year's spring concert was certainly well received by PC students. 
A Wrinkle in Time Receives Poor Reviews After Weekend Premiere
by Kerry Torpey on March 15, 2018
---
Arts & Entertainment
---
by Abigail Czerniecki '19
A&E Co-Editor
Fans across the world have been awaiting the premiere of the new movie A Wrinkle in Time starring Reese Witherspoon, Oprah Winfrey, Chris Pine, Mindy Kaling, Zach Galifianakis, and Storm Reid. Based on the novel by Madeleine L'Engle, the movie was able to stay true to the plot with its own creative twists.
Director Ava DuVernay took on the challenge of adapting the 1962 novel, A Wrinkle in Time, by moving it to the big screen—which many directors thought would be impossible to do. With the movie's 103 million-dollar budget, the outcome of its first weekend premiere did not match its high budget film with its first box office ticket sale only at $33.3 million. With the low ticket sales this past weekend came weak reviews from critics as well as receiving a 43 percent on Rotten Tomatoes, moviegoers were left with very few smiles.
Critic Jacob Shamsian of Insider wrote that Disney's fantasy epic failed at the box office because of its targeted younger audience, the failure to click as a story, and it was not a sequel or spin off of a movie like Beauty and the Beast. The New York Times also expressed similar opinions as Shamsian, explaining, "If you hadn't read the book (and maybe even if you had) and wanted concrete answers to these and a dozen other cosmic questions the movie leaves ambiguous, you might have left the theater disappointed, or just confused."
Although the movie received weak reviews after the premiere, the message of the movie is critically acclaimed. Not only is DuVernay breaking down gender walls as she became the first African-American woman to direct a movie with a budget over $100 million, the movie also has a diverse cast, as well as a plot that encourages young adults to be warriors in today's society. DuVernay commented on the films message in an interview with NPR. "The battle of light and dark, the moral battles that are happening with the characters in the film, certainly figure into what folks might be thinking about right now—politically, culturally, economically," she said. "It existed for the author at the time that she wrote it…and certainly we haven't combatted those issues now. So this material still resonates today." DuVernay thought this movie was the perfect time to "tell a story about fighting darkness with light."
Although A Wrinkle in Time received poor reviews, films such as A Wrinkle in Time have begun to change the typical big screen film with its diversity and its female-led cast.
Clubs Across Campus Sponsor Event on Mental Health
by The Cowl Editor on February 15, 2018
---
Campus
---
ESPN Reporter and WNBA Player Share that It's Okay to Not be Okay
by Abigail Czerniecki '19
A&E Co-Editor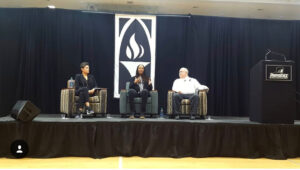 Several of Providence College's clubs and departments, such as Student Athlete Advisory Committee (SAAC), Active Minds, Athletics, and Student and Academic Affairs, have teamed up to bring awareness of mental illness to campus and express the idea, "You're Never Alone In Friartown."
This past Monday, February 12, these groups sponsored an event in Mullaney Gymnasium to bring awareness to mental illness not only to the athletes on PC's campus, but the whole Friar Family. Guest speakers Kate Fagan, ESPN reporter and author of What Made Maddy Run, and former WNBA player Chamique Holdsclaw provided a thought-provoking discussion that touched upon their personal experiences as Division I athletes and the idea that it is okay not to be okay.
Fagan, a former DI basketball player for the University of Colorado -Boulder, shared her experiences dealing with anxiety throughout college specifically as a freshman, recalling the hardships she endured and the fear she felt being a part of a new school as well as a new team. It was because of Fagen's athletic trainers, coaches, teammates, and resources that were on her campus that she was able to take the beginning steps in overcoming her anxiety.
Holdsclaw, who played DI basketball for the University of Tennessee, was selected as the first round draft pick in the WNBA 1999 draft, and was a member of the U.S. Olympic team that won gold in 2000 in Sydney, Australia. What many may not know is that this talented athlete struggled with mental illness throughout her career. Through the many resources that were offered to her by her college campus, her teammates, and coaches she is able to live rather than just exist.
Together Fagan and Holdsclaw created a discussion that touched upon the importance of acknowledging that colleges attitudes today that glorify pushing through pain and proving one's strengths in athletics areunhealthy, the importance of mental health, and removal of the "mask" that covers the not so perfect world of PC students.
The discussion covered several aspects that surround mental illness including—social media, "masking," third party validation, and the fear of having conversations about mental illness. The two guest speakers provided some answers and helpful hints to initiate the beginning steps in making PC's campus a campus that will support one another, create healthy validation, and become better educated about mental illness.
The main goal of this event was to inform PC students that they are never alone in the process. John Rock, head athletic trainer and creator of the slogan "You're Never Alone in Friartown," expressed to the attendees that there are so many people around campus that are ready and willing to help and that no one should feel as though a mental illness is a weakness.
Kari Moyer '19, a member of the PC Women's Field Hockey Team said that the event was, "Eye-opening in the lives of student athletes and students alike who suffer through mental illness, and shed light on how athletes tend to think that they have to push through any tough time and adversity they go through, when in actuality they should not feel weak asking for help." The event brought awareness to PC students who may have never had the chance to discuss or think about metal illness.
Fagan and Holdsclaw emphasized the significance of being there for one another and sometimes that means just lending an ear to a friend or teammate and listening. David Procopio '19, a member of the Men's Lacrosse Team, understood the message Fagan and Holdsclaw gave, "I now have the confidence to know what to do in a situation involving mental health, and it is my responsibility as well as my fellow athletes and peers' to make sure we support and take care of one another, because we are after all a friar family."
Now is the time to get connected and interact with PC's campus and to make the ties that already exist even stronger. PC has several resources and clubs one can get involved in to help bring awareness of mental health across campus. Like Fagan said, "we don't have to reinvent the wheel" we just have to build upon it.
Editor vs. Editor: Which On-Campus Board of Programmers Event is the Best?
by Kerry Torpey on February 8, 2018
---
Arts & Entertainment
---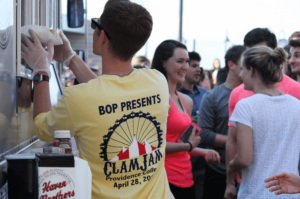 by Kerry Torpey '20
A&E Co-Editor
As the weather gets warmer and students flock to Slavin Lawn for some time in the sun, Providence College's Board of Programmers gears up to host their best event of the spring semester: Clam Jam. From food trucks to a 35-foot slide, Clam Jam has carnival games, live music, and so much more.
One thing that makes this event unique from other BOP events is definitely the food. Food trucks like Haven Brothers and Friskier Fries come together to keep Friartown satisfied with their signature subs and fries. Carnival favorites like cotton candy and kettle corn can be seen everywhere as students eat BBQ and delicious food from Rick's Roadhouse.
There are plenty of fun games and activities that keep students laughing for hours. Last year, a fan favorite was the water gun game in which students shot water at a target to get a mini race car to move; the first person to get the car to the end got a prize. Other games like balloon darts, ski ball, and basketball are sure to keep you entertained.
For those who enjoy getting creative, Clam Jam has henna tattoo artists, sidewalk chalk, and necklace making. Students can be seen proudly showing off their DIY creations to their friends as they listen to live music.
For anyone who is 21+, the beer garden offers a variety of wines, beers, and other alcoholic refreshments. In 2017, customers enjoyed a bargain with $2 Bud Lights.
Last year, the grand prize of PC's The Voice competition was a set at Clam Jam. With the voices of our fellow Friars as the soundtrack of the event, Clam Jam proves itself to be not only the ultimate grand prize for The Voice winners, but also the best BOP event on campus.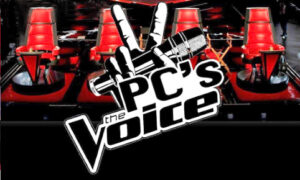 by Abigail Czerniecki '19
A&E Co-Editor
Each year Providence College's Board of Programmers hosts its own version of The Voice. The judges may not be as pretty as Adam Levine or as funky as Miley Cyrus, but the talent of these PC students can surely match up to the talent on the show.
Held in McPhail's, this BOP event keeps its crowd entertained with the "humor" of Rev. Dominic Verner, O.P., and the judge's reaction to the contestants once they turn around for the final reveal. And once all contestants have gone, the judges tally up their scores to identify the third, second, and first place winners.
The fun does not stop there; food is served from various places such as Big Tony's and Anthony's Deli at intermission to keep the crowd happy and the contestant's bellies full.
This past weekend, BOP hosted their second PC's The Voice and one thing is for sure: PC students can sing. Students can choose a song of their liking in hopes of demonstrating their skill to the judges. Some songs that were sung this past weekend were Rihanna's "Murderer," Khalid's "Location," and Adele's "Rolling in the Deep," I swear Adele could have been the one signing on stage.
Beautiful sounds coming from beautiful people are what make PC's The Voice special. It is a night that brings the student body together to recognize and appreciate the strong talent that PC has on campus.
The event is a wonderful way to encourage students to share their talent with others and to have some fun on a Friday night after a long week. Be sure to catch the next PC's The Voice on Friday, February 9. Who knows, you may even listen to the next Adele.
Georgia Band Hits Downtown Providence
by The Cowl Editor on November 2, 2017
---
Arts & Entertainment
---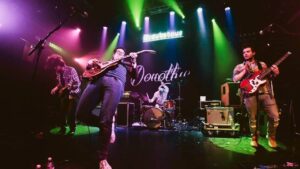 by Abigail Czerniecki '19
A&E Co-Editor
This past Friday, The Georgia Flood, a homegrown all-male band from Atlanta, Georgia, took the stage at the Alchemy in downtown Providence. The band finished their tour in Providence, and it was surely a successful ending.
Band members Lane Kelly (bass and background vocals), Gavin Deleshaw (guitar), Damian Navarro (drums), and Brooks Mason (guitar and lead vocals) grew up together and attended the same high school.  Now, the four friends are fulfilling their musical dreams.
The Georgia Flood brought a lively sound to the crowd of people that attended their concert at the Alchemy, opening with "Sleepless Nights" followed by other songs such as "The Race," "Hold On" (cover of Alabama Shakes), and their newest single "Take a Hit." 
Their fresh-sounding music had all the concertgoers on their feet dancing to the hard beat of the drum and the bass guitar.
Brothers Kelly and Mason originally started the band in 2012 as a metal band; it was not until 2016 that the four of them came together to produce music. In fact, the band had only practiced together a few times before their first show as a group.
The self-financed group created a GoFundMe page in order to get an agent and record deal. Later that year, The Georgia Flood received a record deal from Jason Hoard's Black Cat Studio, producing their first album, People Like Ourselves, in 2016 featuring with hit singles like "Whistle King" and "Better Not Together."  Kelly describes the first album to be, "On the surface…nonsensical and fun, but the songs are really describing how crazy our lifestyle is on the road."
"Whistle King," the number one hit on the album, exemplifies lyrically much of the exhiliration and frustration that comes with the "constant state of discovery" of playing in an indie band.
Defining themselves as indie/pop/rock, the band identifies their sound with Kings of Leon and Young the Giant. Mason even calls himself "The most hipster country performer you'll ever see."
One thing that truly separates the band from other alternative bands is their ability to write all their songs collaboratively. Their style is unique in that when they are writing their songs, "It's really more of a jam sesh," explained drummer Navarro.
The band is planning to release their next album, potentially named,Polaroids and Panic Attacks, in early 2018, featuring "Take a Hit" and between five and eight other songs.
The Georgia Flood's next concert will be on a music festival cruise ship called the Rock Boat Music Festival, starting in New Orleans, Louisiana, and ending in Cozumel, Mexico, from Jan. 30 though Feb. 4.
Taylor Swift Releases Witty New Song "Gorgeous"
by The Cowl Editor on October 26, 2017
---
Arts & Entertainment
---
by Abigail Czerniecki '19
A&E Co-Editor
Popped it, locked it, and dropped it is what Taylor Swift has done with her new single "Gorgeous," which was released Thursday, October 20. Swift has now previewed three songs that will be on her new album Reputation, but these new tracks are no "Love Story" or "You Belong With Me."
In her previous songs such as "Teardrops On My Guitar," "Mean," and "Speak Now," Swift has always made herself the girl who is never anyone's first choice, or the girl who is picked on. "Gorgeous," however, sings the song of a bad girl who craves attention from a guy.
In the song, Swift sings of a love interest that is much different from love interest that strays from previous song lyrics. The lyrics aim towards, a relationship that Vulture Magazine calls "disjointed and implausible."
This song brings out Swift's metaphorical evil twin. With lyrics like, "I got a boyfriend,/ He's older than us./ He's in the club doing I don't know what/…You should think about the consequences of you touching my hand in a darkened room," show Swift, who is usually the innocent protagonist in her songs, has now put herself in the position of the cheater.
Billboard applauds Swift and "Gorgeous," stating that Swift has never been wittier. "For years, people have called Swift crazy in love, a man eater, someone who uses relationships as fodder for songs, but she's turned that on its head, mocking her image by blowing it up to comical proportions."
Swift has her fans on the edge of their seats awaiting the completed album of Reputation, that which be released Nov. 17.
Editor vs. Editor: Iconic Duos
by The Cowl Editor on September 14, 2017
---
Arts & Entertainment
---
Michael Scott & Dwight Schrute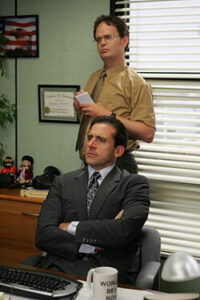 by Kerry Torpey '20
A&E Co-Editor
Although some fans of the hit NBC sitcom The Office might argue that couple Jim Halpert and Pam Beasley are the best duo on the show, they are definitely out-"duo-ed" by Michael Scott (Steve Carell) and Dwight "Assistant to the Regional Manager" Schrute (Rainn Wilson).
The relationship between Michael and Dwight has a hilarious dynamic that helped create a foundation for The Office to become a powerhouse that continued on for nine seasons. Even when Michael left the show, his friendship with Dwight was still a major component of Dwight's character.
One of the funniest aspects of their relationship is how overprotective Dwight is of Michael. No fan can forget the episode "Stress Relief" where Michael hosts a Comedy Central-inspired roast.
As each member of the office gets up and throws their best punches at Michael, Dwight stands up exclaiming, "How dare you all attack him like this? Michael is your superior, okay?" As Michael tries to interrupt him by repeatedly saying, "Idiot," Schrute responds, "You don't have any friends or any family or any land," making this encounter one of the best examples of their dysfunctional relationship.
All jokes aside, however, Dwight and Michael have a lot of love for one another. Michael even came back in the final season to be the best man at Dwight's wedding. While spaghetti and meatballs can keep you satisfied for a few hours, Michael and Dwight will keeps fans laughing for many years to come.
Spaghetti & Meatballs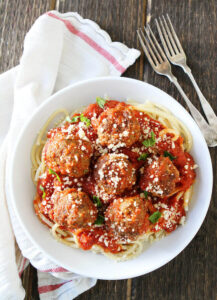 by Abigail Czerniecki '19
A&E Co-Editor
That's Amore! Not only did spaghetti and meatballs define one of the best love scenes in movie history in Lady and the Tramp, but spaghetti and meatballs has been one of the best dinner duos of Italian and, quite frankly, American history.
Is it the dull, mild looking color of the meatball laid upon the pale yellow pasta that makes this duo so irresistible? Or is it the complimentary tastes of the two foods that each bite simulates?
Unlike some other food duos such as salt and pepper or cookies and cream, spaghetti and meatballs has had its fair share of celebrity appearances in many movies. Movies like Cloudy with a Chance of Meatballs, Lady and the Tramp, and for all you '90s kids out there, The Lizzie McGuire Movie, have all had scenes of this duo playing a crucial role in the establishment of love.
There simply is no other food that is a perfect combination of romantic and tricky, almost to the point of awkward, to eat
Not only is this fantastic duo reasonably priced at restaurants, it is also one of the very few things that is safe to eat at Ray Dining Hall. Have I convinced you now that spaghetti and meatballs surpasses all other duos out there?
Whether you choose to eat it with a spoon and a fork, just a fork, or the no-hands sequence, spaghetti and meatballs always knows how to satisfy the hungry students of Providence College.
Do you really want Michael Scott and Dwight Schrute of Dunder Mifflin Paper Company on your dinner plate?
Editor vs. Editor: Favorite Off-Campus Restaruant 
by The Cowl Editor on August 31, 2017
---
Arts & Entertainment
---
by Kerry Torpey '20
A&E Co-Editor
When morale is running low on the Providence College campus from endless nights of homework and study prep, nothing  is  better  than taking a stroll down to The Abbey on Admiral Street.
A local burger and beer restaurant, The Abbey takes pride in its fresh ingredients and food made to order. The food, drinks, and atmosphere of The Abbey   keep  locals coming back for more.
One thing that really makes the hot spot popular is the burgers. With a long and growing list of premium burgers, such as "The Jay Burger," a burger with "special seasonings," Vermont Swiss, sauteed onions, mayonnaise, lettuce, and mushrooms.  This is why BusinessInsider.com awarded them "Best Burgers" in Rhode Island two years in a row.
The Abbey has weekly deals perfect for PC students on a budget. With $5 burgers and fries on Mondays and 50 cent wings on Tuesdays, could it get any better than that?
For those who are of legal drinking age, The Abbey definitely has a lot to offer. With a total of 92 different beers to select from with 15 on draft, they certainly have made their mark among local bars.
And with numerous TVs hanging around the bar, it is a perfect spot for sports fans to go to cheer on their favorite teams. Even better, you  might catch a glimpse of Men's Basketball  Head Coach Ed Cooley, who has been spotted by multiple students eating at The Abbey.
For  those of you who are not fans of burgers, they have a great selection to choose from.
Whether you are in the mood for a Jumbo Quesadilla, Caesar salad, stuffed potato skins, and New England Clam Chowder. The Abbey can satisfy your hunger with a variety of great meals, service, and at incredibly reasonable prices.  You will leave with your bellies full.
by Abigail Czerniecki '19
A&E Co-Editor
With over 30 unique sandwich options, Anthony's Italian Deli has made its name known to the students of Providence College.
Located only a few blocks from PC's campus, students can do a quick grab-and-go of their favorite deli sandwich anytime.
The delicious recipes go beyond their exquisite homemade sandwiches. Anthony's offers a range making it impossible to just choose one. From their classic Caesar salad to their vegetarian specialties, Anthony's can satisfy everyone's taste buds.
Its best seller, "The Godfather", is the "Best Italian Sangwich eva." Priced at only $6.99, the sandwich is filled with prosciutto, mortadella, capicola, sopressata, salami, sharp provolone, lettuce, tomato, hot pepper rings, hot pepper relish, onions, pickles, and drizzled with warm balsamic dressing.
With every bite, "The Godfather" is able to keep you wanting more.  Eating half is never an option when it comes to this monstrous sandwich. Is your mouth watering yet?
The fun does not stop there. Every spring, Anthony's Deli hosts the "Fan Submission Showdown." This competition gets their customers to submit  pictures through Instagram to see who can round up the most likes on their picture of their favorite Anthony's sandwich.
The prize, you ask? A free deli sandwich of your choice. PC's Ryan O'Malley '19 was the big winner of last year's contest. Can it really get any better? While The Abbey is a shorter walk (only by a few hungry feet),   Anthony's Deli offers PC students a quick, easy, and finger-licking bite to eat.
Before the year gets too busy, take a stroll over to the ever-famous Anthony's Italian Deli and find the sandwich that will make your taste buds beg for more.