Best Season in 25 Years Has Come to An End
by npatano on April 7, 2022
---
Friar Sports
---
Men's Basketball Wrap-Up
Will Murphy '23
Sports Staff
What a ride. The Providence College Men's Basketball Team won close game after close game this year, captivating fans across the country. Although their season came to an end following their defeat to the Kansas University Jayhawks in the Sweet 16, this season will be remembered fondly by many for a long time. 
It was a season of firsts for the Friars, most notably the first-ever Big East Regular Season Championship win for Providence in their 43 years as members of the conference. Their 27 wins were one away from a program-best, and their 14 conference wins surpassed their previous best by two. If not for an untimely COVID pause in the middle of the season, both of these numbers could have been added to. The Friars were among the nation's best at closing out tight games, which is a credit not only to the players, but also to the job that head coach Ed Cooley has done. Last weekend, Cooley was named the Naismith College Coach of the Year for the 2021-22 season. Experience was key for Providence, as their starting lineup was one of the oldest in the country, consisting of three graduate transfers, a fifth-year senior, and a senior. 
The Friars started the year off hot, picking up several key wins in non-conference play including wins at the University of Wisconsin, at home against Texas Tech University, and at home against in-state rival University of Rhode Island. Excitement built with each win as fans started to believe that something special could be brewing at the Dunkin' Donuts Center. By the time conference play was kicking off, Providence was receiving votes as one of the top 25 teams in the country. However, the road ahead was not an easy one for the Friars, who were scheduled to play two of the top 25 teams in the nation in their first two Big East games, but they were up to the challenge. 
Providence knocked off the University of Connecticut on the road and Seton Hall University at home, two teams respectively ranked 20th and 15th in the country. After winning handily at DePaul University, Providence was dealt their first loss in conference play by Marquette University, and many wondered how they would respond. The resiliency and experience shone through in their next outing against St. John's University, as they bounced back with a solid ten-point win at home. 
Unfortunately, the Friars had to postpone their next three games due to COVID issues within the program. Providence responded admirably to the adversity, rattling off seven consecutive wins, two of which were against ranked opponents. 
Jared Bynum '23 knocked down the game-winning shot against Xavier University as the buzzer sounded. The following game was a memorable one, in which the Friars took on Marquette University a day later than scheduled because of a monstrous blizzard. Providence battled back in that game with the help of the electric atmosphere, despite the treacherous conditions. 
That stretch of seven straight wins perfectly set up a showdown between two of the top 10 teams in the country at the Dunkin' Donuts Center: Providence and Villanova University. Although the Friars came up short in that game, the showing was still impressive, with the team putting up 84 points against one of the best teams and defenses in the country. 
After their battle with Villanova, Providence would have to face Butler University on the road without star senior guard Al Durham '22 because of a back injury. Despite falling behind early, the Friars displayed impressive resilience in an overtime victory, maintaining their spot atop the conference standings. Providence then took on Xavier, looking for the season sweep and was given all they could handle by this tough team. The Friars were taken to triple-overtime in a game of the year candidate but pulled it out in the end.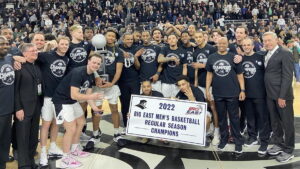 This win put the team in the position to clinch their first-ever Big East regular-season championship with a win in their upcoming matchup with Creighton University. Providence took control early and coasted to a comfortable 20-point victory in a storybook ending for the seniors on their senior night. Providence closed the regular season with a hard-fought loss against Villanova but was heading to Madison Square Garden with the first seed in the Big East Tournament. 
The Friars were immediately challenged after arriving in New York with a tough game against Butler in the quarterfinals. Al Durham '22 nailed a clutch three with just over 30 seconds remaining to put Providence ahead and advance to face Creighton in the semifinals. Creighton came out hot in the semifinals, and Providence was never able to catch up. 
Providence then turned their attention to the NCAA tournament to prepare for their sixth trip under coach Cooley in his 11 seasons at the helm. They were awarded the fourth seed in the Midwest Region, with South Dakota State University awaiting them with one of the most high-powered offenses in the country. Coach Cooley did a tremendous job game-planning for South Dakota State's offense, and Justin Minaya '22 put on a defensive display against star guard Baylor Scheierman. Providence held South Dakota State to their lowest offensive output of the season and advanced to face 12-seed Richmond University.
The Friars started fast and built a comfortable lead early, shooting the ball efficiently from behind the arc, especially Noah Horchler '22, who shot four of six from three. Providence kept their foot on the gas and won by 28, the largest margin of victory in an NCAA tournament game in program history. 
The win sent the Friars to their first Sweet 16 in 25 years, where one-seed Kansas University awaited. Providence could not get any shots to drop early, but their defense kept them in the game, going into the half down nine. All year Providence proved they were a resilient bunch, not afraid to go head-to-head with the best of the best, and this trait shone through in the second half. They clawed their way back little by little, eventually taking their first lead of the night with a Horchler bucket with just under six minutes remaining. Kansas responded with a run of their own, and, despite an admirable effort, Providence was unable to overcome the Jayhawks in the end. 
This team will be remembered as one of the best in Providence College's history, and rightfully so.
Men's Basketball Season Preview
by The Cowl Editor on October 28, 2021
---
Friar Sports
---
PC Hoops Looks to Silence Critics
Joseph Quirk '23
Sports Staff
The Providence College Men's Basketball Team had a disappointing last season, finishing 12-14 and failing to qualify for the NCAA tournament, let alone make it past the first round of the Big East tournament. The Friars entered last season with high expectations, considering how they nearly made the NCAA tournament in the 2019-2020 season.
Much has changed in the past two years, particularly the loss of some crucial players. Star guard David Duke Jr., for example, left the Friars after last season to pursue the NBA. Duke went undrafted before making the Brooklyn Nets summer league team and earning himself a two-way contract with the championship favorites. 
Some things remain the same, though. Two players that stayed to play are center Nate Watson '22 and guard AJ Reeves '22. The returners expect to feature prominent roles in the offense with Watson working down low in the post and Reeves creating spacing on the floor.
At this past Big East Media Day, Watson was chosen as a Big East All-Conference first team selection. The preseason polls, however, had the Friars as the seventh team in the conference. Reeves said, "I think Nate is one of the most consistent bigs in the country." Head coach Ed Cooley said, "I feel like my wife gave birth to Nate, he's been with us so long."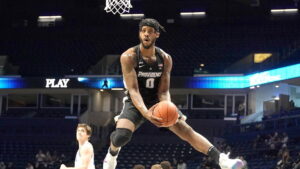 This is a big year, particularly for Reeves, as the former four-star recruit looks to have his most prominent role in the offense since arriving in Friartown. He has been inconsistent his first three seasons, flashing a brilliant shot in some games and becoming ice-cold in others. With the departure of Duke and Watson, consistency beyond the arch from Reeves will be a necessity. He will have some help with moving the offense as point guards Alyn Breed '24 and Jared Bynum '22 return, as well as graduate student forward Noah Horchler '21GS and senior big man Ed Croswell '22.
Breed looks to build off a very promising freshman season in which he averaged five points-per-game along with one assist and two rebounds. He has flashed potential to be a solid scorer who can move the ball well, and now having a full offseason and the experience of Big East basketball last season, it is reasonable to expect a good jump in production from him this season.
Bynum is a lot more experienced than Breed, and is a key piece in this offense. The redshirt junior was a massive part of last year's offense as he played the main distributor and set up his teammates well. The point guard who can distribute the ball smartly is key, and that was never more apparent than last season. Last year, Bynum was a newcomer but made an instant impact. However, a mid-season injury took him out of action for a couple weeks and the offense looked drastically different.
Croswell was also a newcomer last season, and he had some struggles. The transfer from La Salle University was advertised as one of the best rebounders in the country, but his 1.9 rebounds-per-game last year showed he may have struggled to translate his game to the tougher Big East conference.
If the Friars are going to be good this year, they are going to need him to step up. Having an anchor that can come in off the bench and allow Watson to rest is going to be very important.
Another player the Friars will need this year is returner Horchler. The grad student forward adds a different fold to the offense with his ability to stretch the floor.
One thing this offense has clearly lacked the last few seasons is consistent three-point shooting, and towards the end of last year, Horchler flashed the ability to be a good catch and shoot perimeter player. An athletic forward at 6'8" and 220 pounds, he also has some size to him. With the way the game has evolved, having big men who can shoot is becoming increasingly important.
While all these returners are going to be very important to the success of this team, the newcomers are going to be very important as well.
The rest of this roster is brand new, composed of freshmen and transfers. As mentioned earlier, star guard Duke left to pursue an NBA opportunity. But Cooley and the Friars also lost Greg Gantt '23, Kris Monroe '23, Jimmy Nichols Jr. '23, and Jyare Davis '24, who all left through the transfer portal this offseason.
The transfer portal did not just take, however. Justin Minaya '22 came from the portal via the University of South Carolina. In his previous two seasons at USC, Minaya he was about a seven point-per-game scorer, adding about six rebounds and one block per game to his per-game totals. He looks to have had pretty solid production for a power-five team and should be a nice piece to add.
Their other transfer is graduate guard Al Durham '22. In Durham's senior season at the University of Indiana, he averaged 11.3 points, 2.6 assists, 3.1 rebounds and .5 steals per game.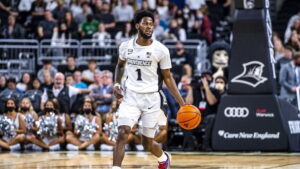 He was a leader there and the Friars got a good look at him when he went off and helped lead the Hoosiers to an early season out-of-conference win against the Friars at the Maui Jim Invitational.
The Friars also brought in a ton of young talent to help rebuild this roster.
Freshman guard Matteus Case '25 is a two-star recruit from Canada and appears to be able to shoot the ball decently from a distance. Freshman guard Luke Fonts '25 is the brother of graduate walk-on Andrew Fonts '22GS. Legend Geeter '25 is a big freshman forward, standing at 6'7" and 220 pounds. He likely will be buried on the depth chart early in his career with all the experienced power forwards in this team, but the former three-star recruit should be a big piece of this team's future.
Former three-star forward Rafael Castro '25 and freshman Kieran O'Haire '25 round out the recruiting victories Cooley claimed this offseason.
Cooley expects a competitive year in college basketball, especially with this extra year of eligibility. He said at Big East Media Day, "College basketball will be in a good place this year. It should be as competitive as any."
Cooley hopes the Friars will be competing on the highest stage too, considering it has been about three years since their last appearance in the NCAA tournament. But he is not discouraged by the early hate the Friars are getting.
"It's what they think. How true is it? Who knows? I think it will all balance out. As a coach, if you're worried about where you're picked early, you're in it for the wrong reasons," said Cooley.
He continued, "You balance your team with confidence, inspire them to be better than people think and kind of go from there. Don't look at it as a negative. It's just somebody else's opinion."