Men's and Women's Basketball Transfer Portal Update
by npatano on May 5, 2022
---
Friar Sports
---
Friars Look to Rebuild for Next Season
Justin Bishop '24
Sports Staff
Over the past few weeks, the Providence College men's basketball team has seen some talented players depart, while reeling in some high caliber talent through the NCAA college basketball transfer portal. Justin Minaya '22GS has decided not to use his sixth and final year of eligibility, he did have one remaining year due to the NCAA establishing that all student athletes have an additional year of eligibility due to COVID-19. Instead, Minaya, like Noah Horchler '22GS, Al Durham '22GS, and A.J. Reeves '22, has decided to declare for the NBA Draft,hoping to earn a spot on a professional roster.
Coming to the Dunkin' Donuts Center next year will be University of South Carolina freshman transfer Devin Carter '25 who had a standout freshman year and was ranked as the No. 26 best transfer. Carter set the record at USC for three-point-shots made in a season by a freshman, so he will be a prime candidate to fill Reeves' spot as the team's go-to three-point shooter.
Next is University of Connecticut freshman transfer Corey Floyd Jr. '26, who will still have four years left to play even after next season. Floyd was highly sought after coming out of high school but did not see the court at UConn because their coaching staff apparently thought losing was better.
After Floyd came University of Louisville graduate student transfer Noah Locke, who played three seasons at the University of Florida before transferring to Louisville and who will finish here in Friartown.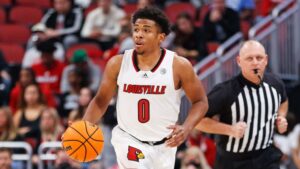 Next, Lasalle University graduate transfer Clifton Moore, who played two years at Indiana University before transferring to Lasalle, will play his final year here in Providence.
Lastly, the biggest transfer in recent years for the Friars, University of Kentucky sophomore transfer, Bryce Hopkins who played little time at Kentucky but will fit in perfectly as a three or four in the rotation. Hopkins was named 2021 Illinois Player of the Year in his last year in high school and also accumulated various summer tournament accolades.
This offseason, Friar fans could not have asked for a better transfer season from the National Coach of the Year Ed Cooley. Watching these players fit into the system with returning members Ed Croswell '23 and Jared Bynum '23 is going to be exciting.
On the women's basketball team's side, the team said goodbye to the team's second leading scorer this past season in Alyssa Geary '22, who transferred to Indiana University for her graduate year. Geary, who played all four years at Providence, was a consistent piece of the offense along with her defense as she finished her career with 128 blocks. They would also see Mary Baskerville '22 leave the team after four years to head to Quinnipiac University. Baskerville averaged 10.2 points per game in her four years as a Friar. An addition to the team next year is graduate transfer from the University of Iowa, Logan Cook. The 6'1 forward played all  four years at Iowa where the team was upset by Creighton University in the second round of the tournament. The team will look to bounce back from last season where they were bounced in the first round of the Big East tournament by Georgetown University.
Women's Basketball Season Comes to an End
by npatano on March 24, 2022
---
Friar Sports
---
Friars Fall to Georgetown University in First Round of Big East Tournament
Liam Tormey '22
Sports Co-Editor
The Friars women's basketball season came to an end on March 4 after a 68-55 defeat to Georgetown University in the opening round of the Big East Women's Tournament. 
After being down by one at halftime, the Hoyas jumped out to a 22-0 run in the third quarter. The Friars were unable to bounce back, and their season was over. 
Emily Archibald '25 scored a career-high 21 points in the contest, shooting 7-9 from the floor and 6-8 from three-point territory. Janai Crooms '23 added 18 points, five rebounds, five assists, two steals, and one block for the Friars, but the Hoyas were able to hold on. 
The Friars finished the season 11-19, 6-14 in Big East play, and ended the year on a five-game losing streak. They were 6-11 at Alumni Hall and 5-7 away from home. 
Crooms completed her first year for the Friars after transferring to her home state from Michigan State University. She averaged 13.8 points with an average of 34.7 minutes per game in her first year as a Friar. Crooms also recorded six double-doubles – a team-best – and was the only player in the Big East ranked inside the top-15 in scoring and also ranked inside the top-10 in rebounding, assists, blocked shots, offensive rebounds, and defensive rebounds. 
The Cranston, Rhode Island native, who is the first female to have her number retired at St. Andrew's School, shot 43.6 percent from the field and 38.6 percent from behind the three-point arc. Along with Kylee Sheppard '25, Crooms was awarded All-Big East Honorable Mention accolades. 
Sheppard was a unanimous selection to the Big East All-Freshman Team. She only played in 19 games and started in 18 of them after missing 10 games in the beginning of her rookie season due to injuries. By the end of the year, Sheppard finished third in the team in scoring with 9.6 points per game 2.1 assists per game while second in steals averaging 1.6. 
Alyssa Geary '22 and Mary Baskerville '22 both completed their senior season for the Friars. Geary started in all 30 games, averaging 26.4 minutes per game and 9.5 points per game. The senior shot 37.7 percent from the field while adding 4.2 rebounds a game.
Per her instagram, Geary will be using her extra year of eligibility due to COVID-19 and transferring to Indiana University. She played 118 games for the Friars, a total of 2655 minutes and 854 points. 
Baskerville played in 23 of the Friars' 30 games this season. She averaged 19.0 minutes per game and finished the year averaging 7.0 points and 5.5 rebounds. There is no word yet on the future of Baskerville and what she will plan to do with the extra year of eligibility. 
Next year, with the return of Crooms and an entire year of Sheppard in the lineup, the Friars will have potential. They will need to make up for size with Geary leaving, but a young team under the leadership of Jim Crowley will continue to grow in the 2022-23 season. 
Women's Basketball Winter Recap
by npatano on February 7, 2022
---
Friar Sports
---
Young Friar Squad Battled Tested
Leo Hainline '22
Sports Co-Edito
The Providence College Women's Basketball team returned to winning ways with an overtime win against Georgetown University. The Friars pulled away in the extra period, thanks to a 9-0 run during the final minute and a half to seal the victory. Kylee Sheppard '25 led the way with 21 points, including seven of the team's 15 in overtime. This was the Friars' first win at McDonough Arena, snapping a 16-game losing streak at that venue. 
The first half was controlled mostly by the Friars. PC held an eight-point lead at halftime, partly due to the shooting of Lauren Sampson '23, who hit back-to-back threes in the second quarter, and Alyssa Geary '22 who led the team with nine points at the break.
Georgetown crawled back into the game after the PC offense stagnated at the end of the third quarter, going scoreless for the final four and a half minutes. The game was closely contested throughout the fourth, but the Friars seemed to seize control following late scores from Janai Crooms '23 and Sheppard. However, Georgetown managed to bank in a deep three-pointer with just seconds remaining to send the game into overtime. 
The Hoyas took the initial lead during the extra period and held a one-point advantage with a little over two minutes remaining, but the Friars, particularly Sheppard, rose to the occasion and got multiple stops defensively while also converting on the offensive end. Sheppard knocked down five of her six free throws in the final 40 seconds, putting the game out of reach.
Three Friars scored in double-digits—Sheppard, Geary, and Crooms—and they combined for 48 of the team's 66 total points. Mary Baskerville '22 was a force defensively, providing six steals and six blocked shots. The senior center also grabbed a team-high eight rebounds. 
The win in Washington D.C. returns the Friars to .500, with a 9-9 overall record. PC is 4-5 in conference play and had dropped their previous two games against Seton Hall University and Villanova University. The loss against the Wildcats was the team's first on the road this season, but the recent win against Georgetown elevates their away record to 4-1. Over winter break, PC went 2-4, with their two wins coming against Xavier University and St. John's University. 
Much of the Friars' roster is composed of freshmen, while their leading scorer, Crooms, is a transfer from Michigan State University. While Baskerville and Geary are certainly the senior leaders, they are surrounded by a squad of players who are mostly amid their first season wearing black and white. This dynamic, although it may, in part, explain some of the team's inconsistencies and struggles, is one that can improve and it may suggest a strong final stretch of the season. Sheppard has filled the point guard role exceptionally well and is a confident facilitator. Her recent play has been vital for PC's success, as seen in their game against the Hoyas. Crooms has also established herself as an instrumental part of PC's lineup through her playmaking ability. Leading the team in points and assists, but also in turnovers, her efficiency and decision-making is an x-factor. As these two players, in addition to the likes of Emily Archibald '25, Olivia Olsen '25, Audrey Koch '25, Meghan Huerter '25, and Nariah Scott '25, continue to become accustomed to Friar basketball, the cohesion and efficiency of the team should improve.
In early December, PC fell to the Hoyas at home 55-47, and getting revenge on the road is an excellent way to propel them into a challenging week ahead. The Friars will travel to Omaha, NE to face Creighton University on Friday, Jan. 28. Creighton sits towards the top of the Big East with a 9-2 conference record. The Blue Jays however are coming off a loss to Villanova, a team the Friars split their season series with. 
PC then has a short turnaround and returns home to take on legendary coach Geno Auriemma's University of Connecticut at the Dunkin' Donuts Center on Sunday, Jan. 30. The Huskies are ranked tenth in the nation, but they are still without Paige Bueckers '24, who is recovering from a November surgery to repair an anterior tibial plateau fracture and torn lateral meniscus. Bueckers won the national Player of the Year award last season and became the first freshman in women's college basketball to ever receive that honor. UConn remains a strong squad without her presence, and the Huskies are undefeated thus far in Big East play. Last season, the Friars only matched up once against UConn, in a game away from home and in front of an empty arena. PC started out the game strong on that occasion, leading 7-1 initially and only trailing by a point after the first quarter. UConn ultimately took control and won the game handily. The matchup scheduled in Providence was canceled due to COVID-19 related issues in 2020/21, so this will be the program's first game at home against the Huskies since they returned to their rightful home in the Big East. If the Friars pull off the upset in front of a home crowd at the Dunk, it will certainly be the highlight of the team's season and the careers of some of the players. 
Women's Basketball
by The Cowl Editor on November 4, 2021
---
Friar Sports
---
Friars Look to Make Statement this Season
Leo Hainline
Sports Co-Editor
The Providence College Women's Basketball team enters the season with high hopes, eager to fully showcase their potential after a turbulent 2020-21 season that was frequently interrupted by COVID-19 postponements and cancellations.
The Friars retain their two top scorers in Mary Baskerville '22 and Alyssa Geary '22, senior leaders who will hold down the team's frontcourt standing at 6'3" and 6'4", respectively. This season will also allow for other players to shine as the Friars lost four key members of the team, including point guard Chanell Williams '21, who graduated from PC and is continuing her education and athletic career in-state at the University of Rhode Island. She shot over 41 percent from beyond the arc last season. Kyra Spiwak '21 is another three-point threat who will need to be replaced, as she shot a serviceable 33.3 percent on a team high of 108 attempts last season.
Fortunately for PC Women's Basketball, the team has both returning players and an influx of new talent from transfers and incoming freshmen to compensate for their departures from last season. On paper, Coach Crowley has done a fantastic job recruiting and the future of the program looks incredibly promising.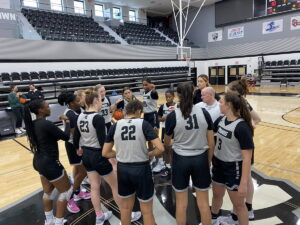 Lauren Sampson '23 seems set to fill part of the void left by the Friars' graduating shooters. The junior from Waltham, MA, averaged only 10 minutes a game this past season but hit the fourth-most three-pointers on the team. Expect her to play a key role in the Friars' offense this year, especially given that defenses will need to focus on the interior presence of Baskerville and Geary. Likewise, Andreana Wrister '22GS, a graduate transfer from Tennessee State, will also be a vital player on the perimeter. She had the third highest number of three-pointers in the Ohio Valley Conference this past season. Wrister also blossomed in her role in her final season for the Tigers, improving her scoring by nearly 10 points from her junior to senior year. The Friars will need her to accomplish much of what Williams did last year offensively in instigating scoring from the point guard position and stretching the floor with her shooting.
Speaking of shooting, Coach Crowley was able to recruit Meghan Huerter '25 to Friartown, a player who set a record for the most three-point field goals made at Shenendehowa High School in Clifton Park, NY. The marksmanship seems to run in the family as her older brother, Kevin, is one of the best young three-point specialists in the NBA and plays for the Atlanta Hawks. Huerter is 5'11" and has unlimited range, creating a tough matchup for any opposing defense. Similarly, shooting guard Audrey Koch '25 from Iowa City, Iowa stands at 5'10" and knows how to get a bucket in any situation. Similar to Huerter, Koch is a threat from beyond the arc, and she was even a McDonald's All-American Nominee during her senior year of high school.
Coach Crowley also recruited two-time Maine Gatorade Player of the Year Emily Archibald '25. She was also named 2021's Miss Maine Basketball, along with a host of other accolades. At Kennebunk High School, Archibald averaged a whopping 24.6 points and 20.7 rebounds a game. The 6'2" freshman is versatile with the ability to play both in the post and on the perimeter, and has the potential to grow into one of the program's top players.
In the Friar frontcourt, while fans should anticipate Baskerville and Geary getting most of the run, Olivia Olsen '25 may also see minutes off the bench and will certainly provide the Friars with depth at the position. Expect Olsen to fill the shoes of her namesake in Olivia Orlando '21, who was a tenacious rebounder for the Friars throughout her four years on the roster. Despite being undersized at 5'10", Orlando tallied the second most rebounds for PC last season, and her presence on the court will be missed. Olsen stands taller at 6'3" and acts as a more typical post presence, and after Baskerville and Geary graduate, many expect her to be an integral piece of the Friar frontcourt in the future. She played AAU ball with fellow newcomer Huerter, and at Niskayuna High School in Niskayuna, NY, Olsen averaged a triple-double in points, rebounds, and blocks in both her junior and senior years.
The Friars also added guard depth with freshmen Nariah Scott '25 and Kylee Sheppard '25, as well as with the acquisition of Cranston native Janai Crooms '23, who transferred to PC from Michigan State University. Crooms attended St. Andrew's High School and was the first female basketball athlete to have her jersey retired at the school. She has plenty of experience playing college hoops as she began her collegiate career with Ohio State University for her first two years before transferring to the Spartans. The floor general will be a valuable player in Coach Crowley's arsenal, especially given Williams' departure.
While the PC Women's Basketball team looks ready to turn heads this season, they find themselves amid a competitive conference that has one of the greatest programs in any collegiate sport of our lifetimes: the University of Connecticut. The Huskies enter the season ranked second in the country, only behind the University of South Carolina. UConn has won 11 national championships, all coming since 1995, and rarely ever lose their conference tournaments. The Friars will square off with the Huskies at the Dunkin' Donuts Center on Sunday, Jan. 30, which is certainly a game to mark on your calendar.
UConn is not the only notable team in the Big East. DePaul University also poses a threat and in recent years has consistently hovered around the AP Top 25. The Blue Demons return all five starters and will be expected to be a tournament-caliber team this season. Seton Hall University, which finished as runner-up in the conference last year, is also expected to be one of the more competitive teams that the Friars will face.
The Big East Preseason Poll ranked the Friars as eighth out of 11 teams, but PC Women's Basketball will let their play do the talking and prove that their roster is much better than others in the conference perceive it to be. There would be no better way to celebrate 50 years of female students at Providence College than to have a fantastic year out of this team. The Friars play an exhibition matchup at Alumni Hall vs. Bentley University on Nov. 4, and then they begin their regular season play again at home on Tuesday, Nov. 9 against Yale University.