Super Bowl LIV: A PC Perspective
by The Cowl Editor on February 6, 2020
---
Campus
---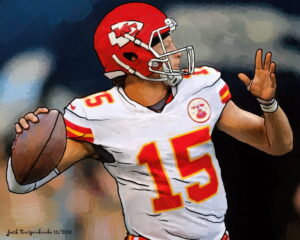 by Will Devaney '23
News Staff
The Kansas City Chiefs won their first Super Bowl in a 31-20 victory over the San Francisco 49ers this past Sunday after a stunning second half comeback. 24 year-old quarterback Patrick Mahomes was named Super Bowl MVP for his late game heroics that earned the Chiefs their first ever Lombardi Trophy.
The 49ers struck first with a field goal early in the first quarter, but the Chiefs responded with a one-yard touchdown to give them a 7-3 lead to end the first quarter. The second half began with lockdown defense from the 49ers. With some seemingly unending pressure from the 49ers defensive line, combined with Jimmy Garoppolo's solid passing game, San Francisco began to shut down the Chiefs, leading them 20-10 at the end of the third quarter. 
With the game on his shoulders, Patrick Mahomes threw for 138 yards and two touchdown passes in the fourth quarter alone, leading the Chiefs to a 31-20 victory.
Far away from the action in Miami, Providence College students got to enjoy the big game at McPhail's Super Bowl Game Watch. The event was hosted by the Office of Student Activities and Cultural Programming (OSA-CP). 
Students had the chance to win gift cards through picking squares, as well as enjoy complimentary pizza and wings. The game itself was entertaining and memorable, but for many here at PC, Super Bowl Sunday just did not feel the same without some familiar faces on the gridiron.
The New England Patriots' rare absence from the championship game was a hard pill to swallow for the large New England fanbase at PC. "It just doesn't feel right, you know?" said New Hampshire native Jared Burns '23. "Tom should be out there, Jules should be out there, It doesn't feel right." 
With the Patriots out of contention, New England fans were faced with a decision that they are not used to making: who to cheer for. A common answer was the 49ers. The logic behind this choice had a lot to do with the man under center for San Francisco. 
Garoppolo spent his first three seasons with the Patriots, playing as backup for Tom Brady until he took the starting job as quarterback for the 49ers in 2017. Many New England students wanted to see just how much the "Baby Goat" learned from the six-time Super Bowl champion during his time with the Pats. 
Those from outside the New England fanbase held similar views. Brian Cantin '23 of California said, "Probably the 49ers because they're in California, I didn't care that much though." 
Some other non-Patriots fans wanted the Chiefs to win, particularly those with longstanding grudges against anything Patriots- related.
Despite the seemingly awkward absence of Tom Brady and the Patriots from February football, the PC community was still able to share food and fun on Super Bowl Sunday.