Colin Kaepernick Nike Ad Stirs Controversey
by The Cowl Editor on September 20, 2018
---
Professional Sports
---
By Liza Sisk '19
Sports Staff
Earlier this month, Nike debuted a new commercial featuring former National Football League (NFL) quarterback, Colin Kaepernick, and other popular athletes. The campaign encourages Nike customers to "Believe in something. Even if it means sacrficing everything." This advertisement is a part of Nike's 30th anniversary of the "Just Do It." campaign.
In 2016, Kaepernick began kneeling during the pre-game performance of the National Anthem in peaceful protest of violence, specifically police brutality against people of color. His actions received national attention in both the forms of support and anger.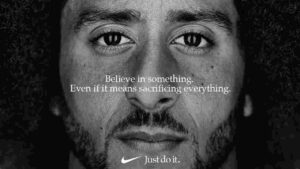 The polarized opinions of individuals generated controversy around Kaepernick and sparked conversation in regard to freedom of speech, the right to demonstrate peacefully, and the disrespect of the American flag.
This controversy became central to the dialogue surrounding professional sports and gained a lot of momentum through attention from various media outlets. In late May, NFL owners "unanimously approved a new National Anthem policy that requires players to stand if they are on the field during the performance but gives them the option to remain in the locker room if they prefer." Teams will receive fines if any players or personnel on the field refrain from standing during the National Anthem.
Nike took a risk by producing this commercial, and entered a politically and socially active conversation. Matt Powell, a sports retail analyst at market research firm NPD Group, explains that "the campaign sent a strong message to Nike's core customers: Millennials and younger men in cities. Two-thirds of the company's sneaker customers are younger than 35." Wedbush analyst Christopher Svezia analyzed the approach as increasing core customers' loyalty because "[Nike] communicated to them in a way that is authentic, culturally relevant, experiential and emotionally engaging."
This advertisement, and the backlash and support that Nike has received because of it, continues to demonstrate the unique complexity of the intersection between the sports world and the political and social realms.