Congress Updates 11.14.17
by The Cowl Editor on November 16, 2017
---
Congress Updates
---
by Connor Nolan '19
Student Congress Publicity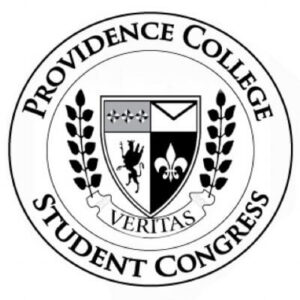 At Tuesday's weekly meeting, Student Congress welcomed multiple guest speakers to present before its members. First, Glenn Halverson from the Rhode Island Blood Center spoke briefly regarding the blood drives on campus. After speaking to students during the current drive, Mr. Halverson realized that many students on campus were unaware a blood drive was going on.  He hoped that in the future the congress would help to get word out in order to grow the number of donations provided by the campus community. Congress hopes to help in the future, and wants students to be on the lookout for information regarding future drives.
The other speakers who presented before the congress were Michael Botelho, associate vice president of finance and strategic planning, and Alison Sjovall, student affairs communication and assessment specialist. They wished to receive feedback regarding Providence College 200, the College's next strategic plan regarding the future of higher education based on feedback from members of the local community.
Botelho fielded both questions and suggestions. Many students wished for some sort of plan to be included that would bridge the gap between the liberal arts and professional schools. Multiple students suggested that the school work harder to build relationships with alumni in different professional fields that might not be directly a part of the school curriculum, in order to aid students in some of the less popular majors to build connections. Since the plan spoke of increased diversity, students had questions as to how this would be accomplished, but as the plan is in preliminary stages  Botelho promised to look into how this will be done.
Multiple questions and suggestions were also fielded regarding financial aid and tuition at the school, and how those can be increased and lowered, respectively as a part of the plan.
Students also suggested growing of the community outside of the College by connecting with the Smith Hill community and changing the opinion many students have about the areas outside of campus.
The congress would like to thank the presenters for coming and wish them luck in building a plan that benefits all students as well as the community.
Two pieces of new business were presented before the congress in Tuesday's meeting. First, a piece of legislation was introduced to endorse a student athlete representative as a passive member within the congress.
The second piece of new business involved changing the hours for which the Aquinas Lounge can be reserved by clubs and other meetings. This piece is meant to create a rule that would prevent bookings past 8 p.m. Sunday through Thursday from being made in the Aquinas Lounge and the Ruane Great Room.
Although it will cause many events to move, members seemed receptive as it is a space meant for student studying and collaboration. Members suggested that this should be extended to other buildings ,including Fennell Hall, where it can also be hard to find a space to do work.  Many saw this as a good first step towards study room reform, and that it would hopefully lead to further legislation.
Both pieces will be discussed further and more than likely voted upon in the next meeting.
Congress Updates 11.7.17
by The Cowl Editor on November 9, 2017
---
Congress Updates
---
by Connor Nolan '19
Student Congress Publicity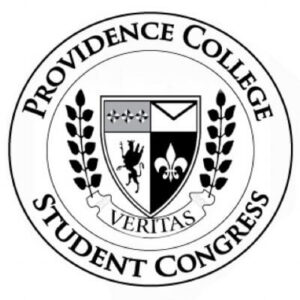 In its weekly meeting this past week, Congress welcomed Mike Pierce, director of the office of community standards. Pierce did not have a direct presentation for the Congress, but instead came to field any and all questions regarding the work his office does.
One question arose regarding how long the process takes when a violation occurs off campus involving the Providence Police Department. Pierce responded that when an incident occurs off campus it takes the office some time to receive the report from the police department and sometimes can take longer than other offenses on campus. He also admitted that in  rare cases the process can last until after the violation has been cleared up with local police. Another question was asked regarding off-campus arrests or violations and the corresponding disciplinary response. Pierce explained that the student's response to the incident, meaning whether he or she cooperated with law enforcement or not, as well as their previous violations are always taken into account.
A member of Congress also questioned the perception of the Office of Community Standards on campus as a sort of scary or hidden part of the school until one must meet with them. Pierce stated that it is necessary for it to remain a mystery to most students due to confidentiality. Also, he believes it is a good aspect that most students at Providence College are frightened by his office, as it is supposed to be a deterrent from getting into trouble with the school or local police.
When questioned where the money goes from fines paid to the College, Pierce said that it is not placed in an official account or place, but is often used for improvements to academic tools offered within the College.
The last few questions regarded how the disciplines were decided or appealed for smaller violations. Pierce explained the necessity for multiple violations to be levied for one gathering or party, to differentiate the difference between smaller offenses and larger ones. Regarding appeals brought forward by students who thought their punishment was overly harsh, Pierce clarified that the only three reasons a decision made by his office could be changed are procedural error, new information regarding the case being brought forward, or excessive and inappropriate sanctions.
Congress would like to thank Pierce for taking the time to speak and answer questions, and if students have any further ideas or questions, his office is located in Slavin 206.
Congress would like to remind and invite all students to the grand opening of Moore Hall this coming weekend.
The Class of 2018 is making the final preparations for their 218 Nights Until Graduation this coming Saturday. Have fun!
The Outreach Committee would like to invite all students to come out to the Turkey Drive this coming Friday from 11 a.m.- 2 p.m. in Raymond Dining Hall. If you hit a basketball shot, Sodexo will donate a turkey to a family in need this holiday season!
This week PC's A Novel Idea presented for a second straight week before the congress in the hopes of gaining accreditation as a club on campus. They reiterated once again that they wish to create a safe space for those who love reading to come together and discuss and enjoy books on campus.
They were questioned on their similarity to a class that is now offered, but other members of Congress defended this saying it is unfair to differentiate itself from a class, as there are many clubs affiliated with other majors or minors on campus. Also, some believed that there is a large difference between a class and outside reading done for pleasure.
While there are many clubs that do similar events and fundraisers, members again argued that more people willing to help with drives or fundraisers is never bad. After all this discussion, the club was passed with two nay votes and one abstention. Congratulations to the members of the club on their hard work!
Congress Updates
by The Cowl Editor on September 21, 2017
---
Congress Updates
---
By Connor Nolan '19
Student Congress Publicity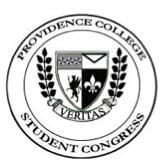 On Tuesday, Student Congress welcomed back Rafael Zapata, Providence College's chief diversity officer, to discuss the ongoing renovations to the building formerly known as Moore Hall.  The currently unnamed Center for Inclusive Excellence plans to open in mid-October, barring any delays on the project.
The Center will include activity space, group collaboration areas with helpful technology and tools, a renovated dance studio, and auxiliary office space.  Touching on the extra office space, Zapata said the plan is to allow a variety of programs and councilors to share the workspace in order to best reach students.  Students suggested adding new food options to the building and Mr. Zapata seemed receptive, noting coffee will be sold, as well as the possibility of adding food options in the future.
Student Congress Elections are currently underway as the Class of 2019 and Class of 2020 fill out executive positions and hope to welcome the new members of the Class of 2021.
After a few weeks of work by the Allocations Board, Congress unanimously approved club financial allocations for the upcoming year.
New Business was also introduced during the meeting, with the Afro- Caribbean Club presenting before the congress.  The club wishes to create a safe and inclusive space to come together and learn about the various cultures in the Caribbean through food, music, and events which will connect influential members within the local community to students.  The club was well received by the student body and will be voted on at the next general meeting.
Another piece of New Business was introduced, presented by Cassandra Caggiano '18, pertaining to the addition of contact number stickers in off campus houses owned by The 02908 Club.  The stickers would be very similar to the stickers posted in buildings around campus, giving students as many avenues of outreach as possible for a variety of situations.  Also included will be numbers for Providence and Rhode Island—specific resources which can be utilized by students from various schools in the area.