"My Greatest Asset is My Mind": NBA Star Kareem Abdul-Jabbar Speaks at MLK Convocation
by The Cowl Editor on February 23, 2021
---
Campus
---
by Hannah Langley
News Co-Editor
In honor of Rev. Dr. Martin Luther King, Jr., Providence College held its fourth annual MLK Convocation, hosting Kareem Abdul-Jabbar as this year's honorary guest speaker on Feb. 11. 
Throughout his career, Abdul-Jabbar has made a name for himself both on and off the basketball court. Beginning his basketball career at the University of California, Los Angeles, he went on to play 20 years of basketball in the NBA, playing for the Milwaukee Bucks and the Los Angeles Lakers. 
Besides being a basketball superstar, Abdul-Jabbar has also spent most of his life as an influential activist, advocating for racial justice and societal change. Among other accomplishments, he established the Skyhook Foundation, an organization working to make science, technology, engineering, and mathematics education more accessible to children in Los Angeles, and was awarded the Presidential Medal of Freedom by President Barack Obama. He has also written New York Times best-sellers and has produced several films, all proving what he has said: "I can do more than stuff a ball through a hoop. My greatest asset is my mind."  
In previous years, the convocation was held in the Peterson Recreation Center, but because of COVID-19 restrictions, Abdul-Jabbar spoke to the PC community via Zoom Webinar. In many ways, holding the event as a webinar had some benefits, as it allowed for even greater participation beyond the current students, faculty, and staff at PC, giving alumni, parents, former faculty, and others the opportunity to listen to Abdul-Jabbar as well.
The event began with Sean Reid, provost and senior vice president for academic affairs, and College President Father Kenneth Sicard, O.P., who welcomed and thanked Abdul-Jabbar for speaking. Fr. Sicard noted that having Abdul-Jabbar come speak was a great opportunity for the PC community to continue its work towards becoming a beloved community. 
This year's convocation was held in a question and answer format, which allowed participants of the webinar to submit questions ahead of time for Abdul-Jabbar to answer during the event. These questions were read by Julia Murphy '21 and David Duke '22, both student athletes at the College. 
The first question asked was in regards to Abdul-Jabbar's past, as he once met Martin Luther King, Jr. while leading a civil rights mentorship program in Harlem, NY during the summer of 1964. Abdul-Jabbar recalled his time as a member of the Harlem Youth Action Project (HARYOU), saying he received a press pass to attend one of Martin Luther King, Jr.'s speeches as a journalist. 
Abdul-Jabbar spoke about how as a young teenager, he was more inspired by the work of Malcolm X than of Martin Luther King, Jr., as Malcom X  was a more militant, stronger voice that gave people like the young Adbul-Jabbar comfort in the idea of fighting back during the civil rights movement. 
He said, however, "Dr. King's example showed me long-term change would come through peace, reason, and discourse." Abdul-Jabbar has taken that with him throughout his career and life, especially advocating for these types of actions in today's world of racial injustice. 
"This is the same civil rights movement," said Abdul-Jabbar. "You won't see a difference between what we're doing now and what we did with Dr. King."
When asked if he thinks we will see equal treatment of people of color in our lifetime, Abdul-Jabbar made a point about the subjectivity of the concept "lifetime." He noted that the change he will see in his lifetime will not be the same as what his granddaughter will see, pointing out the need to focus more on what actions make sense right now that can ultimately help make progress and change.
When discussing the actions many NBA players have taken this year in standing up for racial injustice, Abdul-Jabbar noted how he thinks the NBA has done a great job of allowing each of the players to make their own decisions and to take their own approaches when speaking out, while also allowing some players who feel less comfortable doing so to publicly remain more silent. He also recognized the great work done by some WNBA players this year in working for justice and social reform. 
Nick Sailor '17, '19G, director of training and education for diversity, equity, and inclusion and former PC soccer player, asked how this new wave of student athletes should utilize their voices. Abdul-Jabbar stressed the idea of remaining patient and peaceful, not responding with anger. "Anger turns people off," he stated. "We will encounter a lot of things that make us angry, [but] we can't let anger get in the way of communicating." 
He advised the attendees, especially students, to appeal to others' logic and common sense and to think critically. "Critical thinking is the only thing that will help us find the truth," Abdul-Jabbar said. 
He also encouraged those who might be more hesitant to have uncomfortable conversations , especially white people, to learn and grow in awareness and to accept the truth of America's downfalls. Once everyone can accept the truth, he said, there will be real progress.
When asked what advice he would give his younger self, Abdul-Jabbar laughed, saying, "Don't listen to the 73-year-old," but he would tell himself to make good decisions and to take things where he wants to take them. 
Abdul-Jabbar also reminisced on his college and professional basketball career, discussing how he knew PC players like Ernie DiGregorio, Jimmy Walker, and others. He talked about how the advice of his college basketball coach, John Wooden of the UCLA Bruins, inspired him to be the man he is today.
"He taught us to be good citizens, good fathers, good husbands," said Abdul-Jabbar about coach Wooden. "He talked it like he walked it and walked it like he talked it." 
Abdul-Jabbar also talked about how coach Wooden would always say, "Failing to prepare is preparing to fail," which is also a famous quote from Benjamin Franklin. He has carried this quote with him throughout his life, saying, "Without preparation, I'm not going to get as far as I can get. I want to see things happen the right way." 
To close, Dr. Reid thanked Abdul-Jabbar for speaking with the PC community, noting how there is still work to be done to create a beloved community at PC, but how the College is ready and committed to working towards that change.
"Together, There is Nothing We Cannot Achieve.": Ndaba Mandela Inspires Community at Rev. Dr. Martin Luther King, Jr. Convocation
by Kyle Burgess on January 30, 2020
---
Campus
---
by Hannah Langley '21
News Co-Editor
Nearly 50 years ago, Rev. Dr. Martin Luther King, Jr., pronounced "I Have A Dream" to the entire world, advocating for racial equality and civil rights in America. 
This past Friday, January 24, at the convocation event held in the famous leader's name, Ndaba Mandela, grandson of Nelson Mandela, reiterated this message to the Providence College community, advocating not only for diversity reforms, but also for reforms in all areas across the globe. Inspired by Dr. King's words, Mandela stated, "If your dreams don't scare you, they aren't big enough."
After beginning his speech by thanking God and quoting Dr. King, Mandela recounted the first time he remembered meeting his grandfather, Nelson Mandela. Born in 1982, Ndaba Mandela grew up under apartheid in South Africa. He admitted he was mainly sheltered from the brutality that surrounded him.
He recounted how at around eight years old he was told by his parents they were going to visit his grandfather in prison, and what he saw was not what he expected. He remembered pulling up to a beautiful, big house with a pool, a personal chef, and more, thinking how could this be jail? He said he learned later in life, however, "They tried to break his mental strength." 
The apartheid government wanted to break Mandela's will to work for reform by giving him this comfortable life in isolation, but he never backed down. It was in this moment Ndaba Mandela decided, "I want to go to jail," meaning he wanted to be like his grandfather and work for reform in society.
Two of the largest programs Mandela advocates for in his work are HIV/AIDS and creating more awareness and a more positive image for the continent of Africa. Mandela remembered visiting the United States for the first time, telling the story of when he and his cousin went to Disney World. It was then that Mandela started to realize the image and perception people have of Africa is extremely skewed. He recounted how one person asked him how big the lions were, to which he and his cousin gave him a strange look and laughed, and how another person mentioned how they thought they would need guards for safety to visit Africa.
"People outside this country don't know much about Africa," said Mandela. "We want to change the stigma," he said, from being just about the amount of poverty, violence, hunger, and safaris in Africa. "We want the younger generation to be proud of their identity and proud to say 'I am an African.'"
To further this work, Mandela established Africa Rising Foundation in 2009 to instill a sense of pride within Africans and educate the world about Africa's growing economy and rich culture. He also founded the Mandela Institute for Humanity to promote "youth empowerment," saying the goal was to "teach young people to work the same way as Nelson Mandela."
In addition, he has done extensive work surrounding the HIV/AIDS epidemic in Africa, relating his work back to his own personal experience of losing both of his parents to the disease. 
Mandela talked about how people were and still are "dying in silence," and it is the responsibility of everyone, especially parents, to communicate with their children about the risk of HIV/AIDS, especially in today's "MTV culture" as he put it.
Mandela rallied the crowd by talking about how this new year and the new decade is the time for reform and change. "Our grandparents fought the good fight," he said, relating to his grandfather's own work against Apartheid. "Now it's our turn to fight," he said.
He stated his advocacy for new voices to rise up and take a stand, saying, "We cannot allow criminals to continue to parade around as officials in our society." He continued, saying there is a lack of youth participation, arguing, "Young people are marginalized and don't have a voice anymore." He argues that if it is because people are too afraid, we should "hold each other's hands and march together," just as young people used to do.
Several members of the PC community were awarded for such outreach and service during the convocation ceremony, as well. 
Dr. Terza Lima-Neves '00, originally from Cape Verde, was awarded for her work as a political science professor and chair of the department of social and behavioral sciences at Johnson C. Smith University, where she contributed towards research in international politics, global gender studies, and the current African diaspora in America. During her reception of her award, her son ran up on stage with her, and the audience saw the love and support received by her family.
Jack Murphy '20 was also awarded for various service works he has done during his four years at PC, including his outstanding work in Nicaragua during his summer with the Father Philip A. Smith, O.P., Fellowship for Study and Service Abroad. The Organization of Latin American Students (OLAS) also received an award for their work in sponsoring events on campus that promote inclusivity, social justice, equality, and universal freedom.
Students and staff walked away from the event with a renewed sense of community and belonging, inspired by the dream which Dr. Martin Luther King, Jr. shared all those years ago.
Beginning to See the Light(houses): PC Rings in New Academic School Year with Convocation Ceremony
by The Cowl Editor on August 29, 2019
---
Campus
---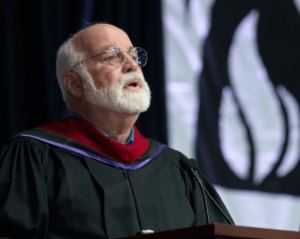 Kyle Burgess '21
News Co-Editor
An assembly of students and faculty gathered in Peterson Recreation Center on Monday, August 26 to celebrate the beginning of the 2019-2020 school year during the annual Providence College Academic Convocation. 
The students, many of them first-year undergraduates who had just undergone a full weekend of freshman orientation activities, looked on with their orientation leaders as professors, clad in ceremonial garb for the occasion, took their seats following a Friars Club escort.
Following the opening procession, invocation of the Holy Spirit, and singing of the national anthem, Father Brian Shanley, O.P., president of Providence College, offered a warm welcome to the Class of 2023 and the PC community. 
He echoed the themes of the principal speaker Rev. Gregory Boyle, S.J.'s book Tattoos on the Heart: The Power of Boundless Compassion in his address, reminding students of the blessings they have received in their ability to attend Providence College. 
"You have to be able to imagine lives that aren't yours," Fr. Shanley echoed, noting how it is the individual responsibility of all to ensure that marginalized groups both inside of PC and out are included in all aspects of society.
After Fr. Shanley's opening remarks, Student Congress President Kelsey Christianson '20 spoke about her own freshman year experience and the importance of finding role models that promote self-discovery and self-care during the college experience. 
Reiterating the words of Steve Pemberton during his commencement address at last year's senior graduation ceremony, she emphasized the existence of "lighthouses" in people's lives as they "direct, correct, and protect" those who look up to them. In a similar sense, Christianson looked up to the upperclassmen in Student Congress as her mentors throughout her PC career and explained that she gained valuable insight as well as a new group of close friends.
Rev. Boyle then took the stand, relating the day's themes to the personal connections he made with the characters in his book. 
He shared multiple stories in which he saw how marginalized persons behave towards outsiders as well as each other, noting how at one social service function a woman had asked one of the gang members he had brought to the talk from his Homeboy Industries community outreach program why he joined. 
The former criminal, covered in tattoos from head to toe to the horror of passersby at the airport the previous night, explained through tears and stage fright that he wanted his children to learn from his mistakes and not end up as he did. The woman then sobbed and called him one of the nicest and most genuine people she had ever met, and wished that his children would emulate their father when they grew up.
The event concluded with the recognition of new, full-time faculty members as well as the recipients of various scholarly and service-related awards before a reception and question and answer session with Rev. Boyle. 
"After a weekend of icebreakers and settling into a new college environment, this was a great way to settle into the academic and religious aspects of the school year," explained Josh Sears '23. "It provided a small break on the first day of classes and helped gear us for what lies ahead."
Wishing a warm welcome home to all residents of Friartown both new and old.