How Campus Clubs and Organizations Still Feel the Effects of COVID-19
by Sarah McLaughlin '23 on March 2, 2023
Editor-in-Chief
---
Editor's Column
---
Every member of the Class of 2023 remembers what they were doing on March 6, 2020. I remember saying goodbye to my friends and roommates before my back-to-back class and Civ seminar, in which we ironically discussed how next week's topic would be the bubonic plague. We left campus excited for break but with an underlying air of nervousness. Some of our parents were already saying we'd be home for at least two weeks, maybe more—my mom was already stocking our cabinets with canned goods in early February—while others were more optimistic. But none of us really knew what was going on, or how lasting the effects of COVID-19 would be—in particular, its impacts on our clubs and organizations.
As the "last pre-COVID class," as some of us have dubbed ourselves, we've witnessed some clubs on campus go from over one hundred active members to half their original size. Sometimes it means that, when you show up to club meetings, just executive board members and maybe a few others will be there. It means event planning and organization is much more difficult. It means we are worried about certain clubs having a future, because there's no one to take over after we graduate. Executive positions for some clubs used to be competitive, and now it's often a struggle to find students willing to step up. COVID-19 didn't just make us socially isolated for a year or two; it has had a lasting impact on students' leadership, teamwork skills, and motivation.
PC seemed to try its hardest, but the virtual programming of the 2020-21 academic year and Fall 2021 semester just didn't interest students to nearly the same degree, and this likely dissuaded new students from joining clubs. When we were stuck in our dorm rooms with our laptops and phones as the only means of social connection, most of us were turning to means of escapism—Netflix, YouTube, TikTok—not even more Zoom meetings on top of our classes and jobs that had all turned virtual. According to OpenVault's Broadband Insights Report, average broadband consumption increased by 47 percent from the first quarter of 2019 to the first quarter of 2020. In September 2021, according to Pew Research, 40 percent of US adults reported they felt worn out or fatigued from too many video calls, and 83 percent of US adults described virtual communication as not good enough compared to in-person contact.
Now that we've been unmasked and vaccinated for a full year, it's saddening to see that some clubs still haven't returned to their pre-COVID levels of functioning. Some are certainly on the rise again, and we can remain hopeful that this trend will continue, albeit slowly. We can make a plea to the Class of 2024 as well—this is your chance to become leaders. Leading a club is challenging (it's not easy trying to plan a budget, ask for money, maybe receive all of that money, and juggle a bunch of busy students' calendars to schedule events and meetings), but it is rewarding work and more than just "resume padding." I know we've all become a little too addicted to staying in our rooms and watching our favorite shows over the past few years, but the opportunity is out there now, so students should be taking advantage of it.
Updates from Alpha Epsilon Delta
by Samantha Gabree '23 on November 27, 2022
Guest Writer
---
News
---
by Samantha Gabree '23
Guest News Writer
Alpha Epsilon Delta is a national health preprofessional honors and service organization.
During the COVID-19 pandemic, many patients were unable to breathe due to their lungs being filled with fluid. This was the case with many individuals in New York and as the city's hospitals overflowed, the patients were sedated and put on ventilators. However, after recovering from the sickness, the patients would not wake up for weeks or even months. Even more perplexing is that when they did eventually wake, there was no indication of brain damage. This phenomenon was widespread, as Dr. Nicholas Schiff, who specializes in treating disorders of consciousness, was not the only neurologist to see this in his patients.
Dr. Schiff and his collaborator Dr. Emery Brown, a computational neuroscientist at M.I.T., studied 795 of these COVID-19 patients who displayed a delayed recovery from the sickness, where 25 percent of these patients took 10 or more days to regain enough consciousness to perform simple commands such as squeezing someone else's finger. The study also reported that 10 percent of those who were studied took over 23 days to regain consciousness.
Dr. Schiff and Dr. Brown have also recently published a proposal as to why these COVID-19 patients remained unconscious for such a long period of time. These doctors propose a theory comparing the unconscious human brain to that of turtles.
During the winter, turtles can shift their neurons into an unusually quiet state that lasts for months. They burrow themselves in frozen mud, and their respiration becomes minimal. In preparing for the winter season, turtles release the chemical GABA into their brains, allowing the neurons to conserve energy by decreasing the amount of nerve impulses that are fired. In a sense, turtles "auto-anesthetize" themselves. Dr. Schiff and Dr. Brown claim that the combination of sedatives along with having COVID-19 may prompt a similar response in the human brain, and even after the sedatives wear off, the brain may keep itself in this state for a period of time. This theory could be powerful, for if it can be proven, we will have a better understanding of how to preserve and protect the brain. Researchers and doctors would be able to find new ways to aid people with brain damage by putting patients into an unconscious state on purpose.
While it is too early to rely on this turtle-human brain analogy, this research could provide a new method for aiding recovery and even saving patients from brain damage.
The Show Will Go On—It's Just a Matter of When
by John Downey '23 on February 10, 2022
A&E Co-Editor
---
Arts & Entertainment
---
The Show Will Go On—It's Just a Matter of When
2022 Grammys Postponed Due to COVID-19 Concerns
Olivia Riportella '25
The 64th Grammy Awards have officially been postponed due to concerns about recent COVID-19 surges. Music's Biggest Night was originally set to take place on Jan. 31, 2022, in Downtown Los Angeles at the Crypto.com Arena, formerly known as the Staples Center. However, the significant increase in COVID-19 cases over the past month led health and safety experts, state officials, and the artistic community to make the difficult decision to postpone the show. This does not come as a surprise, as many shows with in-person elements have been canceled or postponed nationally in recent weeks. 
However, the Academy has updated the terms of the show as of Jan. 18, with a new, exciting location: the 64th Grammy Awards will now take place in the MGM Grand Garden Arena in Las Vegas on Sunday, April 3.
The 2021 Grammys were also forced to postpone and ended up being a drastically scaled-down virtual show, with minimal live performances and most Grammy Week events canceled. Regardless of the fact that the 2022 Grammys have been forced to make similar adjustments, the Recording Academy and its joint partner CBS have stated that they still "look forward to celebrating Music's Biggest Night," and are hoping for a full show with a live audience on this defining night for the music industry. 
Indeed, due to current COVID-19 trends, many Grammy Week Events canceled last year have been canceled this year as well. The annual Pre-Gala event hosted by Clive Davis and the Recording Academy, for instance, will not take place. However, some other Grammy week activities, such as the Person of the Year Gala set to honor Joni Mitchell, will go on. The Gala will take place in Las Vegas. 
The 64th Grammy Awards will be hosted by Trevor Noah of the Emmy Award-winning broadcast program The Daily Show. This will mark Noah's second consecutive year as the master of ceremonies after receiving high praise for his performance hosting of the 63rd annual show. Jesse Collins, Ben Winston, and Raj Kapoor will serve as executive producers, with Kapoor taking over for Winston as this year's showrunner. 
The Recording Academy has already released its star-studded list of nominees in all 86 categories. Leading the pack with 11 nominations in total is ​​Jon Batiste, the soulful artist who serves as the bandleader on "The Late Show with Stephen Colbert." Justin Bieber (eight), Doja Cat (eight), H.E.R (eight), Olivia Rodrigo (seven), and Billie Eilish (seven) all trail closely behind with multiple nominations to their names. Notably, Rodrigo has secured herself a spot in all four of the Grammys' top categories: Record of the Year, Album of the Year, Song of the Year, and Best New Artist.
Despite the ongoing difficulties that the Grammy Awards are facing, the ceremony still promises to make for a fantastic show. Indeed, the Recording Academy and CBS are working hard to deliver an unforgettable night for the artistic community and those streaming the event from the comfort of their homes.
An Ode to 2020
by The Cowl Editor on January 27, 2022
---
Poetry
---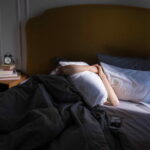 by AJ Worsley '22
Conspiracies roll around in my mind as I do in my bed. Another night where I cannot fall asleep. I turn on my fan for noise but I am not warm, so I aim it towards the ceiling. There's something about my bedroom that has never felt so unfamiliar before. My bed. Returning to my bed after a long day of work and school was my daily dose of euphoria that I needed to take me to the next day. Or what about the days where I would go to concerts, wait in line for hours, jump around and scream my head off for a couple more hours, drive home for about another hour. After all those days, seeing my bed meant returning to a safe space. It meant comfort. It meant that I had survived another day. Now, I never want to see my bed again. 
Sitting on my bed, I open Netflix and while it loads I look out my window. On one side of the street a man zooms by on his bicycle. Here and then gone. On the other side of the street, I see a woman walking her dog. She is well-kept. Leggings, running shoes, looking down at her Fitbit. She goes on walks regularly, probably even when it's raining. Her hair is in a ponytail and it swings back and forth like a metronome as she walks pridefully by my house, unaware that I am watching her with envy. Netflix is done loading.
But in all this free time, I was able to scroll through various social media platforms, all of which reminded me to go easy on myself. "You're only unproductive by the standards of the world we lived in two months ago," I read on Instagram. "Keep your head up, things aren't easy right now," Facebook yelled at me. I quickly became a victim, hostage to my own anger because I finally had the free time I desired and wasted it rewatching television shows I had already seen. At the same time, I had become the villain, because I knew what I was doing, and I knew how it made me feel, and I made no changes to my daily schedule. 
But not even a good television show could distract me from the horror. The news became the only piece of media we followed. It screamed at us: "America's numbers are up. Will school return in the fall? Concert cancellations. Sports cancellations. Bars and clubs and convenience stores shut down. Potential cure? Not for a while! Pandemic is good for the climate crisis! Less emissions!" Better to be overinformed than ignorant, but I'd kill for the bliss. 
Another sunrise had occurred, and I had missed it, waiting minutes before my class to wake up. Roll out of bed. Put my glasses on. Take my retainer out of my mouth. Open up a window so that my classmates did not think I was getting my degree from a morgue. Join the call. Pretend I knew what was going on. Leave. Repeat. Most days feel like this. The slightest sound could get stuck in my head. The dullest image would linger in my mind for far too long. 
Unfortunately for man, we do not get to pick and choose when pandemics rise and kill thousands of people because the weather is getting nice and it's becoming harder to stay indoors. Sure, on average, ten to twenty people walk by my house during a fifty-minute lecture, but I was not one of them. 
After a long day of Zoom calls, I sit on the porch and watch the sky get darker by the minute. Time goes by, as it does, and soon enough stars fill the sky. I had not seen this many stars in the sky in months. One night prior I remember looking out the window and seeing no stars. But on this night, it was impossible to look at the sky and feel like you were looking at anything less than A Sunday Afternoon on the Island of La Grande Jatte. I mourned the things I had found and rejoiced in the things I had lost.
A Successful Summer in the RI Music Scene
by The Cowl Editor on September 3, 2021
---
Arts & Entertainment
---
A Successful Summer in the RI Music Scene
Local Bands, Venues Resume Live Performance
By Jack Downey '23
The summer of 2020 was a bleak  time for musicians everywhere, especially those performing live shows. As the COVID-19 pandemic raged throughout the world, people were forced to spend much of their summers hunkered down, biding their time until life began to return to normal.
However, to say no good music came out of this time would be a lie. Many artists capitalized on their newfound abundance of free time to write and record. Nonetheless, there was a sense of tension regarding what would become of the music industry.
However, the summer of 2021 was a completely different picture. With a brief window of semi-normalcy made possible by the COVID-19 vaccines before the Delta Variant began fighting back, music surged back into the world. Suddenly, concerts and other live music events became commonplace once more. Although there were still certain rules in place to mitigate the re-emergence of the Coronavirus, live music was definitely back in season.
Rhode Island was no exception to this resurgence. As people began to feel more comfortable stepping out of the safety of their homes, Providence venues such as Dusk and Askew offered them fun places to go. The former began to host spacious outdoor shows and the latter hosted socially-distanced open mic nights. Eventually, as COVID-19 cases lowered even more, both of these places began to host weekly concerts that were booked in the blink of an eye. Local bands jumped at the chance to get back to doing what they love, and many played to record crowds as Rhode Islanders, starved of the live music experience, flocked to shows.
The need for live music was so great that some bands took matters into their own hands and hosted large house shows as the most popular local venues slowly reopened. For instance, Atomic Action and Youth Distribute, two record labels from Middletown, Rhode Island, threw barn shows. The first one of these performances was hosted on June 14 at Simmons Farm and featured a bill including local legends Bullet Proof Backpack as well as Massachusetts screamers Peace Test, New Hampshire-based hardcore band Tossed Aside, and the righteous fury of New Jersey band Gel. Despite the threat of downpours, people showed up en masse to throw down in the mosh pit. Merch was sold in spades, as was vegan food from the Born From Pain food truck. The show ended as lightning began crashing all around, providing a dramatic conclusion to an intense but welcome experience.
Another example of a house venue offering a unique live experience this past summer was the Lake House in North Smithfield. Hosted by Seb Toledo of the band Amanita, shows were held out among the trees near a serene lake. While bands played, attendees could go cool down from the summer heat or simply relax near the water. The atmosphere of this venue is unlike any other in the area, and it will be interesting to see what they do next.
Famed venue AS220, located in downtown Providence, mainly stuck to livestreams. However, referring to these productions as "livestreams" would be somewhat inaccurate, as their production quality was off the charts. Recently, AS220 has begun allowing people back inside their doors, combining limited capacity concerts with their high-grade video productions. This setup gives bands the unique opportunity to have professional live footage and audio at their disposal, an asset that local music groups hardly ever have. These recordings could help give local bands a more legitimate sheen, and AS220 are doing the scene a great service.
Although the Delta Variant now seems to be lurking around every corner, local music does not appear to be going anywhere for now. Hopefully, the forward momentum established during the summer months can continue into the fall, giving local bands more of a chance to do what they do best: create and perform.
A Year for the Books: An Overview of COVID-19 at PC This Academic Year
by The Cowl Editor on May 6, 2021
---
Campus
---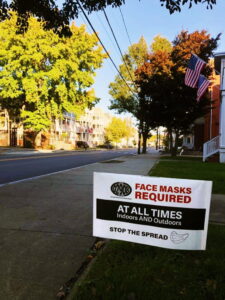 by Hannah Langley '21
News Co-Editor
Since the formation of this committee, PC students have become all too familiar with emails and text notifications for daily screenings, weekly testing schedules, and other updates. 
An email from Dr. Sean Reid, provost and senior vice president for academic affairs, explained the mix of classes that would be offered going into the fall semester. The mix of in-person, hybrid, split, hy-flex, and remote classes gave faculty the ability to choose the way in which they wished to teach their classes. It also gave students who decided to remain remote and not return to campus greater flexibility. 
Not long into the fall semester, a COVID-19 outbreak occurred. On Sept. 17, Fr. Sicard announced that the College would be shifting to "total remote learning at least through September 26" after over 80 students tested positive in the span of two days. On-campus students were directed to not leave campus, and stay-at-home orders were put in place for all off-campus students. By Sept. 19, the number of cases rose to about 138 positive students. 
On Sept. 25, Fr. Sicard announced that remote instruction and stay-at-home directives for students would last until Oct. 3. Just a few days later, the date was extended to Oct. 8 for on-campus students and Oct. 12 for off-campus students. 
The outbreak led to several initiatives by the College, including weekly testing for all students, consistent messaging about remaining in one's pod, a restriction on any non-essential travel, and more. Rising cases in the state by November also caused Governor Gina Raimondo to make several announcements, restricting group gatherings to 10 and setting curfews. 
Following winter break, students began to return with point-of-origin tests the week of Jan. 18. With classes resuming on Jan. 25, weekly COVID tests also resumed. Not long into the spring semester, though, a smaller COVID outbreak occurred. Students both on and off campus were sent to the Providence Marriott Downtown and Davis Hall to quarantine and isolate. The Continuity Task Force announced that PC had an approximately 2% positivity rate, leading to further restrictions from the President's Office.
This second outbreak led to the decision to have students tested twice a week. For the remainder of the semester, students were asked to go for testing either Mondays and Wednesdays or Tuesdays and Thursdays, leaving Fridays for faculty and staff testing. 
As cases began to decline, more and more restrictions and precautions began to ease. McPhail's reopened on Thursdays, Fridays, and Saturdays for seniors. Attendance of outdoor games began to be permitted. Acceptable outdoor group gatherings increased to 50 people. Club sports were able to resume. An in-person commencement with two guests per graduate was approved to be held on May 20 on Hendricken Field. 
Vaccines were also made eligible to all Rhode Island residents 16-years-old or over. Friars off campus began getting vaccinated towards the end of March, and the College held a vaccination clinic for all students, faculty, and staff on April 28. 
Fr. Sicard reflected on the year by saying, "I think that one of the best decisions that we made was to reopen in person." He continued, "During the first year of my presidency, I have been deeply moved by the commitment I have seen from our faculty, staff, and students. So many went above and beyond in caring for each other, in helping our students succeed, and in keeping each other safe and well."
Ann Manchester-Molak, executive vice president, commented as well, saying, "In the 40+ years that I've worked here, I honestly can say that I have never experienced such a spirit of collegiality, involving so many faculty, staff, and students who joined together to somehow maneuver the highs and lows of a pandemic that has affected us all so acutely." She commended the work of faculty, staff, and students who each did their part to persevere this academic year. 
 While masks are still required on campus, social distancing is still enforced, and students are still getting tested twice per week, there has been a significant change in COVID protocols since the fall semester began in August. Both Fr. Sicard and Manchester-Molak noted their excitement at the opportunity to have an in-person commencement for the class of 2021 to conclude the year. 
The PC community has faced many trials and tribulations in dealing with COVID-19, but actions being taken and certain restrictions being eased show that there is a light at the end of the tunnel and a promising future for the next academic year. As Manchester-Molak stated, "Someday we will be able to look back at this year and realize that the goodness of ordinary people—doing extraordinary things—was all around us." 
Vaccinations at Friars' Fingertips: Moderna Vaccines Arrive on PC Campus
by The Cowl Editor on May 6, 2021
---
Campus
---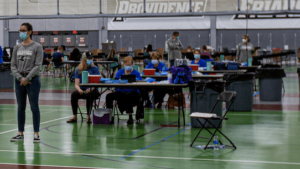 Katherine Morrissey '22
News Staff
Almost a week after vaccines became available to all students over the age of 16 in Rhode Island, the Providence College community was once again greeted with positive news regarding COVID-19 vaccinations. In addition to vaccination appointments continuing to be available in Providence at the Dunkin' Donuts Center, vaccines would soon become accessible like never before for the Friar Family.  
The news came through a series of emails sent to students, faculty, and members of the PC community from the Continuity Task Force during the weekend of April 25. These messages communicated that the Rhode Island Department of Health had announced it would offer a COVID-19 vaccination clinic for Providence College students, faculty, and staff at Peterson Recreation Center on Wednesday, April 28.
Students who wished to be vaccinated at the on-campus clinic were required to register in advance through the state's scheduling portal. Despite the need for registration, the clinic located on campus provided a convenient opportunity to get vaccinated for students, faculty, and staff as Wednesday, April 28 was already a designated rest day.
The clinic operated from 10 a.m. to 6 p.m. in Peterson Recreation Center, offering those who wished to make appointments a large window on their day off to stop by and get vaccinated. The large gym, with the help of many devoted workers, was quickly transformed into a fully functional vaccination clinic. The gym, however, is no stranger to dramatic transformations as it has been the backdrop of many events throughout the years including everything from Black and White Ball to spin classes to, most recently, a COVID-19 testing center.  
Those who got vaccinated at the on-campus clinic on April 28 received the Moderna vaccine, which requires a minimum of four weeks between doses. Those who are able to return to campus after the school year is over are encouraged to come back to Peterson on May 26 for their second dose. Individuals who cannot are encouraged to schedule their second doses of Moderna at home for on or around the same date. Those who have received both doses are then required to upload documentation to the College's website.
After receiving their vaccine, students were given a Dunkin' gift card and were entered into a raffle for the opportunity to win an Apple Watch. This provided extra incentive for all students to take a little time during their day off to get vaccinated.
The vaccination clinic was not open to all students, such as those who have already received the first dose of vaccines from different manufacturers like Pfizer, or students who were in quarantine or isolation for COVID-19. The clinic did not have significantly negative impacts on the schedules and routine of other students on their day off. The only change the PC community was forced to make was to their twice-a-week testing schedule.
While this change required students to test a day earlier and later than normal during the week, it also afforded them no testing on their day off. This quick and successful change demonstrated the school's flexibility in executing the clinic as well as maintaining COVID-19 protocols already in place.
Vaccinations for students do not indicate an immediate end to the COVID-19 pandemic which continues to impact all our lives. However, Wednesday's clinic marked a revolutionary step in the process of getting all members of the school community vaccinated.
Within the last year, many communities and groups of people have struggled to adapt and navigate the COVID-19 pandemic. This was widely seen across many college campuses as school communities had no choice but to be remote in order to keep students and faculty safe. Although many of us have been witnesses to the struggles and hardships of the last year, widespread vaccinations remind us of the triumphs of the human spirit and the many ways in which situations of necessity bring about the most impressive innovations.
Continued information about vaccination availability and registration will be provided to students through Continuity emails. The most up-to-date information is also provided on Providence College's website and the state health department's online portal.
Vaccinated Americans Get Breath of Fresh Air: Biden Removes Mask Mandate for COVID Vaccine Recipients
by The Cowl Editor on May 6, 2021
---
National and Global News
---
by Sydney Olinger '23
News Staff
As of Tuesday, April 27, President Joseph Biden, alongside the CDC and Dr. Anthony Fauci, released new guidelines regarding the wearing of face masks. Biden addressed the immense progress America has made in reducing the number of COVID-19 cases and deaths by continuing to wear masks, social distancing, and now getting vaccinated. With full vaccination comes many new privileges, one of which is the freedom to not wear a face mask outdoors.
Experts have determined that wearing face masks throughout this pandemic has been one of the most effective ways of controlling virus transmission. 
This new mandate has been up for debate for a few months; however, since the release of the vaccine. Because many people are now getting the vaccine and most COVID-19 transmission occurs indoors, it was finally decided that a fully vaccinated person does not have to wear a mask outdoors. These new perks of not having to wear a mask in certain places will hopefully be an incentive for every person to get out and get vaccinated.
"So, for those who haven't gotten their vaccination, especially if you're younger or thinking you don't need it, this is another great reason to go get vaccinated," Biden said. People are considered fully vaccinated by the CDC two weeks after the second dose of the Pfizer/BioNTech or Moderna vaccines or two weeks after the single-dose Johnson & Johnson vaccine.
Unfortunately, though the vaccine certainly makes it much less likely that vaccinated people  will test positive for COVID-19 or experience symptoms, there is still a small chance that a vaccinated person could carry the virus and possibly transfer it to an unvaccinated person. It is also important that those who received the Moderna or Pfizer/BioNTech vaccines remain especially cautious, wear a mask, and socially distance before their second dose.
Coronavirus cases have decreased by 16 percent in just the last week as the amount of people in the U.S. who have received the first dose of the vaccine surpassed 140 million people. This means that 32 percent of the population is now fully vaccinated, with 44 percent having received one dose of the two-shot vaccine. Despite the high numbers of vaccinated citizens, many more will need to receive the vaccine before the country can return to normal life.
There has been hesitancy surrounding the vaccine, mainly as a result of fear of possible long-term effects. However, the vaccines were developed over a fairly long period of time, ruling out the majority of possible risks. Moreover, as of right now, there have been very few extreme negative reactions to the vaccines. It is important that we trust the experts and health professionals who worked diligently to find the most effective way to prevent the spread of the virus that we have faced for over a year now.
Vaccine Rollout Starts Spring-ing Into Action: April Brings Increased COVID Vaccinations for Friars, Rhode Islanders
by The Cowl Editor on April 22, 2021
---
Campus
---
by Katherine Morrissey '22
News Staff
After enduring the COVID-19 pandemic for over a year, the Friar Family and residents of Rhode Island can breathe a sigh of relief with vaccination eligibility expanding in the state of Rhode Island.
The happy news was communicated to Providence College students Thursday evening through a series of emails from the Continuity Task Force. Within the emails, students were told that all students 16 years or older now qualify to be vaccinated in the state of Rhode Island. This marks a monumental step for not only the state, but also the PC community, as all students are now eligible to be vaccinated. 
The last year has tested the strength of this community, country, and the human spirit globally. Starting last March, students, faculty, and family watched as every sense of normality was turned on its head. The PC community lamented as classes went completely remote, study abroad programs and graduation were canceled, and everyone frantically grew acquainted with a new normal: a world of social distancing, Zoom classes, masks, weekly testing, and constant fear for others' wellbeing. 
At points over the last year, it seemed vaccination was far out of reach, specifically for students who attend college outside of their home state. However, with this news, students studying in Rhode Island can obtain their vaccines without having to travel home.
Late last week, students who were eligible could register to receive their vaccines on Saturday, April 17, at the Dunkin' Donuts Center from 9 a.m. to 7 p.m. The College offered transportation services to the Dunk, which made arriving for appointments more convenient.
Walking through the center and entering the stadium for the first time since last March was truly surreal. The familiar basketball court had been transformed into a fully-functioning vaccination clinic. While this new image did not match the memories of March Madness games and the John Legend concert, students found themselves in awe of how far the world has come in just over a year.
Continued information about vaccination registration and access is being communicated to students through emails via the Continuity Task Force. However, the most up-to-date information is also provided on the College's website and the state health department's online portal.
Vaccination appointments are given on a first-come, first-served basis. To register for a vaccination appointment, students can call 211, which is staffed from 8 a.m. to 8 p.m., and ask for information about equity-focused vaccination clinics.
"Darty Season" Spells Impending Disaster: Off-Campus Parties Anger Many Members of PC Community
by The Cowl Editor on April 15, 2021
---
Campus
---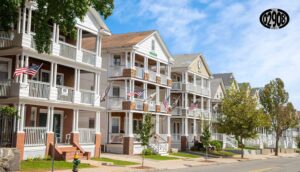 by Hannah Langley '21
News Co-Editor
It was a beautiful day in Providence, RI on Saturday, April 10. With not a cloud in the sky and the promise of a warm 70 degrees, Providence College students began to spill out of their dorm rooms and off-campus houses to enjoy the weather. Ignoring social distancing, mask mandates, and other COVID-19 protocols, many Friars on Eaton Street and in the surrounding area gathered in parking lots and on the balconies of off-campus houses in large numbers.
As videos, pictures, and other forms of evidence began to surface of the parties occurring throughout the day, students and others began to respond in outrage.
The Instagram account @BlackatPC has posted several responses from students of different class years in response to the partying. One student from the Class of '24 stated, "I get it, people are going to throw parties, but of that capacity… just blows my mind… this same thing happened last semester: it got warm, ignorant people threw a huge party, and we were put in lockdown." This statement provides context to the extent of the party that occurred behind the houses on Eaton Street.
Someone also commented on the fact that these kinds of large parties not only affect the PC community, but also the surrounding residents, many of whom are BIPOC. "It's evident that Providence College is a PWI occupied by primarily selfish, privileged students with healthcare. The lack of consideration for others is quite terrifying," said one student from the Class of '23.
On Monday, April 12, President Father Kenneth Sicard, O.P., released a statement in response to Saturday's events. Fr. Sicard stated, "I am concerned that [these behaviors and parties] have done damage to the reputation of the College and to your reputation as Friars. I know that you are better than this."
Fr. Sicard continued, saying there were also reports of vandalism and other reckless behavior that endangered PC students and the larger community. He asked the PC community to continue following guidelines, saying, "Despite the progress being made through vaccinations, we are not yet out of the woods…As we approach the end of the semester and prepare to celebrate graduation, I am imploring you to keep each other safe and to avoid a recurrence of this past weekend."
While Fr. Sicard's message showed some concern, many members of the PC community were unsatisfied by the lack of measures taken by the College to hold students accountable for their actions. On Wednesday, April 14, Steven Sears, vice president of student affairs and dean of students, sent an email inviting off-campus students to a conversation to address concerns. "My intention for this virtual gathering is twofold," said Sears. "For us to address and review what took place [and] to work together to identify, imagine, and construct a plan to which we can commit together that meets your needs for living off campus while centering safety and community."
The meeting had 113 attendees: 109 off-campus students, along with Sears; Martin Connell, director of community standards; Lieutenant John Dunbar, crime prevention/community relations officer; and Eric Croce, interim chief of Public Safety.
There were several issues and questions addressed at the Zoom meeting, including discussions about the Providence Police Department's role in monitoring off-campus residences, the consequences for students in violation of the code of conduct, and the role of on-campus students trespassing on off-campus students' properties.
Connell addressed the fact that 1,700 COVID-19 violations have been reported since the fall. These cases have been from reports both on and off campus, resulting in suspensions and other disciplinary actions.
Off-campus students complained that part of the reason for the large size of the "darty" on Saturday was because of on-campus students coming uninvited, refusing to leave, and becoming violent when told to. In response to this, Dunbar and Croce recommended that off-campus students who feel threatened and disrespected by on-campus students refusing to leave should call Providence Police or PC Security.
Sears also stated that a message will be sent to on-campus students in the next few days, making it explicitly clear that they are not welcomed off campus if not invited and could face disciplinary action if found violating this.
As the weather continues to get nicer, and more students get vaccinated, it is evident that all students, both on and off-campus, must recommit themselves to following COVID protocols in order to see a successful completion of this semester and an in-person graduation.