Listomania: Things to Remember for Spring Break
by The Cowl Editor on March 2, 2023
---
Portfolio
---
Suitcase
Civ reading
Pepper spray (stay safe ladies)
Swim trunks
Tunes
Snacks
Shades
Liquid IV
Mom's phone number
Listomania: Best RomComs to Force Your Significant Other to Watch
by The Cowl Editor on February 10, 2023
---
Portfolio
---
The Wedding Planner
10 Things I Hate About You
The Proposal
The Notebook
When Harry Met Sally
Silver Linings Playbook
A Cinderella Story
Bridget Jones's Diary
Love Actually
Valentine's Day
Groundhog Day
Clueless
To All The Boys I've Loved Before
Tiff and Earl: Syllabus Week
by The Cowl Editor on January 29, 2023
---
Portfolio
---
Dear Tiff & Earl,
Syllabus week is rough. How do I stop myself from going on a bender with my roommates?
Sincerely,
Brad's #1 Fan
Hey Brad's #1 Fan!
My advice would be to stay in with your roommates and catch up after the break. Save the bender for when you have something to celebrate, like passing that test you barely studied for!
Yours,
Earl
Dear Would-Be-Bender,
Please. Syllabus week is the perfect time to rage. You have next to no assignments except getting to class, and professors know even less about you than you do after a long night… What a time!
Cheers!
Tiff
Listomania
by The Cowl Editor on September 30, 2021
---
Features
---
Weirdest Reasons People Get Fined
Breaking a ceiling tile (and bringing it outside for some reason)

Pulling the fire alarm as a social experiment

Opening the emergency door to throw out a beer bottle

Opening the emergency door to sneak friends in

Breaking the dryer door

Stealing a COVID sign

Breaking into the telephone and data room

Making a fun game out of knocking down the exit signs

Stealing the soap dispensers (at least you'll be clean)

Stealing shower curtains (seriously, why?)

Playing real-life Mario Kart with the move-in carts

Setting off a smoke alarm because you burned microwave popcorn
Listomania: Most interesting stickers I've seen on campus
by The Cowl Editor on September 23, 2021
---
Features
---
Most interesting stickers I've seen on campus
Bo Burnham quotes

Stickers from bananas 

Father Shanley's face

Huxley

The "Berries and Cream" guy

The ones they gave out during orientation week

B.O.P. stickers on people's laptops who aren't in B.O.P.

A singular wooden spoon

Apple logo stickers on MacBooks 

Stickers from hometowns/states

Faded involvement fair stickers 

Cowl stickers (can we get some please)

"I voted" stickers from seventeen-year-old freshmen 

The chapel

"Gaslight, gatekeep, girlboss" with little star emojis 

The Office

or

Criminal Minds

(why is it always Michael Scott in a bandana?)

Friar Dom
Former Friars Make History as First Female NHL Scout
by The Cowl Editor on October 29, 2020
---
Athlete of the Week
---
A True Trailblaxer, Cammi Granato '93 Is No Newcomer to Breaking Barriers
by Liam Tormey '22
Cammi Granato '93 has been the first to achieve a lot of things in her life. She was one of the first women to be inducted into the Hockey Hall of Fame, she was the first to captain the United States Women's Hockey Team to an Olympic Gold Medal, and now, she is the first female scout in National Hockey League history.
Growing up in Downers Grove, IL, Granato was one of six siblings. Her household was hockey-centric, as her entire family loved the sport.
"My family had a direct impact on who I was as a person and an athlete. I grew up in a team environment. Everything was family first," Granato said while describing her upbringing. Her brothers were very influential in shaping the hockey player she would become. Tony Granato would go on to have a very successful career in the NHL and is now the head coach of the University of Wisconsin's Men's Hockey Team. Her other brother, Don, is now an assistant coach for the Buffalo Sabers in the NHL.
Although it was never easy having to play with her brothers all the time, Granato admitted, "I followed my three older brothers everywhere they went. They never took it easy on me, I always had to keep up if I wanted to play." When they started to give her a hard time, she recalls her brothers saying, "Do not tell mom." When she was halfway up the basement stairs, ready to express her frustrations to her mother, she realized, "They will not let me play again if I do this."
The hardships of being a woman in a male-dominated sport never made Granato back down. Her brothers helped shape her into a player who was confident enough in herself to play at the highest level. Granato says she is most appreciative of "the standard they set for me."
Her journey came with challenges, however. As a teenager, Granato was "the only girl. [She] never played against a girl until [she] was 18." Playing with her brothers for a club team, she had to deal with constant whispers and snickers from a whole host of people. Granato recalls getting to the rink one day only for the figure skaters to "turn off the lights on me in the bathroom and call me weird and giggle at me."
This was only one of the many obstacles she met in the rink. Granato remembers getting intentionally blindsided on the ice one time and suffering a concussion as a result. Another time, a coach told her before the game that he would break her collarbone if she played. A teammate's father even told Granato's coach his son would not play if a girl was playing.
"At the same time, I was shielded by all of the noise," said Granato. "My coach was terrific, I had my family behind me, and they all accepted me."
Granato's path to Providence College was one she never thought possible. It all started when another PC graduate caught her eye. Cindy Curley '85 was Granato's first inspiration as a woman in hockey; Curley quickly became her role model. "I knew about her when someone sent me a pamphlet in grade seven. My mom said, 'Did you know girls played hockey in college?' In Illinois, we had no idea that women played."
Granato came to PC in 1989 and admitted she was homesick the first month because she was so close with her family. Everything changed when she was able to get on the ice and be with her team. "Once hockey started," Granato said, "I realized I had this instant team and the friendships started to form. The memories for me were formed within the day-to-day."
The records show Granato found her home at Schneider Arena. During her time at PC, she won Rookie of the Year, ECAC Player of the Year three times, and helped PC win back-to-back conference titles. She still leads the program in points (256), goals (139), and remains second in assists (117). She was inducted into the PC Hockey Hall of Fame in 2013. "Those four years were amazing," recalled Granato.
In the 1998 Winter Olympics, there was a women's ice hockey competition for the first time in history. Granato got the opportunity to captain the inaugural USA Women's Hockey Team. The result: a gold medal. 
"Being able to participate was surreal and being able to compete for a gold medal, who would have thought it was even possible?" Granato said. She sees playing on the Olympic team as one of her biggest accomplishments. "It doesn't get any better than that," she said. "The pinnacle for me, playing in the Olympics and winning the gold was incredibly memorable. It is something I am very grateful for."
In 2010, Granato was one of first two women to ever be inducted into the Hockey Hall of Fame. It was never her goal while playing to get into the Hall. She admits, "I never thought about that, about getting into it. I had never aspired to do it because I didn't know it was possible."
When the opportunity finally arrived, it meant more for her than just being inducted: "I was humbled and honored. I knew it was not just about me, it was about women. I knew there were women before me who deserved it. It was a representation for women, and I see it as a day of recognition of women. It was special."
Granato is now the first female scout in NHL history. While living in Vancouver, she heard that Seattle was the destination for the new NHL expansion team and immediately thought it would be the perfect fit. 
Rob Francis, the general manager for the Seattle Kraken, played with Granato's husband, Ray Ferraro, and asked for Granato's number. "He offered me the position and I just thought it was a great fit," she recalled.
After Granato was named one of the Kraken's scouts in 2019, Francis spoke to the media and told them that, "I know she's a female pro scout for us, but her résumé is why she got the job— not because she's female."
Currently, Granato is scouting the professional players in the NHL, specifically in the Pacific Division of the Western Conference. "The position itself was super natural to me," she said. "I love analyzing the game and that has come from being in a family of coaches and brothers who love watching game tape." She added that "sitting up in the press box with ten other guys is not something I'm not used to."
Granato is very excited for the opportunity to continue to be involved in the game of hockey. She says for the future, "I definitely want to stay in the game and be at the level I am at. It is really enjoyable being a part of an organization especially like Seattle. The environment is great."
After all, hockey has been a part of Granato's life since day one. "Hockey in general is just a part of me. I don't know life without hockey. It's second nature to me." Granato says she has more goals for the future, ones she wishes to keep to herself, but for now she is happy with the balance between her family at home and her team in Seattle.
A trailblazer in every sense of the word, one can only wait and see what barrier Granato will break next.
Friartire: The Beast is Stirring
by The Cowl Editor on October 10, 2019
---
Features
---
By Lil Wit '21
It's getting to that time of the year. The leaves are slowly falling, just like students' spirits because midterms are on the horizon. 
  Studies show that students dread midterm week for several reasons. For one, midterm week never lasts a single week. It's drawn out like those civ papers that are supposed to be five pages but we only have three and a half pages of somewhat decent stuff to say. Reportedly, some students insist that it can feel like midterms go on for three weeks. 
Leonard '20 explained, "First you have those classes that have three exams per semester, so they face that class first. Once you survive that trial, you suffer through the classes that have actual midterms, and by the time you overcome (or at least) survive that beast it's time for exam two for your other classes. Throw some papers on top of it and we're all a wreck." 
Students slowly start to regret not doing the homework, but they face the first exams with light in their eyes and confidence in their abilities. After an intense and soul-draining struggle, they realize that this is only the beginning and there will be no mercy no matter how many tears they shed. This is it, this is their fate. 
 Some have broken the system and have found a way to combat midterms. They study regularly, ask questions, and actually do the reading. These people sit in the exam room, silently winning the battle while the others fight for their lives (I mean grades). 
Only some will emerge triumphant, studies say.Dr. Strange from the Psychology department commented on the nature of midterms: "We just want to make sure that the students are learning and retaining the information. We don't design them to be impossible or unfair. A lot of thought goes into the nature of our exams." 
Oh, civ professor, little do you know that the midterm beast has brainwashed you….
Friars History: 2013 XCC Underdogs
by The Cowl Editor on February 7, 2019
---
Friar Sports
---
Coach Treacy Discusses Special 2013 Cross Country Season
by Eileen Flynn '20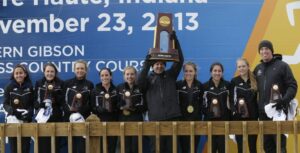 For the past 33 years, Providence College has been lucky enough to have one of the best cross country and track coaches in the nation. Ray Treacy '82 came back to coach in 1984, just two years after he graduated. The running program at PC has grown into a powerful dynasty, finishing on the podium in seven different seasons over the course of the last 30 years. I recently got a chance to ask Coach Treacy a few questions about his time at the College. When asked if the big wins and success stories of his former players help him return each year with the same energy, Treacy smiled thinking about the past. "It definitely keeps you motivated. There is a turnover every year, you lose some great runners and bring in others. The cycle has been pretty good to us over the years. Each group that comes into the program motivates you in a different way."
Although Coach Treacy enjoys every year, there are obviously some seasons that are more memorable than the rest. Luckily for the Friars, there have been two in the past 25 years that have been extra special. In 1995 and again in 2013, Providence College clinched the highest title in the nation and became NCAA champions. Treacy described the season leading up to the 2013 race and the hard work it took to come out on top. "We had the top-three runners in the country on our team: Sarah Law, Emily Sisson, and freshman Catarina Rocha. Our number five person, who is just as important as the number one person, was Grace Thek. Unfortunately, she didn't race that season until the week before the Big East." At the pre-nationals meet, PC and all the other contenders were out-raced by Georgetown. Without Thek, Coach Treacy appreciated the lack of attention his team received during the season. He wasn't nervous about losing a couple spots in the national ranking. In fact, he was grateful that it lightened the pressure on his athletes.
"After we introduced her at the Big East meet, and it went really well, we knew we had a really good chance of winning it."
Big East was first on the agenda and the athletes from the College were focused and prepared. "We dominated that day. We had three in the top four and Catarina finished in 7th while Grace was closely behind in 13th."
The confidence that came with winning the Big East helped the Friars in the national competition. Luckily enough, there were no injuries in between races. The three high-profile, all-American runners for Providence were ready to lead their team for one final race. Coach Treacy was grateful for the shortcomings in his 2011 and 2012 seasons because he thinks his team learned a lot from losing. On a very windy day in November, the Friars beat teams like University of Arkansas, Georgetown University, and University of Arizona and took the national title for the first time in over 15 years. "A fall could put an end to your chances of winning so it was all about staying on your feet and executing the race to the best of our ability and we knew we'd win if we could do that."
It takes a certain type of coach to lead a team to victory. When asked about his coaching style, Treacy gave some insight into how he manages his team. "It's a very individual sport and we treat everyone individually. You're a team until you step on the line, you're an individual from the time the gun goes off to the time you finish and you're a team again at the finish line. It's a matter of everyone doing their job on that day, and if everyone does their job than you're going to be successful." And successful these Friars were, in 2013 and in seasons since.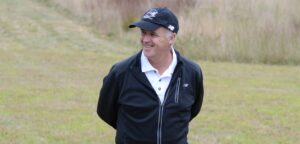 This past season was not exactly what Coach Treacy was hoping for, but even the Friars are allowed rebuilding years. "When you don't go to the NCAA for us, that's not good. A lot of things didn't come together for us at the end of the season. To be successful at that level, you have to be good, but you also have to have a little bit of luck as well." Looking forward, there is hopefully some luck in the future for the Friars. Although they will have a young team by normal standards, Coach Treacy is excited about the new talent joining the experienced group of runners. And with that Coach Treacy tells me, "I am just as excited about what I do now as I was 30 years ago." The PC family is forever grateful to have a coach and person like Treacy on campus, and will be expecting great things as he continues his coaching career.