Featured Friar: Malik Washington '21
by The Cowl Editor on February 11, 2021
---
Features
---
by Sydney Olinger '23
News Staff
As senior class president, Malik Washington '21 is truly following his dream to be a voice for the Providence College and greater Providence communities. Beyond this, what is most important to Washington are the opportunities and achievements he has had as a first-generation college student.
Originally from Washington, D.C.,Washington states that he immediately fell in love with PC after attending the "Night in Friartown" event while he was in high school. Father Jordan Kelly, O.P., a resident priest and director of campus ministry at Archbishop Carroll High School, was another inspiration in Washington's decision to join the Friar Family. If not for Kelly, Washington would have most likely attended a local college near his home. "For my entire life, all I came to know was D.C.," he explained. "[Fr. Kelly] worked in peer ministry and encouraged me to look beyond the city. When college admissions rolled around, he helped me throughout the entire process."
Washington is a political science and history double major at PC. He is grateful to the PC community for helping him to come out of his shell and for providing him with the opportunity to  become a leader. 
Given that he is not from New England, where most of PC's student body is from, Washington admits that it was difficult for him to adjust to college life at first. However, he is grateful to the Faithworks pre-orientation program and the Horizons retreat for making the transition easier and quite the memorable experience.
Serving as the president of the Pre-Law Society also allows Washington to pursue his passion for legislation and to showcase his natural leadership abilities. One of Washington's proudest accomplishments at PC, though, was when his peers elected him to serve as their class president. He credits the PC class of 2021 as the reason for making his college experience unforgettable with their endless support and friendship over the past four years. He is appreciative of the encouragement from his class, but he is especially grateful for his friend and personal campaign manager, Matthew Reardon '21. Reardon worked with Washington to develop campaign videos during the election which were, evidently, successful.
"Entering college, I did not envision such an opportunity for myself as I was just focused on making it to graduation—the most important thing for my family," stated Washington.
Now, as president of the class of 2021, Washington's primary focus has been ensuring that he and his classmates are able to enjoy their final year together safely. In the fall, Washington was able to work with other members of Student Congress to coordinate a senior class toast via Zoom. Seniors who registered for the event received personalized class of 2021 glasses and heard a personal speech from men's basketball coach Ed Cooley and College president, Father Kenneth Sicard, O.P. 
In addition to recommending speakers and introducing possible proposals for a COVID-19-safe commencement ceremony, Washington has also spent much of this academic year  brainstorming senior activities for the end of the spring semester. "We are currently planning events to make up for our school traditions that we could not partake in due to COVID-19," he shared. "I am working closely with the administration to hopefully have some form of senior week."
Following graduation in May, Washington plans to attend law school. He ultimately hopes to find success in his career in order to inspire children in his community back home to follow in his footsteps, in a way, and to pursue their own dreams, despite being a first-generation college student.
"As a first-generation college student, a degree is an opportunity to not recognize my work but my family's sacrifices for me to get where I am," said Washington.
As was the case for many generations of PC students before him, Washington states that 1 Cunningham Square will forever be his second home, and that the Friar Family will forever be his second family.
Featured Friar: Alex Richards '21
by The Cowl Editor on February 4, 2021
---
Features
---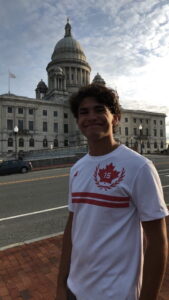 by Max Waite '21
News Staff
For Alex Richards '21, attending Providence College runs in the family. Son to Derek Richards '92 and brother to Morgan Richards '19,'21G, Richards carries on his family legacy as a marketing major and writing minor.
Originally from Georgetown, MA, Richards attended St. John's Preparatory School in Danvers, MA. He was an active member of the St. John's community. He was a member of the football team, played the saxophone in the school band, and served as president of Amnesty International, a non-government human rights organization. When it came to the college application process, PC was always at the top of his list.
"I chose Providence College because of my family's history and knew that I would be rewarded with a one-of-a-kind college experience. I loved the atmosphere and felt that it would be a perfect fit for me," said Richards. 
Arriving at PC, Richards established a large circle of close friends through his involvement in and out of the classroom. One of his fondest memories came from his freshman year Introduction to Literature class with Professor E.C. Osondu, as the class enhanced his passion for writing and prompted him to declare a writing minor.
"The short stories that we read in Osondu's class were really inspiring for me to start writing my own stories," said Richards." I developed a great interest in the composition of a unique story and have tried my best to reflect my own style in everything that I write."
Additionally, Richards has been a part of several intramural sports teams, including hockey, football, and frisbee. Though he has not won a coveted intramural champion t-shirt, he hopes to chase that dream in his final semester as a competitive badminton player. He said, "I feel like it's everyone's goal at PC to win an intramural champion shirt. I'd love to add that to my Providence College experience, as it would serve as a great accomplishment during my past four years."
During his freshman year, Richards was a part of the club frisbee team. He had played throughout high school, and wanted to take his skills to the next level. 
While Richards did not stick with frisbee, he took his talents to the WDOM 91.3 FM radio booth. "WDOM is a great creative outlet for my friends and I to share our interests for the Providence College community to hear. I've loved music all my life, and have an extensive background and taste in everything that I listen to," he said. 
As a business student, Richards has thrived in all of his marketing courses with his friendly and extroverted personality. He has expressed a great interest and dedication toward his studies, and his marketing major has provided him with a lot of great opportunities to explore after graduation. 
Currently, Richards works remotely from school as a recruiter at Sevenstep RPO, a business that works towards developing talent management and recruitment strategies.
"My job has given me a great introspective view on the interviewing process and an excellent chance for me to work during the school year," noted Richards. "It's also been great practice for me in how to communicate within a professional environment."
As his four years at PC come to a close, there are a lot of things that he will miss and cherish. "I'm really going to miss the liberal arts aspect of my education. I was able to take a lot of different classes that interested me with a wide variety of subject matter," Richards stated. 
"I really enjoyed my [Development of] Western Civilization experience. I took the Magic and Mysticism Civ colloquium with Professor Johnathon Wales, and I thoroughly enjoyed my experience learning about esotericism, which is something that I never imagined I'd be able to learn about in a classroom."
 Some of his favorite memories come from spending time with his friends and housemates as they conclude their final year together, as well as Late Night Madness and the spring concerts. While Richards is concluding his undergraduate experience at PC, he has applied to the 4+1 MBA program, where he is hoping to continue his education at PC next fall.