Tag:
Hockey Humanitarian Award
More Than Just an Athlete
by Meaghan P Cahill on January 30, 2020
---
Friar Sports
---
Davis Bunz '21 Nominated for Humanitarian Award
By Thomas Zinzarella '21
Sports Staff
The term "summer" means something different for every college student. Some spend their days lounging at the beach, others go on vacation with their family, while some obtain an internship and work in their prospective field or work the summer job they have had since high school.
The summers Davis Bunz '21 has had have been very different than those of most students during   their three-month hiatus from school. Bunz, a defenseman on the nationally-ranked Providence College Men's Hockey Team, has been making annual trips to Haiti for almost a decade.
He is currently one of thirteen nominees for the Hockey Humanitarian award, which is handed out every year to "college hockey's finest citizen—a student-athlete who makes significant contributions not only to his or her team but also to the community-at-large through leadership in volunteerism," according to the Hockey Humanitarian Award Foundation's website.
"[Growing up] We always did mission trips as a family and within our church. We would bring a bunch of kids with us; mostly friends and teammates. One year we went to Jamaica and then one year we decided to go to Haiti," Bunz stated. 
"There was something different about Haiti. They had a little bit less than everywhere else. The connections that we made with the kids, you could see how loving they were and how much they needed a sense of family…it really hit home…we felt we needed to help."
On January 12, 2010 at approximately 4:53 p.m., a 7.0 magnitude earthquake occurred just 15 miles from Port-Au-Prince, the capital of Haiti. Even before the earthquake, almost a quarter of the country lived in poverty and was one of the poorest in the Western Hemisphere. The whole country was shaken and international aid was desperately needed.
This incident inspired the Bunz family to help Haiti while continuing their work of giving back. As a result, the Fond Blanc Foundation was established. If you drive about two hours north of Port-Au-Prince, you will stumble upon the village of Fond Blanc nestled up in the mountains.
The foundation's goal is to help the orphanage in the village in whatever is needed. "A lot of them have parents, but they can't afford to have the kids, so they will give them to us," Bunz added. "We can provide schooling, housing, food ,and medical attention, cater to whatever they need." The school is one of the few buildings along with a church and other sustainability projects that the foundation has completed since Bunz's mom, Tia, first went with 22 students in 2012.
"When we first started going down there, there was just a main building where all the kids would stay. They would do all their schooling there, go to church and cook…When you go down there now, it's completely different than when we started 10 years ago," Bunz explained.
The orphanage houses kids as young as two years old and up to the age of 18. The school itself started with 60 students at the orphanage and now has amassed 500 students. In an interview from this past October with NBC15, Tia Bunz, who also is the executive director of the foundation, added, "We had to start turning away kids, so we were able to purchase land just down the road from us, and we have five acres and we are going to do a farming project, a school, and have a little medical clinic," said Bunz. They hope to build a second school.
The full round success story can be seen in one of the orphans himself.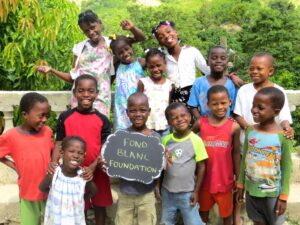 His name is Swenson. He is currently 23 years old and goes to college in Wisconsin. He still goes back to Haiti to serve as a translator with some of the people in the orphanage and village as they learn English at the school. Bunz described him as "almost like a brother to me."
Bunz's older brother Jake just graduated this past May from the University of Wisconsin where he was also a member of the men's ice hockey team, a team his dad had played for. Jake not only played hockey at the Division I level, but won the Hockey Humanitarian Award last April in Buffalo during the Frozen Four festivities while Davis and his Friar teammates were trying to bring home the program's second National Championship.
When asked how he would feel about the possibility of the Bunz brothers winning this award in back-to-back years, Davis really wanted to credit his parents and acknowledged how deserving his brother was of the award.
"It goes back to the effort my mom and dad put in…It speaks volumes to them for me more than it does for me and my brother. It's nice to get my name recognized but I wish it could be Davis Bunz plus Tia and Gary Bunz."
After the travel safety ban last summer by the U.S. government, Bunz was unable to go back to the orphanage because of the limited number of planes that could go down to Haiti due to protests. He is looking forward to hopefully heading back to Fond Blanc again this summer, potentially with some of his teammates as well. He opened an invitation to anybody in the PC community to join the effort.
"It's my favorite part of the year," said Bunz. "It's funny because you wouldn't think that going to a third world country would be the part you are looking forward to most of the year…you are so much more thankful for everything and how lucky we are."
Desharnais '19 Nominated for Humanitarian Award
by The Cowl Editor on February 7, 2019
---
Athlete of the Week
---
Defenseman Raises Money to Fight Against Cancer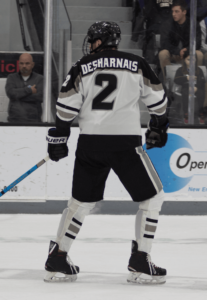 by Sam Scanlon '19
Every eye in Schneider Arena is fixated on the home bench, as one by one the Friars enter the spotlight and take the ice, anchored by defenseman Vincent Desharnais '19.
Standing at 6'6", Desharnais plays the role of intimidator and aggressor on the ice, protecting his teammates at all costs. However, it is his contributions off the ice that have gotten him nationally recognized this year.
Desharnais is one of 17 nominees for the 2019 Hockey Humanitarian Award, which recognizes college hockey's finest citizens for their efforts in their communities through leadership in volunteerism. Donning the "A" on his chest as the team's alternate captain for the second straight year, Desharnais is no stranger to leadership on and off the ice.
In December, with the help of two classmates, Desharnais held an event at Schneider Arena called "PC Beats Cancer" to benefit the Gloria Gemma Resource Foundation.
"We decided to partner up with the Gloria Gemma Resource Foundation, because they specify in providing free services for individuals and families who are affected by breast cancer," explained Desharnias.
This event was also hosted in honor of Providence College Women's Hockey Team goaltender, Clare Minnerath '20. "She was diagnosed with Stage 3 Lymphoma Cancer last April," Desharnais said, "Her story was so inspirational that we decided to center our event around her."
In order to raise funds during the event, $20 tickets were sold to members of the PC community, which allowed attendees access to food and beverages, as well as a raffle ticket for an autographed Noel Acciari '15 jersey. Around 80 tickets were sold during the event.
"At first, our team's goal was to raise $2,000…We ended up raising over $5,000 through our events and gofundme page within three weeks," recounted Desharnais. The amount of money raised is certainly a terrific feat, but the leadership and determination of Desharnais is what set him apart and truly showed his character.
At first, not much money was being raised for their charity, which caused Desharnais plenty of frustration. Through positivity, he and his classmates were able to start raising more and more money. "I think my biggest takeaway is to have high goals and always stay positive," a mentality that Desharnais utilized to have such a successful fundraiser.
"Also, if you want something, go get it. I sent over 150 personalized emails to my teachers, coaches, teammates, friends, and family members to let them know that I needed their help to make a difference." Desharnais' impressive motivation and leadership behind raising money for a cause that he is passionate about certainly shows why he is nominated for the Hockey Humanitarian Award.
Being nominated for an award for both on and off the ice contributions is assuredly a humbling experience, and Desharnais is well aware of that. He explained, "Being nominated for this award is truly an honor. I feel like not too long ago I was still in high school back home in Laval, Quebec. Now, here I am nominated for the Humanitarian Award."
Since coming to Providence four years ago, Desharnais has matured significantly. From being a bottom defensive pairing player, to a two-year captain, to being recognized for community service, Desharnais has made the most of his college experience. It is clear that the Edmonton Oilers draft pick has mades strides both on and off the ice.
He is not planning on stopping here, however. As he enjoys his time reading to children in Providence schools, Desharnais has bigger plans for his community service. He stated, "I was passionate about the event and I would really like to hold an event yearly."
Desharnais has demonstrated a tremendous amount of character throughout this entire process, and is incredibly deserving of this prestigious award. If you would like to support Desharnais and the Gloria Gemma Resource Foundation, visit www.gloriagemma.org to make a donation and find out more about this incredible cause.