PCI: Who Will Win the NFL MVP this Season?
by The Cowl Editor on September 16, 2021
---
PCI
---
Providence College Investigates: NFL
Joseph Quirk '23
Sports Staff
Josh Allen
Josh Allen will be the National Football League's "Most Valuable Player" this season.
To win the NFL MVP, you must have three things: a top three-seeded team, consistent MVP-level play throughout the season, and a lot of luck. While it is hard to predict luck (the primary reason most MVP predictions pre-Week 6 are usually wrong), we can certainly predict the other two things to some extent.
Heading into Week 1 this weekend, Allen will have both. Starting with the first thing necessary, a top three-seeded team (or, at least, a playoff caliber team), the Buffalo Bills should easily be one of the best teams in AFC this season.
Although they do play in a tough division, neither the New England Patriots nor the Miami Dolphins should cause problems for the Bills as they have arguably one of the most well-rounded rosters in the league.
The Bills' defense is one of the best in the league, with defensive-minded head coach Sean McDermott's leadership, an elite secondary, ball-hawking linebackers, and a versatile defensive line.
On offense they boast a solid offensive line, a couple of strong running backs, as well as several skilled wideouts and tight ends for Allen to throw to. That's not to mention their top special teams' units.
Now, onto the second thing Allen needs: a consistent MVP-level season.
Allen had a breakout year, which led him to be considered for the award last season. He has all the physical tools necessary to play at an MVP level: a big body to fend off opponents and keep him durable, speed to maintain a fast-paced game, and a cannon of an arm.
Last year, he managed to improve upon weaknesses in his passing accuracy. Add in the arrival of star wideout Stefon Diggs last season to make some plays, and Allen had his best statistical season yet.
Factor in his physical capabilities, history of good health, yearly progression, and history of putting up huge numbers, and there isn't a reason why Allen can't throw for over 4,000 yards and 40 touchdowns. And if the Bills play as well as everyone anticipates, it will be difficult to find another worthy recipient of the award.
There is a third aspect to winning MVP, and that's luck. No one can predict it.
Anyone can get hurt or outplayed in any given season, which is what makes this sport so exciting.
Although we can't predict how luck will treat him this season, looking on paper before kickoff indicates that Josh Allen is a good, healthy bet.
Luke Sweeney '24
Sports Staff
Tom Brady
The 2021 NFL Season kicked off last Thursday night in exciting style with the Tampa Bay Buccaneers versus the Dallas Cowboys. The usual playmakers of each team were healthy and made highlights on each side of the ball in a high-scoring game that came down to the last few minutes.
Dak Prescott made an impressive return from his injuries last season by throwing 42 out of 58 completed passes for 403 yards, but ended up falling short of a win in the fourth quarter. Of course, the Buccaneers' quarterback, Tom Brady, stepped up when he needed to by playing at an elite level in the season opener.
While Sunday's Week 1 slate of games was full of great quarterback performances around the league such as Kirk Cousins, Matt Stafford, and Patrick Mahomes, nobody looked sharper and more confident than Tom Brady on Thursday Night.
It has been said year after year, but Brady continues to show that he can compete at the highest level well into his 40s. Because of excellent pocket presence and quick, efficient decision-making, Brady is looking like the current MVP frontrunner after Week 1.
Brady threw for 379 yards and four touchdowns against the Cowboys and proved that he has not lost a single step over the offseason. The final minutes of the game were set up in a way that Brady had seen a thousand times before. The Buccaneers were down one point with 1:24 to go in the game. This achievement is basically free for Brady, and everyone watching knew it. He waltzed down the field as he always does and set up an easy kick for Tampa to seal the victory.
Dallas played an outstanding game the whole way through, and Prescott may have played an even better game than Brady, but the bottom line is that no one knows how to win the way he does. In big moments when he needs to produce results, he always gets it done.
Brady and the Buccaneers still have some room for improvement if they hope to repeat what they did last year. Brady threw two interceptions against Dallas, giving them an opportunity to win the ball game at certain points. But none of that mattered after a game-winning drive snuffed out any doubt.
As always, Brady was able to spread the ball and get many different playmakers involved in the win. He threw touchdowns to Chris Godwin, Antonio Brown, and twice to fellow former Patriot Rob Gronkowski.
If Brady can look this sharp for the rest of the regular season and come up clutch when his team needs, he will be the 2021 NFL MVP.
PCI: Josh Allen will be the First Pick in the 2018 NFL Draft
by The Cowl Editor on April 26, 2018
---
PCI
---
By Sullivan Burgess '20
Sports Staff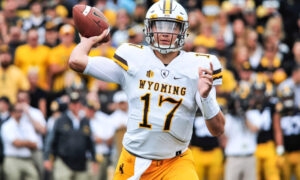 In this upcoming NFL Draft, the first pick selected by the Cleveland Browns will be University of Wyoming quarterback, Josh Allen.
In a draft class filled with amazing talent at all positions, some standouts are in the quarterback, class of this draft. Despite all their talents, the one who stands out among the rest is Allen. The 6'5", 223-pound junior is being compared to Philadelphia Eagles quarterback Carson Wentz, and has the skills and character to potentially be one of the NFL's most elite quarterbacks.
At the NFL combine, Allen ran a 4.75 second 40-yard dash, and showed a vertical jump of 33.5 inches. One of his most notable abilities is his arm strength. At his pro-day, it was clear his strength was off the charts. Despite some reports and instances of inaccuracies, Allen has taken the offseason to work with QB coach Jordan Palmer to improve his footwork and focus, allowing scouts to put those inaccuracy reports behind him and focus on what he could bring to a team.
His anticipation when throwing the ball is still a bit rusty. As training camp and preseason progress, however, he will soon find what he needs to do in-game during the NFL season.
Compared to University of Oklahoma quarterback and Heisman Trophy winner Baker Mayfield, who is another potential first pick by Cleveland, Allen has showed his ability to work harder and improve the weaker parts of his game.  Mayfield's off-field drama with the law shows he may not have the character to survive in this social media world, while Allen has shown that he does.
The Browns shocked the world this offseason with ground-breaking trades for players such as wide receiver Jarvis Landry, quarterback Tyrod Taylor, and cornerback Damarious Randall.
If they were to add Allen alongside this roster, the Browns would be doing themselves a favor, which could eventually allow them to win a game or reach playoffs. Taylor, the former starting quarterback for the Buffalo Bills, would have to compete for the starting position against Allen. It is likely that Allen will win the starting role due to his arm strength.
For a team that has been through so many losses the last few seasons, things will begin to turn around on April 26 when NFL Commissioner Roger Goodell announces that the Browns will take University of Wyoming quarterback Josh Allen.