Tag:
Laura Chadbourne '20
Featured Friar: Brandon Piris '19
by The Cowl Editor on November 16, 2017
---
Features
---
by Darren Squillace '19
News Staff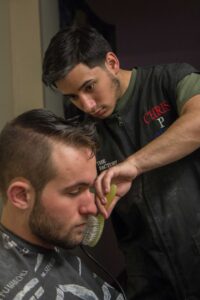 The relationship between a man and his barber is a very delicate one, one that is built on accrued trust. Knowing that your barber knows exactly how to style your hair and cut it just the way you like it is always a great feeling. And when a man finally finds that one barber that he likes, he will make sure to go back to that barber again. When Brandon Piris '19 came to Providence College, he quickly realized that there was a glaring need that had to be fulfilled here on campus.
"Most people get their hair cut before school, around Aug. 25. But after that, they're going to need a cut for when they go back home Columbus Day weekend. I lived in Guzman freshman year and kids started asking me to do their hair for them because it was convenient."
Piris noted that many students do not have the time or the extra funds available to book an appointment with a barber, pay for the Uber to the barber shop and back, and pay for the haircut itself. Not only is convenience a big factor that draws students to Piris, but his skills as a barber quickly spread through word of mouth as well.
When Piris was asked where and how he started cutting hair, he was eager to answer. "This is always my favorite question. I pretty much have a family of barbers; my dad and uncle have a shop down in Florida and I started there as one of the sweepers. I learned a lot from them and by watching tutorials on YouTube," he said.
Piris also said that he started cutting hair for his friends for fun during his sophomore year of high school, which allowed him to gain experience. When I asked him what he plans to do with his highly sought-after talent after PC, Piris surprisingly said he will likely stop cutting hair after he finishes school.
"I really just do this as a hobby. If I wanted to do this as a career I would have gone to school for it, but it's just something I do for fun," he said. As a business management major, Piris said a main takeaway he hopes to get from his experience are connections and friendships that he can parlay into a future career in business.
For anyone who is either tired of the hassle and expenses involved with going to a barber off campus or simply wishing to experience Piris' haircutting services for themselves, you can follow his Instagram page, @pcfadefactory, and book an appointment!