Friartown Enters Final Lap as Students Prepare for Moveout
by The Cowl Editor on November 12, 2020
---
Campus
---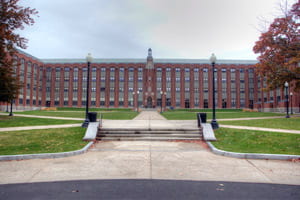 by Nicole Silverio '22
News Staff
As Thanksgiving approaches, the student body is preparing to return home for the remainder of the fall semester. After the unusual experiences of mask-wearing, remote classes, and a lockdown, the Providence College community celebrates a successful end to the semester, being sent home as planned rather than sooner. 
In early July, president Father Kenneth Sicard, O.P., sent an email to all students and staff announcing the College's reopening on Aug. 31. The email mentioned that all students would return home for Thanksgiving break and would finish finals at home. This decision was made largely due to students' travel plans over the Thanksgiving holiday, which could have increased the risk of rising cases if students were to return to campus after the break. 
Over the past week, The Office of Residence Life staff sent all students a sign-up time slot on Sakai for students to indicate when they intend to leave campus for break. Residence halls close on Nov. 20 at 5 p.m., meaning that by the evening of that day, all students will have left campus to enjoy the holidays with their families. Students are required to leave within the time slot they signed up for, within 24 hours after their last in-person class, and soon after their last COVID-19 test.
 On Nov. 5, an email was sent to all students stating, "During the week of Nov. 10, you will receive a Bookings App prompt asking you to schedule a pre-departure COVID-19 test. You should schedule this as close as possible to 72 hours before the time you plan to leave." All students must be tested for COVID-19 before leaving to assure that it is safe for them to return home to their families. 
Should a student test positive, the College will continue to provide isolation spaces for quarantine. The Rhode Island Department of Health (RIDOH) is working alongside the College to ensure that students with positive test results can safely return to their homes. Top medical experts have recommended that students who test positive for COVID-19 should quarantine on campus rather than at home. 
Dr. Anthony Fauci, director of the National Institute of Allergy and Infectious Diseases, recently told NBC News, "Don't have them [college students] go home, because they can be spreading it in their home state." Some reports show that out-of-state college students have caused cases to rise in many states, which is why PC will continue to hold isolation spaces and likely keep positive-tested students on campus if possible. However, it will likely depend on where the student lives, their family situation, and most importantly, the Department of Health's feedback to determine what will happen. According to RIDOH's portal, many states require a person traveling from Rhode Island to that state to have a negative test result 72 hours prior to their arrival. 
While the majority of the campus will be in isolation, student-athletes currently in competition season are allowed to remain on campus, while a small number of other students may also remain in their residence halls.
Residence Life concluded by telling the campus, "Thanksgiving break is in sight—we are all looking forward to it, and we have a lot to be grateful for. We appreciate your attention to these details, and your cooperation throughout this entire semester. We should all continue to feel good about the progress we have made, working together as a community of Friars." The majority of campus will leave thankful that we made it to Nov. 20, given the challenges we faced in the early portion of the semester.