Shohei Ohtani Starts Off Hot
by The Cowl Editor on April 19, 2018
---
Professional Sports
---
Rookie Shows Promise Hitting and Pitching
By Thomas Zinzarella '21
Sports Staff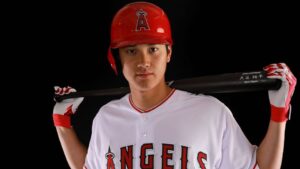 For most baseball fans, this past off season's free-agency period was a lackluster performance by all 30 teams. There was almost a consensus around the league that each general manager wanted to wait until next off season to snatch bigger prize free agents such as Manny Machado and Bryce Harper.
One player who filled the news void this off season was none other than 23-year-old Japanese phenom Shohei Ohtani. Ohtani, who has been nicknamed the "Babe Ruth of Japan," came over unexpectedly and left every MLB team chasing after the future star. Ohtani voided the opportunity to wait for the big payday in two years and settled with the Los Angeles Angels for the league minimum of $545,000 per year over the next three years.
So why the nickname and the hype? Ohtani brings skills that have never been seen before in the major leagues. He is a two-way player who excels as both a hitter and a pitcher. Scouts have compared his hitting abilities to those of Ken Griffey Jr. while his pitching has resembled Stephen Strasburg.
After a string of less than stellar performances on both the mound and at the plate during spring training, Ohtani has finally lived up to the hype. In 30 plate appearances so far, Ohtani has 11 base hits, maintaining a .367 average and a slugging percentage of .767. He even hit a home run off of the reigning CY Young Winner, Corey Kluber, in his second game of the season.
Ohtani has been even more dominant on the rubber, holding hitters to a mere .093 batting average and a slugging percentage of .163. In his first home debut as pitcher against the Oakland A's, he carried a perfect game into the 7th inning before it was broken up by Marcus Semien.
Ohtani's success has shaken the whole baseball industry as more front offices begin to look into the two-way player. Brendan McKay, who was the Tampa Bay Rays' first round draft pick from this past June's draft, is a two-way player and is thriving in the minors. 
Many believed that after McKay was drafted, he would exclusively be at first base. Currently playing for the Bowling Green Hot Rods in the Midwest League (Single-A), McKay is off to a red-hot start batting .438 with six RBI in 16 plate-appearances. On the hill, McKay has compiled a 3.60 ERA in five innings pitched while striking out eight. The Rays' front office believes it can work and why not? McKay did the same  through his career at University of Louisville.
Another two-way player is the Reds' No. 2 overall pick this past June, 18-year-old Hunter Greene. Greene, who has been praised for both his glove work at shortstop and his 100-mph fastball on the mound, was allowed by the Reds' to test the waters at both the plate and on the mound in his first minor league season this past summer. 
Although it has been decided that Greene's future will be on the mound, the Reds' decision to let him pitch shows that Major League clubs are starting to think about using these players' various talents and experimenting with the two-way player possibility.
He may only be 23-years-old, but the future of the two-way player in the MLB resides on the shoulders of Shohei Ohtani.