Next Man Up: Edelman Out For Season
by The Cowl Editor on August 31, 2017
---
Professional Sports
---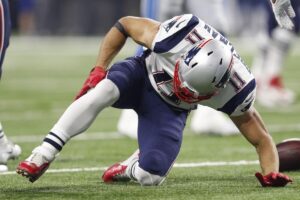 By Kevin Skirvin '18
Sports Editor
Julian Edelman, wide receiver for the New England Patriots, went down with a torn ACL injury this past Friday against the Detroit Lions. Edelman was turning upfield when his right knee buckled in a non-contact tear. He went to the ground immediately, grabbing the back of his knee in pain. It was only two minutes into the contest.
Edelman played a full 16 games last year for only the second time in his career, finishing 2016 with over 1,100 yards. Number 11 will be missed most on third downs, where he led the team in targets (49), receptions (28), yards (192), and first downs (24). He was by far and away the number one target for quarterback Tom Brady while tight end Rob Gronkowski, who, by the way, is already looking like his old self so far in 2017, was recovering from back surgery. So while the loss of Edelman hurts, it certainly does not appear to be anything New England can't handle.
"Julian is a great competitor, works hard, is tough, does all the things that you ask him to do. So I feel badly for him, of course", Patriots coach Bill Belichick said Saturday. "We hope that he will have a speedy and complete recovery, but the team will have to move on and compete this season without him. It is unfortunate, but that's the way it is." Belichick will no doubt continue to preach his "next man up" philosophy to the locker room.
Wide receiver is arguably strongest spot on the depth chart for New England, and with WR Chris Hogan beginning to emerge as a star, it looks as though history will continue to repeat itself here in the Northeast. But who plays the slot? Hogan has proved himself useful out wide, where he will most likely be paired with former New Orleans Saint Brandin Cooks for a serious deep ball threat. Offensive Coordinator Josh McDaniels can put Gronk wherever he wants, but no way does he risk overusing him at the slot position. That leaves veteran WR Danny Amendola, who has quietly been one of the most clutch receivers for the Pats over the past few seasons, but he has never been the kind of guy to go out and steal the show. If there were ever an opportunity for him to do so, that time is now.