PCI: The Philadelphia 76ers Will Win the NBA Finals
by The Cowl Editor on April 12, 2018
---
PCI
---
By Ethan Ticehurst '18
Sports Staff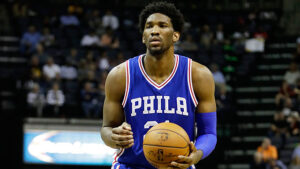 This is the year that "the process" is finally going to pay off.
With the third seed in the East nearly locked up, it is easy to see that the 76ers have definitely had a successful regular season. Their season has become all the more impressive when looking at the standings from last season, when Philadelphia finished second to last in the Eastern Conference. Improving from their 28-54 season last year, to winning more than 50 games this year for the first time in nearly 20 years should be enough to convince anyone that the rebuild seems to be complete in Philly.
The path to the NBA Finals for the 76ers is far from daunting. The Raptors and the Celtics, the top two teams in the conference, have had pretty good regular seasons but will not present much of a challenge. The Raptors have had a tough time in the playoffs in recent years, losing some series that they probably should have won. The Celtics, who have had a good season and looked strong for most the year, have been riddled with injuries in the last month of the season and are now without their star player, Kyrie Irving.
The only real challenge that seems to remain in the East is the Cavaliers, who simply continue to remain a threat thanks to LeBron James. However, the 76ers have managed to split the season series with the Cavaliers, showing that they are evenly matched. If they can match up with LeBron well, they can manage to win. This is all assuming that the Cavaliers do not get knocked out in an earlier round.
Once the finals come around, the 76ers would have to face their toughest challenge yet. Whichever team comes out of the West, they will be challenging and fresh off winning what is shaping up to be a dogfight in the earlier rounds.   The assumption is that the West's representative in the finals will most likely be the Houston Rockets, given their strong regular season, the assumed MVP James Harden, and the injury problems that currently face the Golden State Warriors. A matchup between the 76ers and the Rockets would be very entertaining finals, as they split the season series in two very close games. Ben Simmons, Joel Embiid, and the Phildelphia 76ers will be hoisting the Larry O'Brien trophy in the end.