A Coming Crescendo for the MTP Program
by Jack Downey '23
A&E Co-Editor
---
Arts & Entertainment
---
Big Things in the Works for the Music Technology and Production Degree
Last year, Providence College officially began offering a new degree: music technology and production. Dealing mainly with aspects of recording and mixing music, as well as songwriting, orchestration, and transcription, the program was paramount in launching the music department into the future as well as attracting the attention of those who had originally been skeptical about pursuing a music degree. However, the degree is continuing to evolve, with many changes expected throughout the upcoming years.
The biggest change that's expected to come down the line is the construction of a recording studio in the school. As of right now, PC doesn't have a studio, with the closest alternatives being the lab in Smith 220 or the rehearsal hall. The lab, while equipped with recording interfaces and software, is not set up to be a full-blown studio at the moment, and there has been controversy in the past regarding students using the equipment in the rehearsal hall. There are still decisions to be made about the location of the studio, with some possibilities being the aforementioned lab or G20, a storage room in the basement of Smith Center for the Arts. No matter where it ends up, a studio would be incredibly helpful in enhancing the program.
A studio on campus would also be great for the growing number of student bands and artists. It has been proven both at events sponsored by the music department and outside of it that there are plenty of students who can write original music. To be able to give them the facilities to record it and show it to the world would not only be great for them, but it would also help market the school in a new and innovative way. Combine this with social media marketing, such as TikTok, where songs often go viral, and PC could start branching out in a new direction.
Something else that's supposed to come to the department is more guest speakers. Last year, there were presentations by copyright lawyers and people who worked in song licensing. This is just the tip of the iceberg, with future guests to include songwriters and recording engineers. This is an important step for the program because much of it is dedicated to these aspects of the music industry, and to tie in what these speakers say with what students are doing in class will only enhance the learning experience. The internship and job opportunities that could come with these connections are also very important, especially in an industry that is almost impenetrable, particularly for college students.
These future changes, as well as many other ones, all indicate that the music technology and production degree could become one of the biggest programs on campus. Hopefully its growth inspires the growth of other creative degrees; recently, the creation of a communications minor was announced, and this has already generated much excitement, particularly due to its interest in the radio and the school paper. The more degrees PC has to offer, the better, and the music technology and production degree is proof of this.
Keep Calm and Rock On
by Jack Downey '23
A&E Co-Editor
---
Arts & Entertainment
---
A Call to Arms (Instruments) for Providence College Students
Last year, something glorious happened at Providence College: a music scene began to emerge.
After a large drought during which WDOM's Stuartstock disappeared for several years and the number of bands on campus was at an all-time low, student musicians came together and formed groups. Concerts happened at The MET in Pawtucket, RI as well as on campus, and for a moment, new music blossomed at PC.
However, with some musicians graduating and others going abroad, it appears that the short-lived music renaissance has taken a blow.
What is to become of the concerts at McPhail's? Will live music still ring out at the events hosted for each class? Last year, the student body was more receptive to live music than ever before, with concerts packed with enthusiastic revelers. Is it possible to reach these heights again?
The answer to this question is yes.
Now that live music has revealed itself as a dominant force on campus, the chances of it going away are slim. Despite the semester not even being a month old, there have already been instances of live music at PC. For example, St. Joe and the Dorms, a wild party band that has been rocking PC since 2021, took the stage at McPhail's during casino night and tore the roof off the building with high octane covers of classic songs. Two of the members even suffered injuries during the crazy two-hour concert. The next day, Timeless, another band featuring members of the PC community, serenaded Eaton Street with well-known hits for hours.
There is also an entirely new group of potential musicians that have moved onto campus: the Class of 2026. Many of these students most likely play instruments, but not all of them know of the opportunities that are present for musicians here at PC. The best advice for these people is that there is no time like the present. Seriously.
With students responding so positively to live music in the past year, as well as the unveiling of the new music technology and production major, PC is embracing music more and more, which is fantastic to see. However, this can only continue as long as people are taking advantage of what is in front of them. Talk to musicians at events. Jam with people in Smith Center for the Arts. Write and perform music. Music is a universal language, and it is one that PC is just starting to become literate in.
PC's Pep Band is probably the biggest example of music bringing people together on campus. Their powerful renditions of hit songs get everyone excited at sporting events, including the NCAA Men's Basketball Tournament. If you are a musician looking to get involved at PC, the Pep Band is the perfect place to start, particularly if you play a low brass instrument such as trombone. The atmosphere at games is electric, and you'll have the best seats in the house!
Music is one of PC's hidden gems, and if you want to take part in it, the perfect time to start is now.
Sit-down with Friars Head Coach Ed Cooley
by npatano
---
Friar Sports
---
A Reload for Next Season
Liam Tormey '22
Sports Co-Editor
We are now into the month of May, and it has been over a month since the Providence College men's basketball team had their historic year come to an end against the eventual champions, Kansas University. 
It ended with the first Big East regular season title in program history, the first Sweet Sixteen in 25 years, a couple of shots and stops away from an Elite Eight, and head coach Ed Cooley winning the Naismith Coach of the Year. 
The 2022-23 season will be Ed Cooley's 29th in coaching. He began at University of Massachusetts Dartmouth as an assistant in 1994, then made his way to Stonehill College, University of Rhode Island, and Boston College before grabbing his first head coaching job at Fairfield University in 2006. Since 2011, Ed Cooley has had the chance to coach the team he grew up rooting for as a kid from South Providence.
Last season was a dream for Ed Cooley and the Friars. He spoke about what it meant for him and his program: "Any time you have team success, it starts at the top. Coaches win games, administration wins championships. Everyone was aligned, the stars were aligned with our personnel."
All Friar fans know the additions of Al Durham '22GS and Justin Minaya '22GS propelled this group to the next level this year. Cooley commented, "I thought our staff did a great job of identifying players that fit our style of play. I thought everything fell in place at the right time."
A 13-1 start to the season for the Friars made it feel like everything was in the right place at the right time. 
"The players were hungry and eager. We never had one issue on or off the floor. It was just one of those special seasons that came together at the right time."
Cooley and the program will now say goodbye to Durham, Minaya, Nate Watson '22GS, Noah Horchler '22GS, and A.J. Reeves '22 –  the entire starting lineup from last year. This particular starting five left a legacy for a lifetime.
 "When you're in the locker room with us this season, we always used to write on the white board before the game, 'Leave Your Mark.' I think that's something they did. Not many times can you hang a banner, wear a ring. This group left a mark. This group left a legacy. This group left an impression on all of Providence College. What a special season and what a special group that will be talked about for years to come."
The Friar fanatics made the special season what it was. Every game at the Dunkin' Donuts Center was loud, energetic, and everything the program wished for before going 16-1 at home. Cooley knew how important the fans were: "What it did for Providence College, not just for the city, but the state–how it was just energized at the Dunkin Donuts Center. Everywhere you would go in our area, they knew about Providence College men's basketball. As the coach, from someone who's from here, I can't be more proud to represent Providence College at that stage."
From the iconic sing along to Taylor Swift's "You Belong With Me" late in the second half to the court storming after defeating Creighton University to win the first regular season Big East title, the Dunk' was at a different level, "I go back years of being a Friar basketball fan and seeing the crowd there and all the things that have happened as a head coach, but the energy this year was a different level." Cooley went on to say, "The fan participation from our students, thank them a million times over. They created an atmosphere, and thankfully it's for years to come, and it was set by the 2022 class."
Cooley also added: "It was amazing — the energy that our students brought. They were the identity of the Dunkin' Donuts Center. There was a total shift this year in energy and I hope it continues into next season."
When looking at the season to come, the Friar fans are not going to be expecting a down year. With the transfer portal having over 1,400 college basketball players in it, Cooley and his staff were all over bringing in the right personnel, and quickly. The Friars have already added Noah Locke '23GS, Corey Floyd, Jr. '26, Clifton Moore '23GS, Devin Carter '25, and Bryce Hopkins '25, the definition of a reload. 
Just like last year, Cooley admitted he wanted to add players who were going to be good fits for his program, but also fit for representing Providence College. He said, "We hope whoever we bring in they understand it's about the team, it's about representing Providence College at the highest level. We want whoever follows moving forward, and I think we've had some continuity and consistency, we want whoever we bring in to have those values which last team's year set."
Many within college sports have the belief the transfer portal is way out of control. Cooley says it has been "disruptive" and has taken away from those in high school, and although he doesn't have the answers to the problem, what he does know is "We're doing the best we can to adjust. No matter what my opinions are, and I don't know what I can do about it as a single coach, and we will make the adjustments necessary to be competitive in the Big East and on the national scene."
With five players coming in through the portal, a few left the Friars as well. Matteus Case '25, Brycen Goodine '23, and Legend Geeter '25 all entered the transfer portal to find a new home. 
But with Jared Bynum '23 and Ed Croswell '22 returning for another season, Cooley is going to lean on them to help in the transition of the newcomers. 
He says, "We need those guys to be leaders. We need them to be demanding. We need them to do the right thing, say the right thing, carry themselves the right way. I want them to talk to our players who are not here yet and have them be engaged in our community, in the dorms, in Ray dining hall, in Alumni hall, have visibility, be approachable, say please, say thank you, appreciate the people you're in school with because one day you never know, you may work with that person, you may marry your person you just never know where relationships build."
The Friars will also have two freshmen, Quante Berry '26 and Jayden Pierre '26, coming into a team with expectations for next year. Breaking into the rotation with the addition of transfers is tough these days in college basketball, but Cooley commented that, "Whether it's Quante, or Jayden, or any player coming through the portal, we have to have guys who are totally bought in to having a common goal of success for the group. If we do that, we'll find ourselves with a good shot at success." 
He added, "The biggest expectation I have for any player, regardless of class [year], is to hold them to the standard. They have to meet the standard and exceed it if they can. Buy in. You have to buy into success. You have to buy into your role, buy into the team, buy into the community, buy into preparation." It will take some meshing with the addition of seven new players to the Friars program, but this is what college basketball has become in today's age. 
As he should be, Cooley is excited about the upcoming season, but he also expressed some of his own personal goals for the future. Providence College will remain in his DNA forever, and he wants to give back. 
"I still want to see Providence College grow. I want to be connected to Providence College as long as I can. I want to give men and women, regardless of religion, ethnicity, the belief that you can be special, you can do it. There are so many times people dwell on the negative and the past, but I want them to look at the present and look to the future because there's something bright ahead of you, you just have to be chugging along. There's going to be disappointments and failures, but the more I can have a presence and inspire young men and women to take care of the present and look at opportunity, I want to stay connected to Providence College as long as I can in whatever capacity that may be."
He knows it is a grind, but he still loves what he's doing as the head coach of the Friars. "I'm starting my 29th season in coaching next year and you do get burned out, you do get tired. I'm not there yet, but just like anything else, there comes a time and a place where it's hard to say goodbye, yet, you're going to say hello to something different."
Providence College men's basketball is what it is at the moment because of Ed Cooley and his staff. He is the man that lives and breathes Providence College, and everyone on campus and beyond knows who he is. With the most successful season in 25 years for the Friars program, Cooley and the rest of the Friar family will hope this is just the start of a long run of success.
Relay for Life at PC: Revitalized by Colleges Against Cancer
by npatano
---
Campus
---
On Sunday, April 11, Peterson Recreation Center bustled with students, supporters, games, and emotional testimonies. Providence College's Colleges Against Cancer (CAC) chapter organized a Relay For Life event after a two-year pause due to the pandemic.
"My main goal with this event was trying to bring back what is usually the most successful relay event in the Northeast back to Providence College. After two years of pause a lot of clubs did not get to meet and we did lose a lot of attendance, especially when the big event was not happening," said Giulia Pugliese '22, president of CAC.
The event started at 3:30 p.m. (after a delay from moving inside due to weather conditions) with a survivor and caregiver lap around Peterson track. Surrounding the track were luminaries signifying those lost to cancer or currently battling the disease along with reasons people were walking. The luminaries were created by friends and family members of those who passed away.
As of Monday, March 18, the fundraising page reached a total of $18,903.36 of their $20,000 goal, according to the "Relay for Life of Providence College" webpage. Notably, the "Hug Your Mama" team reached $4,842.24, surpassing their goal of $4,250.
All money raised is donated to the American Cancer Society. "One thing I love about the American Cancer Society is out of the money we raised, a sum of it goes to mental health and other support for caregivers," said Pugliese, "which is really important to me because almost all the survivors I've known have also been caregivers."
Father Isaac Morales, O.P. gave the heartwarming prayer before the silent lap for all those who lost their lives in the battle with cancer. Fr. Morales shared that he survived cancer twice and has been impacted by a family member's diagnosis as well.
Like many people, Pugliese's life has been impacted by cancer. Her grandmother, with whom she shares a birthday, died from colon cancer before they could meet. She said, "I have always felt connected to her, even though I have never met her before. It just is special."
As a freshman in high school, Pugliese's mom was diagnosed with cancer. She is now in remission and considers herself a survivor. Then, when Pugliese entered PC, her aunt was diagnosed with an aggressive cancer. "The first phone call I got from my aunt at college, she told me she had her first round of chemo and that she decided to shave her head. I just wanted to hug her so bad and it was really hard to hear so far away from home. With every diagnosis there comes fear, but there also comes hope," said Pugliese. 
She stressed the importance of continued awareness and fighting for better treatments and ultimately, a cure.
Pugliese walked to celebrate the life of Ashley Hope Goodman on the team A Good Fight. Ashley passed away from lymphoma. She said, "she is the bravest person I have ever met. Even in the face of her diagnosis she was always positive and thanked all the doctors at MSK and has become an inspiration to me."
Relay for Life proves to be a reflection of both Pugliese's hard work and Colleges Against Cancer's fight.
"When you come to PC, you never really know what someone is going through, whether someone is a survivor, caregiver, or someone has lost a family member to cancer," said Pugliese. 
"Colleges Against Cancer is a safe space for people to come to and find others to relate to, like it was for me three years ago. It meant everything to me to have a group that understood how I was feeling and people automatically supported me."
Providence College's Pep Band Rallies Once Again
by The Cowl Editor
---
Arts & Entertainment
---
Providence College's Pep Band Rallies Once Again
The Group's Triumphant Return to Schneider Arena
Jack Downey '23
The past weekend was an absolutely wild time at Providence College. From the festivities held for the class of 2020 to the arrival of many parents for the weekend, the last few days were vibrant and exciting. One major event that had many people in good spirits was the first men's hockey game of the season. Facing off against Army in Schneider Arena, the line to get in stretched as far as the eye could see. Light up cups were handed out for a lightshow between periods. And, of course, the pep band returned.
This was particularly exciting because of the lack of action the pep band experienced last year. Thanks to the pandemic, there were few publicly attended sports games, meaning that the pep band did not get many chances to shine, only playing once or twice during the spring semester. However, with Schneider being open to spectators once again, the pep band took their spots in the stands as people began filing in.
Helmed by long-standing leader Jeff Hoyer and newly-minted student conductor Joe Genest '22, the band played a few tunes as people took their seats, and a sense of anticipation grew. After a while, the pregame practice concluded. The pep band proceeded to blast a lively take of the classic "When The Saints Go Marching In." No other tune could have felt like such a fitting beginning to the hockey season. The atmosphere in the arena was full of joy.
Soon the game started and within a minute the Friars scored, taking an early lead. In response, the pep band played some upbeat anthems, such as Taylor Swift's "Shake it Off." Genest dutifully conducted the band, occasionally also playing guitar. Hoyer also played along with the band, alternating between trombone and keys. Throughout the rest of the game, the band continued to provide an excellent backing track to the proceedings as the men's hockey team won, destroying Army 7-0. 
While this game was certainly a memorable one for PC's men's ice hockey team, it perhaps had even more significance for many of the musicians in the pep band. Current sophomores were able to truly experience the electric atmosphere that permeates Schneider Arena, something that they had missed last year. Learning so many songs only to not showcase them to anyone was undoubtedly a frustrating experience, so it must have been exhilarating to finally get the chance to play them at last weekend's game. This game also reminded people why the pep band is such an important part of PC's campus. Without them, so much of the excitement that comes with attending PC athletic contests would be lost.
There are many more games to come this season, and it will be great to hear the sounds of the pep band at them. Perhaps even more exciting is the prospect of returning to the Dunkin' Donuts Center for basketball games, especially for the younger members of the pep band who have not experienced this yet.
PC's A Capella Groups Face Off in a Riff Off
by The Cowl Editor
---
Arts & Entertainment
---
PC's A Capella Groups Face Off in a Riff Off
Pitch Perfect-Inspired Event Draws Music Fans to McPhail's
Grace Whitman '22
On Thursday, Sept. 30, Providence College's three A Cappella groups, Special Guest, Strictly Speaking, and Anaclastic, competed head-to-head in their annual Riff Off. Hundreds of students packed into McPhail's, with standing-room only starting 30 minutes before the Riff Off began. Hosted by Board of Programmers' Olivia Lescinskas '22, the event started off with a spin of a wheel containing three song categories, one for each of three rounds: "TV Show Theme Songs," "Love Songs," and "Throwbacks." The winner of each round was to be determined by which group earned the loudest cheer from the audience in McPhail's. 
The contest was not quite held exactly how it was in the Pitch Perfect movies, which provided the inspiration for the event. In the films, different groups interrupt one another with different songs, joining the last word of one song with the first word of a new song. At the McPhail's event, in contrast, PC's A Cappella groups were given each round's category and asked to perform a song in that category. 
Special Guest hit the stage first, belting out the theme song from Phineas and Ferb. It was a funny way to start off the night, with the crowd singing lyrics like "Come on, Perry!" back at the group. The next song came from Anaclastic with their rendition of "Leave it All to Shine," a mashup of the iCarly and Victorious theme songs. Although the audience certainly enjoyed both renditions, the clear winner of the first round was Strictly Speaking with their performance of The Rembrandts' "I'll Be There for You," more commonly known as the Friends theme song, led by Sorieba Fofanah '22. 
After a quick break, during which the audience snagged some Insomnia Cookies, the show was back for the second round, which was dedicated to love songs. It opened with Anaclastic performing "Love Story" by Taylor Swift. Next, Strictly Speaking sang "Isn't She Lovely" by Stevie Wonder. 
While both groups finished to raucous applause, it was the all-male group, Special Guest, that slammed the door shut on the competition with their rendition of Silk Sonic's "Leave the Door Open." Christian Willett '24 and Nolan Donato '22 brought Bruno Mars' suave to the stage and the rhythm and beat created by the rest of the group had the audience enthusiastically voting for them to win that round. 
The final round was dedicated to "throwback" songs. In a clever homage to Pitch Perfect, Strictly Speaking sang Kelly Clarkson's "Since U Been Gone"—much more eloquently, however, than the auditioners in the movie performed it. Special Guest's final song, "Mambo No. 5," was led by Dougie Schettino '23. "Mambo No. 5" was the perfect song for Special Guest to showcase their vocal abilities and pull the audience into the performance. Indeed, what sets Special Guest apart is their ability to get a crowd excited about their performances and about A Capella in general. 
Anaclastic closed the Riff Off with a throwback to 1996. Their performance of "Wannabe" by the Spice Girls, led by Maddie Rich '24 and Caleigh Lynch '23, earned the loudest applause of the final round, resulting in a revote for the entire event. 
Although there were certainly loud cheers for all the groups and it was hard to truly measure how much applause each received without a decibel meter, Strictly Speaking was crowned the winner of the 2021 A Capella Riff Off. 
Be on the lookout for more events hosted by the A Capella Club this semester, including their fall concert. 
Two Friends Returns for Virtual Spring Concert
by Sara Conway
---
Music
---
A Friartown Features Series Recap of Inspiring Guests
by Grace Whitman '22 A&E Staff
Students all over campus gathered with their roommates to watch Two Friends perform at Providence College's 2021 Virtual Spring Concert hosted by the Board of Programmers. Getting their start on SoundCloud with their hour-long "Big Bootie Remixes," Eli Sones and Matthew Halper have become staples in college dorm rooms. Two Friends was supposed to travel to Friartown last spring with Matoma for the annual Spring Concert, but COVID-19 prevented the pair from coming. After this disappointing cancellation, Two Friends created a personalized remix for PC students that included song clips from some of the best new music and oldies but goodies. 
Streamed on Looped, the concert was a great way for students to step away from their busy academic schedules and enjoy the night of April 30. Additionally, students could sign up for a lawn spot to sit on Slavin Lawn and watch a live stream of the concert. Two Friends' Big Bootie 19 Remix was released to the public on May 3, so the event was a great opportunity for them to promote their newest project.  
Although some students wished the concert was more personalized for PC Students, by including visuals of Friartown rather than generic video clips in their set, Two Friends did throw in plenty of "Go Friars" within their set. 
The concert wrapped up with a question-and-answer session hosted by BOP executive president Kevin Schwalm '21. When speaking with Schwalm about his experience working with Two Friends, he said, "Through the help of the Office of Student Activities and Cultural Programming and Athletics, it was incredible to be able to program some form of Spring Concert after the Two Friends concert was initially canceled last spring. Two Friends was great to work with, and they were excited to come back to Providence even if it meant a virtual concert. Although the College was not able to come together in person to enjoy the show, I think it is a great way to end the year and give students something fun to do on a Friday night." 
The Spring Concert was part of a four-part Friartown Features virtual series all hosted by BOP and Providence Athletics. On April 24, Trevor Noah, host of The Daily Show on Comedy Central and author of Born a Crime: Stories from a South African Childhood, the PC class of 2022 common reading book, was interviewed and kicked off the series with a great conversation about race in America. 
Decked out in his Friars hockey jersey, former New England Patriots and current Tampa Bay Buccaneers tight end Rob Gronkowski had a conversation with Brett Rodman '16P, '20P, '25P, and Steve Napolillo. Giving students great advice about how to persevere through the struggles of this year, nobody would expect anything less than high spirits from Gronk.
The third event of the series was a conversation between Serena Williams and Doris Burke '87, '92G, '05Hon. As two incredible women in sports, they had a great conversation about female athletics and Williams' ventures outside the realm of tennis. 
Although the events were pre-recorded and students were not able to personally interact with the speakers, they all included a Q&A panel discussion with questions sent in from PC students. Overall, all of these events were still able to bring the Friar Family together in spirit even though COVID-19 prevented us from being together physically.
Fight for Their Right: Friars March in Defense of the Unborn
by Kyle Burgess
---
Campus
---
by Eileen Cooney '23
Assistant News Editor
This past Friday, Jan. 24, a large group of Providence College students and faculty made the long six and a half hour trek down interstate I-95 to participate in the 47th annual March for Life taking place at the National Mall in Washington D.C. 
Tens of thousands of people descend on the National Mall every year and march on Capitol Hill in protest of the anniversary of the Supreme Court's 1973 decision, Roe v. Wade, which legalized abortion, making it the largest pro-life demonstration in the world. It began in 1974 and it is described not only as a protest, but also as a celebration of the sanctity and value of every human life. 
When PC students arrived in the nation's capital on Thursday night before the march, they attended mass at the Basilica of the National Shrine of the Immaculate Conception and then enjoyed a dinner with the Dominicans at the Dominican House of Studies. 
On Friday morning, the students and friars were up early to get ready for the march. They gathered at the Washington Monument where President Trump would be addressing those in attendance. 
Other Republican Presidents have sent surrogate speakers to address the crowd at the March for Life, but President Trump is the first sitting President to do so in person, and thus his presence was a reason for enthusiasm among the pro-life supporters. In his speech, Trump told the crowd that "unborn children have never had a stronger defender in the White House." 
After hearing the rally, the students walked from the monument to the Supreme Court building for the march. This walk took three hours because of the thousands of people participating. 
Catherine Flugel '20, said her favorite part of the trip was at the end of the march when they reached the top of a hill. She said "looking down and seeing thousands of people was incredible." 
Flugel believes that the march is "an experience of a lifetime" and one that she will continue to attend even after she graduates from PC. She added, "The opportunity to attend the march with the Dominican Friars is very unique," as friars from all over the U.S. gather in Washington, D.C., for this march every year.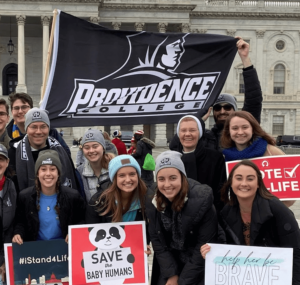 PC'S 100th Commencement Speaker Announced
by The Cowl Editor
---
Campus
---
Historian and Author David McCullough Will Address the Class of 2018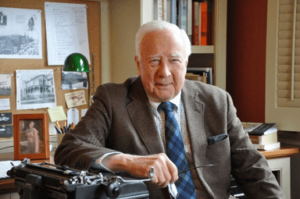 by Marla Gagne '18
Editor in Chief
Providence College has announced that highly acclaimed author and historian David McCullough will be presenting the Commencement Address at the College's 100th Commencement exercises. 
McCullough, known as "one of the great American writers," is a highly respected  teacher, lecturer, and television personality. The Pittsburgh native and Yale University alumnus has received two Pulitzer prizes for his biographies, John Adams and Truman, and was also awarded two National Book Awards and the Francis Parkman Prize. Additionally, McCullough received the Presidential Medal of Freedom, the highest civilian award possible, under President George W. Bush in 2006.
The historian is known for his unique way of retelling history, bringing new understanding to American life, and providing insight into the individuals' accomplishments, struggles, and hardships. This spirit was captured in his most recent book, the #1 New York Times bestseller The Wright Brothers, as well as works including The Greater Journey: Americans in Paris, 1776, Johnstown Flood,  The Great Bridge, The Path Between the Seas, Mornings on Horseback, and Brave Companions. In honor of his work, McCullough has been honored with the National Book Foundation Distinguished Contribution to American Letters Award, the National Humanities Medal, and the Gold Medal for Biography given by the American Academy of Arts and Letters. 
McCullough first became acquainted with PC in October of 2013, when he presented the keynote address at the dedication ceremony for  the Ruane Center for the Humanities. In his remarks, McCullough stressed the importance of a liberal arts education and understanding the human side of history. "I feel to the depths of my being that this emblematic new building is not only a step in the right direction for Providence College, but for our country," said McCullough. "We need to be reminded about who we are and how we got to be who we are." 
Inspired by his colorful way of retelling history, Ann Manchester-Molak '75, assistant to the president and executive vice president/treasurer and chair of the commencement committee, knew that he would make the perfect speaker. "We actually offered him the position on the spot that year," said Manchester-Molak. Personal and professional commitments would make McCullough unable to commit not only for that year, but for the following years—until this year, that is.
Each year the commencement committee, made up of faculty, current students, administrators, and alumni, reviews all community suggestions and revisits approved candidates from past years who were not able to commit. When considering candidates, committee members look to find a gifted speaker and someone who can "bring an inspiring message to the graduate class in their last lecture."
The committee was excited to find McCullough finally available, and believed his mix of teaching, entertainment, and moral fiber would set high expectations for the event. "He makes readers and audiences…recognize and understand that which is extraordinary about ordinary men and women," said Manchester-Molak. 
 Along with his literary works and academic pursuits, McCullough is also known for one of his physical traits—his voice. The storyteller is often recognized for his work hosting the The American Experience and narration in the movie Seabiscuit. His voice wowed the PC audience in his original keynote address. "I don't know what God is going to sound like when we finally get there, but it's either James Earl Jones or David McCullough," Father Brian Shanley, O.P., said.
Coming off an important centennial anniversary and the upcoming celebration of PC's 100th graduating class, Manchester-Molak and the committee felt McCullough would help the College "help us recognize our historic moment" with a "powerful speech."
And for those students who are unfamiliar with McCullough, Manchester-Molak suggests keeping an open mind. As students listen to their last lecture, she says to  know that "McCullough will show you the value of history, [the value of] the education you were just given, and the excitement of the future."
McCullough, who has received 55 honorary degrees and will be receiving a doctor  of letters honorary degree from PC, is one of six recipients receiving an honorary degree, including: Joseph P. Brum '68, the founding father of PC's alumni relations program; Brian Maher '68, former director of the Long Island Educational Opportunity Center at Farmingdale College; Larry Rachleff, former music director of the Rhode Island Philharmonic Orchestra; Lisa M. Schenck '83, associate dean for academic affairs at the George Washington University School of Law; and Beverly Daniel Tatum, a clinical psychologist, author, and former president of Spelman College.
The Commencement  Ceremony will take place Sunday, May 20 at 11:00 a.m. at the Dunkin' Donuts Center, 1 LaSalle Square, Providence.
Bulletin Board Update:
by The Cowl Editor
---
Campus
---
 Find out more about recent developments regarding the bulletin board controversy including responses from administration, the current status of bulletin boards, and an impending Title IX investigation.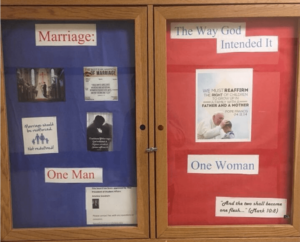 by Sabrina Guilbeault '18, Marla Gagne '18
News Editor, Editor in Chief
In the weeks following the display of the bulletin board in St. Joseph Hall at Providence College on March 2, the controversy has sparked great backlash from students, faculty, alumni, and local media and received both criticism and praise.
The board was displayed by Resident Assistant Michael Smalanskas '18, and represented the Catholic Church's vision of marriage as a sacrament performed by one man and woman, and contained the statement, "Marriage, the way God intended it."
Due to the controversy following this board, Jana Valentine, director of residence life, made a joint decision with her staff to suspend the use of bulletin boards for communication until a task force can more properly define a function and purpose for the boards.
Smalanskas explained that his intention was to proudly display Catholic teaching on a Catholic campus and to expose the double standard he finds at the College that does not protect conservative views in the same way as others. "A good example of this is the pro-same sex 'marriage' bulletin board on display in McVinney in February," wrote Smalanskas in an email responding to The Cowl's questions. "I have been accused of abusing my power and promoting hatred by displaying pro-traditional marriage views, but this other resident assistant was not."
A summary of the initial events that occurred within the first week of the board's installation, including a Board of Multicultural Student Affairs (BMSA) meeting in which Kristine Goodwin, vice president of student affairs, addressed student concerns, was reported by The Cowl and can be found here:  https://www.thecowl.com/featured/bulletin-board-controversy.
Since the publication of the initial article, the controversy has continued to gain attention from outside media, and the College has made additional statements regarding the incident. A recent report from the National Catholic Register cited Smalanskas as stating that a Title IX investigation is underway to investigate a cartoon depicting Smalanskas being sodomized, which was found in his dorm bathroom of St. Joseph Hall in the following days since the bulletin board was put up.
A majority of the articles published regarding the controversy can be found on the Facebook page, "Make PC Catholic Again," which was created and run by Smalanskas to "provide the most recent news about the developing situation at PC." In the description of the page, it is stated that "Make PC Catholic Again" is not meant to be an open forum on the topic.
"It is meant to be a place where all news coverage of the situation can be found in one place," said Smalanskas. Some students who have left comments to the page have voiced concerns that their voices are "silenced" when their comments are deleted. "All comments, whether they are supportive of me or adamantly opposed to what I've done, are deleted," said Smalanskas in response.
One specific article found on this page is a letter from March 21 to Smalanskas written by Bishop Thomas Tobin of Providence, reaffirming the Church's teachings on marriage and praising Smalanskas for his proclamation of faith. While encouraging prudence and charity with every action, Bishop Tobin did reaffirm that Christians "do them no favors, and we fail to fulfill our Christian vocation, if we hesitate to present and explain the divinely revealed truth about faith and morals."
Bishop Tobin continued to express regret for the negative reaction Smalanskas has received from his community, especially on a Catholic college campus such as PC. "I think we have the right to presume that those who teach or study at a Catholic school should accept, or at least respect, the stated identity, mission, and fundamental teachings of the Faith," said Tobin. "Otherwise, there are lots of other good options for higher education they can choose if they really feel threatened by or are uncomfortable with the teachings of the Church."
Two days prior to this letter, President Father Brian Shanley, O.P., sent an email to the PC community regarding the board, and stated that the Church's views on marriage is not homophobic as homophobia is a sin. "We will never eliminate the tension between what the Church teaches and what modern secular culture professes about human sexuality and marriage," he said. "Our challenge is to create a campus climate that will enable us to explore our differences dialogically with mutual respect and charity."
Smalanskas, as well as Dr. James Keating, associate professor of theology and advisor to Smalanskas through the Title IX process, expressed their disapproval of the College's initial response regarding the reaction to the board.
"The College failed in many respects to address the situation properly," said Smalanskas, who said he repeatedly asked administration to denounce the harassment toward him from the very beginning. He explained that he felt that the rape drawing would have been avoided if the College had acted. "It also seemed like an easy task for the administration to support the content of the board but it took several weeks for the school to affirm its Catholic identity and speak against the hatred and harassment," Smalanskas said.
Keating explained that in his opinion, the administration's reaction to the cartoon and lack of initial response is the "strangest thing." "As soon as someone files a Title IX violation, the school should go into extreme protection mode," said Keating, who earlier explained he felt the administration responded to the feelings of students in response to the board and should have also responded to harassment against Smalanskas. "They should have sprang into action, but we saw an absolute flouting of Title IX protections."
The Department of Public Safety at Providence College did remove Smalanskas from his dorm room in St. Joseph following the initial incident and housed him in another dorm room for his protection.
Goodwin addressed the issue to student leaders in an email on March 18, and encouraged students to engage in dialogue. She encouraged students to attend a "March Against Transphobia and Homophobia at PC," organized by SHEPARD, the student organization and support group for members of the LGBTQ+ community. Mallari Bosque '18, president of SHEPARD, explained the march was meant "to acknowledge the discomfort that the LGBTQ+ community are often subjected to feel."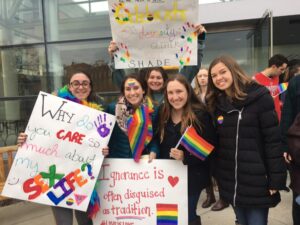 At the march, faculty, staff, and administrators affirmed that homophobia has no place at a Catholic institution, and that the purpose of the march far extends the content found on the bulletin board. For full coverage on this event, please use the following link: https://www.thecowl.com/breaking-news/pc-community-marches-against-transphobia-and-homophobia
Fr. Shanley released a second statement in an email on March 26 in reaction to what he calls "negative publicity, mostly on conservative media sites" that are "not accurate," and increasing phone calls from angered alumni.
"The College always has, and always will, remain faithful to the teachings of the Catholic Church," said Fr. Shanley. He also denounced the hostility shown to Smalanskas in the passing weeks, and stated that the drawing was "odious" and "reprehensible." "There can be no place on our campus for bullying, harassment, or intimidation," Fr. Shanley said.
While this message did fulfill the initial request made by Smalanskas and Dr. Keating for the College to address the harassment and confirm Catholic beliefs, Smalanskas thought it came only after bad publicity for PC and was insulting to members of the media, alumni, and himself.
Looking to the future, this bulletin board controversy has shown a larger conflict at place at PC and within Catholic colleges across the country—how can a college maintain its Catholic identity while still being inclusive?
Dr. Keating believes that PC was not ready to address this "huge challenge" and now must decide, like many Catholic colleges, what it means to be a Catholic college not just in the pulpit or classroom but in the everyday life of students. Goodwin also stated that PC is "not alone in this struggle" and looks to professional organizations like the Association of Catholic Colleges and Universities for guidance and information.
"I think about moving forward prayerfully and curiously," said Goodwin. "It's more important for me to understand than to be understood. Experience of students, faculty, administration, and alumni helps us move forward and we can count on professional organizations to help us in dialogue and conversations and inquiry."
Smalanskas has continued to pursue his Title IX claim, which prohibits sex discrimination in educational institutions that receive federal fundraising and aims to remedy hostile learning environments. PC's Sexual Misconduct or Relationship Policy complies with Title IX, and the College's website defines sexual harassment as "any form of sex discrimination when the conduct creates a hostile environment."
Investigations fall under the Department of Public Safety and are overseen by the Title IX Coordinator Dr. James Campbell. Complainants are given an adviser, in this case Dr. Keating, who has previously worked on Title VI and IX cases, and can find resources with the Dean of Students, Steven Sears.
While the investigation is ongoing, administrative figures are "reluctant to talk about an individual student" in respect of their privacy and to never compromise an ongoing investigation, said Goodwin.