Having an Ice Time: The Alex and Ani Skating Rink
by The Cowl Editor on November 30, 2017
---
Arts & Entertainment
---
by Ryan Cox '18
A&E Staff
Few things in Rhode Island are more picturesque in the wintertime than downtown Providence, especially while the city is decorated for Christmas. The skating rink at the Alex and Ani City Center in Kennedy Plaza offers ice skating for all ages in the heart of downtown Providence.
The rink is flanked by the historic Biltmore Hotel and Providence City Hall on one side and by Burnside Park on another. While the Christmas tree overlooks the rink, nothing could be more Instagram-worthy.
Since Kennedy Plaza is the hub for all RIPTA buses, including the 55, the rink is easily accessible for all Providence College students. Riding the RIPTA is free with a student ID, so there is no need to worry about finding parking in the city. If you do want to drive downtown, however, two hours of parking is free on designated streets daily from 10 a.m. to 6 p.m. until Jan. 1, as part of Providence's "ThinkPVD" campaign.
The rink is open seven days a week, from 10 a.m. to 10 p.m., from November to March, so the skating season has only just begun. Tickets are generally $7 and are good for four hours of skating.
Every Wednesday night is College Night from 6 p.m. to 10 p.m., and ticket prices are $5 with a student ID. You can bring your own skates or rent a pair for $6. The rink offers locker rental as well for $3. All things considered, a night at the Kennedy Plaza skating rink is under $20 per person.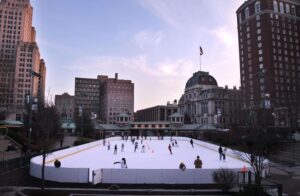 Since there is so much to do in downtown Providence, it is very easy to make an entire afternoon or night out of a trip to the skating rink. With the Providence Place Mall and Thayer Street so close by, it is easy to go for a meal or hot chocolate before or after skating.
Mira Magner '18 says, "The skating rink downtown is a lot of fun! It's a great place to go with friends on the weekend, or with family when they come to visit." It is also a great place to go on a date, she explains, "I took my boyfriend once when he came to visit, and we both had a great time! We went out for hot chocolate and walked around downtown after and it was super cute."
"It's really cool that they have an outdoor skating rink in downtown Providence. Not only is it in a cool location but it's something fun to do. I love that it appeals to everyone, and anyone can go," said Kasey Cardin '18.
According to East Side Monthly, "Nothing says 'holidays in the city' like ice skating in the middle of downtown…There's no more heartwarming time to do it than when you can skate under the giant Christmas tree." For more information on the rink at the Alex and Ani City Center, check out theprovidencerink.com or call (401) 331-5544.
'Tis The Season to Reddit: The World's Largest Gift Exchange Shows the True Meaning of the Holidays
by The Cowl Editor on November 16, 2017
---
Arts & Entertainment
---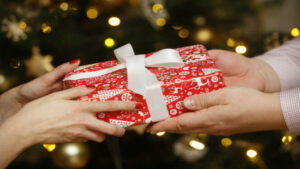 by Ryan Cox '18
A&E Staff
Now that Halloween is past, many people are skipping right over Thanksgiving and preparing for the Christmas season. With a social climate of overwhelming pessimism, the spirit of joy and selflessness that comes with Christmas seems sacred this year. Nowhere in the world is this spirit more prominent than on Reddit and its gift exchange offshoot, Redditgifts.
In its ninth year, Redditgifts has grown to include gift exchanges all year long, but its most popular remains its annual Secret Santa exchange. The Secret Santa exchange broke the Guinness World Record for the world's largest Secret Santa three—times most recently in 2014—with 89,421 participants registered worldwide.
The unofficial total from 2016 dwarfs that past record; 118,910 users took part in the exchange last year. At the time of writing, 63,832 participants in 118 countries have registered for this year's exchange.
Redditgifts' mission stems from the idea that these random acts of kindness should not be limited to Christmas. Other themed exchanges held this year include Harry Potter, board games, hockey, and kitchen goods, providing an exchange for all interests. During Christmas, this is all the more important.
According to the Redditgifts website, Reddit users have participated in secret santa for a common theme: to spread goodwill and joy to one another, through the spirit of giving and receiving happiness…in a time where love and optimism is needed across the globe."
Joining the Secret Santa exchange is simple and free. You must have an active Reddit account to participate (free to join), and there is no charge to participate in the exchange, except for purchasing the gift for your assigned user. A credit system is in place to hold users accountable for completing their part in the exchange, and credits are only accumulated by participating and completing different exchanges.
After filling out an icebreaker-style questionnaire, which gives your Santa some information to work off of, participants are matched by the website. "Santas" are given their target's Reddit username, so they can look further into their target's interests. Participants are also given the option to be a "rematch Santa" and purchase additional gifts for those whose original Santas failed to follow through on their assignments.
Over one million gifts have been exchanged via Redditgifts over the last nine years, staying close to the original mission and working mostly through the honor system to make the program successful. The deadline to participate in this year's Secret Santa exchange is Nov. 27.
As one user put it, "Redditgifts is a group of total strangers from all over the world who have managed to form a community held together by one thing—being thoughtful and generous to one another. It's amazing that a group of people who have never met each other…can come together to form such a strong, connected community. Being a part of Redditgifts is something huge and magical."
Let's Rant: Has Country Music Gone Too…Bro?
by The Cowl Editor on November 2, 2017
---
Arts & Entertainment
---
by Ryan Cox '18
A&E Staff
My motto for those who claim to be staunchly against country music is this: if you do not like country music, you just have not heard the right song yet.
Country music is one of the most diverse genres of music, and that is a large part of its appeal.
Some artists are traditionalists, some lean a little bit rock, a little bit pop, but others have arguably pushed the boundaries a little too far, straying from the roots of what makes country music great.
Harlan Howard once defined country music as "three chords and the truth." Artists like Loretta Lynn and Eric Church embody that. You would be hard-pressed to find songs like "Coal Miner's Daughter" or "Mr. Misunderstood" in any other genre of music. The greatest country songwriters write from a personal place, and connect with listeners because of their honesty.
That is why it is so frustrating to see artists like Florida Georgia Line, Kane Brown, and Sam Hunt rise like rockets to the top of the charts. They lean far too heavily toward R&B and hip-hop, turning country music into the stereotype that it must suffer today: lifted trucks, skinny women in daisy dukes, and a cold can of Bud Light.
They are entertaining, sure, but are they really country songs? Florida-Georgia Line recently toured with Nelly and the Backstreet Boys, despite still branding themselves as country artists. How is that a country concert?
This manufactured "bro-country," as it has come to be called, has marred the name of country music.
Songs like "What Ifs" and "Body Like a Back Road" follow the same pandering list of content. Like pop music, it makes country all sound the same.
Many artists now use pre-recorded, synthesized tracks, rather than recording with a band, taking away another honest element from production. "Unforgettable" by Thomas Rhett is missing that unmistakable country sound altogether because of its prerecorded background track, yet it stands at number four on this past week's Billboard Country chart.
Current country seems to have become more pop than country, more about entertaining a crowd of screaming fans.
The bro-country trend needs to cool down (maybe with one of those cold Buds they keep singing about). It has turned country music into somewhat of a joke—a manufactured and over-produced genre that makes it no different than anything on the Billboard Hot 100.
Fresh and Local : Providence Welcomes New Seafood Restaurant
by The Cowl Editor on October 26, 2017
---
Arts & Entertainment
---
by Ryan Cox '18
A&E Staff
Blink, and you will miss it. On the corner of Ship and Dyer Streets in downtown Providence is a little red trailer serving local seafood with big flavor. Dune Brothers Seafood, nicknamed "The Shack," is located in the I-195 district, which has been a major point of discussion for development in Rhode Island for several years. The opening of a new restaurant is a positive sign for the area's physical and cultural development.
The Shack is run by chefs Nick Gillespie and Jason Hegedus, culinary school classmates and born New Englanders. "We met in culinary school. After graduating, Jason went to New York and I went to Boston, but somehow we met again in Portland, Oregon," said Gillespie. There, inspired by their homesickness, they opened a pop-up restaurant with a New England flair to its cuisine. "We both wanted to move back home, and Providence seemed like a great up-and-coming place with a great food scene."
As for why Gillespie and Hegedus chose the largely undeveloped I-195 land, Gillespie said it held promise. "It's an underutilized spot in the Jewelry District," Gillespie added, "It's a great opportunity for us to showcase what we do and give back to Rhode Island." The pair plan to stay at their current location for at least two years before looking into other brick-and-mortar options in downtown Providence.
The initiative surrounding The Shack is "Eating with the Ecosystem," which stresses the use of locally-caught fish species, many of which are not typically used in seafood restaurants. The restaurant is a "sustainable, local, unconventional food shack," according to Gillespie. "We use a lot of underutilized fish species," he explained, noting that many of these are typically shipped to the United Kingdom or China instead of being kept stateside.
The unconventional element includes these different fish species, but also the way they are prepared. "Not everything's fried," said Gillespie. "We always have a market fish of the day, a lot of local and healthier options. It's not your mom-and-pop seafood shack. It's chef-driven and has an air of sensibility to it." The pair works closely with local fishermen in Narragansett to source all the fish.
The "not your average seafood shack" line is incredibly accurate for the Dune Brothers. When arriving at The Shack, one is immediately greeted with crushed shells and flagstones, marking off a set of wooden picnic tables, a wood palate fence acting as a garden for peppers, cauliflower, and an array of herbs. A giant Connect Four game resides in a smaller, grassy area.
Between Connect Four, the bright-red trailer, and the chalkboard menu, the atmosphere was relaxing and inviting. "They're definitely doing something right here. I like how it doesn't feel like you're in the middle of the city," said Michael Izzo '18. While the prices may be a little high for a college budget, it is easily worth the splurge to experience the rush of flavor the Dune Brothers' unique take on seafood provides.
The most unique item on the menu was "fin and haddie toast," made with smoked haddock and aged cheddar, served on a thick piece of sourdough toast. The haddock was prepared almost like tuna salad, but was very mild.
The smokiness from the fish and cheddar was balanced by two slices of radish that separated the toast from the fish, adding a bit of sweetness and freshness to the dish. The market fish that night was a whole scup, seasoned and served with peppers and potatoes. While packed with flavor and very tender, most would agree it is a bit difficult to eat around the thin bones.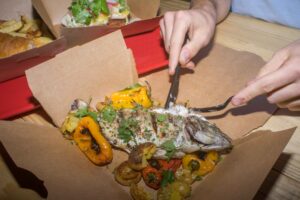 What sells The Shack is their take on fish and chips and their chowder. It is one thing to do something unique and do it well, but to excel at something so commonly featured in restaurants is another feat. For example, the fish and chips are made with shark caught on Cape Cod. The batter is light and does not feel greasy, compared to most recipes. The shark is also light and will surely melt in your mouth.
The chowder tastes fresh and it is clear that Gillespie and Hegedus spend hours perfecting their recipe. Many native Rhode Islanders that are picky about their clam chowder will find it easy to finish a bowl; there is a lot of strong clam flavor that does not overpower the chowder, and the addition of bacon and dill adds a couple of extra dimensions to the dish.
The Shack provides a fresh take on classic seafood dishes, with Gillespie and Hegedus adding their own trained influences to the meal. The food is delicious, the atmosphere makes one feel at home, and with its spot in the city and close to the Providence College campus, it is difficult to pass up the chance to come back for more. You can follow the Dune Brothers and The Shack on Instagram for more information.
"Your Chair, Your School": Providence College Juniors Beanbag Business Hits the Ryan Center
by The Cowl Editor on October 5, 2017
---
Arts & Entertainment
---

by Ryan Cox '18
A&E Staff
Providence College students may have noticed a new addition to the Arthur F. and Patricia Ryan Center for Business Studies recently. Four black, Friars-themed beanbag chairs are placed throughout the main atrium of the building, offering students a way to be comfortable while studying. The PC bookstore is not responsible for their creation, but rather College Cushion, a new brand started by three juniors.
I had the opportunity to sit down with Shane Curran '19, Michael Cruz '19, and Andrew Drogan '19 to talk more about their brand.
RC: What motivated you to start College Cushion?
SC: It actually started as a joke freshman year. Cruz was complaining about how uncomfortable the chairs were in McDermott, and we were joking about how much better we could do. We started with an expensive design, but we ended up designing a beanbag chair with the Providence College logo on it.
RC: What has been the process since deciding to get started?
SC: We've been at this for about a year and a half now.
MC: We started doing more research that summer and saw that there was no college furniture with the school logo on it. We started looking into manufacturing, pricing, and licensing.
AD: It was a pain, but it could have been worse to deal with.
RC: What challenges have you faced in launching College Cushion while balancing your schoolwork?
AD: We haven't had a day off. We really have to prioritize, and we're still learning. Even now, every week we learn something new that can make our work easier.
MC: We have to allocate lots of free time for logistics, cost, and efficiency. We spend most of our Saturdays in a basement filling beanbags or talking to UPS trying to get shipping costs down.
SC: There was a time where the entire website went down in the middle of class and I'm sitting there recoding all the website buttons at a time where I shouldn't have had my laptop out. My professor was staring me down for the entire class.
RC: What has been your most memorable experience so far in this process?
MC: Driving to New York to pick up the product on a Wednesday night. We got to New York at midnight. Before we left, the car wouldn't start. So, we got there at midnight, left my house at 3 a.m. to pick up our inventory in New Jersey at 6 [a.m.], and we made it back for class the next morning.
SC: We were two lonely SUVs in a port full of 18-wheelers, so that was funny. All these truckers who knew what they were doing, and then there were three college kids trying to figure out where to pick up their shipment.
AD: I wasn't going to go at first. I emailed my teacher at the last second. I didn't want to have the reputation as someone that missed class right at the beginning of the semester.
SC: We did it for the experience of doing it all ourselves and managing everything. We didn't want some big corporation to do it for us, and it saved us a lot of money. Next time we'll take an easier route. We barely fit everything in two SUVs.
RC: How do you each contribute to the work?
AD: Honestly, we do it all together. We're all friends, and business hasn't separated us yet.
SC: Nobody really has one task, but Drogan deals mostly with customers, Cruz mostly does finance, and I deal with most of the legal aspects to make sure our license doesn't get revoked.
MC: I haven't had a Saturday where I've been able to completely relax because I still have homework to do after I put in all the work on the product.
RC: What is it like seeing the product finished and used by students?
AD: It's good, but we're not satisfied. We're not done, it's not the end. But, I was shocked to finally see it. We thought for sure there would be some obstacle we couldn't overcome, but we haven't had that yet.
RC: What plans do you have for College Cushion after graduation?
SC: We all agree that we want to expand slowly. We're seeing how it goes here; this is the best-case scenario with the students and alumni that like the product. From there, we'll expand to other local schools if it goes well. From there, we'd like to bring it to the big Southern schools.
RC: Anything else we should know about College Cushion?
SC: Buy one! We funded it all ourselves.
For more on College Cushion visit their website at collegecushion.com or any of their social media outlets. The PC College Cushion is available now.
Something to Taco 'Bout: Tallulah's Taqueria
by The Cowl Editor on September 28, 2017
---
Arts & Entertainment
---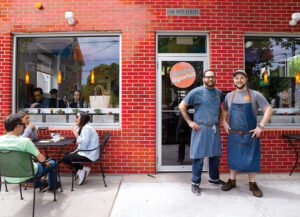 by Ryan Cox '18
A&E Staff
Oftentimes, the best food in Rhode Island is off the beaten path, away from the touristy, popular spots like Thayer Street or Providence Place. Such is the case with Tallulah's Taqueria, a small, red-brick building in the Fox Point neighborhood of Providence. The 15-minute ride from Providence College is absolutely worth the outstanding Tex-Mex food they serve.
Tex-Mex is a dime-a-dozen today, but it is Tallulah's commitment to authenticity that makes it unique and unbelievably satisfying. One such meal was a burrito bowl with pork al pastor, a meat that is marinated in spices and pineapple before being diced and grilled. The pork is a little spicy, but packs a lot of flavor that mixes well with the rice, guacamole (which comes standard with the bowl), lettuce, and queso fresco. It is also served with pickled radishes, which are vinegary and cut the heat from the al pastor well.
An order of their scrumptious chicken tacos is sure to satisfy any hungry customer. They are traditional street-style tacos served with two small corn tortillas, guacamole, and lime (pickled radishes were also served on the side). They are simple, but packed full of flavor and  absolutely delicious.
There is a beverage case full of water and sodas at the counter, but I tried the basil agua fresca, which tasted mostly like lemonade. The little bit of flavor from the basil mixed in made it extremely refreshing and contrasted well with the burrito bowl. The tortilla chips are freshly made and served with either guacamole or salsa verde.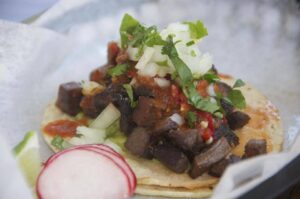 While options such as Chipotle, Baja's, or Cilantro are cheaper, you pay for the made-from-scratch, local quality that Chef Jake Rojas serves consistently at Tallulah's. The wait time for the meal was short at about 15 minutes and the staff is very friendly.
Tallulah's Taqueria is located at 146 Ives St., Providence. For their menu, check out their website [tallulahstaqueria.com.] For more information check out Tallulah's all over social media.
Shirts, Civ, and Wine: Fashion Guided by the Liberal Arts
by The Cowl Editor on September 21, 2017
---
Arts & Entertainment
---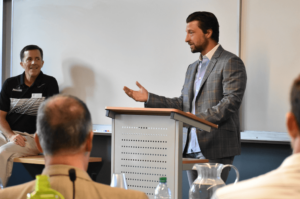 by Ryan Cox '18
A&E Staff
Professors say it all the time: you are never really done with Development of Western Civilization. Chris Riccobono '01, founder of UNTUCKIt, is one of many examples Providence College may use as proof of this statement. During St. Dominic Weekend, Riccobono encouraged students to chase their passions as he shared his story to an audience of students and alumni in the Arthur F. and Patricia Ryan Center for Business Studies.
Riccobono had two goals as a Friar: to develop the skills necessary for his future career in business and to play Division I tennis. Like most students, he was unsure why PC required so many core classes unrelated to his degree when he could have been dedicating most of his time to his future career.
"At first, I would wonder why I needed these Liberal Arts core components when I just wanted to study business and marketing," Riccobono said in his presentation. "I would soon learn that [these] were uniquely blended with other subject matters. We would be taught to think, ask why, use our faith, and be a moral person."
"As an entrepreneur," he explained, "it's important to know a little bit of everything. Business and marketing were not in conflict with the Liberal Arts but in harmony and absolutely essential to life itself." He noted that faith and morals were a key feature in his Providence College education, and that "the linkage to faith and morals is what makes PC exceptional and unique."
Riccobono was a student-athlete for all four years as he played tennis under the guidance of coach Carl LaBranche. Like most student-athletes, Riccobono learned personal discipline and drive under Labranche's direction.
"To be a successful tennis player you need to be extremely resilient, persistent, have incredible focus and hustle, as well as have a sense of humor to stay sane on the tough days," Riccobono said, "Coincidentally, these are all the qualities I directly attribute to my success as an entrepreneur."
Success did not immediately come to Riccobono following graduation. After leaving PC in 2001, Riccobono worked in sales at GE Healthcare while he started an MBA at Columbia University. Riccobono graduated from Columbia in 2007 and started exploring his passions.
"I decided to launch a video wine blog called [Pardon That Vine]. I traveled around the world and interviewed winemakers and talked about wine on video. While this was fun, it did not exactly pay the bills," Riccobono explained. He never stopped trying new ideas until finally a lasting inspiration hit him in mid-2011.
Riccobono stated, "I needed a shirt to wear untucked at the right length. I was solving a problem that I personally had, which is always the best idea." So he began his research by sending out a survey which ultimately showed that 95 percent of 500 respondents had the same problem. Riccobono felt he had struck gold.
He spent "the next year learning about how to make a shirt, how to raise money, launch a website, and produce shirts." He brought on a classmate from Columbia, developed a name, and launched UNTUCKIt as an e-commerce-only business in 2011.
The first brick-and-mortar store opened in Sowa, New York, in 2015. As of today, there are 15 stores nationwide, with plans to expand to 50 by the end of 2018. A store in Boston will open next week and a Providence location will open in 2018. UNTUCKIt today has since expanded, now selling men's and women's clothing in a variety of styles, including its original shirts, sweaters, and accessories.
Since there was a large group of students in the crowd, Riccobono concluded his presentation with some advice to those students. "You need to hustle all hours of the day. Early in your career there is nothing more valuable than work ethic," he said. "Accept setbacks. It's one step forward, two steps back, and you can't get upset or flustered."
With UNTUCKIt still growing and developing, Riccobono has been busy the last six years since founding the company. He continues, however, to think of his experiences at PC and draw from them. He explained, "I hope to come back soon to speak with PC business students who might hope to have a future in entrepreneurship."
The Providence Music Scene's Summer Makeover
by The Cowl Editor on September 14, 2017
---
Arts & Entertainment
---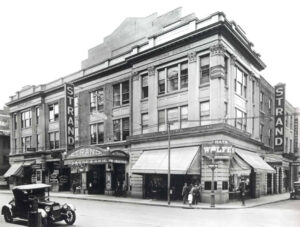 by Ryan Cox '18
A&E Staff
Local musicians and music fans alike experienced a series of changes this summer that rocked the local music scene. Most notably, the recent sale of alt-rock station WBRU to K-Love, a California-based Christian rock station that took over 95.5 FM at the beginning of August.
WBRU, which is run predominantly by students at Brown University, ended its 51-year run on Aug. 31 before switching over to a strictly online format.
The decision to sell 95.5 FM was based heavily on a decrease in funding for the station. What made WBRU so unique in the area was its presence on the Providence music scene, despite it being a primarily university-run station.
Events like the Rock Hunt and their annual Summer Concert Series gave the station incredible staying power in Rhode Island, as did their wide listening radius.
By contrast, Providence College's radio station WDOM is "low-power," meaning it has a three-and-a-half-mile listening radius, catering almost exclusively to the campus.
WBRU hopes to pick up a lower-power station in 2018, with eyes on 101.1 FM. Continuing in this way "has been met with open arms; [Brown Student and Community Radio] is willing to acquire new content in order to supplement its own programs and fill out a 24-hour broadcast day," said Willem Pickleman, acting station manager for Brown Student and Community Radio.
The money from the sale will go to develop new broadcast media opportunities for Brown students.
The sale was met largely with disappointment. WBRU consistently catered to a large population of alt-rock fans and rising local talent.
It became the station of the millennial generation, some of whom had WBRU as the only station they would listen to in their cars. For better or for worse, the sale marks a pivotal point for the station to develop and regain its footing before launching into a new era.
A more cosmetic change in downtown Providence is the building formerly known as Lupo's Heartbreak Hotel, which shared the space with the Roxy nightclub. Over the summer, the venue at 79 Washington St. underwent renovations and returned to its original name, The Strand Ballroom & Theatre. The Strand originally opened on June 12, 1915 and is the oldest theatre in Providence. Only since 2003 did it become Lupo's as owner Rich Lupo moved to The Strand building.
The change is almost entirely superficial, as The Strand is still committed to bringing in acts of all genres. Over the next two months, the venue is hosting Bastille, Jana Kramer, 311, and Modest Mouse, among others.
They will be performing in a brand-new space with state-of-the-art sound and lighting, a renovated balcony, and a new marquee set to be installed in December.
While the local music scene is changing, and Rhode Islanders are often stubborn about change, perhaps this summer has marked a bright new future that lies ahead.
Luke Combs: Same Ranch, Different Cowboy: Rising Artist Shakes Up Country Music
by The Cowl Editor on August 31, 2017
---
Arts & Entertainment
---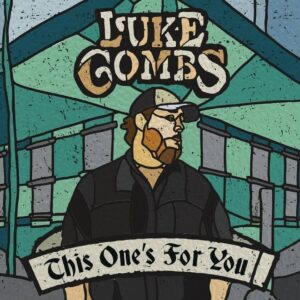 by Ryan Cox '18
A&E Staff
In less than a year, Luke Combs has not just carved out a niche for himself in Nashville, he's blown one out of the side of the mountain that is country music.
The 27-year-old from Asheville, North Carolina brings a sound to country music that is well-known. Following the October 2016 debut of his number one single "Hurricane," Combs released his first album, This One's for You, and a second single off the album, "When It Rains It Pours," is currently rising on the charts.
Combs' website describes his album as a "set list full of songs that are true, authentic, and platform his signature modern throwback sound."
Unlike other country artists, such as Sam Hunt and Thomas Rhett, Combs rides the current trend of leaning on the style of older artists from the '80s and '90s, fusing them with contemporary trends by country crossover artists.
While this style seems to be a growing trend in country music, there's something about Combs' style that stands out amongst other new artists.
Rather than being a modern artist, who peppers in some country flavor, Combs does the opposite. His sound is country at its core, and while some tracks on This One's for You tip their hat to pop and electronic influence, they cannot be classified as anything but country music.
According to Combs, this has to do with the way he listened to country music growing up. In an interview with Rolling Stone, Combs recalls that, while he grew up listening to country music in the '90s, he gave up on the genre as a teenager…until he discovered Eric Church. "That was my knowledge base," he said. "The Nineties and Eric Church. I missed almost 10 years, so there's a gap, and I think that's where the sound came from." As a strong baritone-tenor, much of the sound on This One's for You is similar to Justin Moore or Chris Young, who both have a similar mix of contemporary and classic country in their music.
Another factor that separates Combs from other rising artists is his image. While others try to develop the image of a country entertainer (think Luke Bryan or Tim McGraw), Combs presents himself as the same regular guy who first picked up a guitar six years ago. "I've always been a super regular guy," he told Rolling Stone, "I think there's kind of a comfortability with me onstage– and I think my cool factor is not having one. I'm not extra cool or extra different. I'm just an honest dude, not trying to be anything other than who I am."
Combs is currently opening for Brantley Gilbert on his Devil Don't Sleep tour, along with Tucker Beathard. His next local headline show is Nov. 16 at the House of Blues in Boston. His album, This One's for You, is available online, in-store, and streaming.
Insomnia Cookies: Worth Losing Sleep Over
by thecowl.ae on May 4, 2017
---
Arts & Entertainment
---
By Ryan Cox '18
A&E Staff