PCI: Who Will Win The NCAA Frozen Four?
by The Cowl Editor on April 4, 2019
---
PCI
---
Providence College
By Sam Scanlon '19
Sports Staff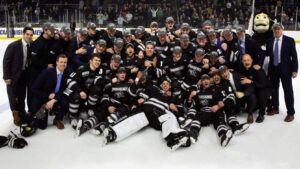 After patiently waiting to see if they had squeaked into the NCAA Tournament field, the Providence College Friars are headed back to the Frozen Four. The adversity that they have had to overcome this season, especially throughout the playoffs, is a large reason why no one is going to be able to take them down. They have gone through too much, they have an incredible amount of momentum, and soon they will have another championship trophy.
The explosive 10-goal regional weekend was led by the dynamic top line of Josh Wilkins '20, Kasper Björkqvist '20, and Jack Dugan '22. With three important goals in the two regional contests, Wilkins was named Most Outstanding Player and continues to stay hot at the perfect time. He now has 10 goals and six assists in his last nine games entering the Frozen Four in Buffalo, New York. Not a bad time to be scoring at this rate. His offensive spark is going to be pivotal in putting the Friars past University of Minnesota Duluth and University of Massachusetts Amherst/University of Denver.
The offensive depth that the Friars provided this weekend is a great step toward a National Championship as well. Every line produced goals throughout the regional tournament, including the entire second line of Tyce Thompson '22, Scott Conway '19, and Brandon Duhaime '20. Greg Printz '21 and Vimal Sukumaran '20, third and fourth liners, respectively, also joined in on the scoring parade. With every line producing at this point in the year, the Friars are becoming increasingly dangerous to opponents as they continue finding the back of the net and winning games.
However,  everyone knows defense wins championships and it starts with goaltending. The Friars may have the best goalie remaining in the tournament in Hayden Hawkey '19, who now leads the country in shutouts. He has not let in a goal since the first period against Minnesota State University in the opening round matchup. A solid goaltender who has recently found his rhythm will prove to be a key factor to the Friars' championship run.
Lastly, the experience of the players and coaching staff will lead the charge to hoisting another trophy. Nate Leaman brought his team to glory in 2015, and each player on the current roster has played in the NCAA tournament. The senior class has been to four straight tournaments, so they and the coaching staff know what it takes to get the job done, and they will. The National Championship will come back to Friartown.
Women's Hockey Falls to Northeastern
by The Cowl Editor on March 21, 2019
---
Friar Sports
---
Matt Kelly's First Season as Head Coach Ends in Semifinals
By Sam Scanlon '19
Sports Staff
As the final buzzer sounded and the Northeastern University Huskies flooded the ice in celebration, the Providence College Women's Ice Hockey Team's incredibly successful season came to a disheartening end in the Women's Hockey East Semifinals.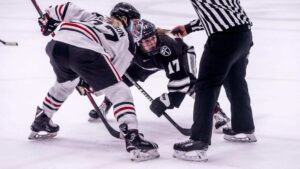 The #3 Huskies defeated the Friars by a score of 3-2 and eventually went on to take the Hockey East Championship. This was the first time since 2013 that Providence College was represented in the Women's Hockey East Championship weekend.
A brand new coaching staff this season led the squad to a 24-11-2 record, an incredible feat given that the program has not had a 20-win season since 2010-2011. Unfortunately, the Friars fell just short of reaching the NCAA Tournament and their historic run came to an end.
This season was pivotal for the future success of the program. Under new leadership the bar has been set higher than ever for this talented group. Christina Putigna '19 is certainly leaving her mark on Friartown as she became the 27th player in program history to eclipse the 100-point milestone in her career as of Feb. 8. The senior was a critical player this season as she registered a career high of 30 points on 15 goals and 15 assists.
Although this season was the program's best in over a decade, the future is incredibly bright for this young group. Star forward Maureen Murphy '21 has two more seasons to skate for the Friars at her already incredible rate. The Buffalo, New York native, who was invited to the U.S. Women's National Team Winter Camp earlier this season, led the Friars in both goals (22) and points (43). She was named to the Hockey East All-Star Second Team.
Other accolades for this group included another young-gun, Sara Hjalmarsson '22, who was named to the Hockey East All-Rookie Team. The freshman from Sweden tallied 11 goals and 12 assists this season.
Goaltender Maddie Myers '19 and defenseman Avery Fransoo '20 also had fantastic seasons, good enough to earn Hockey East All-Star Honorable Mentions. Myers finished the season with a 1.72 Goals Against Average and a .929 Save Percentage. Fransoo tallied her career high in points with 18, while also being one of the Friars' best defensemen as she recorded an impressive +10 on the season.
Although the hopes of reaching the NCAA Tournament fell just short, there were many highlights for this squad over the season. The Friars recorded wins over the #3 Northeastern Huskies, #5 Boston College Eagles, and #8 Boston University Terriers, proving that their program has become a top team in the country. A 24-win season has not been accomplished since 2002, so this season will be marked as a historic one even though no championships were won.
This year proved to be a massive turning point and stepping stone for the Friars who are loaded with young talent and a bright future. Matt Kelly and his coaching staff have now laid the groundwork and set the bar high for Friars women's hockey going forward, so it will be no surprise if a Hockey East Championship is captured soon.
Men's Hockey Wins Four Straight
by The Cowl Editor on February 28, 2019
---
Friar Sports
---
Friars Heating Up In Time for Playoffs
By Sam Scanlon '19
Sports Staff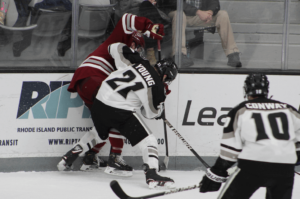 A sold out Schneider Arena welcomed the second ranked University of Massachusetts Minutemen last Saturday night, a game that has surely been marked on the calendar in the Friars' locker room since their last meeting on Nov. 10. Chances were traded back and forth throughout the entire contest as shots on net stood at 36 for UMass and 30 for Providence.
The Minutemen made it a point to silence the booming Schneider Arena crowd as they struck first and took a 1-0 lead into the first intermission. However, early in the second period, Jason O'Neill '21 ripped a shot into the back of the net for the equalizer. O'Neill's timely tally was good enough for his fourth of the season.
Not long after, Josh Wilkins '20 buried a centering feed from Davis Bunz '21. Lately, Wilkins has been a huge part of the Friars offense, as the Hobey Baker Award nominee leads the team with 33 points. With his goal on Saturday, he became the first Friar in 16 years to have three straight 30-point seasons. His playmaking ability, coupled with scoring touch, is pivotal for the Friars' offensive production.
As the third period opened up with a 2-2 scoreboard, Hayden Hawkey '19 battled to keep it tied up. The goaltender made several sprawling saves to keep the Friars' hopes of an upset intact.
It took under three minutes of play for the score to break a tie as Scott Conway '19 shoveled in his 13th goal of the season that sent Schneider Arena into a frenzy. Desperately trying to survive the late UMass onslaught, the clock hit 00.0 and the Friars bench stormed onto the ice to congratulate Hawkey on a crucial victory.
Although beating UMass was a huge feat, the Friars needed to turn right around and travel to the University of Connecticut for another important Hockey East matchup on Tuesday night.
Another early opposition goal struck the back of the net in this contest as well, as the Huskies took the lead. However, Wilkins once again proved why he is the team's leading scorer as he evened the score less than a minute later.
An incredible passing play by Conway, Jack Dugan '22 and Kasper Björkqvist '20 gave the Friars their first lead of the contest. Dugan has impressed with his vision and precise passing ability all season long, as he was able to find Björkqvist on the door step for an easy tap in goal for Björkqvist's team-leading 14th of the year.
The teams skated into the locker room tied at two following the second period for the second game in a row, but Wilkins and the Friars were surely going to come out firing in the third. Wilkins tallied two more goals in the period to complete the first Friars' hat-trick since Björkqvist did it in 2017. In order for this team to have a successful playoff run, Wilkins is going to need to stay hot.
Brandon Duhaime '20 got in on the action as well, as he fired his ninth goal of the year past the UConn goaltender to complete the 5-2 win over the Huskies.
The Friars are playing their best hockey at the perfect time heading down the stretch into Hockey East Tournament play. They are absolutely going to need to continue their production and ability to win games in these final two Thursday night games against Boston University and Boston College. Two wins against these tough opponents will put the Friars in the best possible position to grab the second seed in the Hockey East Tournament.
Unfortunately, seeds two through eight will not be decided until the final whistle blows and the final buzzer sounds. All seeds are still up for grabs within the top eight as the teams are so close in points. In order for the Friars to lock in second place, games against BU and BC need to be wins, and there needs to be some Hockey East upsets in the coming weeks.
Friars Get Nominated for Multiple Awards
by The Cowl Editor on February 14, 2019
---
Friar Sports
---
Hockey Players Amongst Nominees for the Walter Brown and Hobey Baker Awards
By Sam Scanlon '19
Sports Staff
The Providence College Men's Ice Hockey program has had some extremely talented players in its ranks. At this point, it is no surprise that four different Friars have been nominated for some of college hockey's most prestigious awards.
Jacob Bryson '20, Scott Conway '19, and Josh Wilkins '20 have been nominated for the Hobey Baker Award, which is awarded to the best player in Division I hockey. Wilkins and Hayden Hawkey '19 have been named semifinalists for the Walter Brown Award. This award celebrates the best American-born college hockey player who plays in New England.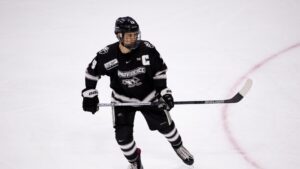 Bryson is an obvious nomination for the Hobey Baker Award thus far. As a sophomore, he was given All-American honors, and has now developed into one of the top players in the country. The Buffalo Sabres' prospect hails from London, Ontario and ranks sixth on the team in points with 20 (4 goals, 16 assists). Bryson's speed and skill are just one part of his game, as the defenseman boasts a +15 +/- rating, meaning offenses have difficulty putting the puck in the back of the net when he is on the ice.
Conway has had a successful second half of the season so far, posting eight of his 12 goals since winter break. Conway holds the team lead in goals with 12, and in power play goals with five. Conway is no stranger to goal scoring, as he has 37 career goals throughout his three-year tenure with the Friars. Conway earned MVP honors in the Ledyard Classic Tournament to kick off the second half of the season, as he tallied three goals in two games. Conway's clutch goal-scoring ability has been a major part of the Friars' success, and has earned him a Hobey Baker Award nomination.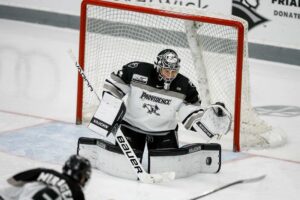 Wilkins' impressive junior stint has earned him both Hobey Baker and Walter Brown Award nominations. The Raleigh, North Carolina native leads the team in both assists (19) and points (28). Already with 90 career points, Wilkins is constantly finding ways to get on the scoresheet as he tallied 31 points in each of his two previous seasons. He also held a 13-game point streak throughout this season, posting seven goals and 12 assists during that span. Wilkins is a dynamic player with the puck. His playmaking ability and vision allow linemates Jack Dugan '22 and Kasper Björkqvist '20 plenty of opportunities to get shots on net and score goals. Also, Wilkins' quick release and accurate shot enables him to make goalies miss and get on the board himself. Wilkins has proven to be an essential part of the Friars offense throughout his career in Friartown.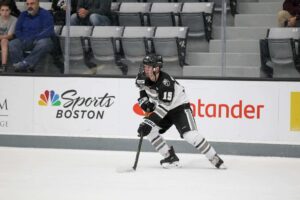 Hawkey joins Wilkins as a semifinalist for the Walter Brown Award. They join 18 other nominees from 12 other schools in the New England area. Hawkey continues to be the backbone for the Friars. The senior has blanked six teams so far this season, which earned him the all-time school record for career shutouts last weekend in Maine with 14. He needs just one more win to hold the all-time school record for wins as well. This season, Hawkey holds a 1.90 Goals Against Average (GAA), as well as a .917 Save Percentage. His six shutouts put him second in the country and his GAA is good enough for ninth. He joins four other goalies in the semifinalist pool.
These four Friars have been pivotal this season and have each made immense contributions to the team. Voting for the Hobey Baker nominees will continue through March 10 and the top 10 nominees will be announced on March 20. The hat trick finalists will be named on April 4, with the ceremony crowning the winner on April 12 as a part of the Frozen Four festivities in Buffalo, New York. Finalists for the Walter Brown Award, college hockey's oldest nationally recognized honor, will be announced in March.
Desharnais '19 Nominated for Humanitarian Award
by The Cowl Editor on February 7, 2019
---
Athlete of the Week
---
Defenseman Raises Money to Fight Against Cancer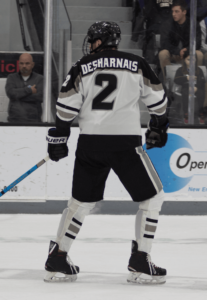 by Sam Scanlon '19
Every eye in Schneider Arena is fixated on the home bench, as one by one the Friars enter the spotlight and take the ice, anchored by defenseman Vincent Desharnais '19.
Standing at 6'6", Desharnais plays the role of intimidator and aggressor on the ice, protecting his teammates at all costs. However, it is his contributions off the ice that have gotten him nationally recognized this year.
Desharnais is one of 17 nominees for the 2019 Hockey Humanitarian Award, which recognizes college hockey's finest citizens for their efforts in their communities through leadership in volunteerism. Donning the "A" on his chest as the team's alternate captain for the second straight year, Desharnais is no stranger to leadership on and off the ice.
In December, with the help of two classmates, Desharnais held an event at Schneider Arena called "PC Beats Cancer" to benefit the Gloria Gemma Resource Foundation.
"We decided to partner up with the Gloria Gemma Resource Foundation, because they specify in providing free services for individuals and families who are affected by breast cancer," explained Desharnias.
This event was also hosted in honor of Providence College Women's Hockey Team goaltender, Clare Minnerath '20. "She was diagnosed with Stage 3 Lymphoma Cancer last April," Desharnais said, "Her story was so inspirational that we decided to center our event around her."
In order to raise funds during the event, $20 tickets were sold to members of the PC community, which allowed attendees access to food and beverages, as well as a raffle ticket for an autographed Noel Acciari '15 jersey. Around 80 tickets were sold during the event.
"At first, our team's goal was to raise $2,000…We ended up raising over $5,000 through our events and gofundme page within three weeks," recounted Desharnais. The amount of money raised is certainly a terrific feat, but the leadership and determination of Desharnais is what set him apart and truly showed his character.
At first, not much money was being raised for their charity, which caused Desharnais plenty of frustration. Through positivity, he and his classmates were able to start raising more and more money. "I think my biggest takeaway is to have high goals and always stay positive," a mentality that Desharnais utilized to have such a successful fundraiser.
"Also, if you want something, go get it. I sent over 150 personalized emails to my teachers, coaches, teammates, friends, and family members to let them know that I needed their help to make a difference." Desharnais' impressive motivation and leadership behind raising money for a cause that he is passionate about certainly shows why he is nominated for the Hockey Humanitarian Award.
Being nominated for an award for both on and off the ice contributions is assuredly a humbling experience, and Desharnais is well aware of that. He explained, "Being nominated for this award is truly an honor. I feel like not too long ago I was still in high school back home in Laval, Quebec. Now, here I am nominated for the Humanitarian Award."
Since coming to Providence four years ago, Desharnais has matured significantly. From being a bottom defensive pairing player, to a two-year captain, to being recognized for community service, Desharnais has made the most of his college experience. It is clear that the Edmonton Oilers draft pick has mades strides both on and off the ice.
He is not planning on stopping here, however. As he enjoys his time reading to children in Providence schools, Desharnais has bigger plans for his community service. He stated, "I was passionate about the event and I would really like to hold an event yearly."
Desharnais has demonstrated a tremendous amount of character throughout this entire process, and is incredibly deserving of this prestigious award. If you would like to support Desharnais and the Gloria Gemma Resource Foundation, visit www.gloriagemma.org to make a donation and find out more about this incredible cause.
Providence College Investigates
by The Cowl Editor on January 17, 2019
---
PCI
---
High School Athletes Should Not Be Able to Reclassify
By Sam Scanlon '19
Sports Staff
Ever since the National Basketball Association (NBA) draft rules changed in 2005, many athletes have been reclassifying in high school in order to graduate and get to college, and subsequently the NBA, a year earlier. The rule change required prospective players to turn 19 during the calendar year of their draft and be at least one year removed from their high school graduation, thus, tempting many players to accelerate their high school years and graduate a year early.
Although it is very popular for basketball players to reclassify due to the draft rule, athletes in other sports have gone down this road as well. Noah Hanifin, currently an All-Star defenseman for the Calgary Flames in the National Hockey League (NHL), was a highly recruited hockey prospect from an early age. He committed to play for Boston College, but decided to accelerate his high school career and join the Eagles a year early after reclassifying.
Bryce Harper also took that path and finished high school early in order to be drafted into the MLB. After many stories like Hanifin and Harper, as well as NBA players Karl Anthony Towns and Nerlens Noel, reclassifying may seem to be a good route to take. However, I disagree and believe that athletes should not be able to reclassify in order to finish high school early.
First, most athletes are not physically ready to compete against the top athletes in the world at 17, 18, or 19-years-old. Physical development is essential to maintaining a healthy and lengthy career. Attempting to push an athlete ahead one year and stunt their physical development and growth could be extremely detrimental to their career in the long run. I do not believe that risking any sort of setback in an athlete's career is worth getting to their respective professional leagues one year sooner.
Along with physical growth being at risk, 17-year-olds may not be mentally prepared to make these important life decisions, let alone deal with them a year earlier. Being a year younger and have to deal with college can be extremely difficult for some athletes, and it only gets harder when they step into the spotlight as a professional athlete. There is a lot to worry about from a mental standpoint while making a large jump at such a young age.
I wholeheartedly believe that it is more beneficial to take the natural and necessary year to make sure that one is both mentally and physically prepared to ensure that their career, and livelihood, will be secure.
Men's Hockey Beats UNH
by The Cowl Editor on December 6, 2018
---
Friar Sports
---
By Sam Scanlon '19
Sports Staff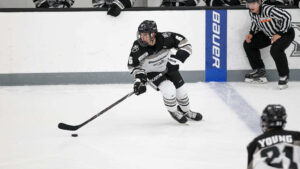 Every Hockey East series, game, and goal are incredibly crucial at this stage of the season. As the halfway point in the 2018-19 season approaches, Providence College's  matchup against the University of New Hampshire Wildcats last weekend was no different. The No. 10 NCAA Division I ranked Providence College Friars came into the weekend following a disappointing Thanksgiving trip to No. 7 University of Denver, falling in the first contest and tying in the second.
Friday night's tilt started off on the right foot as Jason O'Neill '21 deposited his second goal of the season just 20 seconds in. O'Neill's wrister came from a low angle and was able to sneak by the UNH netminder to put the Friars up 1-0 early in the game. Following a Josh Wilkins '20 injury, O'Neill had to slide into the first line center role this weekend. Although Wilkins left a large offensive void this weekend, an increase in O'Neill's production is pivotal for an offense who is capable of dismantling defenses across the NCAA.
UNH struck back in the second period as a Friars' powerplay mishap led to a 2-on-1 for the Wildcats the other way. A one timer made its way past Hayden Hawkey '19 and into the back of the net for the equalizer. The rest of regulation would remain scoreless and the Friars would enter their second overtime in a row.
Once again, Hawkey stood tall in his crease making 23 saves, including a number of acrobatic ones down the stretch late in the third period and throughout overtime. Unable to capitalize past the opening 20 seconds, the Friars had to settle for a second straight tie.
Game two appeared to be more of the same, any sort of offensive production was hard to come by. Dominating the Wildcats in shots, UNH was able to capitalize on their first high quality chance in the second period on the powerplay. The third period was well underway and the Friars still had not been able to find the back of the net. However, the timely spark came from an unlikely source as all 6'6" of Vincent Desharnais '19 took a feed from Brandon Duhaime '20 in the high slot and sent it past the UNH goalkeeper to tie the game at one with just over nine minutes left to play.
For the second night in a row, a 1-1 scoreboard hung over center ice in the waning moments of the game. With a little under three minutes left to play, Duhaime took the puck and found the speedy 2018 Philadelphia Flyers' 1st round draft pick (19th overall), Jay O'Brien '22, streaking down the ice. O'Brien, who has been unable to find the back of the net this season, broke in on a breakaway and slid it across the goal line with 2:32 left in the contest. Following the game, Head Coach Nate Leaman reflected on the goal in his post-game press conference by saying, "big finish for Jay O'Brien. That was great for him to get his first goal at a time that we needed him."
Spenser Young '20 provided the insurance tally as he netted his fifth marker of the year. The final score was 3-1 and the Friars were able to grind out a huge 4-point weekend in the Hockey East. Leaman added, "[I'm] really proud of the team how they stuck with it and found a way to win a game on the road…It's nice that the guys came back and responded with a good team win."
The Friars close out the first half of the season on Friday with a contest against Merrimack College before heading into break. The action picks back up just after Christmas as they travel to Dartmouth College to participate in the 2018 Ledyard Classic. They will take on Ivy League opponents Brown University and Dartmouth University, two games that the Friars should use to get their offensive weapons back on track.
A weekend series against Miami University (OH), a team that Hawkey kept off the board in Erie, Pennsylvania, is next in January followed by a critical weekend against Hockey East foes Boston College and Boston University just before the Friars return to campus. A stretch that can propel the Friars into a successful second half run is within reach.
Women's Ice Hockey Wins Nutmeg Classic
by The Cowl Editor on November 29, 2018
---
Friar Sports
---
By Sam Scanlon '19
Sports Staff
As Providence College students traveled their separate ways for Thanksgiving with their families, the Women's Ice Hockey Team traveled to compete in this year's Nutmeg Classic in New Haven, Connecticut. The Lady Friars joined Yale University, Quinnipiac University, and the University of Connecticut in this tournament.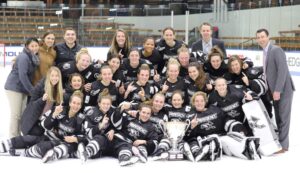 The 8th ranked Friars were slated to faceoff against Yale in game one of the Nutmeg Classic. In a tight back and forth contest that included a scoreless first period, the Friars struck first courtesy of alternate captain Christina Putigna '19. Putigna jammed in her seventh goal in just 10 games to put PC up 1-0 midway through the second frame.
As Yale evened up the score in the third period, Sara Hjalmarsson '22 buried her sixth notch of the season to break the tie late in the third period. Maddie Myers '19 would stop all remaining Bulldog opportunities and the Friars were able to hold on 2-1. PC outshot Yale 33-15 in this contest as they advanced to the Nutmeg Classic Championship Game.
The Championship game, came against the Quinnipiac University Bobcats as they ousted the UCONN Huskies in their first game. The stakes were higher in this contest as each team was battling for a chance to bring home a mid-season trophy, which is critical for momentum at this point of the season.
However, another tight matchup saw the Bobcats take a 1-0 lead in the final minute of the opening period. The Friars desperately began to claw their way back into the game, but to no avail as the second period came to a close with the score remaining 1-0 Quinnipiac.
It took until the midway point of the third period to finally break the ice as Hayley Lunny '21 provided the equalizer on the Power Play from Maureen Murphy '21. It was Lunny's second strike of the season. The assist was good enough for Murphy's team leading 24th point (12G, 12A) of the year. She extended her point streak to eight games and pushed herself into fifth in the NCAA in points.
Both teams traded chances as the clock wound down, but it was Lunny who struck again with just over five minutes remaining in the game. Her second tally of the period stood as the game winner as the Friars took down the Bobcats 2-1 to capture the 2018 Nutmeg Classic.
Myers finished the tournament by allowing just two goals and making 34 saves. She joined the tournament hero, Lunny, on the All-Tournament team, as they represented PC for their fantastic efforts in bringing home the Nutmeg Classic Championship.
Lunny's two goal effort that lifted the Friars to their 2-1 Championship victory earned her Hockey East Player of the Week for the first time in her career. With the two wins during the weekend, the Lady Friars extended their win streak to eight straight games and brought their overall record to 12-2. They jumped up a spot in the national rankings to number eight and are set to face off against UCONN for a home-and-home series this weekend.
Providence College Investigates
by The Cowl Editor on November 15, 2018
---
PCI
---
If PC Were to Bring Back a Varsity Sport, They Should Bring Back Baseball
By Sam Scanlon '19
Sports Staff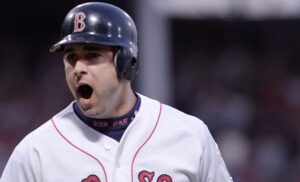 Spring 1999 marked the last time that a baseball player donned the Friars uniform and played on Hendricken Field. Providence College was once home to a successful and beloved baseball program. It has been dearly missed over the years, which is why PC should bring baseball back.
Could you imagine the atmosphere on campus on a warm, sunny Saturday afternoon in May as the Friars host our bitter rival Villanova University?
Our school has a rich tradition of athletics, from our national championship in ice hockey to our distinguished basketball program. However, it still feels like there is just one thing missing. I believe that the one thing missing is a day at the ballpark.
Our softball program does an excellent job creating a terrific atmosphere on campus for each game, but I believe that a baseball team would be the perfect addition in order for our students to be ecstatic about game day.
Everyone loves going to baseball games. It would be great for students to head over to the ball field, grab a hot dog, and watch some college baseball. Both students and fans of the Friars' baseball team were devastated by the announcement that the baseball program was being eliminated, so bringing the team back would definitely be something that the PC community would be excited about.
Most teams are cut from school or town leagues due to their poor performances, but in the final year of baseball at PC, the team finished the season with a 49-16 record — the best season in the program's 78-year history. The Friars also qualified for the NCAA tournament in their final season. PC has been home to so many talented baseball players including Lou Merloni '93 and Keith Reed '00, both of whom had MLB careers. There was no shortage of success for the program, which is what made it so hard for students and fans to let go of the team.
Adding a baseball team with a successful history will not only make PC's campus a better place to be on game days, but will attract many more students. The widespread love for the game of baseball, the program's incredible history, and the comeback and reinstatement of one of PC's most beloved teams of all time makes it a no-brainer for PC to add a baseball team to the College's athletic program.
Field Hockey Season Comes to an End
by The Cowl Editor on November 8, 2018
---
Friar Sports
---
Liberty Flames Too Much for Friars to Handle
By Sam Scanlon '19
Sports Staff
This past weekend, the Providence College Field Hockey season came to an end in Lynchburg, Virginia as the Friars fell to Liberty University 0-4 in the Big East Semi-Finals. This marked the second straight 0-4 loss to Liberty, as the first came on Oct. 26 to wrap up the regular season.
Despite the disappointing defeat, the Friars still had a tremendously successful season. The 11-8 Friars finished their season as the third ranked team in the Big East, earning them their 19th Big East Tournament berth in program history.
Starting off the season with an 0-3 record on their West coast trip to the University of California, Berkeley, the University of California, Davis, and the University of the Pacific, the Friars needed a strong second half to have a shot at the tournament.
The Friars' leading scorer, Allyson Parker '20 touched on their slow start by saying, "We started the season on the road with three games in California. Losing all three of those games was not necessarily the start we wanted."
However, the Friars battled back by taking victories in 11 out of their final 15 regular season games. "Coming out of that weekend could have gone two ways: we could have accepted a losing season or we could do something to turn it around." Parker continued, "We decided that we were not going to dwell on those losses and treat each game as a brand new one." That mentality certainly proved to be successful after the Friars quickly got their season back on track.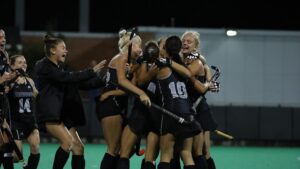 As the Friars finished the season with a 4-3 conference record, their Big East berth was well deserved as three of those victories were settled in overtime. The most dramatic victory came on Oct. 19 in Washington, D.C. against Georgetown University. After 90 minutes of regulation and two scoreless overtimes, a shootout was necessary to decide a victor. Maddie Babineau '21, Amanda Collins '22, and Mary O'Reilly '20, who scored the Friars' lone goal in regulation, each converted on their shootout attempts. Goalkeeper Lydia Rice '19 denied all three Georgetown attempts and lifted the Friars to a 2-1 shootout victory. This essential win was the final of the Friars' season, which clinched them a Big East Tournament appearance.
Parker was positive in her overall outlook on this past season as she added, "The biggest positive takeaway from the season would have to be how strongly each team member embodied our culture." The Friars adapted a culture where leadership and cohesion were the main focal points. Parker explained, "at the beginning of preseason we took part in a military style training called 'The Program' with the mission being to create better leaders and more cohesive teams. [We] took the lessons [we] learned and applied them throughout the rest of the season."
Parker will be returning next season and continuing her large role on offense, and she is looking forward to another successful season. She concluded, "I have a good feeling about next season. The spring is crucial for us in preparing for next season and I feel confident that our team is focused and determined heading into it."
Look for Parker and the Friars to have another successful season next fall where they will aim to reach the Big East Tournament yet again and return to Friartown with the trophy.