Coming Together To Celebrate Heritage: San Gennaro Festival
by The Cowl Editor on September 26, 2019
---
Campus
---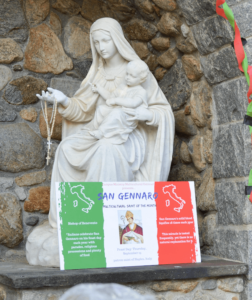 by Matthew Mazzella '20
News Staff
Providence College celebrated the feast of San Gennaro, or Saint Januarius, the Patron Saint of Naples, outside of St. Dominic Chapel on Wednesday, September 18. The event itself honored both Itaian heritage and Catholic tradition. 
Little Italy's Feast of San Gennaro in New York City celebrates the patron saint of Naples with an 11-day festival in September. The festival is located on Mulberry Street, and has cannolis, fried dough, pizza, and other Italian foods. 
PC recognized the historic event by providing catered food to celebrate Italian heritage and the patron saint from Italy. Campus Ministry filled a lot of stomachs with catered sandwiches from Anthony's Deli and cannolis from LaSalle Bakery.
Adam Sorrentino '20 is the vice president of the Italian club on campus and was very excited for the event, as he takes great pride in his Italian heritage. His two grandparents immigrated to the United states from Italy when they were young, so he has always been passionate about his Italian roots. He was even lucky enough to travel around Italy when studying abroad in Rome.
Sorrentino shared his excitement, saying, "The Feast serves as an example of how the U.S. is a melting pot, as this tradition was brought to the country by Italian immigrants and has become a major event in New York City. It's great to see PC celebrating the day and bringing awareness to the saint and his importance to Italian Americans."
Christopher Olivieri '20 also comes from a strong Italian background and has a refined pallet when it comes to Italian food. Olivieri cherishes his mom's homemade meals and even makes pasta by hand at home on Sunday's using his grandma's hallowed Sunday Gravy recipe. 
Olivieri was one of the first people at the event on Wednesday, saying he could smell the food from his off-campus house. "I can never pass up a good cannoli," he commented.  "My grandfather used to make them all the time for dessert with my sister Whitney and I, so just hearing the word brings back such fond memories. I was so glad PC threw such an awesome event that has so much meaning to my heritage."
The event had a huge turnout, with students of all different backgrounds showing up to celebrate. For many, the celebration was so much more than just eating good food; it was an opportunity for students to learn more about Italian culture and the impact that Saint Januarius has on the Catholic Church.