Bursting the PC Bubble: Troops Withdrawn from Syria
by The Cowl Editor on October 10, 2019
---
Campus
---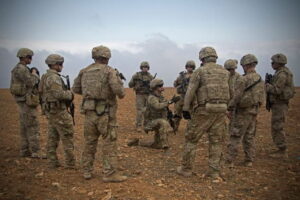 by Brian Garvey '20
News Staff
The United States began the abrupt withdrawal of American troops from the Syrian-Turkey border this past Monday, a direct response to the impending Turkish offensive into their war-torn neighbor.
In a series of tweets, President Trump claimed that the United States was unfairly burdened with both the responsibility and cost of fighting ISIS. Trump stated, "It is time for us to get out of these ridiculous Endless Wars, many of them tribal, and bring our soldiers home. WE WILL FIGHT WHERE IT IS TO OUR BENEFIT, AND ONLY FIGHT TO WIN."
The withdrawal followed a Sunday night statement by the White House, announcing that the U.S. forces in the region would not interfere with a Turkish offensive. Turkish President Recep Tayyip Erdogan said in a speech to Turkey on Monday that the withdrawal began soon after an extensive phone call with President Trump, bringing a quick close to extensive discussions about this hotly contested region. 
According to the The Washington Post, a U.S. official confirmed that American troops left their observation posts in the border villages of Tel Abyad and Ras al-Ayn at 6:30 a.m. local time.
The main source of the tension between Turkey and the United States has been the U.S.-backed Syrian Kurds, who have established an autonomous zone in Northern Syria in the past eight years of war. 
The Turkish government has been increasingly outspoken against this Kurdish presence, as they assert that there is close ties between U.S.-allied Syrian Kurdish fighters (the SDF) and the Kurdistan Workers' Party, or PKK, a militant group that has fought a long insurgency against Turkey.
White House press secretary Stephanie Grisham said that the Turkish military would "soon be moving forward" with dispatching troops to battle the SDF. Grisham went on to say, "The United States armed forces will not support or be involved in the operation, and United States forces, having defeated the ISIS territorial 'caliphate,' will no longer be in the immediate area." 
President Erdogan and the Turkish Government have labeled the SDF as a terrorist-linked organization. Yet the SDF has fought closely alongside the U.S. military as a primary partner against the Islamic State throughout Syria. President Erdogan has been threatening an offensive against the Kurds for months, and the Trump administration has been working to find a compromise that would appease Turkish demands for border security while also protecting the U.S.-allied Syrian-Kurdish force.
The SDF quickly released a statement condemning the withdrawal. "The United States forces have not fulfilled their obligations and withdrew their forces from the border area with Turkey," the statement said. "This Turkish military operation in north and east Syria will have a big negative impact on our war against Daesh [Arabic acronym for ISIS] and will destroy all stability that was reached in the last few years." 
SDF also clearly stated that the group reserves the right to defend itself against Turkish aggression, hinting at potential conflict in the region.
President Erdogan has argued that a Turkish incursion is necessary to protect Turkey's borders. Erdogan has also spoken in support of resettling millions of Syrian refugees in Turkey in a "safe zone" in northern Syria. This plan has been widely criticized by refugee advocates, as well as local Syrian Kurds currently living in Northern Syria. 
Panos Moumtzis, U.N. regional humanitarian coordinator for Syria, said, "We want our message to all governments and actors on the ground to be to make sure that this latest development does not have an impact first of all on a new displacement of people." 
The U.N. already provides services to approximately 700,000 people every month in Northern Syria. Moumtzis stressed that any movement of Syrians must be done voluntarily and with safety and dignity.
In Washington, lawmakers from both parties criticized this move, saying it represented a betrayal to Kurdish forces and gives ISIS the opportunity to regroup and rebuild.
South Carolina Senator Lindsey Graham, a noted Trump supporter, tweeted on Monday morning that he and Democratic Sen. Chris Van Hollen of Maryland plan to introduce bipartisan sanctions against Turkey if it invades Syria. He said the senators would call for Turkey's suspension from the North Atlantic Treaty Organization if its forces attack on the Kurds.
Brett McGurk, who resigned in December as the Trump administration's special envoy on ISIS, said, "This appears to be another decision without any consultation, deliberation or process. This particular decision will significantly increase the risk for our personnel who depend on the SDF for sustainment."
It is still unclear how extensive this Turkish invasion will be. The Turkish military has not informed the Trump administration the details and strategy of their invasion, with speculation being everything from a symbolic, small incursion to a major offensive push deep into the territory. 
Ultimately, this withdrawal has increased the uncertainty and tension in a region already strife with war, and has a high potential to increase violence in the region.