Women's Tennis Update
by Will Murphy '23 on April 21, 2022
Sports Co-Editor
---
Friar Sports
---
As the Big East Championship approaches for the Providence College Tennis Team, now is a perfect time to look back and reflect on the Friars' season thus far. The team is looking forward to traveling to Cayce, SC to compete for the Big East Championship April 21-24. 
They are led by head coach Orsi Golovics, who is in her first year serving as head coach of the Friars.
Prior to arriving in Providence, Golovics starred for Northern Arizona University, where she earned First Team All-Big Sky accolades on three occasions. After graduating and earning her degrees in business administration and marketing from Northern Arizona, she began her first stint as an assistant coach there.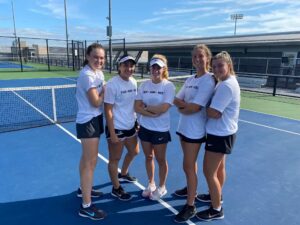 After her time at Northern Arizona, she served as an assistant coach at Cardinal Stritch University, while she earned her Master of Science degree in sports management. Cardinal Stritch enjoyed great success during her tenure there, as the team was ranked in the top-10 in the NAIA and reached the national championship. Following her time at Cardinal Stritch, she returned to Northern Arizona from 2016-17.
Under Golovics, the Friars have been able to make significant improvements from last year, building off some early season success as they topped Colgate University 4-3 in their spring opener on Feb. 12. Improvements are especially important considering the team consists primarily of underclassmen—five freshmen and four juniors —and they will be returning their entire roster for next year.
The team has also benefited from the strong leadership of captains Katie Mulvey '23 and Vannelie Melendez '23. In their opening win over Colgate University, Julia Migliorini '23, Olivia Wright '25, Mulvey, and Emmie Lindholm '23 were able to earn the doubles point for the Friars. They were able to close out the victory thanks to points from singles victories from Migliorini, Mulvey, and Lauren Carson '25.
The Friars' next victory came in a home match against Merrimack College, on March 4, when they notched a 5-2 victory. In the win, PC controlled five of the six singles matches to earn the victory. Wright, Migliorini, Mulvey, Carson, and Morgan Warner '25 all won their singles matches to secure the victory for the Friars.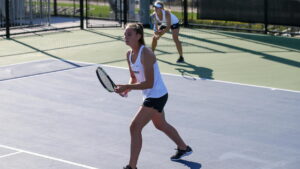 After a couple of tough outcomes, the Friars were able to get themselves back in the win column in a big way against University of New Haven on March 26, with a 7-0 sweep. The win was a commanding one, as the Friars were able to take all the singles matches in straight sets.
The following day the team took on Quinnipiac University, and despite earning the doubles point to get out to a fast start, they were unable to hold on as Quinnipiac got the best of them in the singles matches.
The Friars were able to bounce back nicely their next time out against Bentley University on March 31. Providence took command early by sweeping the doubles matches to earn the doubles point. The singles matches also went Providence's way, winning all but one of them in straight sets. Carson was particularly dominant, beating her opponent 6-0, 6-0 to earn a point for the Friars.
After back-to-back losses against Georgetown University and University of Connecticut the Friars would face the College of the Holy Cross on April 10, in their penultimate match of the regular season. It was one of the best of the season for the team, as they notched their third 7-0 victory of the season.
After dropping the final match of the season to St. John's University, the team has begun to prepare for the Big East Championship.
Tennis Looks to Start Spring Season Strong
by The Cowl Editor on February 27, 2020
---
Friar Sports
---
Young Team Ready For Spring
by Leo Hainline '22
Sports Staff
The Providence College Women's Tennis Team recently got itsseason underway as the squad looks to improve from the previous year and aims to establish itself as a competitive program in the Big East.
Returning veterans Aidan Epstein '20 and Natalie Pitocco '20 will need to bring their experience to help lead an underclassmen-heavy roster. In his fourth season as head coach, Jakob Klaeson recruited four freshmen to Friartown to join Mimi Dailey '22, Haley Gurski '22 and the two seniors. The squad looks to usher in a new era for the program. 
The roster is full of competitors and Coach Klaeson anticipates both their youth and depth as two big potential strengths. 
"One of our strengths is that we're very similar from top to bottom," he said. "We have two seniors, no juniors, two sophomores, and four freshmen. One of our strengths could be that everything is so new and exciting, but that could also work against us that we don't have the prior experience as much as other teams, but I see the depth of our team as our strength."
Dailey agrees with Coach Klaeson that there are many reasons  to be optimistic about to the rest of the season. 
"I think our team from last year has already improved from the previous season a significant amount," she stated. "We have four hardworking and determined freshmen and four returning players. I believe this year the eight players are driven and ready to compete to our best abilities." 
She spoke very highly of the newcomers to the team, saying, "All four of our freshmen are amazing. Each freshman has brought new and different talent to the team. I believe they are all worthy of looking for out there on the courts this season."
PC women's tennis is coming off a 5-18 season and currently are 1-3 in the 2020 season, having lost a tight match to Fairfield University this past weekend. Providence and Fairfield have been evenly matched but this time the Friars lost 4-3 in singles, with many of the matches going all three sets. 
In doubles, the Friars went 1-2, with the two losses coming in hard-fought matches. PC came back from 2-5 down only to fall 6-7 (women's collegiate tennis only plays one set in doubles). Brenna Magliochetti '23 was the only Friar to grab wins in both singles and doubles, winning her singles matches 6-3, 6-0, and linking up with fellow Katie Mulvey '23 to grab the sole doubles win 6-2.
The Friars take the court next in Orlando, FL over spring break for matchups against Millsap College and Big East opponents Georgetown University and Creighton University. Coach Klaeson noted that he is looking forward to Big East play. 
"The Big East matches are always highlights of the season," he stated. "We have a couple of exciting ones. For my tenure, we're heading to Marquette University for the first time. We head to Marquette and play Butler University at Marquette so that will be an exciting trip."
Coach Klaeson also mentioned that their match against Sacred Heart University is one to watch out for. 
"Coming back from spring break, we have Sacred Heart at home again. We lost to them last season 3-4, so that's an exciting match. I think we're very evenly squared up and we're very excited to kind of, like, reclaim that because we have beat them in the past and going a bit back and forth, they've always been close matches."
The Friars plan on demonstrating their ability on the court this season with a youthful squad that screams potential. As the season progresses, PC will look to show that they are ready to compete against some elite competition.
Sports Shorts
by The Cowl Editor on October 10, 2019
---
Friar Sports
---
By Marc Demartis '21
Sports Staff
Tennis Team Update:
The Providence College Tennis Team stole the show at the tournament hosted here at PC last weekend. They won their first PC Invitational Tournament after winning 18 out of the 22 matches that they played against Bryant University, College of the Holy Cross, and Merrimack College. Vannelie Melendez '23 and Catherine Gamble '23 won their first doubles and singles matches and Gamble and Brenna Magliochetti '23 went undefeated for the day. Natalie Pitocco '20 and Aidan Epstein '20 also went undefeated on the day. They can keep the momentum going forward when they play in the Intercollegiate Tennis Association (ITA) Northeast Regionals on Thursday, October 17 in West Point, New York.
Swim Team Update:
The Providence College Men's and Women's Swimming & Diving Teams placed third overall at the New England Catholic Invitational (NECI) this past weekend at Boston College. The men finished in third place with 462 points and the women's team also finished third with 482 points. There were six men's teams and seven women's teams competing in each division with colleges such as Fairfield University, Assumption College, College of the Holy Cross, La Salle University, Mount Saint Mary's University, and Boston College. The next time the Friars hop in the pool will be on Monday, October 14 in the Taylor Natatorium here on campus where they will be holding their Black and White intrasquad meet.
Men's Soccer Team Update:
The Providence College Men's Soccer Team lost to Butler University during alumni weekend on Friday, October 4. After leading 1-0 in the first half, the Friars struggled to contain the Butler Bulldogs in the second half, giving up 3 goals. After the 3-1 loss, the team has a 6-4 record putting them in 6th place in the Big East Conference. The lone goal for the Friars came from Joao Serrano '20,  his third goal of the season. Providence had 15 shots compared to Butler's 7. After this devastating loss, the Friars look ahead to their next game on Tuesday, October 8 at the University of Connecticut at 7:00pm.
Women's Hockey Team Update:
The Providence College Women's Hockey Team earned their first win of the season against Quinnipiac University, improving their record to 1-1-0. The Friars defeated the Bobcats 3-2. After trailing 1-0 after the first period, the Friars came back in the second period to make it 2-2 by the start of the third. These goals came from Maureen Murphy '21 and Annelise Rice '21. However, the goal that really stood out from the rest comes from Bailey Burton '23 who scored the game winning goal with only one minute remaining in the third period. The Friars' next game is against the Bemidji State Beavers on Friday, October 11.
Tennis Begins Season
by The Cowl Editor on September 26, 2019
---
Friar Sports
---
Migliorini and Magliochetti Shine in First Tournament
By Marc DeMartis '21
Sports Staff
Starting on Sept. 13, The Providence College Tennis Team was in Hamden, Connecticut to play in the Quinnipiac Invitational Tournament. There was plenty of talent present with competitive teams such as the United States Military Academy at West Point, Fairfield University, Sacred Heart University, Boston University, Bryant University, Quinnipiac University, and the University of Connecticut all in attendance. 
The Friars came out strong with four out of the five new freshmen earning their first wins of their college careers.
Brenna Magliochetti '23 won the last match of the day and said, although she was nervous, "Everyone was watching and cheering and it was just such a great atmosphere."
Looking forward, the Friars will be hosting their first tournament of the year this coming weekend where they look to keep their momentum going into the season. 
Regarding the expectations for the year, Magliochetti said, "I think we are going to have a great year. Our team is really young and hungry so we're going to be working hard. One of our biggest goals this year is to win a Big East Conference match so hopefully we can make that happen."
As Magliochetti said, the Friars are a young team. More than half of the team is made up of freshmen, with five out of the nine total players being new to the team this year. 
With the talent that Magliochetti has, she spoke as to why she decided to commit to PC over the other schools who had given her offers. She explained, "I chose the team here at PC because I love the chemistry and commitment of the team and coaches. There's just a really great feeling of family here, not just on the team but all around campus."
The Friar Family atmosphere here at PC continues to attract great athletes and better students every year. With that being said, there is a lot to look forward to this season, especially with all of the new faces on the team who are just getting their careers started.
Not only does Magliochetti appear to have a promising future for the Friars, but her fellow teammate Julia Migliorini '23 shined in her college debut as well. She went undefeated in all three of the matches she played. With new members of the team already becoming contributors early on in the season, there is a lot to be excited about in Friartown. As mentioned previously, you can watch the tennis team take on several other schools this weekend on Saturday, September 28.
Tennis Kicks Off Season With Home Opener
by The Cowl Editor on February 28, 2019
---
Friar Sports
---
By Cam Smith '21
Sports Staff
The Providence College Women's Tennis Team came into last week looking for their first victory of the spring season. Unfortunately, they will have to wait a little longer for a win.
The University of Rhode Island stopped by the Centre Court Tennis Club on Wednesday, February 20 to face off against PC. Although the Rams would go on to defeat the Friars by a score of 6-1, there were still some exciting moments out on the clay.
Namely, the Friars came up just short of claiming the doubles point, obtained by winning a majority of the three doubles matches. Haley Gurski '22 and Aidan Epstein '20 were felled by the Rams in the number two doubles slot, but PC's number three doubles duo of Grace Goyette '21 and Natalie Pitocco '20 picked up a well-deserved 6-4 win. It all came down to savvy veteran Risa Takenaka '19 and her partner Sera Satowski '21, who were playing out of the number one slot, but the duo were unable to pull out a back and forth match against the top seeded Ram twosome.
Over on the singles side, Takenaka again engaged in a tight battle against Rams number one Erin Chratian, but fell in the match 6-4, 7-5. Gurski also played a tremendous game out of the four spot. After falling 6-1 in the first set, she stormed back with a 6-3 set win, before finally coming up just short in a wild third set, 10-8. The lone Friar point of the day would come from Mimi Dailey '22 in the six slot, as the freshman played two close sets before dominating the third set, 10-3.
Two days after their bout with URI, the Friars welcomed Hofstra University to Providence for a match. PC went winless as the Herd swept both the doubles and singles matches. Takenaka faced stiff competition out of the first slot, but played a solid first set against Hofstra's Alejandra Ruffini before losing steam in her second set. Dailey was back at it again with a very competitive match in the number six singles spot and was the sole Friar on the day to force a third set. Sadly, like her teammates before her, she would end up on the losing end of the match, with a score of 6-2, 7-6, 10-3.
PC will now set their sights on the Bryant University Bulldogs as a March 2 clash between the Rhode Island colleges looms large on the calendar.
Young Roster Not Deterring the Tennis Team
by The Cowl Editor on September 20, 2018
---
Friar Sports
---
By Cam Smith '21
Sports Staff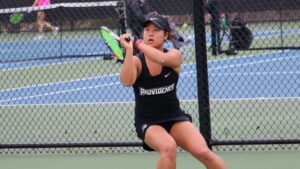 The Providence College Women's Tennis Team will kick off their regular season on Wednesday, September 26, on the hallowed grounds of the PC Tennis Courts. The Friars are scheduled to take on Fairfield University in a match that is sure to provide some thrills.
The two teams battled it out last year with the Friars coming up just short in the match, falling to the Stags 4-3. Now, the team will have the chance to begin the season on a strong note, against an opponent that they came inches away from knocking off in the 2017-2018 season.
University of Mississippi tennis legend, Jakob Klaeson, enters his third season coaching the Friars after taking over prior to the spring term in January of 2016. The past two years the team has fallen in the first round of the Big East tournament, including last April's 4-0 result against the seventh seeded Creighton University Blue Jays. However, there is reason for optimism in Friartown, as the squad returns almost all of last year's members.
The Friars' lone senior, Risa Takenaka '19, will look to finish off a successful career at the College. Takenaka started her 2017 fall season in dominant fashion, with a 4-0 record in league singles play. Playing out of the number one slot, Takenaka saw her fair share of exciting victories in the spring season as well. Takenaka took down Villanova's top dog, Lexi DeNucci, in a riveting match that was decided in a tiebreaker.
Takenaka is far from alone, as her doubles partner Aidan Epstein '20 returns to the court as well. Epstein also saw a successful run last fall with a 3-1 singles record, and the dynamic duo teamed up for huge match wins in the spring against Sacred Heart (6-4) and Marist (6-3). Emily Collins '20 and Natalie Pitocco '20 also return to the team, and will look to replicate their 2-0 fall record in doubles play.
The upperclassmen will be joined by three compelling sophomores: Lauryn Jacobs '21, Sera Satkowski '21, and Grace Goyette '21. The trio had their share of memorable freshman year moments, and will look to build on them in year two. All three were able to win their first singles matches of their collegiate careers, an outcome which the new class of incoming freshmen will surely want to replicate.
Mimi Dailey '22, a graduate from Ursuline Academy, joins the squad after being named a Catholic Conference League All-Star in high school. Haley Gurski '22, a Minnechaug Regional graduate, enters her collegiate career after making it to the championship match in all four years of high school play. The third newcomer, Katie Markham '22, comes in as a veteran of the United States Tennis Association (UTSA) circuits, which allowed her to compete in matches across the country.
The Friars were able to step on the courts for the first time this past weekend, as they traveled to Hamden, Connecticut to participate in the Quinnipiac Invitational. They were joined in Hamden by other big-name schools such as Boston University, West Point, and the University of Connecticut. The tournament provided some much needed in-game experience for a squad coming off a long layoff since the spring season.
After taking on Fairfield last Wednesday, PC will stay at home to face off against the College of the Holy Cross on Saturday, September 29. They will hope to knock off the Crusaders in a similar fashion to last year, when the Friars handed them an emphatic 5-0 loss.
With a mix of savvy veterans and exciting young players, the Friars have a good chance of doing just that.
Serena Williams Feels Cheated After Upset Loss
by The Cowl Editor on September 20, 2018
---
Professional Sports
---
By Sam Scanlon '19
Sports Staff
The 2018 U.S. Open Women's Championship match was surely a match for the ages, and it will live in infamy.
Serena Williams was matched up against Naomi Osaka, a 20-year-old hailing from Japan. Williams was seeking her 24th Grand Slam title, which would have given her a share of the all-time record for Grand Slam singles wins, while Osaka was gunning for the title of the first Japanese tennis player to ever take home a Grand Slam.
Osaka jumped out to an early lead by taking the first set 6-2 over Williams. Then things turned ugly. During a back and forth second set, Williams recieved a violation for receiving coaching tips from her coach, Patrick Mouratoglou, from the sideline. No player is permitted to receive any sort of coaching during a match. Williams insisted that the "thumbs up" she received was not coaching and followed up by telling chair umpire Carlos Ramos, "I don't cheat to win. I'd rather lose."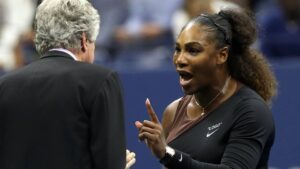 Later on during the set, a visually upset Williams smashed her racket out of frustration, giving her second code violation, which is a point penalty. Therefore, Osaka was awarded an extra point.
At multiple moments throughout the match, Williams expressed her irritation with Ramos, ultimately calling him a "liar" and a "thief." Calling Ramos a "thief" was apparently the last straw for the umpire, and Williams was awarded her third code violation for verbal abuse, which resulted in a game penalty. Williams' back was against the wall, as that game penalty put Osaka up 5-3 in the second set.
An extremely emotional Williams called for tournament officials to issue an explanation and she continuously expressed her feelings that it was not fair to be given that penalty. Williams also made it clear that she believed she was treated unfairly in this situation because she is a woman. She argued, "There [are] a lot of men out here that have said a lot of things, and because they are men that doesn't happen to them."
Willams survived one more game before falling to Osaka in straight sets 6-2, 6-4.
Directly after the match, Williams' coach Mouratoglou admitted to coaching her and went on to say, "I was, like 100 percent of the coaches in 100 percent of the matches." This quote makes the whole situation a lot more interesting, as Serena was insistent that she was not "cheating."
In a press conference following the match, Williams  refuted Mouratoglou's statement by explaining, "[W]e don't have signals. We have never discussed signals. I don't even call for on-court coaching. I'm trying to figure out why he would say that."
She stuck to her story throughout the press conference, adding, "He took a point from me. He alleged that I was cheating, and I wasn't cheating."
Although this was an extremely intense match that will surely be talked about for ages, a great accomplishment for Osaka was overshadowed by controversy. The broadcast's announcers explained, "[Osaka] was given one game and one point, but she absolutely earned everything else… she was a champion this whole tournament."
Women's Tennis Senior Game
by The Cowl Editor on April 19, 2018
---
Friar Sports
---
By Eileen Flynn '20
Sports Staff
The Providence College Women's Tennis Team wrapped up their regular season play this past Thursday, April 12, on their home court. After a season full of indoor matches, the brisk air was welcomed by the players and brought a surge of energy to the team. 
The team hosted Quinnipiac University for their Senior Day match, honoring the one senior, Katie Marvin '18, for PC. Over 80 people gathered to watch Marvin's last match on Providence College's campus. Each fan was given a pink Friar's Tennis T-Shirt to wear in the crowd. The cheers from the sea of pink right next to the courts added to the competitive atmosphere that afternoon. 
Although Quinnipiac started strong, sweeping all three doubles matches, the Friars made sure to give their fans something to cheer about. Marvin won her singles match 6-4,6-2 and teammate Aidan Epstein '20 won her match 6-2, 7-5. With both of these personal victories, Epstein was quick to name this game her favorite match of the season.
Epstein stated how Marvin's energy and bright personality will be missed next year, "She always knows how to make a serious situation fun." Epstein expressed how proud she was of Marvin to stick with tennis for all four years of college, unlike a few players that started out with her. 
"Katie and I play next to each other and are there to cheer each other on throughout our matches." This bond does not just exist on the court; Epstein explains how Marvin plays an important role in her pre-game ritual as well. "Me and Katie go get LaSalle before every home game and then join our team in the training room to mentally and physically prepare ourselves for the match."
Marvin, Epstein, and the rest of the Friars have had to fight through a tough schedule this spring. PC beat Sacred Heart University 5-2 earlier in the season, but fell to tough opponents such as Harvard University, Marist College, Brown University, Villanova University, and St. John's University. The competition, however, has only helped prepare the team for their upcoming Big East Tournament in Cayce, South Carolina that starts on April 25. 
Epstein and the rest of the Friars are patiently waiting for the draw to come out later this week and to find out who they will play. 
"I am excited to go and to see all the Big East teams in one place" Epstein states.
 The tournament is set up differently this year. There is no cancellation draw and, therefore, is single elimination. 
When asked what her team is doing to prepare for this tournament, Epstein explains that three players have recently been fighting the flu however, they are working hard and playing as much tennis as they can. 
Scores from Spring Break
by The Cowl Editor on March 15, 2018
---
Friar Sports
---
Lacrosse:
03/03/18
vs. Sacred Heart University: L, 10-9 (OT)
03/06/18
vs. University of
Massachusetts-Lowell:
L, 12-11
03/10/18
vs. Harvard University:
L, 11-8
Softball:
03/04/18
vs. San Jose State University: L, 4-2
vs. Pacific University:
L, 11-5
03/06/18
vs. California State University-
Northridge:
L, 5-0
vs. CSUN:
L, 10-0
03/08/18
vs. Loyola Marymount
University:
L, 4-1
vs. Florida Gulf Coast
University:
L, 3-2
03/09/18
vs. FGCU:
L, 2-1
03/10/18
vs. Harvard University:
L, 6-5
Tennis:
03/03/18
vs. Dayton University:
L, 7-0
03/06/18
vs. College of Charleston:
L, 7-0
03/10/18
vs. Harvard University:
L, 7-0
03/11/18
vs. Marist College:
L, 4-3
Tennis, Softball Kick Off Spring Seasons
by The Cowl Editor on February 15, 2018
---
Friar Sports
---
PC's Spring Teams look to Get off to a Hot Start
by Eileen Flynn '20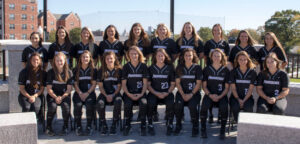 Sports Staff
Softball:
The Providence College Women's Softball Team traveled to the University of Central Florida's "Friends of Jaclyn" Tournament on Feb. 9 to 11. Facing four tough opponents, the Friars went 0-4 the first two days of the tournament. However, Brittney Veler '18, stirred up some momentum her team needed to get the season going. With her impressive RBIs and variation of hits, the team was inspired on their last day of the tournament, just in time for the match-up against the University of North Carolina.
The game started off quiet, two innings passed and both teams still had a zero under their names on the scoreboard. Emma Lee '19 began the third inning with a leadoff single. After a few more pitches, Lee made her way over to third, stealing two bases. Vanessa Portillo '19 brought her teammate home with an RBI single.
The Tarheels did not take long to respond to the one run deficit. In the bottom of the third, UNC tied the game at 1-1. In the top of the 5th inning, Mackensie Compton '20 and Veler worked together to set up Portillo yet again. Portillo responded with a clutch sacrifice fly, sending the winning run across home plate. Miranda Trinidad '21, pitched a complete game and held the Tarheels at just one run. PC finished the tournament on an upset, handing ranked UNC their only loss of the weekend.
Veler tallied a .400 batting average over the course of five games. The senior had six hits, a double, a triple, and four RBIs. The Big East named Veler to the weekly honor roll after noticing her impressive performance. Although this was not her first time being recognized, Veler said she was excited to start off her final season as a Friar with this accomplishment.
After a busy weekend away, Veler looked ahead to the upcoming season. "We have a team of veterans; we only lost two players, so we have a lot of experience." Veler mentioned the previous years' heartbreaks where her team was just short of qualifying for the Big East Tournament. However, Veler is confident that this year her team can "break through" past outcomes and have a better ending.
When asked about what games she was most excited for on this season's schedule, Veler was quick to name St. John's University. "That team has rocked us every year I've played them; they have a powerful program with a head coach that was once a stud pitcher at Providence." Veler hopes to beat this team at least once before she has to hang up her cleats. Other match-ups the outfielder is looking forward to include games against DePaul University and Villanova University. Although she loves beating a team on the competition's turf, she tells me there is nothing better than the comfort of a Ray breakfast and the walk to Glay Field for a big game.
Veler only has a few more walks to her home field before she graduates in the spring. Veler has been playing softball since age six, and she is both sad and excited about her transition into the "real world." She said that "it is much more than saying good bye to the sport, there were so many ups and downs, so many places it brought me, and so many emotions that are all wrapped together." She has a few different paths in mind for after graduation. Whether it be a career within the organization of Major League Baseball or in the field of health policy and management, Veler is excited to find out.
As for the rest of the season, she is not losing focus. Veler tells me the key to success for her team is to "stick to the PC way." She has faith in her coaches to keep pushing her team forward and to keep reminding them that no matter what field they are on, "they own it."
Tennis:
The Providence College Women's Tennis Team is patiently waiting for the snow to stop and for the wind to die down so they can start practicing for their 2018 spring season. This past fall, the Friars defeated teams from Johnson & Wales University and the College of the Holy Cross. The team lost two close matches, 4-3, against Fairfield University and Assumption College. When they partcipated in the Quinnipiac Invitational, the Friars displayed promising talent on the second day. In a complete transition from the first day of tournament, three PC players played their way to the semifinals in their respective brackets.
Due to the Friars' younger roster, this inconsistency in performance can be expected. However, with the fall season under their belts, the team has matured together and have high expectations for their spring season. There are a total of six underclassmen on the team, three freshmen and three sophomores. Katie Marvin '18 and Risa Takenaka '19 will lead their younger teammates with their experience and talent.
Takenaka explained how she led her teammates by example during the fall season. "I think I was able to set an example for the team on how to be a competitor on the court when playing tough players," she said. Since the spring season is filled with tough competitors, the team will need to prepare. Head Coach Jakob Kleason will return for his third year at Providence College.
Saturday, February 3 marked the season opener for the team against Saint Peter's University where the team  got the season off to a hot start with 7-0 sweep.
The next day the Friars faced off against a tough Siena College team in Albany, New York. The Friars fought hard but ultimately lost 5-2 though many of the matches were tight until the end. Takenaka was the only player to pick up a win in the single matches for PC.
  Other opponents the team will face this season include Butler University, Dayton University, College of Charleston, Harvard University, Villanova University, St. John's University, and Brown University. Takenaka is already looking forward to the matchup against Harvard. She said, "They have a really strong lineup, and it's always a fun time playing as the underdog."
The Big East Tournament will proceed during the last week in April in Cayce, South Carolina. The Friars are looking to redeem their 4-0 loss to Villanova in the previous 2017 Big East Tournament. The Lady Friars are ready to start their spring season, despite the winter weather.