Reason(s) for the Season: Exploring the Many Traditions of Christmastime
by The Cowl Editor on December 5, 2019
---
Features
---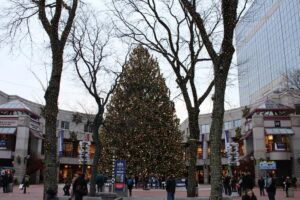 by Brian Garvey '20
News Staff
Christmas on the East Coast is a time of family, revelry, and tradition. With the majority of Providence College students heading home for the holidays, many join in traditions ranging from Christmas tree shopping to listening to silver bells in New York City.
New York City, while already iconic, ups the ante during Christmastime. Once a year, in November, a massive Christmas tree is chosen to dazzle all of New York, lighting up the famous Rockefeller Center. For some students who call New York or New Jersey home, this is a must-see event. Brendan Cooney '20, said, "My family and I love going into New York during the Christmas season. We have been going into the city ever since I was little, and I love shopping in all the stores and seeing all the lights. But my absolute favorite part is skating at the Rockefeller rink." The world-famous rink, below street level with thousands of onlookers, is steeped in history and an icon of Christmastime in the city.
Boston, not to be outdone, also puts on a fantastic show for Christmas. There is a beautiful tree lighting in Boston Common, and Faneuil Hall Marketplace is always incredibly festive. Some students use the rich sports culture of Boston as a tradition. Chris Olivieri '20, said, " My brother, dad, and I have always gone to TD Garden for a Bruins game over Christmastime. I love Original Six hockey, and I can't wait to see them hopefully get a win."
Others prefer a more casual Christmas tradition but by no means quieter. Across New England, the young and old alike sling their skates over their shoulders and head to their local pond or rink, ready to relive glory days of hockey, from pee-wee to college. Christian Bernard '20 said, "I have never been much of a finesse player, but I love playing hockey with the people of Leominster. I like to make my presence felt early, then distribute to my younger siblings and cousins later in the game. Me and my family play on Christmas day every year, and it is a blast."
Competition seems to be a very important part of family traditions to many students. "Every year, on Christmas day, my mom's friend always buys my sister and I a new board game as a gift. The whole family plays, and everyone gets really into it. It's always super competitive, and it brings everyone closer together," says Bernard.
Gift-giving is obviously a large part of many family's Christmas traditions. The McMahon family takes this to a whole new level, as Tom McMahon '20 is the second oldest of 11 siblings participating in a massive gift exchange that spans over 50 extended family members. "One year, all I got was a pair of socks. The next year, I got a brand-new saxophone, something I cherish dearly," said McMahon. "It really depends on who you get matched up with. My favorite gift that I have ever gotten was easily my Supreme hoodie, and I look forward to this exchange every year." The chaos brought on by a gift exchange featuring everyone from toddlers to grandparents is a sight to see, and McMahon says he would not trade it for the world.
Christmastime means many things to different people, and the traditions that come with it are treasured. Whether it be chaos on the hockey rink or a moonlit walk through Central Park, the traditions of the holidays bring friends and family together, and that is what the holiday celebrations are all about.