Women's Volleyball Travel for First Tournament of the Season
by The Cowl Editor
---
Friar Sports
---
Alderson Leads Offense for Friars
By Jack Belanger '21
Sports Co-Editor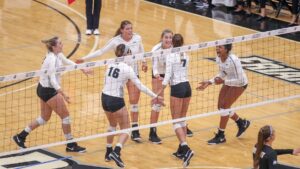 In their first tournament of the season, the Providence College Women's Volleyball Team had a tough past weekend in Morehead, Kentucky. Playing in the 2019 Morehead State Eagle Challenge, the Friars went 1-2 in three games, picking up their lone win over Presbyterian College, three sets to zero.
The team was originally supposed to play in the Puerto Rico Clasico to begin their season, but their trip was canceled due to Hurricane Dorian. Instead, the team played two games in Virginia and one at home, going 2-1 to start the season.
In the first game of the tournament, the Friars played Georgia State University. The Panthers would beat the Friars in four sets, each one being decided by two points. Jennifer Leitman '23 and Addison Root '20 were the only Friars with double-digit kills with 12 and 10, respectively. The loss brought the Friars to 2-2 on the season.
In their second game of the day, the Friars pulled out a win over the Presbyterian Blue Hose, winning easily in straight sets. It would be PC's only win of the weekend, but the performance shows Head Coach Margot Royer-Johnson the team's potential for the season.
"We matched up really well against Presbyterian," said Royer-Johnson. "We were the stronger team and had a good game."
The Friars had their best kill percentage as a team, connecting on 28 percent of their attempts. The Friars played a much cleaner game than Presbyterian, highlighted by only 12 attack errors compared to 24 for the Blue Hose.
Unfortunately, the Friars could not build on their momentum as they fell to Morehead State University in three sets. It was a tough matchup for the Friars as the Eagles had a solid defensive game, keeping the Friars under 20 points in each set.
Allison Barber '21 also had a solid weekend for the Friars during which she was named to the All-Tournament Team. The setter recorded double-digit assists and digs in the first two games, accumulating 87 digs in the entire tournament. Her connection with Jenae Alderson '20 was a highlight of the tournament for the Friars as both players had a successful weekend that will be crucial going forward.
Alderson was one of the best offensive players for the Friars. The fourth-year starter had kill percentages of 40, 50, and 69.2 in the three games, leading the team in each contest. Afterwards, Royer-Johnson called Alderson "our most athletic player this weekend."
While the Friars did not do as well as they had hoped for, the team has plenty of talent moving forward to be competitive once they get into the heart of their schedule. The key for them is getting out of what Royer-Johnson calls "mental holes."
"We are still adjusting our lineups as we used a lot of young players this weekend. We are a physically gifted team, but we are young in terms of experience," says Royer-Johnson
The Friars will have a chance to regroup this weekend as they host the 15th Annual Friar Volleyball Classic. Last season, the Friars went undefeated in the tournament, winning three games including a big win over cross-town rival Brown University in the final game.
New Faces Show Promise for Volleyball Team
by The Cowl Editor
---
Friar Sports
---
By Scott Jarosz '21
Sports Staff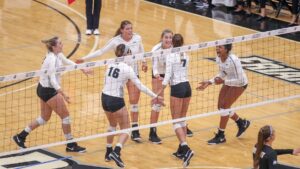 After finishing the 2018 season with an overall record of 8-21 and a 2-16 record in Big East Conference play, the Providence College Women's Volleyball Team will be looking to make improvements leading up to the 2019 season. 
The team's 2018 campaign ended on a particularly sour note when the Friars lost their last seven matches of the season. In addition to the team ending the season on a cold stretch, it also graduated four seniors: Megan Onyundo '19, Allison Impellizeri '19, Kara Mason '19, and Catherine Harding '19. Being without these four key players certainly brings about numerous challenges for the Friars;  however, changes to the coaching staff as well as numerous additions to the roster give reason to believe that this year's team has a real chance to improve upon last season's shortcomings.
On Mar. 18, women's volleyball head coach Margot Royer-Johnson announced that Richard Gomes Jr. would join the staff as an assistant coach. Royer-Johnson had kind words to say about Gomes Jr. as well as how she expected him to contribute to the team. 
Royer-Johnson stated, "Richie is a great new addition to the staff. He is a highly skilled and knowledgeable coach. His enthusiasm and passion for the sport is what drew our staff and team to him. We are excited to move forward with him, as we know his passion will not only make us better but also enrich our experience both on and off the court." 
Gomes' previous head coaching experience provides even more reason to believe that he will be a valuable asset to the staff and the team. Prior to PC, Gomes served as the head coach for the Bridgewater State University Women's Volleyball Team.
In addition to Gomes being named assistant coach, the 2019 team will also feature a strong freshman class consisting of seven players. 
Two players from this class signed their National Letter of Intent (NLI) to play at PC back in November. Emma Nelson '23 is one such player. Listed at 6'1", she is an outside hitter who Royer-Johnson described as a "strong all-around player." The other player from this class who signed her NLI in 2018 is Sasha Rudich '23, a middle blocker who captained her high school team. 
Alongside Nelson and Rudich, the Friars are also welcoming Brielle Mullally '23, a setter who was named to the 2018 Silver Medal Far Western Qualifier (17 Open) and won the CIFSS Division I Championship, Queen's Court Championship, and Dave Mohs Championship with her high school. 
On Mullally, Royer-Johnson said that she is a "super skilled setter" with defensive and hitting skills that will "make her an all-around threat."
Mullally is joined by club teammate Jennifer Leitman '23. According to Royer-Johnson, she has "great chemistry with Brielle" and "brings a great offensive threat…from both the front and back row out of the outside position."
With a number of quality returning players, the addition of Richard Gomes Jr. as assistant coach, and a strong incoming freshman class, the Providence College Women's Volleyball team looks ready to have a highly successful 2019 campaign.
PC Player's Retirement Sheds Light on a Larger Issue
by The Cowl Editor
---
Friar Sports
---
Is Lack of Research the Culprit Behind Female Athlete Concussions?
By Meaghan Cahill '20
Sports Co-Editor
On October 1, 2018, Jessica "Jessie" Spontak '20, publicly announced her decision to retire from volleyball. Her reason for walking away from the sport that brought her to Providence College? Too many concussions.
Concussions have been a hot topic in the sports world over the past decade and while most conversations about them is in conjunction with men's football, hockey, and soccer, female athlete concussions of all sports have been spiking higher numbers than male athletes. Recent research has shown that female athletes are 50 percent more likely to be diagnosed with a concussion than male athletes.
Yet, despite this statistic, concussion research has primarily been contained to male athletes. As Marjorie Snyder of the Washington Post writes, there is "painfully little research" conducted on concussions in female athletes. With the majority of existing research consisting of studying male athletes and how to prevent concussions in men's sports, female athletes are being put at a greater risk as little is being done to make them less susceptible to concussions. Synder's research for her article, "Girls suffer sports concussions at a higher rate than boys. Why is that overlooked?" makes the claim that the lack of knowledge (stemming from the lack of research being done) makes it difficult to know the best way to prevent concussions in female athletes.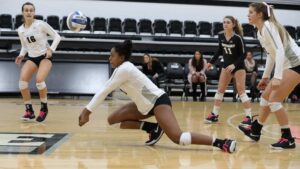 Concussions in female athletes have been written off as nothing more than the result of sex differences, in particular, the differing structures of the neck. Almost all research has concluded that the structure of the female body makes them more predisposed to concussions and that is the farthest most research goes.
However, it is proving to not be enough as women are suffering symptoms that take extended amounts of time to recover from and their quality of life is being altered due to excess concussions.
Spontak, when asked about what ultimately led her to calling it quits on her volleyball career after she sustained her fourth concussion from a seemingly contact-free sport, admitted that the main factor was her "quality of life post volleyball." To her, completing four years on the team was "not worth it" to her when all of the health problems she could face as a result of four severe concussions were laid out in front of her.
Shannon Bauman, a sports physician who began to study brain injuries after she suffered her own concussion and received insufficient care, noted in her study that 35 percent of female athletes will still show concussion symptoms up to more than six months after their initial diagnosis. Spontak, when discussing her concussion history, said that with her first concussion, she missed four months of school and with her least severe concussion, she missed just over a month.
Prolonged short-term symptoms faced not only by Spontak during all of her concussions, but by both male and female athletes, include sensitivity to sound, light, pressure headaches, and trouble focusing. However, research is beginning to come out with what long-term, life-altering symptoms can result from multiple concussions.
"There is a lot of research that shows that I could be at high risks for depression and anxiety…and mood disorders," said Spontak. Doctors informed her that, as a result of sustaining four severe concussions, she would "have a really hard time focusing and moving on with school."
With a majority of research now taking a look at how female athletes will be affected by concussions, the fact still remains that there is little to no research on how to prevent them in the first place.
David Milzman, MD, stated at the Georgetown University Medical Center Summit on Concussions in Females, "There is very little solid data now about sex in concussion presentation or outcomes. It is not clear…and that is why we need to investigate it."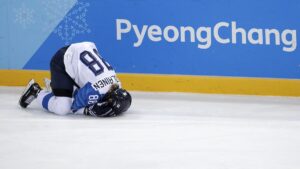 In men's sports, a majority of the concussions sustained are contact-based. However, because women's sports are not supposed to have as much contact, it becomes assumed that they are not at risk for concussions. However, in the case of women's hockey, for example, the players will be diagnosed with concussions at nearly three times the rate of college football players. Similarly, in sports such as baseball and softball, softball players experience concussions at double the rate of baseball players.
As Spontak points out, the games themselves cannot be changed: player-to-player contact, falling to the ground, and being hit in the head are all risks that are a part of any sport. Therefore, research needs to be altered to fit these unpreventable factors. In terms of female athletes, rather than focusing on how life will be impacted post-concussion, there needs to be a switch to how to prevent them in the first place, like the research with men's sports-related concussions is.
There is a problem with studies in preventing concussions altogether though. Spontak acknowledges the problem as being the fact that how games are played is personal. Players contort and push their bodies to the max and reach limits that others may not be able to make. PC assistant athletic trainer Jessie Fong reinforces this statement, describing concussions to be a "unique injury."
"Concussions can fall under such a wide spectrum," Fong states. "They can present differently between two individuals, they could present differently between two separate episodes within one individual."
So what should the research focus on?
Spontak believes researching improvements on equipment worn is the key to battling the concussion epidemic. At the moment, only a handful of women's sports require headgear to be worn at all times. With more protective equipment, there could be a reduction in concussions sustained by female athletes.
And while some take more extreme measures in calling for the federal government to step in and make a change, the simple solution is to just dedicate as much research time received by men's sports to female sports.
Concussions are not just a problem male athletes face, and prevention techniques must be researched and learned by all to make not just sports, but the quality of life beyond the game better for all athletes, men and women alike.
Twenty Friars Named to All-Big East Teams
by The Cowl Editor
---
Friar Sports
---
Soccer Teams and Field Hockey
 

Each Send Five Players

By Cam Smith '21

Sports Staff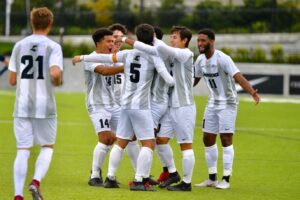 The fall sports season has come to a close, meaning that the time to honor athletic accomplishments is now upon us. All six Providence College Division I teams, who finished their seasons by the end of November, saw players receive All-Big East honors. Three of these six teams saw a whopping five players receive conference accolades.
The PC Women's Soccer Team was one of the teams to nab five All-Big East awards, marking the most in program history. Katie Day '19 is the second PC women's soccer player ever to earn back-to-back All-Big East First Team Honors. The dominant defender started every game for the Friars this season, including one in which she headed home the game-winning goal against Marquette University.
Shelby Hogan '20RS, Kayla Steeves '19, and Hannah McNulty '21 were awarded Second Team Honors, while Hannah Morgan '22 was named to the All-Freshman Team. Hogan had a tremendous year in her second season as the team's goalkeeper, while McNulty led the Friars in goals scored with 10.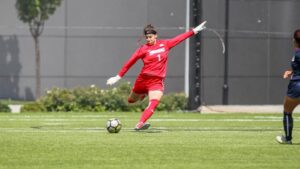 On the PC Men's Soccer Team, five All-Big East awards were also handed out. Tiago Mendonca '20RS took home First Team Honors as the crafty midfielder led the Friars in goals (five), points (10), and shots (40). Colin Miller '19RS and Klisman Sousa '19RS picked up Second Team Honors. Miller, the starting goalkeeper for the past three seasons, reached eight shutouts for the second time in his very successful career, finishing the season with nine. Two impressive newcomers in Ramzi Qawasmy '22 and Gil Santos '22 were named to the All-Big East Freshman Team. Qawasmy logged the second-most minutes of anyone on the team while Santos hammered home three goals.
The field hockey team rounds out the squads to pick up five All-Big East Honors, as the team saw one member named to the All-Big East First Team and four named to the All-Big East Second Team. The team's five All-Big East selections are the second-most in program history. Corinne Kenney '19 was the player to find herself on the First Team. She anchored the Friar defense while also setting a career high in assists with five. Her selection only adds to her long list of accolades, including being an All-Academic Team honoree.
Maddie Babineau '21, Izzy Mendez '20, Mary O'Reilly '20, and Lydia Rice '19 were the four additional players who garnered All-Big East Second Team Honors. Babineau started all 18 games for PC this year and posted career highs in points (12), goals (three) and assists (six). Mendez accumulated a team-best seven goals, while O'Reilly pitched in 10 points. She also received various academic honors. Rice's lone season in goal for the Friars was a superb one, as she had five shutouts and had the highest save percentage across the entire conference.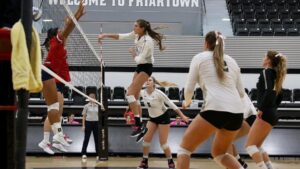 Moving away from the field and onto the race course, four different Friars picked up All-Big East Honors for the cross country teams. On the women's side, runners Abbey Wheeler '20, Regan Rome '18G, and Tessa Barrett '18G all finished top 20 at the Big East Cross Country Championships, determining their status as All-Big East. Wheeler capped off a tremendous season with a fourth overall finish in a time of 20:35.3.
For the men, Ryan Gallagher '21 also earned the Honors due to his top-20 finish at the championships.
The final All-Big East honoree was volleyball star Allison Impellizeri '19. She was named to the All-Big East Second Team after leading the Friars in kills (326) and total blocks (86). Impellizeri also ranked fifth in hitting percentage in the Big East.
As the athletic calendar moves to the winter season, the Friars who will take to the court and ice can only hope to match the all-around success of the fall athletes.
Volleyball Celebrates Senior Night
by The Cowl Editor
---
Friar Sports
---
By Sullivan Burgess '20
Sports Staff
On Sunday, November 11, Catherine Harding '19, Allison Impellizeri '19, Kara Mason '19, and Megan Onyundo '19 took the court in Mullaney Gymnasium one last time for their final home game for the Providence College Women's Volleyball Team against Big East rival Georgetown University. Although the game was spoiled by the Hoyas' victory in a 3-2 match, nothing was able to ruin the moment in store for all four seniors.
After falling 22-25 and 23-25 in the first two sets of the match, the Friars bounced back by winning the next two sets 25-22, 25-20. Unfortunately, momentum brought by each member of the team and the crowd was not enough to help secure the victory, as Georgetown finished set five with a 15-12 victory.
Impellizeri was the leader of the Friars' offense with 20 kills, besting her previous career high of 18 kills. Allison Barber '21 also led the team in 48 assists throughout the match.
Onyundo and Addison Root '20 were able to provide the Friars with a defensive effort of 11 and 10 digs, respectively. Root and Lindsey Schaible '20 each had two of the team's five aces.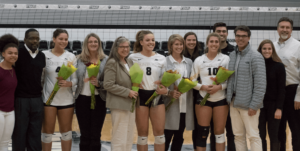 For Onyundo, this moment was more than just volleyball. "It was closing a great journey in my life," stated Onyundo, "I have always wanted to play Division 1 sports and this was the end of me achieving my goal. This game meant a lot to me because all my friends and family were able to see me play one last time at home, after supporting me through countless hours of games and scrimmages."
For Cayla Veverka '20, the seniors were much more than teammates. She stated, "Our seniors are a huge part of our team and will be missed next year! They are some of the most dedicated and amazing players I have ever been on a team with. All of them have made huge impacts on the volleyball program and have made us all better players. Our seniors are truly my role models and I am forever grateful for everything they have done for the team and myself."
One of the goals the seniors had in their four years was to create this drive for greatness that would continue for years to come in the program, Onyundo stated, "We want everyone to be seen as a player rather than be separated by class year to create a connection on the court. This was able to drive us to always put up a fight on the court. Our class was very competitive, and the drive we all had is what helped drive us to always strive to persistent in our goals."
Head Coach Margot Royer-Johnson said, "It's always about the grit and gratitude." Harding, Impellizeri, Mason, and Onyundo were able to provide this grit in their years at Providence, and will be truly missed for all the time and effort they brought each week.
Providence College Investigates
by The Cowl Editor
---
PCI
---
The Volleyball Team Will be the Fall Sport With the Best Record
By Sullivan Burgess '20
Sports Staff
The Providence College Volleyball Team will have the best record of all fall sports this semester. One major factor going into this decision is based on the home-court advantage provided at each game by the fans and students. Going into each game is always a fun time, and the fans always have a new experience.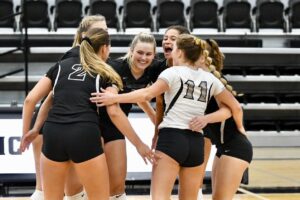 The team's home-court advantage shows in their winning record of 3-1 at home whereas on the road, the team currently has a losing record of 3-4.
Regardless of who the team is playing, the students and fans are cheering their hearts out as if it is a championship game. Whoever is on the court for our team, they are ready to give it everything they have for the fans and put themselves on the line for the team to score. Right now they remain 6-5, and as Big East conference play approaches, the stakes are higher for the Friars.
With fans always in attendance, the team will strike gold in the coming days. The team's first two Big East games will be played at home, one against DePaul University, who is 2-9 and the other is St. John's University, who is 11-5.
Mackenzie Taylor '22 has been one of the top defensive players on the team this season. Taylor leads the team in digs by a wide margin, with 187 digs, almost 100 more than the next player on the team.
Allison Impellizeri '19 the team's starting middle blocker, has proven to be one of the top players in the conference at this point in the season. She is sixth in kills per set in the conference with 3.36.
During the Kangaroo Classic in Kansas City, Missouri, Impellizeri was named to the All-Tournament team. In four games she recorded 57 kills, which also earned her a spot on the Big East Weekly Honor Roll.
With Taylor and Impellizeri leading the team, PC has a balanced team that should not be severely overmatched on either side of the ball. The Friars will have a chance to be competitive in every match going forward which will certainly give them the chance to go on a extended winning streak during the season.
Lastly, the team is already showing improvements from last season. Almost at the halfway point in the season, if its winning record continues, the team is on track to beat their 17-16 record from the 2017 season.
With the team's first two Big East games at home, the Friars have a great opportunity to start off conference play in the right direction and gain some momentum before going on the road. This team is worth keeping an eye on, as there is plenty of potential to see it finish out with the best record of the fall season.
Volleyball Sweeps Annual Friar Classic
by The Cowl Editor
---
Friar Sports
---
Team Looks to Continue Making Improvements Early on in the Season
By Sullivan Burgess '20
Sports Staff
It has been an exciting few weeks for the Providence College Women's Volleyball team as they continue to extend their 6-4 record.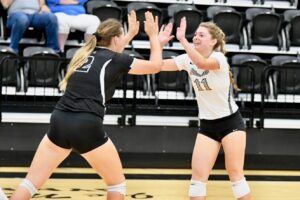 The Friars are coming off of a series of two tournaments in the last two weeks, starting with the 14th Annual Friar Volleyball Classic. This year, the teams included PC, Brown University, the University of Massachusetts-Lowell, and Fairleigh Dickinson University, one of the opponents from last season's tournament.
The mindset going into the tournament was to fix the mistakes made at the Boston College Invitational, where the Friars fell 0-3 to  both Sacred Heart University and Boston College, while beating the University of Hartford, 3-0. Megan Onyundo '19 stated the best ways to fix these mistakes came from practicing to watching film as well as from analyzing stats from the previous games in order to determine goals. Additionally, the team practiced servicing and ball distribution. Onyundo is currently sixth in kills with 31, and third in service aces with eight.
When asked about her goals for her last year on the team, Onyundo stated, "We needed to win every game, I know we can definitely win with all our talent, we need to do our job to help the team win in any of our roles."
Onyundo also wanted to enjoy her time on the court as much as possible and take in every moment she spends with the team.
Their mindsets and goals worked perfectly, as they turned around and went onto win the Friars Classic, creating a positive atmosphere in the locker room. Each player was able to take pride in their performance, as they adapted to each  opponent's games in order to fix the problems from previous matches.
This new mindset was helpful for the Friars as they went to their next tournament in Kansas City, the Kangaroo Classic. This year's matchups included Southeast Missouri State University, University of Missouri-Kansas City, Southern Illinois University-Edwardsville, and Arkansas State University.
Injuries have set the Friars back this season. No one on the team has been seriously injured, but a series of knee injuries and concussions have affected a few players this season.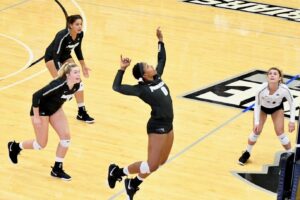 One thing Onyundo wanted to express clearly was the amount of useful advice she has been giving to the freshmen as school starts and practices become longer. Since school, practice, jobs, and life takes a toll on them, she has been talking one-on-one with each of them to create a bond with each player, making them feel like family.
With the next tournament swiftly approaching, the team aims to continue the chemistry they had developed from the last few games and to continue to adapt to changed lineups.
Overall, the team went 2-2 in the Kangaroo Classic beating both SIUE and Southeast Missouri, and losing to UMKC and Arkansas State.
The team came back home on Sept. 11 looking to bounce back against Bryant University. PC played the Bulldogs tough all the way; forcing a fifth set after being down two sets to one. Unfortunately, the Friars were not able to pull out the win, losing the fifth set 15-10. Allison Impellizeri '19 led the team with 14 kills.
Fans make a major impact at home games when they come out to visit and cheer. The players have been noticing more students attending each year and how they love their support and even insults/jokes used on the other team.
The Friars' season is already off to a hot start, and it is exciting to see what is in store for the ladies this season as Big East Conference play commences.
Volleyball Looks to Build From 2017
by The Cowl Editor
---
Friar Sports
---
By Meaghan Cahill '20
Sports Co-Editor
Coming off their first winning season since 2007, which included a five match win improvement in Big East play, Providence College's Volleyball Team is looking to improve those numbers this year.
Returning player Addison Root '20 will be looked at as a key player for the upcoming season. The only Friar to be named to the All-Big East Second Team, Root concluded her rookie season by leading the team in kills (416), service aces (36), and points (416). She was third on the team in digs with 258. In overall Big East play, Root, who is an outside hitter, ranks third in service aces per set (.31), fifth in kills per set (3.59), and fifth in points per set (4.01). A big part of the team's success last season, Root recorded 21 kills in a single match twice and recorded double digit digs and kills in the same match on nine different occasions.
Aside from Root, Allison Impellizeri '19 is another key player to be on the lookout for. Starting in 17 of the 20 matches she played in last season, Impellizeri tallied 152 kills and 45 blocks. Her sophomore season consisted of her starting in 33 matches and leading the team in blocks (80), ranking third on the team in kills (246), and setting a season high for kills in a single match (16).
Allison Barber '21 is a returning player that turned many heads during her freshman year alongside Root and Impellizeri, and will definitely be a player to watch this upcoming season.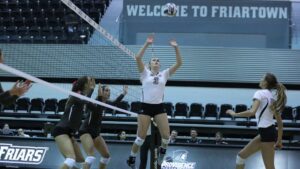 As a freshman, Barber started in all 33 matches and played in all 116 sets. Her breakout season concluded with her leading the team in assists (1,162) and she recorded a season-high 54 assists against the University of Alabama, Birmingham.
The incoming freshman class consists of four new players; Katie McLellan '22, Mackenzie Taylor '22, Emma Fink '22, and Nina Askew '22, to join 11 returning players, including two sophomores, five juniors, and four seniors.
The season started for the Friars on Aug. 24, when they appeared in the Boston College Invitational. Coming out of the tournament, the team went 1-2, dropping matches 0-3 against both Sacred Heart University and Boston College. The tournament ended on a high note for the team as they swept Hartford University in all three matches.
Impellizeri started the match off strong as she collected 6 of her 10 kills in the first set and finished the match with a team-best 10 kills for PC and hit .471. Along with Impellizeri, Jenae Alderson '20 and Root both notched nine kills in the win and Mackenzie Taylor '21 recorded a season-best 24 digs.
The Friars will play next in their 14th Annual Friar Volleyball Classic, which kicks off on Friday, August 31 against University of Massachusetts, Lowell in Mullaney Gym.
Fall Sports Wrap-Up
by The Cowl Editor
---
Friar Sports
---
By Joe Myko '19
Sports Staff
  As the year creeps further into November, fall sports at Providence College are beginning to wrap-up. With the exception of volleyball, all the fall sports have ended. Now, before we fully turn our attention to hockey, basketball, and other winter sports, let's take a look back on an exciting fall season for PC athletics.
Cross Country: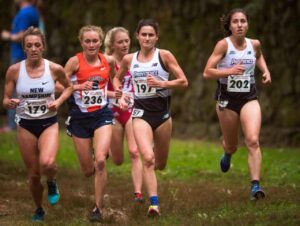 Providence College's Cross Country Teams remain ranked in regional and national polls this year for their performances, with the most recent and potentially most notable event being October's Big East Cross Country Championships, in which the men's team finished fourth overall.
The team began the season in impressive form on Sept. 2, managing to successfully sweep the University of New Hampshire Dual Meet. The men's team also came in first at the Nassaney Invitational on Sept. 9, with Tom O'Neill '18 winning the race.
The women finished second, behind Brown, with Millie Paladino '18 coming in first. The women's team successfully finished second in the Big East Cross Country Championships, with graduate student Catarina Rocha '17G impressively picking up the individual title. The women's team also deserves praise for winning Battle-in-Beantown on the Sept. 22 for the third season in a row, as well as accumulating their third straight NCAA Northeast regional title.
Soccer: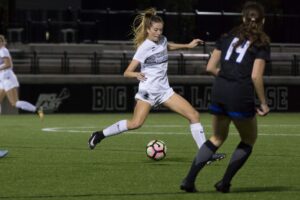 The Providence College Men's Soccer Team was ranked first in the New England Journal Division and in the Big East Preseason Coaches' Poll this year, before they kicked off their season with a hard-fought loss againt the University of North Carolina on Aug. 25.
October's game against Brown University was one of the most notable wins for the Friars, with Joao Serrano '20 scoring the decisive golden goal in the 96th minute. On Nov. 8, former Friar Julian Gressel '16 picked up the Major League Soccer Rookie of the Year award for his impressive performances for Atlanta United.         
   It was a successful season for goalkeeper Colin Miller '19RS, who has continued his good form from the last campaign where he earned the Big East goalkeeper of the year, with two consecutive Big East Goalkeeper of the Week awards.
  The team was unfortunately knocked out of the Big East Tournament on Nov. 4, bested at the quarterfinal by Xavier University.
   The Women's Soccer  Team secured Big East All-Tournament honors on Nov. 5, concluding a commendable season in which they made it to the semi-finals of the Big East competition, before losing 3-0 to Butler University on Nov. 2. Two Friars, Katie Day '19 and Hannah McNulty '21, were also picked for the All-Tournament team for their impressive performances through the season.
Field Hockey:
  The field hockey team concluded an incredible season with a hard-fought loss in the Big East semi-finals, losing 3-0 to top-ranked University of Connecticut on Nov. 3. The Friars were very successful in the Big East field hockey post-season awards, which were released on Nov. 2, with four different players earning honors.
  Defender Manon van Weezel '21 picked up the Freshman of the Year award. She was also unanimously selected for the All-Big East First Team, alongside midfielder Megan Hamilton '18. Defender Corinne Kenney '19 and goalkeeper Megan Guilbert '18 also deserve congratulations for accumulating All-Big East second team honors.
Volleyball:
  Prior to the season commencing on Aug. 25, in a 3-0 win against University of Alabama Birmingham, the volleyball team was awarded team academic honors from American Volleyball Coaches Association for their 2016-17 season.
Providence College's volleyball team then went on to sweep the Hatter Classic on Sept. 2, as well as the 13th Annual Friar Classic on Sept. 9. In terms of individual honors, McKenzie Lydon '21 and Allison Barber '21 both deserve praise for picking up Freshman of the Week awards in August and September, respectively.
  Most recently, the team just dropped a match against Xavier University, losing three sets to one. The team will look to get back in the win column on Nov. 17 versus Georgetown University. The Friars will close out their season at Villanova University on Nov. 18.
Why Women's Volleyball will finish their season with the best record of all PC sports
by The Cowl Editor
---
Friar Sports
---
by Eileen Flynn '20
Sports Staff
     The Providence College Women's Volleyball Team hit the ground running this season and the whole campus is talking about their success. Head coach Margot Roya-Johnson must have run one tough pre-season because the Friars opened up with an impressive 10 game winning streak. Their first tournament took place on Chestnut Hill at Boston College in late August. They beat the University of Alabama, Boston College and Fairfield University.
     The Friars traveled to Florida for their next tournament and returned back to Rhode Island with three more wins against East Carolina University, Bucknell University, and Stetson Univesity. On home turf the team's record grew to 10-0 after playing the College of the Holy Cross, Rider University, and Fairleigh Dickinson University. It wasn't until Sept. 15 that the University of Akron handed the Friars their first loss of the season. No other fall sport's team has racked up so many victories in the win column just in the first month of their season.
     Star players on the team include Lindsey Schaible '20, Addison Root '20 and Allison Impellizeri '19.  Schaible was named to the Black Knights Invitational All-Tournament team after the face-off against the University of Akron, West Virginia University, and the United States Military Academy. Root displayed her talents against Brown, leading the team with 18 kills. Impellizeri has been named tournament MVP in both the Boston College and Hatter Classic tournaments. With these young players leading the Friars, the volleyball team has a promising future. Although there are many more games on the schedule for the Friars, their current record of 11-3 is a good predictor for a chance at a historic season.