Fitting in and Finding Yourself
by Sarah McLaughlin '23 on June 11, 2023
Editor-in-Chief
---
Editor's Column
---
I'll Miss (Most of) You, PC
I think Providence College is a difficult place to feel like you fit in.
The first week of freshman year, I felt like I was drowning—not in Honors Civ homework (yet), but in a sea of unknowing. Not knowing any person or place (I asked an orientation leader to help me find all of my classrooms Sunday afternoon, and I spent half an hour trying to find Smith with my new friend Sam—how did we get so lost?), strange new terminology (what in the world was a "darty"), and a major culture shock (I was homeschooled, and it's not like I had zero socialization before coming to college, but still).
I like to think I've changed a lot as a person in my four years here, but not radically so. I still don't go out past 10 P.M. (with the exception of Thursday night bingo), and I still get way too excited about discussing poetry in my literature classes. I still have an addiction to Dunkin' donuts. But I've changed, too. I don't wear skinny jeans anymore (thank God they fell out of style), I drink coffee despite my caffeine intolerance, and I voluntarily go to therapy. I make friends (really, really good ones) and I stand up for myself. I learned patience and confidence and vulnerability. There are ways you change in college that aren't just getting older, getting a degree, and getting alcohol poisoning (I still don't drink; you never got me there, PC). Now that my biggest fear is out of the way (getting a job), it's hitting me how much I'll miss this place, for all its scariness and strangeness.
When I see groups of tours strolling around campus at the pace of a tortoise while I'm buzzing to class at the speed of a hare, I slow down for a second and consider how some of those people might be where I was, who I was, and how they might change here, too. How they might feel like they don't fit in. How maybe, hopefully, they find a place like The Cowl, a place and a people where they feel like they can be themselves, whoever that might turn out to be.
Most of the time, I still think PC is a tough place to feel like you fit in. I mean, I'm writing this as hundreds (thousands?) of students are wearing overpriced preppy clothes they'll never wear again, trying to look like they belong at a golf course, when instead they're huddled together like penguins on a pavement iceberg. Some things about you I'll never understand, PC, and I'm okay with it staying that way. You have your fair share of problems. But that's what The Cowl's Opinion section is for.
Hill Harper to Speak at PC Commencement 2023
by Sarah McLaughlin '23 on April 28, 2023
Editor-in-Chief
---
Featured Slider
---
Five Alumni and Harper to Receive Honorary Degrees
Providence College has chosen Hill Harper, J.D. to deliver the Commencement Address at PC's 105th Commencement ceremony, which takes place on Sunday, May 21 at 11 A.M. in the Amica Mutual Pavilion. Harper is an American humanitarian, actor, author, entrepreneur, health and wellness advocate, and philanthropist who has starred in CSI: NY, The Good Doctor, and He Got Game. He has also written four New York Times Bestsellers and the award-winning book The Wealth Cure: Putting Money in Its Place, which discusses solutions to the racial wealth gap. Additionally, his book Letters to a Young Brother was named a Best Book for Young Adults by the American Library Association. Harper is the recipient of seven NAACP Image Awards.
In addition to his creative accomplishments, Harper founded The Black Wall Street Digital Wallet and App, serves as co-owner of an award-winning New Orleans hotel called International House, and owns a Detroit coffee franchise, The Roasting Plant. Harper is also a dedicated philanthropist. He started the Manifest Your Destiny Foundation, which is dedicated to empowering underserved youth, and the Pierce and Hill Harper Arts Foundation.
Harper is a graduate of Brown University, the Harvard Kennedy School of Government, and Harvard Law School. He has also received several honorary doctoral degrees.
Typically, not every honorary degree recipient is a graduate of the College, but this year, all five, aside from Harper, are PC alumni. The first is Monsignor Alex "Bobby" Benson '97G, who has dedicated much of his over 40 years of service in the priesthood to fighting HIV/AIDS. After completing his Master's degree, Msgr. Benson established the Matthew Chapter 25 project in Ghana, which supports over 90 people living with HIV/AIDS. He is a teacher of Clinical Pastoral Education and founded the first-ever palliative care center in Ghana in 2021 to offer medical care for patients living with terminal illnesses. Msgr. Benson has demonstrated support for the United Nations Sustainable Development Goals, and he contributed to the achievement of these goals when he collaborated with the late PC Physics professor Dr. Stephen Mecca '64, '66G, '19Hon, in installing microflush valve toilets in Ghana, which save water as well as improving sanitation. Msgr. Benson has also organized and hosted service projects for Maymester trips to Ghana.
Another degree recipient is Charles "Chuck" Borkoski '71, who worked for 46 years with the major Anheuser-Busch distributor of Southern New England, McLaughlin & Moran. He spent much of that time serving as vice president of marketing and portfolio development. Borkoski has served PC as a member of the College's Board of Trustees Student Affairs Committee (2009-present), president of the Greater Providence Alumni "Mal Brown" Club (1991-92), National Alumni Association President (2005-06), a member of the PC Parents' Council (2009-2012), and a member of the Providence President's Council. In 1994, he received the Mal Brown Club Award for Exemplary Dedication and Service to PC, and in 1996, the National Alumni Association's Distinguished Service Award. With his wife Leslie Borkoski '12, he also established a scholarship fund.
Dr. Donna J. Formichella '78, the next degree recipient, recently retired after working for 33 years with the Southern California Permanente Medical Group as a surgeon. She was the first woman to graduate as a general surgeon from Cedars-Sinai Medical Center in CA and performed thousands of operations as assistant chief of surgery for Kaiser Permanente in Orange County, CA. In addition, she served as chair of the Group's Cancer Committee and Tumor Board for over 25 years. Dr. Formichella also taught in the residency program at the University of California for three decades, mentoring many young surgeons. She graduated magna cum laude from PC with a Biology degree and from Columbia University with a medical degree in 1982. She then completed a post-graduate residency at Tufts-New England Medical Center. At PC, she was a member of Student Congress and chair of her class Junior Ring Weekend Committee, and she co-chaired her class' 40th reunion committee with her husband, John Hannen '78. She is now actively involved in the 45th reunion.
The fourth PC alum to receive an honorary degree is Dr. Sheila Harrity '87, the extended Campus Coordinator for the Massachusetts Association of Vocational Administrators. In this position, she coordinates the coursework offerings for vocational teacher licensure and Occupational Education programs at both the undergraduate and graduate level for two Massachusetts universities. From 2014-2022, Dr. Harrity worked as Superintendent of the Montachusett Regional Vocational Technical School District, the second largest vocational district in MA, serving nearly 1,500 students. She was also the principal of Worcester Technical High School for eight years, and in 2014, she was named MetLife/National Association of Secondary School Principals National High School Principal of the Year; in 2013, she was named Massachusetts Principal of the Year. In 1997, she was named Worcester Public School Teacher of the Year. During her time at Worcester Tech, the school received the National Blue Ribbon School distinction for outstanding student achievement; this award is given by the US Department of Education. The school hosted President Obama as their commencement speaker in 2014. Dr. Harrity served as vice chair of the MA State Board of Education from 2015-2022 and was recently selected by the MA Association of Vocational Administrators to lead an initiative for helping vocational teachers and administrators earn their degrees and licenses. While at PC, Dr. Harrity played on the Women's Basketball team.
The final recipient is Robert J. Palmisano '66, president and CEO of Wright Medical Group, a leading orthopedic device maker. Palmisano is an emeritus member of PC's Board of Trustees who served on the Board's Finance and Strategic Planning Committees during his board tenure (2009-2018). Previously, Palmisano was president and CEO of the global endovascular device company ev3, Inc. During his two years with the company, ev3's market capitalization more than tripled. He also worked as president and CEO of IntraLase Corp., which designs, develops, and manufactures laser products for vision correction. Prior to this, he was president and CEO of MacroChem Corporation, a development stage pharmaceutical corporation, and president and CEO of Summit Autonomous, Inc., a global medical products company. He has also held various executive positions with Bausch & Lomb, Inc., which was a global eye care company.
Giving It the Old (Providence) College Try: PC Allows Graduates Guests at Commencement
by The Cowl Editor on May 6, 2021
---
Campus
---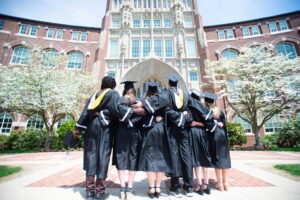 by Nicole Silverio '22
News Staff
With the Providence College class of 2021 commencement approaching, College Events and Activities have made changes to rules regarding guests due to COVID-19. 
On April 23, the College announced that graduating seniors would be allowed to register two tickets reserved for guests at the Commencement Mass and ceremonies. Only PC students, faculty, staff, and ticketed guests will be allowed entry onto campus on May 19 between 3 p.m. and 6 p.m., May 20 between 9 a.m. and 2 p.m., and May 21 from 4 p.m. to 8 p.m. Graduates will be able to pick up their tickets for their guests on the morning and early afternoon of May 17 in Slavin. The commencement ceremony will be held on May 20. 
This is a welcome relief to seniors after they received an email from Fr. Sicard on March 19, stating, "Unfortunately, it has become clear that the state's COVID-19 regulations will not allow for a scenario that would include parents and/or guests," the email said. "We will, of course, livestream the event so that families can see the graduates cross the stage as their names are announced." 
Fr. Sicard added that the commencement date was moved three days earlier than originally scheduled in order to shorten the length of the commencement week with the hopes of decreasing the chances of graduates' testing positive for COVID. 
Hia email concluded, "My pride in the Class of 2021 cannot be overstated. It is a group of remarkable Friars that will forever hold a special place in the College's history and in our hearts. It will be an honor to preside over this ceremony on May 20." 
The class of 2021 overwhelmingly agreed that they wanted an in-person commencement, according to Fr. Sicard's email, and they will now have the opportunity to have their time and achievements at PC formally acknowledged in person.
Typically, the commencement ceremony is held at the Dunkin' Donuts Center in downtown Providence, but since it is being used as a vaccine clinic, commencement is instead being held at Hendricken Field on campus. If there is severe weather, the ceremony will be held in the Peterson Recreation Center and guests will be moved to off-campus viewing sites due to Rhode Island state guidelines. 
PC Plans to Celebrate In-Person Commencement
by The Cowl Editor on April 15, 2021
---
Campus
---
by Max Waite '21
News Staff
On Thursday, May 20, commencement exercises for the class of 2021 will be celebrated with an in-person ceremony at Hendricken Field. As much as this past year has been uncertain, it is remarkable to see how far the Providence College community has come in order to make this event as memorable as it can be.
Despite COVID-19 regulations easing up in the surrounding communities, as well as vaccine availability increasing, parents and guests will not be able to attend the outdoor ceremony.  Father Kenneth Sicard, O.P., announced, however, that the ceremony will be livestreamed. 
In the past several weeks, students have received their caps and gowns and have taken the time to get their senior yearbook photos done. There is a palpable excitement in the air throughout the community. Michael McGreal '21 stated, "I'm sure our entire class was wondering what commencement would be like this year. I felt that it was on us to do whatever we could to prevent the spread of the virus. I'm ecstatic that we're able to have an in-person ceremony." 
The ceremonies will start with a commencement mass for the senior class, which is scheduled for Wednesday, May 19 at 4 p.m. Additionally, there will be a separate, in-person ceremony for graduate school and School of Continuing Education graduates on Friday, May 21 at 6 p.m. Parents and guests will not be able to attend this ceremony either. 
The College also announced Dr. Laurie Santos will be the commencement speaker. A Yale University psychology professor, Dr. Santos is the host of a widely acclaimed podcast called The Happiness Lab, where she dives into the factors that can impact our overall well-being. This will certainly be a memorable part of the ceremony, during which the class of 2021 will be sent off with a positive message that we can carry with us on to the next chapter of our lives.
Students will be notified of graduation honors and class rank before the ceremony as part of their academic transcripts. Students who have been studying remotely for the past year are encouraged to join their class for the ceremonies, and, of course, they must provide a negative COVID-19 test before the ceremony. This past year has not been easy, and it is amazing to be able to celebrate the class of 2021 with an in-person commencement ceremony. 
Providence College Welcomes Dr. Laurie Santos: Yale University Psychologist to Give Commencement Address
by The Cowl Editor on April 15, 2021
---
Campus
---
by Andrea Traietti '21 and Hannah Langley '21
Editor-in-Chief and News Editor
At Yale University, Dr. Laurie Santos, a cognitive scientist and psychology professor, studies some of life's age-old questions—questions like "What makes us happy?" and "What can we do to achieve the good life?" 
Providence College students have likely encountered these kinds of questions in Development of Western Civilization or philosophy classes, but in the midst of a global pandemic that has stretched over a year now, these questions have come to permeate everyday life as people around the world have searched for ways to find happiness even in difficult moments. 
PC will welcome Santos to campus as the commencement speaker at the College's 103rd Commencement ceremony on May 20. After a year that often presented challenges and disappointments, Santos's studies in happiness make her a particularly fitting choice to offer perspective to the graduating class of 2021. 
Santos graduated from Harvard University in 1997, where she received degrees in psychology and biology. Not only did Santos graduate magna cum laude, she was also awarded the annual Psychology Department Undergraduate Thesis Prize. Santos then went on to earn a master's in psychology at Harvard in 2001, where she focused on cognition and brain behavior—the area in which she would later receive her doctorate in 2003. 
Santos began teaching at Yale University after receiving her doctorate and has since proven a valuable asset to the Yale faculty. After receiving her tenure in 2010, she became Yale's director of undergraduate studies in psychology from 2010 to 2015. 
In 2018, Santos began teaching a course titled Psychology and the Good Life. It soon became the most popular course in Yale's history, with about one-fourth of Yale undergraduate students enrolled and 170,000 people from at least 170 countries enrolled in the free online version of the course through Coursera. 
Besides teaching this course, Santos is also the director of Yale's Comparative Cognition Laboratory, director of the Canine Cognition Center, and head of Yale's Silliman College. Santos also has her own podcast, The Happiness Lab, which examines recent scientific research on factors that affect human beings' well-being and happiness. 
Over the course of her academic and professional careers, Santos has earned numerous awards and received prestigious recognition. In 2003, her dissertation received the Richard J. Herrnstein Dissertation Prize. She was awarded the Stanton Prize for outstanding early-career contributions to interdisciplinary research by the Society for Philosophy and Psychology and Yale's Arthur Greer Memorial Prize for Outstanding Junior Faculty in 2008. Santos was listed as one of the "Brilliant Ten" young scientists of 2007 in Popular Science magazine. In 2010, she gave a TED Talk at the TED Global Conference in the UK. In 2013, she was named a leading campus celebrity by Time magazine. Santos was also featured as the Association for Psychological Science Presidential Symposium speaker in 2011, granted Yale's Lex Hixon '63 Prize for Teaching Excellence in the Social Sciences in 2012, and awarded both the American Psychological Association's Distinguished Scientific Award for Early Career Contribution to Psychology and a Genius Award from the Liberty Science Center in New Jersey. 
In addition to Santos, four other honorary degree recipients will be recognized at commencement, including: Duane Bouligny '94, John Chan '74, Emily Leary, and E. James Mulcahy '66.
Duane Bouligny '94 is a managing director in the Leveraged Finance group at Wells Fargo Securities based in San Francisco, CA. Bouligny, who served as a trustee emeritus of the College from 2011-2020 and currently serves on PC's Career Education Advisory Committee and the PC School of Business Advisory Council, has been a steadfast supporter of PC's multicultural students. 
He served as co-chair of the first two "Reflecting Forward" weekends in 2017 and 2020, a PC initiative that celebrates the College's multicultural alumni during a weekend of networking and special events on campus. In 2017, Bouligny and his wife Nancy made a generous gift to PC to name the Bouligny Lounge at the Center at Moore Hall, the College's arts and multicultural facility designed to help promote diversity, equity, and inclusion at PC. The Boulignys also established the Duane '94 and Nancy Bouligny Scholarship Fund in 2011 to assist African-American and Asian-American students.
John Chan '74 is well known throughout Rhode Island and beyond for the food served at his Woonsocket restaurant, Chan's Fine Oriental Dining—and also for his decades-long support of both famous and upcoming jazz, blues, folk, and cabaret artists and comedians whom he has invited to perform at his restaurant.
Chan gained exposure to both jazz music and the restaurant industry during his time at PC: his roommates, Joseph Small and Nehru King, who had a music show on WDOM 91.3 FM, introduced him to jazz, and he worked as a dishwasher, cook, and server at his parent's restaurant during college. In 1977, he merged the two when he began introducing live music to Chan's, which now holds the slogan "Home of egg rolls, jazz and blues."
Chan was inducted into the Rhode Island Music Hall of Fame in 2018. He was awarded the Pell Award for Excellence in the Arts by Trinity Repertory Company in 2015 and the Keeping the Blues Alive Award from the Blues Alive Foundation in Memphis, TN in 2011.
Emily Leary, along with her husband Bill '10Hon, has donated more than $3 million to the College: The Learys have a scholarship fund in their name, give to the annual fund, support capital projects, PC Athletics, and more. 
In 2013, the Learys established the William C. and Emily D. Leary Endowed Scholarship to support students with financial need from Windsor Locks, East Granby, Suffield, Enfield, East Windsor, or Windsor, CT, or a student in need due to a sudden change in financial circumstances. 
Outside of her involvement with the College, Leary has been instrumental in starting and supporting a number of other philanthropic and community projects in Connecticut, where she serves on her parish council, volunteers at a shelter for the homeless in Hartford, and serves as a long-term volunteer and board member of a food kitchen in Enfield. Archbishop Henry J. Mansell of the Archdiocese of Hartford awarded Leary the St. Joseph Medal in 2013 for her efforts on behalf of her parish.
James (Jim) Mulcahy '66 served as a member of PC's board of trustees from 2000-2008. He was the inaugural chair of the College's National Board of Overseers from 2009-2020, of which he is now immediate past chair. Mulcahy is also a member of the Providence College School of Business Advisory Council. The National Alumni Association presented Mulcahy with the Personal Achievement Award in 2016 for his service to the College.
Mulcahy graduated from PC with a degree in economics; he received a Master of Business Administration from Boston College in 1970 and a certificate in advanced management from Massachusetts Institute of Technology's Sloan School of Management in 1979.
He began his career with Polaroid Corporation in 1969 and spent the majority of his early career with Dean Witter in Boston. Mulcahy held various roles with Smith Barney, a division of Citigroup Inc., from 1983-2001, and, in 2014, retired from Morgan Stanley Smith Barney, where he was responsible for the oversight of four businesses with assets under management totaling $24 billion. 
With his wife, Kathryn, Mulcahy has endowed two scholarships at PC. The Mulcahy Family Scholarship Fund, established in 1998, supports students from the New York metropolitan area or Cape Cod. The Rev. James Quigley, O.P. '60 Scholarship Fund, established in 2011, supports Hispanic or Latino students who attended a Catholic high school or are from Central or South America.  
Mulcahy is active in his community, as well, serving as a trustee of Cape Cod Healthcare, which oversees Cape Cod Hospital and Falmouth Hospital, since 2018.
This year's commencement ceremony for the graduating class of 2021 will take place on Hendricken Field on the Providence College campus on May 20. 
Providence College Welcomes Dr. Mae Jemison: Former NASA Astronaut to Give Commencement Address
by The Cowl Editor on February 27, 2020
---
Campus
---
by Kerry Torpey '20 and Katherine Torok '20
Editor-in-Chief and Associate Editor-in-Chief
On September 12, 1992, NASA astronaut Dr. Mae C. Jemison boarded the space shuttle Endeavour, beginning an eight-day journey during which she and six other crew members would make 127 orbits around the earth. Upon returning to earth and landing at the Kennedy Space Center, Jemison officially became the first woman of color to travel to space. Now, almost 28 years later, Jemison will visit the Providence College community as the speaker at our 102nd Commencement Ceremony.
Born in Decatur, AL to parents Charlie and Dorothy, Jemison developed a love for science, in particular astronomy, from a young age. While growing up and attending school in Chicago, Jemison says her parents, "were the best scientists [she] knew, because they were always asking questions."
Jemison would spend hours watching and researching NASA's Apollo missions, seeking to understand their goals, findings, and accomplishments, but she felt frustrated not seeing any female astronauts. Although Sally Ride was the first American woman to travel to space in 1983, Jemison would be the first woman of color. Having grown up watching Nichelle Nichols play Lieutenant Uhura on Star Trek, Jemison saw the potential of representation for women of color in space. 
Upon graduating from high school at 16, Jemison attended Stanford University, double majoring in chemical engineering and African and African-American studies. After graduating in 1977, she became a student at Cornell University Medical College, where she obtained her M.D. in 1981. While in medical school, Jemison studied and conducted research in Cuba and worked at a Cambodian refugee camp in Thailand.   
After moving to Los Angeles to be a general practitioner for the Los Angeles County Medical Center, Jemison began working with the Peace Corps. Between 1983-85, she served as the Area Peace Corps Medical Officer in Sierra Leone and Liberia. At the age of 27, she was responsible for managing healthcare for Peace Corps volunteers as well as the U.S. Embassy's medical care.  
It was not until 1985, when Jemison was back in the U.S., that she decided to apply to become an astronaut. She says that when she first applied to the Johnson Space Center, she was not considering the fact that she may be the first African-American woman in space. "I wanted to go into space," she explains. "I couldn't have cared if there had been one thousand people in space before me or whether there had been none. I wanted to go."
 Despite the devastating explosion of the space shuttle Challenger in 1986, Jemison continued to pursue her dream. Then, on June 4, 1987, Jemison became the first African-American woman admitted to NASA's astronaut training program. She was one of only 15 chosen out of 2,000 applications. 
In preparing to depart for space, Jemison felt it was important to bring things that "represented people who sometimes are not included." Some examples include: a poster of Judith Jamison performing the dance "Cry," a Bundu statue to represent a women's society in West Africa, and a flag for Alpha Kappa Alpha, "the oldest African-American women's sorority in the United States." 
When she departed as a crew member on Endeavour's STS-47 Spacelab J mission, which was a collaborative mission between the U.S. and Japan, Jemison served as a science mission specialist. During her eight days in orbit, she conducted experiments on other crew members, testing levels of weightlessness, bone cells, and motion sickness. 
"For me," Jemison says, "the experience was one that made me feel very connected to the universe. I felt my being was as much a part of this universe as any star, as any comet." 
After completing the Endeavour mission, Jemison left NASA in March 1993, but her career had only just begun. In that same year, she founded The Jemison Group Inc., a technology consulting firm that encourages students to be passionate about science while merging sociocultural affairs with space engineering and technology. 
Then, as a devoted fan of the original Star Trek series, Jemison fulfilled every fan's dream in 1993 when she guest- starred as Lieutenant Palmer in an episode of Star Trek: The Next Generation, becoming the first real-life astronaut to appear in the series. 
In 1994, she started an international science camp for students aged 12 to 16 called "The Earth We Share" as well as a non-profit called the Dorothy Jemison Foundation for Excellence, which she named after her mother.
Jemison has received several honorary doctorate awards and accolades, such as the Ebony Black Achievement Award and a Montgomery Fellowship from Dartmouth College, where she conducted a teaching fellowship. She is also an inductee at the National Women's Hall of Fame, International Space Hall of Fame, and the National Medical Association Hall of Fame.
She has written multiple books, including her 2001 memoir Find Where the Wind Goes: Moments from My Life as well as several True Book series about different components of space expedition. In 2012, she led the 100 Year Starship program and received funding to enhance research in our ability to travel outside our solar system to another star within the next 100 years.
In 2017, LEGO released a figurine of Jemison as part of the LEGO Women of NASA Kit, which the company hoped would inspire more women in STEM, an initiative Jemison greatly supports. She also fluently speaks English, Russian, Japanese, and Swahili. 
In addition to Jemison, six other honorary degree recipients will be recognized at Commencement, including: Val Ackerman, J. Peter Benzie '70, Sr. Jane M. Gerety, RSM, Dr. Hugh F. Lena III, the late Dr. Francis P. McKay, and Erich Miller.
Val Ackerman is the fifth commissioner of the Big East Conference. Prior, she was an attorney and executive at the NBA, the founding president of the WNBA, and is the former president of USA Basketball. She is a graduate from the University of Virginia where she was a three-time captain and Academic All-American on the women's basketball team, and received her law degree from UCLA.
J. Peter Benzie '70 is executive president and global account leader with Broadridge Financial Solutions Inc. Prior to joining Broadridge in 2005, Benzie worked at Prudential Securities, Shearson Lehman Brothers, Chase Investment Services, and Fidelity Investments. He also served on the College's Board of Trustees from 2009-2018 and served on the executive committee of PC's campaign, Our Moment: The Next Century Campaign for Providence College.
Sr. Jane M. Gerety, RSM, served as the president of Salve Regina University in Newport, RI for ten years. Before her presidency, she was an executive board officer  and senior vice president for sponsorship with Saint Joseph's Health System. Prior to that, Sr. Gerety taught at universities and high schools across the country. She graduated from Mount Saint Agnes College, earned her master's degree from Middlebury College, and her Ph.D. from the University of Michigan.
Dr. Hugh F. Lena, III joined PC in 1974 and has held many roles such as professor and chair of the sociology department, associate director of the Feinstein Institute for Public Service, and president of the Faculty Senate. He was instrumental in the College's decision to form the School of Business, and the School of Arts & Sciences and Professional Studies. He also created the Office of Sponsored Projects and Research Compliance, which brought over $13M worth of grants to the College. He graduated from the University of Notre Dame and earned his master's degree and doctorate from the University of Connecticut.
The late Dr. Francis P. MacKay, who passed away on September 9, 2019, was part of the PC commnuity for over 50 years. He served as chair of the chemistry department, vice president for academic administration, and president of the Faculty Senate. He was a champion of diversity and helped create the Rev. Dr. Martin Luther King, Jr. Scholarship Program and the Francis P. and Jacqueline K. MacKay Scholarship. He was a graduate from the University of Notre Dame, earned his master's degree from the College of the Holy Cross, and his doctorate from Pennsylvania State University.
Erich Miller is president of My Brother's Keeper, a local nonprofit which delivers food and furniture to families in need. The ministry boasts 4,000 volunteers, including PC students, who make 9,000 deliveries annually. Miller is a graduate of the University of Notre Dame.
Together, the seven honorary recipients embody the pillars of Fr. Shanley's presidency: athletics, financial services, religion, service, women in STEM, and the future of PC.
This year's commencement ceremony for the graduating Class of 2020 will take place at the Dunkin' Donuts Center in downtown Providence on May 17.