Providence College Reacts to DACA
by The Cowl Editor on September 14, 2017
---
Campus
---
The College Responds
By Sabrina Guilbeault '18
News Editor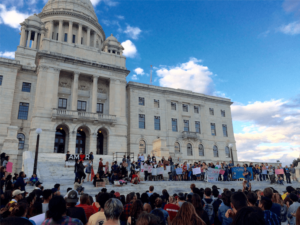 On Sept. 5, after President Trump announced he would end the Deferred Action for Childhood Arrivals (DACA) program, the Providence College community was greeted by an email from President Father Brian Shanley, O.P., who declared the stance PC is taking on the issue.
"As a Catholic institution, we reaffirm our commitment to welcome all qualified individuals to the Providence College community," Fr. Shanley wrote, and emphasized that the College's commitment to these students and their families will not waver.  "It is imperative that they be allowed to reach their God-given potential and flourish in our community, as many of them are already doing."
Students took action almost immediately after Trump's announcement. In an effort to support those affected by DACA's status, the executive boards of BMSA, BOP, Student Congress, Campus Ministry, and later Friars Club came together to plan a vigil to honor the "Dreamers."
The vigil will occur this Sunday, September 17 at 8:15 p.m. on Slavin Lawn, and the entire campus community is encouraged to attend. Responsibilities and planning for the event  were split up by the executive boards, which came together to show support for all students and their families during this uncertain time.
"We hope to encourage and promote a sense of belonging and unity throughout the campus," the executives said in a written statement. "We believe in the power of leading by example and hope that our efforts will empower."
"As soon as we heard the news about the end of the DACA program, we immediately thought it was important for the student leaders in Campus Ministry to be aware of the issue, and how it is an attack on the life and dignity of human beings and in contention with Catholic Social teaching," Keith Lee, President of Campus Ministry Leadership said. "In our prayers and in discussing the issue with Father Peter Martyr and our leaders, we found it important to do something more and connect with PC community at large."
This past Sunday, all mass collections at St. Dominic Chapel went to a relief fund for PC students affected by the termination of DACA, and these collections have continued at the daily masses throughout the week.
"It is important that PC does everything in its power to protect students who are affected by the end of DACA," Lee said. "Not only should the school be there to help those in need of covering the various legal costs, but we should also provide emotional and loving support, reassuring all students, regardless of where they are from or what their documentation status is, that they are important members of our community who have so much to offer."
Last Friday, September 8, the Dean of Student's Office sponsored transportation to a "Defend DACA" rally, which was hosted by the Coalition of Advocates for Student Opportunities, at the Rhode Island State House. Students, faculty, and staff joined there along with other Rhode Islanders to support dreamers both from the College, the state, and beyond.
"There is so much more to being an American than the title of 'citizen,'" said Gabriella Dess '18, a student who attended the rally and stated she is a proud supporter of DACA. She explained that though people protected under DACA are not citizens of the United States, America is their home and they have proven a commitment and devotion to this country. "They deserve to live, learn, and grow in America, and it is wrong to deprive them of this opportunity," she said.
"The DACA rally was an experience," said Sean Richardson '20. "It was amazing seeing people support people in such a time of uncertainty."
Fr. Shanley insisted in his email that the College will continue to offer support to the Providence Immigration Rights Coalition (PIRC) to "meet the changing needs of our undocumented students, those with temporary protected status, our "dreamers," and all those affected by this decision." PIRC is a student-formed group of faculty, administrators, and students to strategize on responses to those who might be affected personally, or whose families might be affected, by the doing away with DACA.
"I feel it is vital that we take a stand in solidarity not only because it is the right thing to do, but also because it is what Christ compels us to do," said Lee. He explained that the Church teaches that every human being has dignity, regardless of where they were born. "It is our obligation as Christians to protect human dignity and to take a stand when something threatens the life of any person and the dignity and unity of the family."
Understanding DACA on a National Level
by The Cowl Editor on September 14, 2017
---
National and Global News
---
Bursting the PC Bubble: What is DACA?
By Thomas Edwards '20
News Staff
Last week, on Tuesday, September 5, through the words of Attorney General Jeff Sessions, President Donald J. Trump rescinded Deferred Action for Childhood Arrivals.
DACA was an American immigration policy established by the Obama administration in June of 2012. The policy gave protection from deportation to undocumented minors for renewable two-year periods, and allowed them to work in the U.S. As of 2017, approximately 800,000 individuals  were protected from deportation by DACA.
​For the time being, the rescinding of DACA has been delayed for six months in order to give Congress the chance to find a solution for the 800,000 young people currently under the policy and those who were previously eligible.
DACA received mixed responses when it was first initiated and has received nothing less with its termination. Democrats in Washington have especially been vocal about the issue, most of, if not all, denouncing the decision. House Minority Leader Nancy Pelosi said, "President Trump's decision to end DACA should break the hearts and offend the morals of all who believe in justice and human dignity." Pelosi, with other Senate and House Democrats, has called on her Republican counterparts to work with the Democrats to form a solution. Rahm Emanuel, Mayor of Chicago, announced a half an hour before the Trump administration's announcement that "DACA will continue to exist in Chicago," calling the termination of the program "morally, politically, and economically wrong."
While the response from Democrats has been largely unanimous, there have been mixed responses from the Republican Party.
Senate and House Republicans have announced their opposition to Trump's decision to end DACA, among them Senator John McCain from Arizona. McCain said, "President Trump's decision to eliminate DACA is the wrong approach to immigration policy at a time when both sides of the aisle need to come together to reform our broken immigration system and secure our border… I strongly believe that children who were illegally brought into this country through no fault of their own should be forced to return to a country they do not know."
Just as there have been Republicans speaking against Trump, there have been those standing behind him. Senate Majority Leader Mitch McConnell said, "President Obama wrongly believe he had the authority to re-write our immigration law. Today's action by President Trump corrects that fundamental mistake."
Joining McConnell is House Speaker Paul Ryan who opposed the program when Obama implemented it and hopes Congress can find a permanent solution. "It is my hope that the House and Senate, with the President's leadership, will be able to find consensus on a permanent legislative solution that includes ensuring that those who have done nothing wrong can still contribute as a valued part of this great country," said Ryan in a statement after the announcement. Most Republicans speaking in favor of President Trump's decision have agreed on the unconstitutionality of Obama's executive decision creating the program and that it should now be instated, though not verbatim, by Congress instead. "I have long supported accommodating those brought to this country illegally through no fault of their own; however, I have always felt that President Obama's executive action was unconstitutional and that the right way to address this issue was through legislation," said Senator Marco Rubio.
Lawmakers have not been the only group to speak out openly in response to last Tuesday's events. Facebook founder Mark Zuckerberg stated, "This is a sad day for our country." Mark Ruffalo tweeted, "A cowardly act by a cruel, vindictive and heartless administration intent on tearing at the very fabric of the American dream." Along with tweets and comments from celebrities, there have also been protests and marches, including one Tuesday which marched from the White House toward Trump International Hotel after the announcement.
While opinions from both sides have been voiced, the one common consensus is that now it is up to Congress to pick up the pieces. President Trump reportedly called on Congress to "legalize DACA," to legislate a program similar to Former President Obama's, which was created through executive authority, or he will "revisit [the] issue!"
"It is important that the White House clearly outline what kind of legislation the president is willing to sign. We have no time to waste on ideas that do not have the votes to pass or that the president won't sign," said Rubio. Other legislators expressed thier desire to continue to give protection to the children. "We must protect children who are already here in this country and those who are currently protected under DACA. That principle is fundamental for me. It's also clear that we must work in Congress to provide long-term certainty for DACA recipients," said GOP Representative Cathy McMorris Rodgers. In a simliar spirit, Democratic Senate Whip Dick Durbin said, "It is time for us in Congress to do the right thing."