Shine Bright Like a Fulbright Student: PC Recognized As Top School for Fulbright Students
by The Cowl Editor on March 4, 2021
---
Campus
---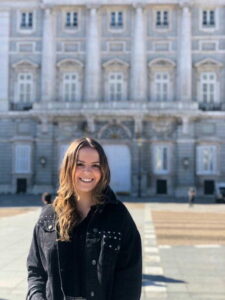 by Nicole Silverio '22
News Staff
This year marks the second time, and the second year in a row, that Providence College was named a top producer of Fulbright students by The Chronicle of Higher Education. Four students—Dylan Black '20, Nicole Gottlieb '20, Krista Minniti '20, and Jack Murphy '20—were awarded a Fulbright Teaching Assistantship for 2020-21.
The Fulbright Program is an international program that awards recently graduated students with the opportunity to travel abroad to study, teach, or conduct research.  More than 2,200 U.S. students receive Fulbright awards every year. The Center for Engaged Learning is in charge of applications to the Fulbright program at PC. 
All four PC students were awarded English Teaching Assistantships through the Fulbright Program. Black, a mathematics major and economics minor, will teach in the Czech Republic in August 2021. Gottlieb, an elementary and special education major, was awarded a Fulbright to teach in Indonesia but instead chose to teach in Uganda. Murphy, a Spanish and social work double major, was awarded a Fulbright to teach in Paraguay and arrived there in January. Minniti, a political science and Spanish double major, was awarded a Fulbright to teach in Madrid, Spain, where she is currently teaching. Not only is she teaching abroad, but Minniti is also pursuing a degree from the University of Connecticut School of Law. 
Minniti knew she wanted to return to Spain after studying abroad in Seville, Spain her junior year. She applied to the Fulbright Program in order to travel and gain international experience. She began the application process in the spring of her junior year and submitted her application in October of her senior year. While she was initially selected as an alternate, Minniti learned this past fall that she had been offered a Fulbright. "I arrived here in January and I've been loving it! The workload is totally manageable and you make really good money for what you do," Minniti said. 
Minniti is currently teaching English to high school students ranging from 13-18 years of age. "They start learning English at a super young age in Madrid so they all are decently good at English. I never find that I have to explain things in Spanish," Minniti continued.  
Students involved with Fulbright have an opportunity to teach English in over 150 countries across the world. Nationwide, over 1,600 Fulbright volunteers on campuses work to recruit students. The first student was awarded a Fulbright in 1955. Since 2010, 14 graduating seniors and six alumni have been awarded Fulbright grants to go to Argentina, Bulgaria, the Czech Republic, the Dominican Republic, Malaysia, Nepal, New Zealand, Poland, South Korea, Spain, Slovenia, and Turkey.
"It is so thrilling to see so many PC students and recent alumni earning Fulbright U.S. Student awards over the past few years," said Dr. Darra Mulderry. Mulderry is the associate director of PC's Center For Engaged Learning and the director of national and international scholarships and fellowships. 
Marie Royce, The U.S. assistant secretary of state for educational and cultural affairs, says that Fulbright students do a great service for people around the world. "We are committed to the Fulbright Program's goals of creating lasting professional and personal connections by sending passionate and accomplished U.S. students of all backgrounds to study, research, or teach English in communities throughout the world," Royce said. "These Fulbrighters serve citizen ambassadors for the United States in their host communities, and we will benefit from the skills, knowledge and global connections they build on their exchanges long after they return home." 
This academic year, a record number of 16 students from PC applied to the Fulbright Program. Six students have been named semi-finalists and are waiting to be notified of funding from their chosen countries.