PC Celebrates Irish Heritage
by The Cowl Editor on March 5, 2020
---
Campus
---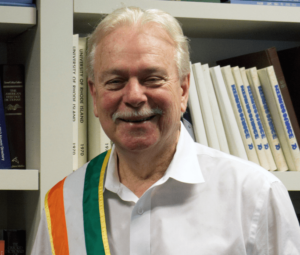 by Will Devaney '23
News Staff
It's the time of the year when shamrock decorations adorn every home and the color green is everywhere you look. St. Patrick's Day is right around the corner and the Providence College community is eager to celebrate. 
The holiday, however, is about more than just leprechauns and Shamrock Shakes. The city of Providence has deep Irish roots that stretch back almost 400 years to when the city was first founded. 
To celebrate this cultural legacy, the Providence College St. Patrick's Day Parade Committee will be honoring the Irish Heritage Festival by hosting a lecture. The event will take place Thursday, March 5 at 6 p.m. in the Slavin Center '64 Hall. 
The lecture this year will be given by Dr. Scott Molloy, Ph.D. The title of his talk is "Green Ink: When the Irish Controlled the Providence Journal and Sparked a Local Irish Literary Renaissance After World War II."
Molloy has a distinguished academic resume. He earned his Ph.D here at Providence College in 1991, taught at the University of Rhode Island for 30 years and was awarded Professor of the Year in 1995. Mollo received the same honor in 2004 for the Carnegie Foundation Rhode Island. Molloy donated a collection of over 100 labor union artifacts to the Smithsonian Institution, which is now named after him. 
He is the author of a biography of Joseph Banigan, Irish Titan, Irish Toilers: Joseph Banigan and Nineteenth Century New England Labor. He is a member of the Rhode Island Heritage Hall of Fame and was even chosen to be Grand Marshall for the Providence St. Patrick's Day Parade in 2018. He is also the head of the Transit Union. 
The event will feature a performance by the Providence College Irish Step Dancers. Attendees will get to enjoy an extensive experience of local Irish history and culture.