Kim Miale '01 Returns to Friartown
by The Cowl Editor on November 14, 2019
---
Professional Sports
---
Superstar Sports Agent Talks to Students About Her Career
By Joseph Quirk '23
Sports Staff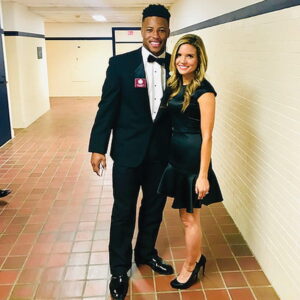 This past Thursday, November 7, Providence College Alumna Kim Miale '01 returned to campus to talk to students and faculty in the Center at Moore Hall. Miale is not only one of the most successful women in the sports business, but is also one of the best agents in sports overall. 
Miale had not been back to campus in a long time. One of her very first comments was how beautiful campus has become and how happy she is for all the current students. "It's amazing to see all the changes made," she said. "It's beautiful. You guys are so lucky to be going here right now." 
Miale grew up in nearby Johnston, RI, where she was a fan of the PC basketball team on route to their elite eight run under the coaching of Pete Gillen in 1996-97. She loved being a Friar, and despite being so close to home, she still wanted to live right here on campus. "I made a deal with my dad. I had to make the Dean's list every year to live on campus. I upheld my end of the bargain." 
Miale enjoyed her time at PC and even said it helped prepare her for law school and life beyond. "I had an amazing experience here. It's such a family atmosphere, steeped in tradition." When asked how PC helped prepare her for law school and practicing law, she remarked, "Reading all the time, speaking in front of class, it all came in handy." 
From PC, the political science major and English minor went on to law school which she compared to high school. It was here that while studying sports law and copyright she met her future husband and, just as important, a future mentor. 
Kristen Kuliga, one of Miale's professors in law school, happened to be a female pioneer in sports business herself. Kuliga would become the first woman agent to negotiate a contract for a starting quarterback (Miale would become the second). Miale interned for Kuliga as much as possible, but unfortunately Kuliga did not have the bandwidth to hire her after law school. 
Miale eventually got a job in litigation in Boston to help pay off law school. When asked what came after law school she simply replied, "Bills," with a laugh. "I had to practice law traditionally to pay off student loans." Her work in litigation, however, ultimately helped her as an agent. "A lot of the things I learned as a litigator I applied to be an agent…there were a lot of transferable skills." 
The death of a very close relative eventually pushed Miale  to pursue her dream of becoming an agent. Miale was very close to an uncle of hers who  used to preach to her the importance of making her dreams a reality. His sudden passing was a defining moment in her life, as it made her realize she did not want to waste any more time. While still working as a litigator, Miale started representing local Boston and New England athletes who were not really expected to succeed. "It's tough doing it on your own," she said of representing players without any resources. Using her vacation days from the litigation offices, Miale would frequently fly to pro days or the NFL Scouting Combine to establish connections and relationships with football scouts from all different levels. 
Eventually, Miale's hard work paid off. Rapper Jay-Z founded a new agency called Roc Nation Sports in 2013. Opportunity came knocking when the company was searching for a head agent of the football department and wanted Miale to oversee operations. Commenting on getting this opportunity, she said, "It's a little bit of luck and a lot of hard work…you need to wait for your opportunity and be prepared for it when it finally comes." 
Miale is now not just one of the top women agents in sports, but one of the best overall agents in the game. Miale represents many top-level clients including New York Giants running back Saquon Barkley, who became the highest drafted player represented by a woman during the 2018 NFL Draft, Pittsburg Steelers wide receiver JuJu Smith-Schuster, free agent wide receiver Dez Bryant, and Los Angeles Rams running back Todd Gurley, amongst others. 
When asked about advice she would give to kids looking to break into this field, she said, "Stay the course and take little steps. You have to be patient." When asked for more women-specific advice on breaking into a historically male-dominated field, she said, "Players don't talk to you about on-field strategies. They want to know about your strategies in the negotiating room. It's going to be tough but you have to have a passion for it."